Pilsen is a neighbourhood in Chicago that's historical, trendy, and sophisticated. An eclectic mix of cultures have shaped and reshaped Pilsen over the last 150 years – everyone from Czechs to Mexicans – and this is just one of the reasons why there are so many interesting things to see and do here.
You can easily find so much of Pilsen's charm right out in the open. The colourful neighbourhood has so much street art, some of whose colours and styles have become iconic to the neighbourhood – even Pilsen's metro station is covered in art. For a fantastic walking tour, all you have to do is follow the murals. For a deeper dive into the art, culture, and history of Pilsen, you can consider joining a walking tour organized by the Chicago History Museum. Find out more about what you can see and do in Pilsen, which once made it to the top of America's, and even the world's, coolest neighbourhoods.
Pilsen in Chicago - one of the highlights of 10 Most Popular Neighbourhoods in Chicago (Read all about Chicago here)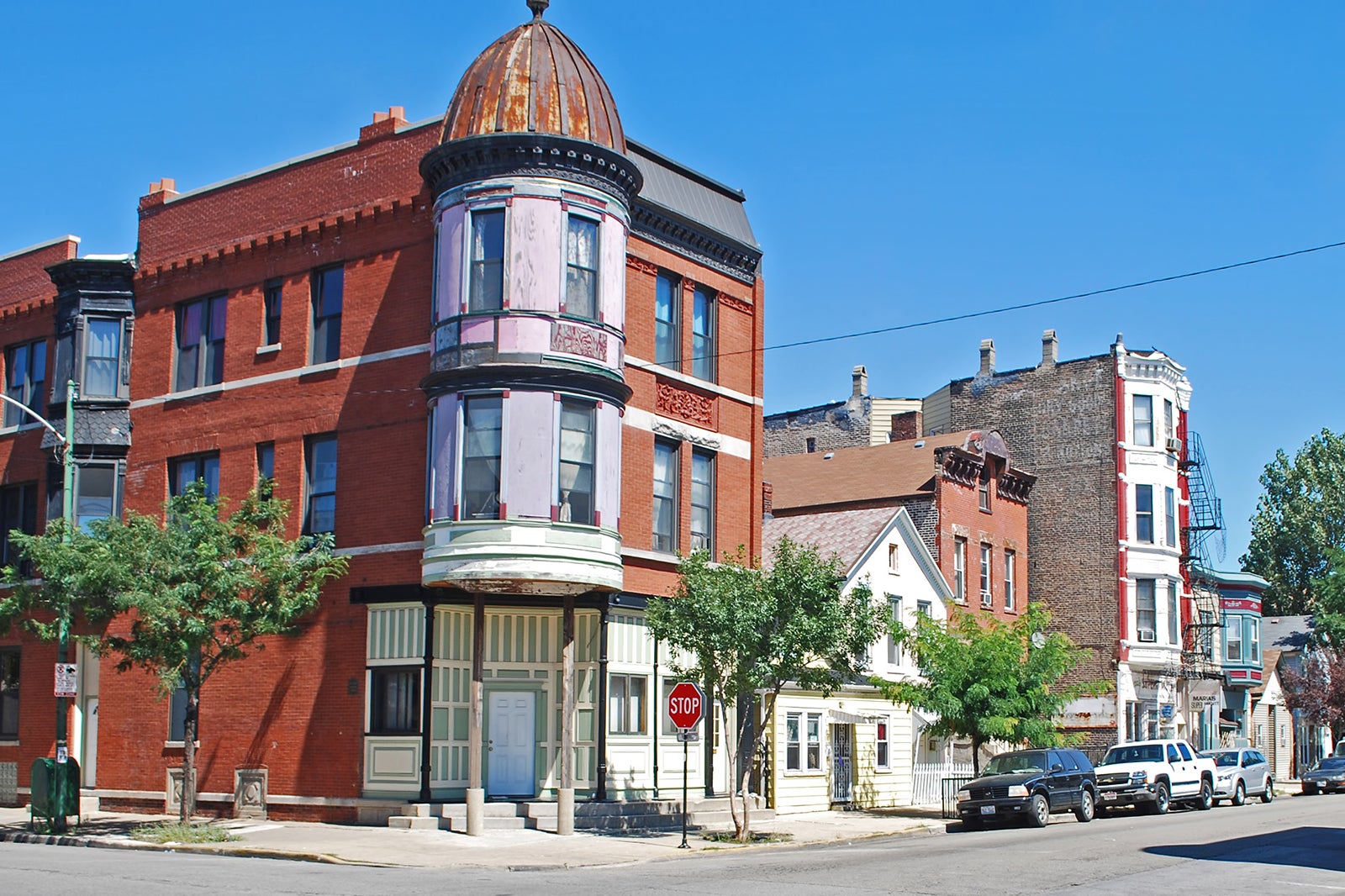 Where to eat and drink in Pilsen?
Don't miss out on Mexican food when in Pilsen – this area is often called 'The Mexico of the Midwest', after all. For this, locals will often point you to the same spot, Tortillería y Taquerías Atotonilco. The tacos here are some of the best north of the border, with extra-large portions of tacos stuffed with your choice of filling – chicken, beef, lamb, veggies, and pork in various sauces. The signature Atotonilco taco is just 4 ingredients: carne asada, sour cream, tomato, and onion. Even so, this simple creation is truly delicious.
Pleasant House Pub is a slice of Britain right in Chicago. Come for a pint and a flaky meat pie, and you'll be transported to Merry Olde England. For something more American, hit Pl-zen, a comfort food joint for truly American delights like massive beef burgers and gooey mac n' cheese, as well as plenty of Chicago craft beers.
Where to go at night in Pilsen?
Ever wanted to experience an 80s-style American prom? Descend into Punch House with some friends for the most direct route back to high school. This basement bar is a bit hidden, and it's got a classy atmosphere to match. It feels a bit like prom, especially since they specialise in both traditional and inventive new punch recipes. Punch House offers better prices when you order punch by the carafe, so make sure to bring along a friend or 2.
Skylark is a working-class bar that's easy to get comfortable, mostly because of its no-nonsense attitude. You won't find anything here a dollar more expensive than it needs to be, and the best selections are often found when you sort low to high. A couple of Pabst Blue Ribbons and a basket of Skylark's signature tater tots will run you less than $10, which is exactly how it should be.
What are the highlights and features of Pilsen?
Every second Friday of the month, you can experience the 2nd Fridays Gallery Night in the Chicago Arts District along Halsted Street. That's when you can visit over 30 contemporary art galleries for free. Many of these places offer a complimentary alcoholic drink, making this an excellent way to tour the city and spend a night on the town. You don't have to be an expert to appreciate these works – all you need is an open mind and a friend in tow.
Fashionistas will want to visit boutiques like Ms Catwalk. It's quite hard to walk out of this store without one gift for a friend and three things for yourself. The staff at Ms Catwalk curate the collection themselves, and they're passionate about each item. Make sure to ask them for fashion advice – they simply want to make you look great.
It's certainly worth spending an afternoon at The National Museum of Mexican Art. You're sure to learn a lot from over 7,000 pieces of Mexican art from throughout history. Furthermore, the entrance is free, making this an easy win for sightseeing in an otherwise pricey city.
Pilsen in Chicago
Back to top