Jacksonville Travel Essentials
Useful Information to Help You Start Your Trip to Jacksonville
Our Jacksonville Travel Essentials lays out the essential information you need to help you plan your trip to one of the most popular destinations in Florida, USA. No matter how frequently you travel, some questions will always need answers: What's the weather like? How can I get from Jacksonville International Airport (JAX) to my hotel? What currency and type of plug do I need?
We have all these answers plus other basic info about the best time to go, getting there, getting around, and a few useful travel tips. You'll also learn about the most popular landmarks in Jacksonville such as the Ritz Theatre and Museum, the Friendship Fountain, and the Cummer Museum of Art & Gardens. It's all compiled in this Jacksonville Travel Essentials. After going through this short and easy-to-read guide, you'll be a little more prepared to start your trip to Jacksonville.
1
When is the best time to travel to Jacksonville?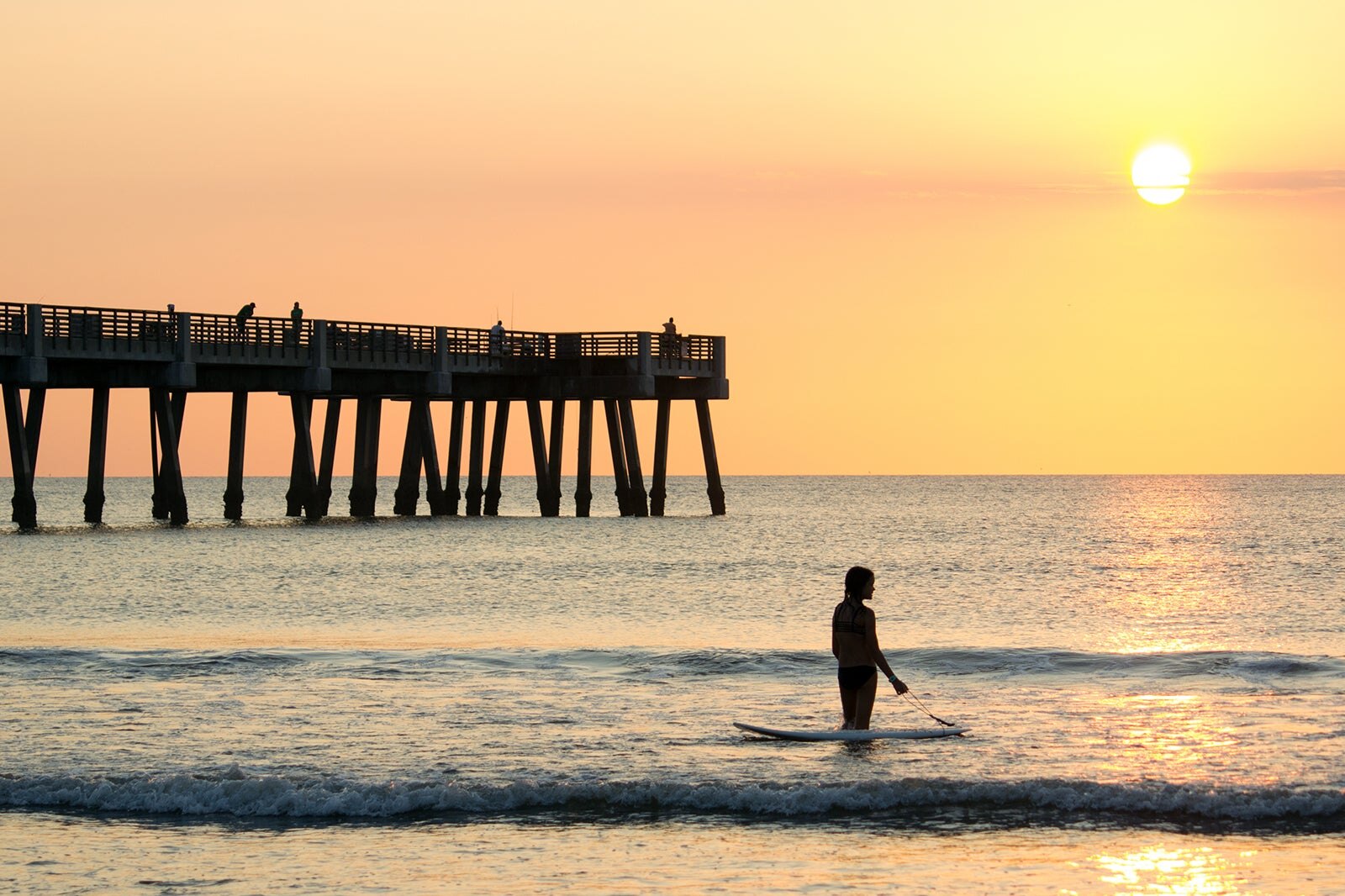 Clearwater has a humid subtropical climate with hot and humid summers and mild winters. Average temperatures range between 53°F in winter and 82°F in summer.
The period with the most rain is June–September with around 14 wet days per month. Expect an average of 7 rainy days per month for the rest of the year. Freezing temperatures are rare but can occur on a few nights between December and February.
With average temperatures of at least 80°F, the rainy months of June–September are also the warmest period of the year. Summer record highs can reach up to over 100°F.
The peak season is June-August when you can expect higher hotel rates and more crowds. If you plan to visit Jacksonville around this time of the year, it's best to book far ahead.
The best times to visit Jacksonville are March-May and September-November. Spring and autumn offer good hotel deals, great weather conditions, and lesser crowds at places of interest.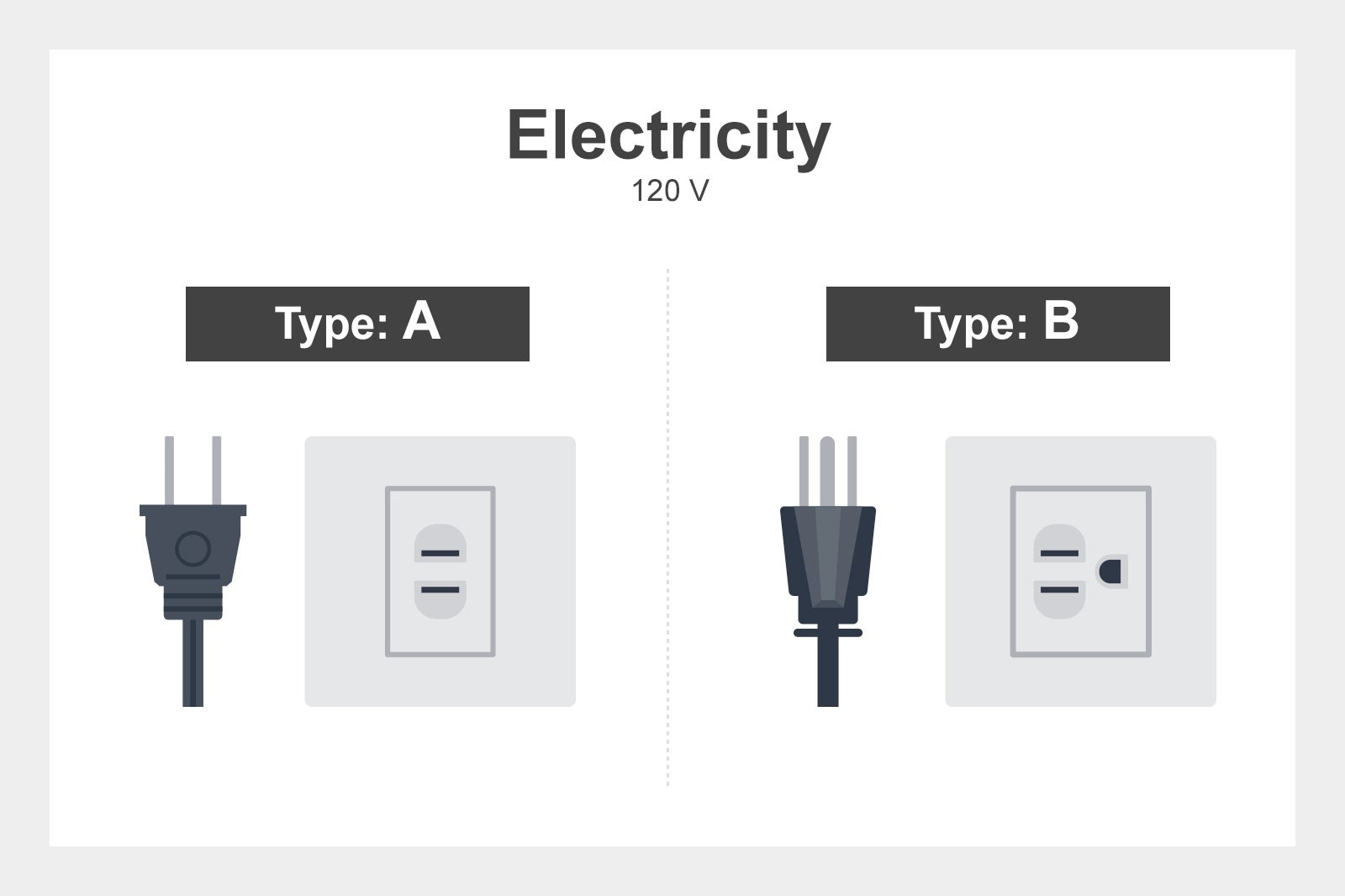 Plug type: A and B
Electricity: 120 V
Currency: United States Dollar (US$)
International dialling code: +1 904
Emergency telephone number: 911
3
How to get to my hotel in Jacksonville?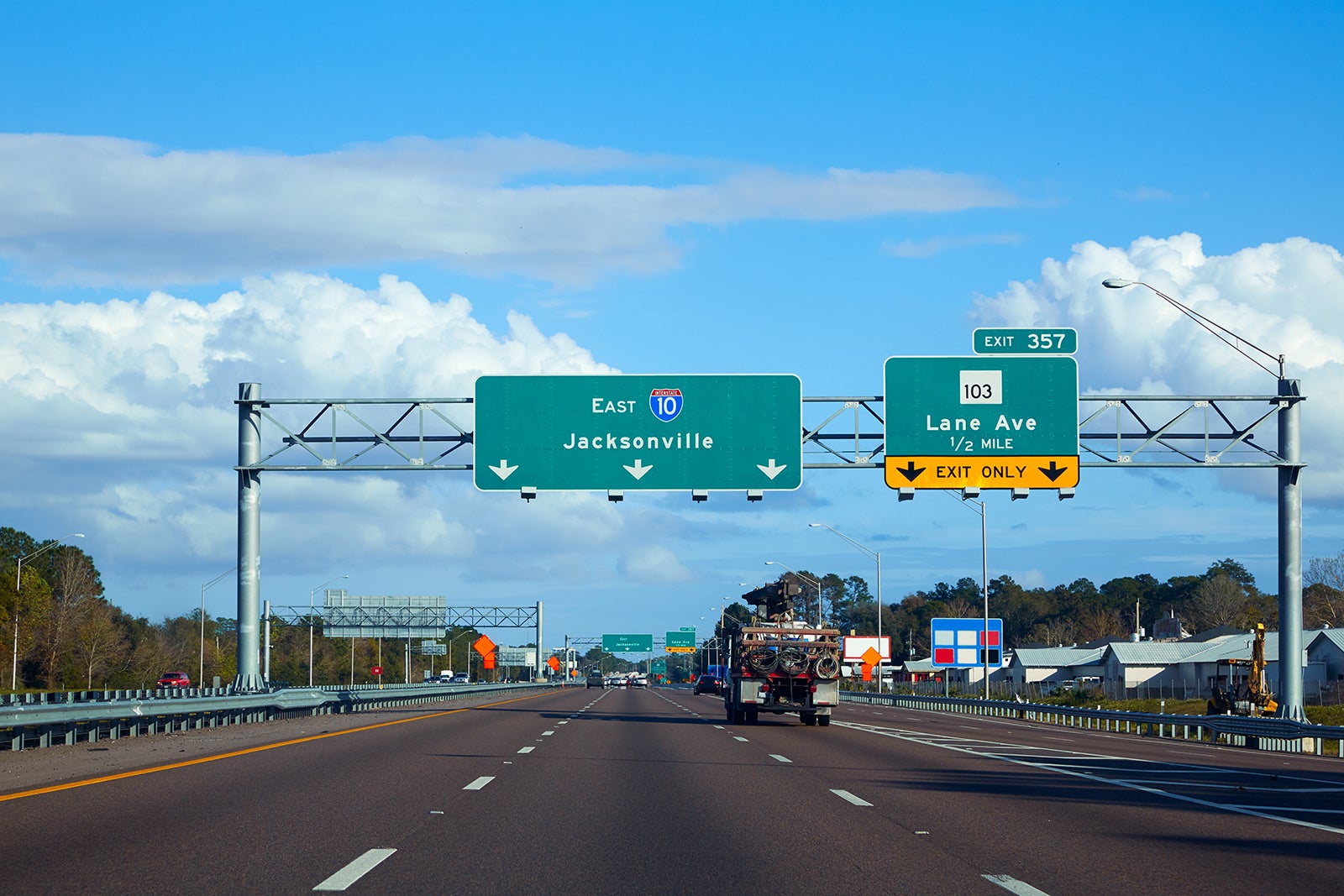 Jacksonville International Airport is the main gateway to Jacksonville and Duval County. You can also get to Jacksonville by Amtrak train on its Silver Meteor and Silver Star lines.
If you're on a budget or want to travel through the states like how the authors of the Beat Generation did in the post-war era, you can get to Jacksonville by Greyhound or Amtrak Thruway coach.
Jacksonville International Airport (JAX)
Jacksonville International Airport is 12 miles north of Jacksonville. The average driving time between the airport and the city centre is around 20 minutes.
Free Wi-Fi is available throughout JAX. Ground transport options for getting to Jacksonville are as follows:
Taxi, limo, and shuttle company services.
Uber, Lyft, and zTrip rideshare services.
Jacksonville Transportation Authority (JTA) operates public buses that link the airport to the city centre. This is the cheapest way to get there.
Major car rental companies are available at the airport.
All ground transport can be found adjacent to the baggage claim on the lower level of the terminal building.
Jacksonville Amtrak Station
Jacksonville Station is served by the Amtrak Silver Meteor and Silver Star Lines that link New York to Miami. It's also the arrival hub of the Amtrak Thruway buses.
The station is located on Clifford Lane, 4 miles west-northwest of Downtown Jacksonville. From here, you can get to your hotel by taxi, rideshare, or bus.
Greyhound Intercity Bus Terminal
The Greyhound Intercity Bus terminal is on West Forsyth Street just west of the city centre. Taxis, rideshares, JTA buses, and the Skyway monorail are available for you to get to your hotel.
4
How to get around Jacksonville?
Travel tips
The city centre of Jacksonville covers an area of about 4 square miles. Settled on both banks of the St. Johns River, it's pedestrian-friendly and home to places of interest such as the Museum of Contemporary Art, the Southbank Riverwalk, and the Ritz Theatre & Museum, just to name a few. Riding a bicycle is also a fun and popular way to get around and explore Jacksonville.
For longer distances, depending on your budget and taste, you can get around by taxi, rideshare, public bus, trolley, monorail, or rental car.
Taking a taxi in Jacksonville
Taxis are easy to find in Jacksonville. Companies include zTrip Jacksonville (+1 904-222-2222), OnCabs Jacksonville (+1 904-685-8859), Jax Taxi Service (+1 904-300-2446), and many more. You can also easily find taxi lines in front of hotels and main attractions. It's easy to hail one on the street.
Convenient yet rather expensive, getting around Jacksonville by taxicab is not your best option if you're on a budget, although a taxi ride may be your only option to get back to your hotel if you're a night owl. Note that tipping for taxis in the states is usually between 15% and 20% of the fare. Most taxi drivers accept credit cards, though sometimes reluctantly.
River taxis are also available to cross the river near the John T. Alsop Jr. Bridge.
Uber and Lyft are the 2 main ride-sharing apps used in Jacksonville. Their rates are slightly cheaper than standard taxicabs. ZTrip Jacksonville stands in between a standard taxi company and a rideshare service.
Travelling by public transports in Jacksonville
Jacksonville Transportation Authority (JTA) is the main public transport company operating in Jacksonville and Duval County. The system covers the entire city and a good part of northeast Florida with buses, trolleys, paratransit shuttles, ferries, and rail transit services. Bike racks are available on JTA buses.
The JTA Skyway is an automated monorail service available in Downtown Jacksonville. It links the North and South banks of the St. Johns River. It's a complimentary service running Monday–Friday from 6 am to 9 pm.
The JTA ferries link Mayport Village to Ft. George Island near the mouth of the St. John River.
A wide range of ticketing options is available, from 1-way ticket to multiple-day passes. The most convenient option to purchase tickets and passes is to download the MyJTA app on your phone. Tickets can also be purchased on the bus with the exact amount.
Renting a car in Jacksonville
Renting and driving a car is the best way for getting around Jacksonville. Although public transport is convenient, many of Jacksonville's most popular attractions are out of town. Traffic can be congested at rush hour on the roads between the city and the beaches, especially on Route 90 aka Beach Boulevard.
You can drive a car in Florida with a valid driver's license issued in any country. Besides the airport, car rental agencies can be found in the city centre.
Cycling around Jacksonville
Hiring a bicycle is a cool way of getting around Jacksonville. From the Baldwin Rail Trail to the Evening Ride to the Hanna, many cycling trails for all levels are spread in and around Jacksonville. JTA has bike racks that allow you to easily reach cycling trails too far from your hotel. Cycling route maps are available online.
You can hire a bike, electric, or mountain bike at rental companies like LakeShore Bicycles (+1 904-388-0612), Open Road Bicycles (+1 904-636-7772), and ZenCog Bicycle Company (+1 904-619-0496), just to name a few.
5
What are the main annual events in Jacksonville?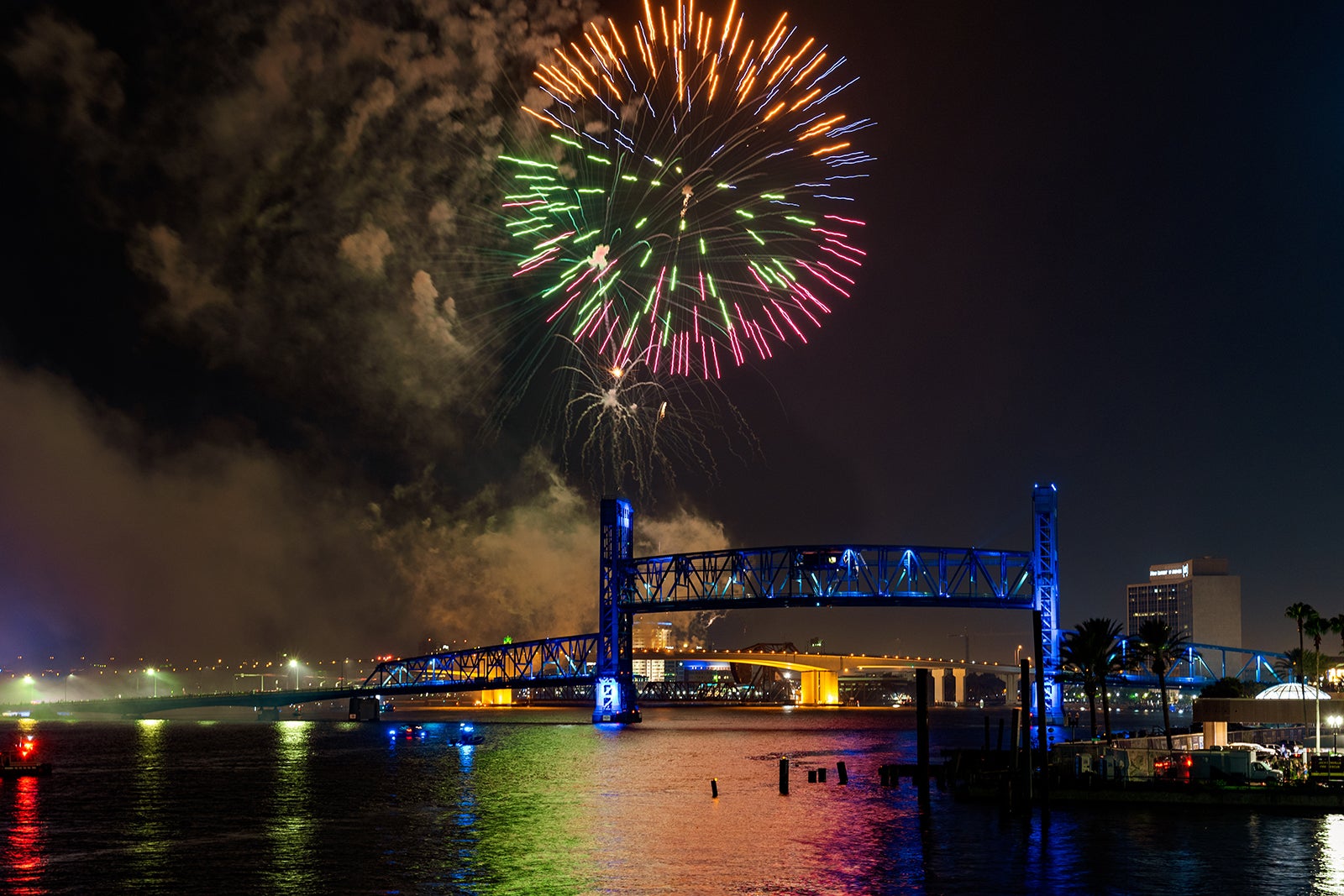 World of Nations Celebration
February
Founded in 1993, the World of Nations Celebration is one of the largest multicultural events held in Florida. Discover the native culture, art, and cuisine of around 30 countries during an extremely popular 3-day festival.
Where: Metropolitan Park
Springing the Blues
The first weekend of April
Established in 1991, Springing the Blues is one of the largest and oldest blues festivals held on the East Coast of the States. It's a free event showcasing artists such as Joe Bonamassa, Otis Taylor, and Charlie Musselwhite, just to name a few.
Where: Jacksonville Beach's Seawalk Pavilion
Jacksonville Fourth of July Celebrations
July
Temporary breweries and cocktail lounges are set up nearby the river for watchers waiting for the huge firework show launched on Independence Day. Various family-friendly, festive events and activities are held throughout the city during the day.
Where: Downtown Jacksonville
6
What are the main landmarks in Jacksonville?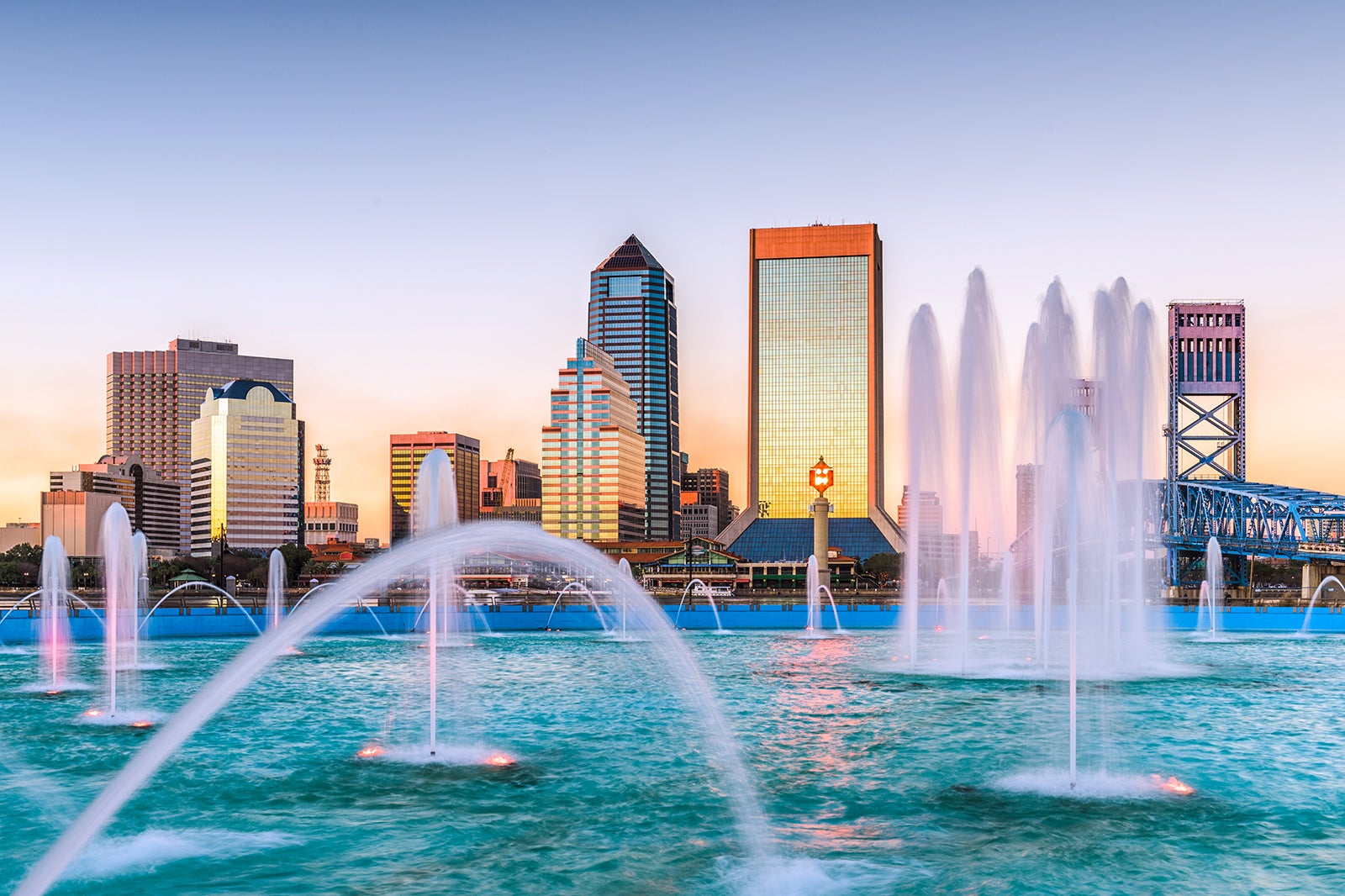 Historic Riverside and Avondale districts
These neighbouring districts west of downtown each has a rich art and cultural scene to discover. Lined with heritage buildings, boutiques, and restaurants, you'll also find the long-running Riverside Arts Market held on Saturdays.
Ritz Theatre and Museum
This vibrant cultural landmark in Downtown Jacksonville showcases the talents and history of the city's African-American community. Built in 1929, it buzzes today with a variety of concerts, plays, and comedy nights.
Friendship Fountain
The centrepiece of St. Johns River Park is one of the world's largest and tallest fountains. The park is open 24/7 and the fountain is especially beautiful at night with its illuminated jets offering a stunning water show.
Cummer Museum of Art & Gardens
Home to an extensive collection of over 5,000 works of art. Its permanent exhibition features works dating back to 2,100 BC and include paintings by famed American artists Thomas Moran and Norman Rockwell.
Back to top