11 Best Things to Do in Sedona
What is Sedona Most Famous For?
Sedona is a wonderful place to unplug and reconnect with nature. As one of Arizona's most famous destinations for natural beauty and outdoor adventures, you have a wealth of hiking, dining, and relaxation experiences.
With this historic desert town surrounded by red-rock cliffs, Sedona is renowned for its moviemaking history that dates to the heyday of the western genre. Bring your hiking boots and prepare yourself to soak up an array of first-rate art galleries, spiritual experiences, and natural landmarks, as we highlight among Sedona's most famous things to do.
What are the best things to do in Sedona?
1
Devil's Bridge Trail
An awe-inspiring natural landmark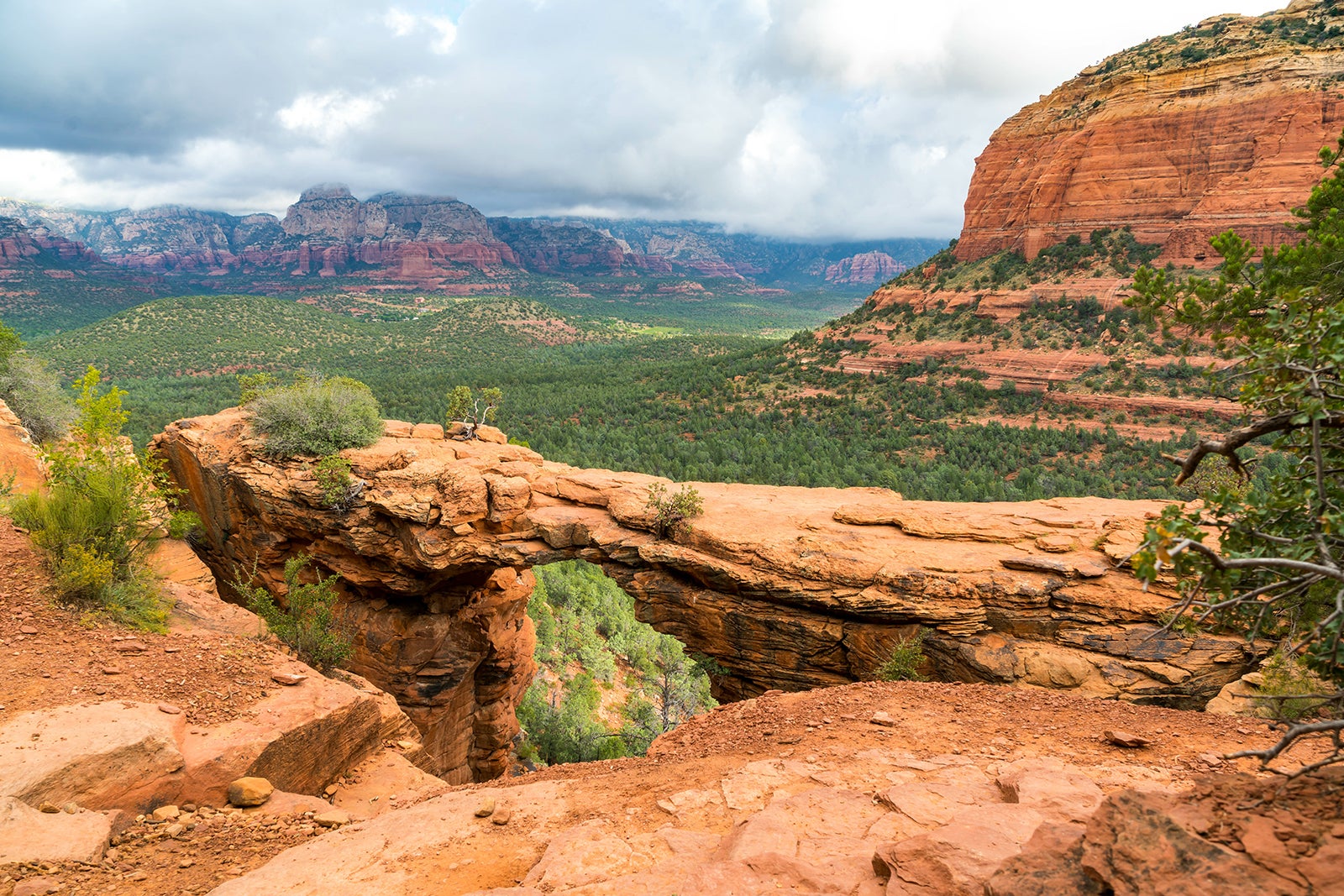 The Devil's Bridge Trail is one of Sedona's most popular hikes for a reason, with its enviable claim to the region's largest natural sandstone arch. But before you get to make your way out onto this stunning centrepiece, you'll have to complete a slightly challenging 1.8-mile trail.
Fortunately, the hike up this rocky outcrop presents truly breathtaking panoramic views along the way. There's also a downhill path that offers a striking perspective on the bridge soaring high above. With the sun beaming down throughout the year, be sure to take enough water with you.
Location: Devil's Bridge Trail, Sedona, AZ 86336, USA
2
Palatki Heritage Site
A millennia-old location holding Sedona's storied past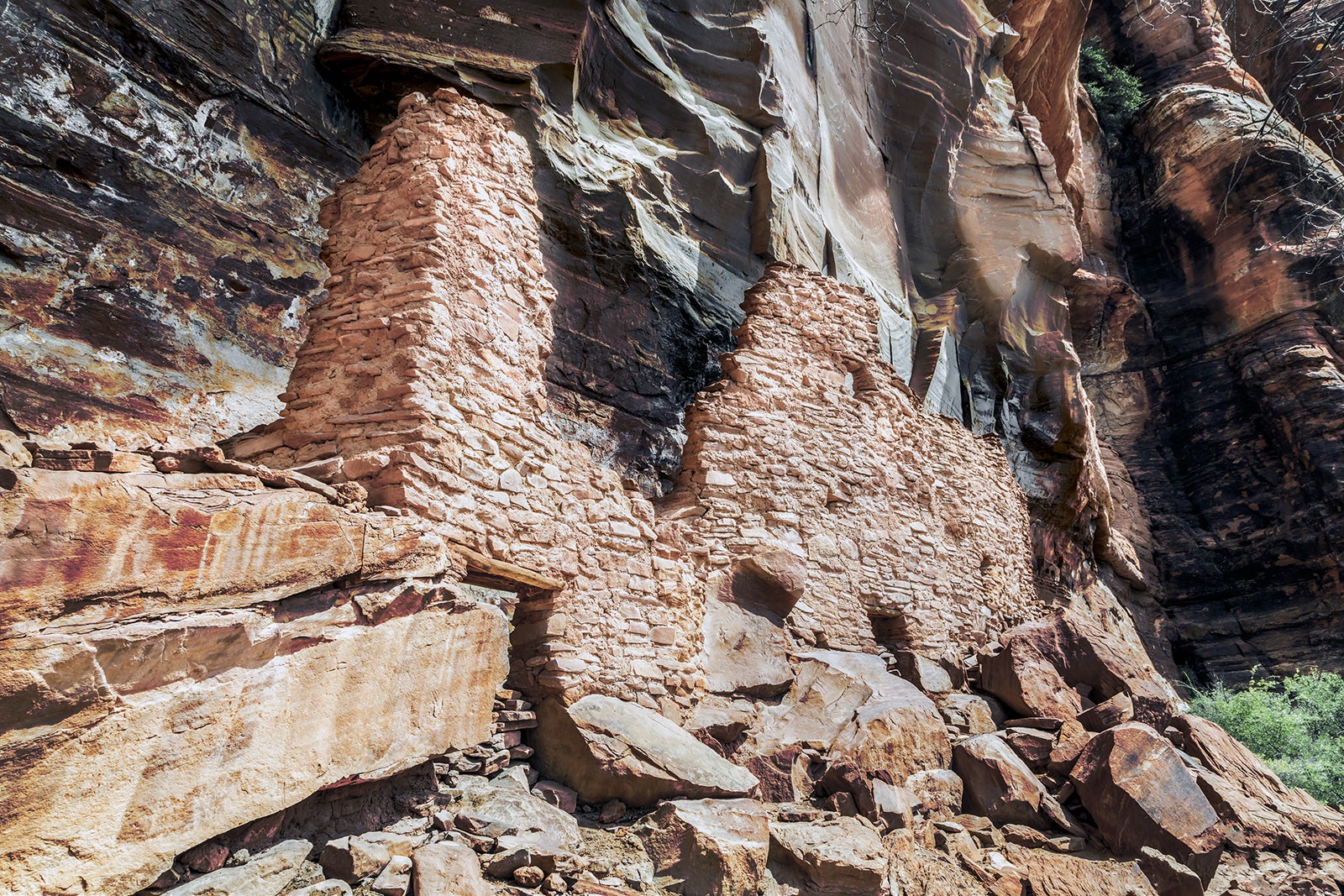 The Palatki Heritage Site is a wonderful chance to engage with Sedona's ancient history, as you get an up-close look at a series of red-rock cliffs that were once home to the Sinagua people. It's a fascinating experience as these age-old dwellings and surrounding cave paintings to date back as far as 6,000 years.
Spread throughout the Palatki Heritage Site, 3 main trails lead you towards a range of extraordinary monuments. Across a fantastic viewing platform, archaic painted alcoves and the primitive cliffside dwellings themselves, each one offering incredible memories.
Location: Forest Rd #795, Sedona, AZ 86336, USA
Open: Daily from 9.30 am to 3 pm
Phone: +1 928-203-2900
3
Tlaquepaque Arts and Shopping Village
A creative precinct for outstanding mementoes
The Tlaquepaque Arts and Shopping Village is a unique place to score distinctive art pieces. Located along Oak Creek and surrounded by lush sycamore trees, you will relish the chance to explore this superb shopping precinct styled like an authentic Mexican village.
As you make your way along the cobbled paths and beneath some beautiful stone arches, you'll discover over 50 galleries and shops presenting a range of creative inventions, including bronze sculptures, traditional ceramics and large-format photography. Meanwhile, there are also 5 outdoor restaurants on-hand for when you're ready to rest your feet.
Location: 336 AZ-179, Sedona, AZ 86336, USA
Open: Monday–Thursday from 10 am to 5 pm, Friday–Sunday from 10 am to 6 pm
Phone: +1 928-282-4838
4
Sedona Heritage Museum
Where you can learn about the foundation of Sedona
The Sedona Heritage Museum celebrates the pioneering people who built this community about 125 years ago. Located in Jordan Historical Park, the museum has a sprawling collection of works that delve into Sedona's past and reveal an array of fascinating details dating back to 1876.
A wonderful place to escape a hot summer's day, the Sedona Heritage Museum highlights the cowboy lifestyle, the area's thriving orchard industry and its strong cinematic history. With the town developing a reputation as 'Arizona's Little Hollywood', you'll find exhibits exploring bygone movie sets from the height of the Western genre in the 1960s and 1970s.
Location: 735 Jordan Rd, Sedona, AZ 86336, USA
Open: Daily from 11 am to 3 pm
Phone: +1 928-282-7038
photo by Marine 69-71 (CC BY-SA 4.0) modified
5
Slide Rock State Park
A lively natural waterpark for the whole family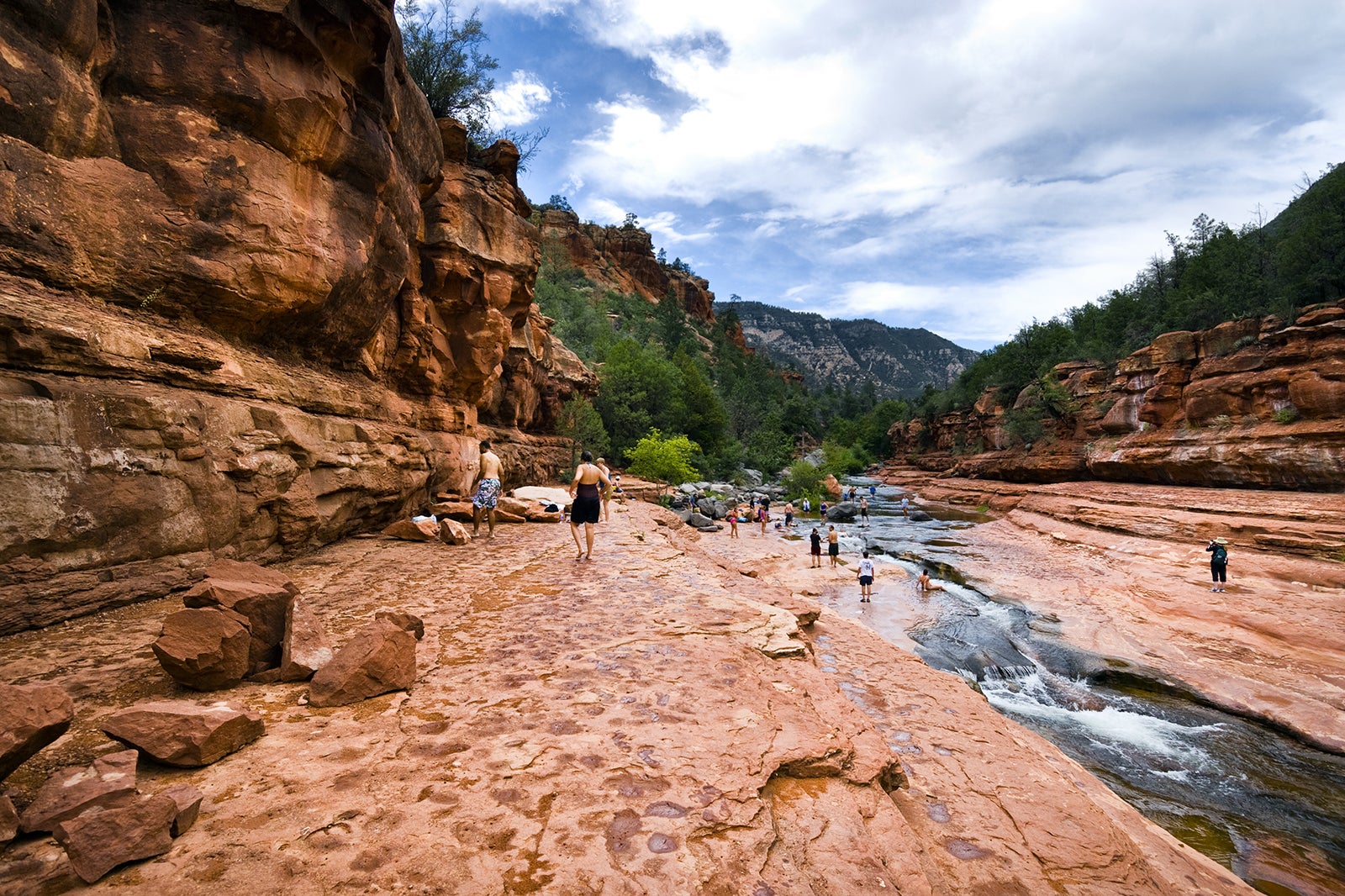 Slide Rock State Park is a sprawling natural landmark that draws in those seeking a top outdoorsy experience in Sedona. The 43-acre landscape was once home to a thriving apple orchard, formerly known as the Pendley Homestead.
Along with a slippery creek that gave the park its name, you will find the same distinctive red cliffs that makeup Sedona's other renowned landscapes. The creek is open for swimming and sunbathing – you're welcome to slide down the natural chute that leads into the pool below.
Location: 6871 AZ-89A, Sedona, AZ 86336, USA
Open: Daily from 8 am to 6 pm
Phone: +1 928-282-3034
6
Chapel of the Holy Cross
One of America's great architectural landmarks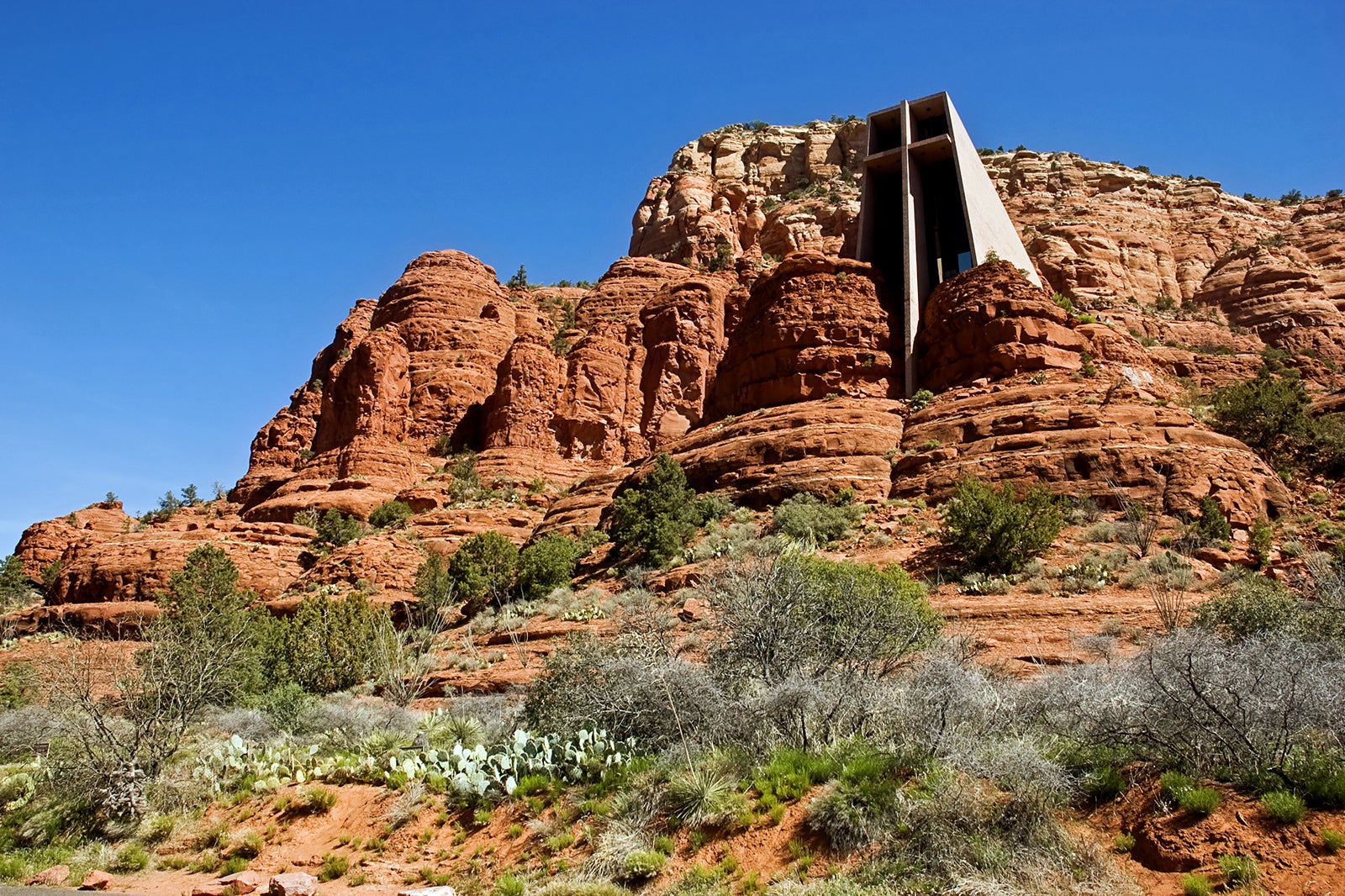 The Chapel of the Holy Cross is a world-renowned architectural monument in Sedona. Sculptor Marguerite Brunswig Staude designed it, with the unique landmark built into Arizona's iconic red-rock mountainside. It fades into the landscape before the spire climbs to 250 ft.
Inside, the chapel features a minimalist design with soft lighting and floor-to-ceiling windows offering unmatched views. Having won a raft of architectural awards, this religious structure is a must-visit when you're in Sedona.
Location: 780 Chapel Rd, Sedona, AZ 86336, USA
Open: Daily from 9 am to 5 pm
Phone: +1 928-282-4069
7
Cathedral Rock
An iconic sandstone monument for stunning photographs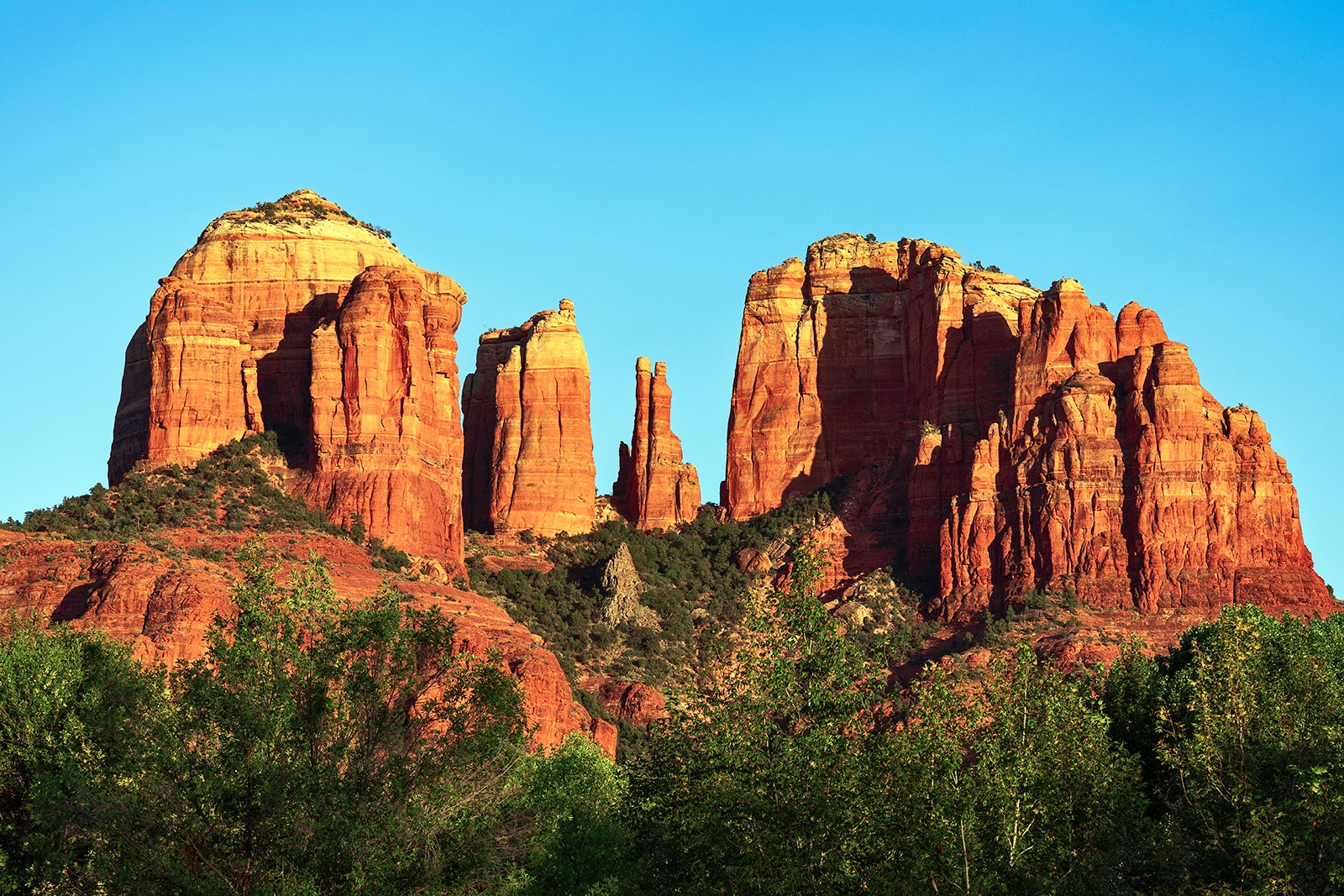 Cathedral Rock is an unmissable landmark, jutting high above Sedona's skyline. Situated within the Coconino National Forest, it's a favourite destination for landscape photographers looking to capture nature at its most beautiful.
While Cathedral Rock has the same mountainous, sandstone scenes found throughout the region, it comes into its own once the sun begins to set. Experience how the light fades around the formation, with the evening sky flecked with red and purple hues. You can tackle the 1.5-mile Cathedral Rock Trail, which offers incredible vistas of the surrounding canyons.
Location: Cathedral Rock Trail, Sedona, AZ 86351, USA
8
Amitabha Stupa and Peace Park
A peaceful getaway for enjoying some time to yourself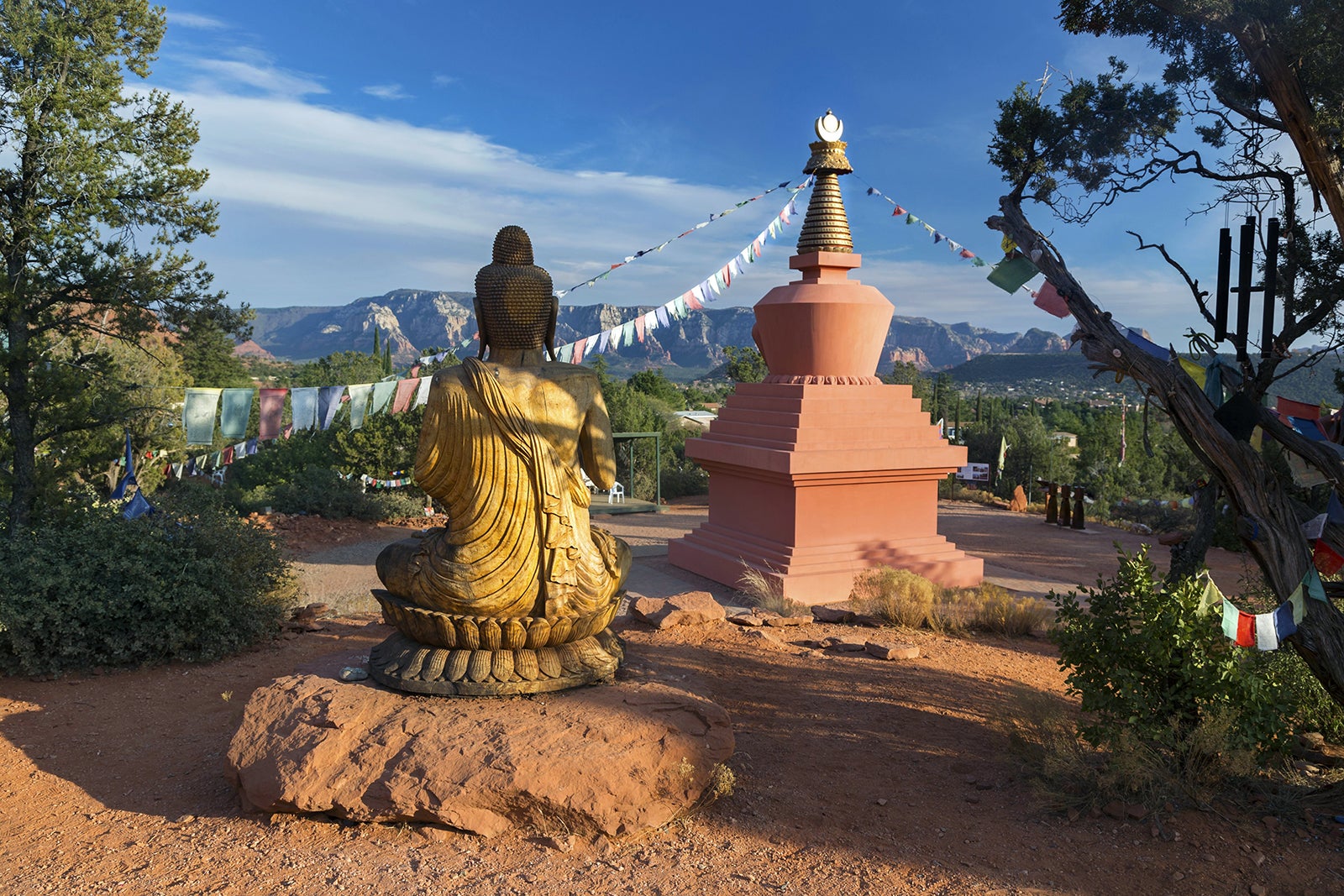 Amitabha Stupa and Peace Park is a remarkably tranquil site surrounded by 14 pristine acres of desert. For the ultimate serene escape, you can't look past this place at the base of Thunder Mountain, close to towering Chimney Rock. With this landmark considered holy by the region's native population, take a time out from your daily routine, and refresh your spirit.
Named after Buddha Amitabha, at the heart of this relaxing oasis is a 36-foot enlightenment stupa. Filled with an abundance of sacred relics and ritual offerings, the Amitabha Stupa and Peace Park is Sedona's essential destination for spiritual healing and transformation.
Location: 2650 Pueblo Dr, Sedona, AZ 86336, USA
Open: Daily from 7 am to 6 pm
Phone: +1 877-788-7229
9
Crescent Moon Ranch
For among Sedona's most spectacular views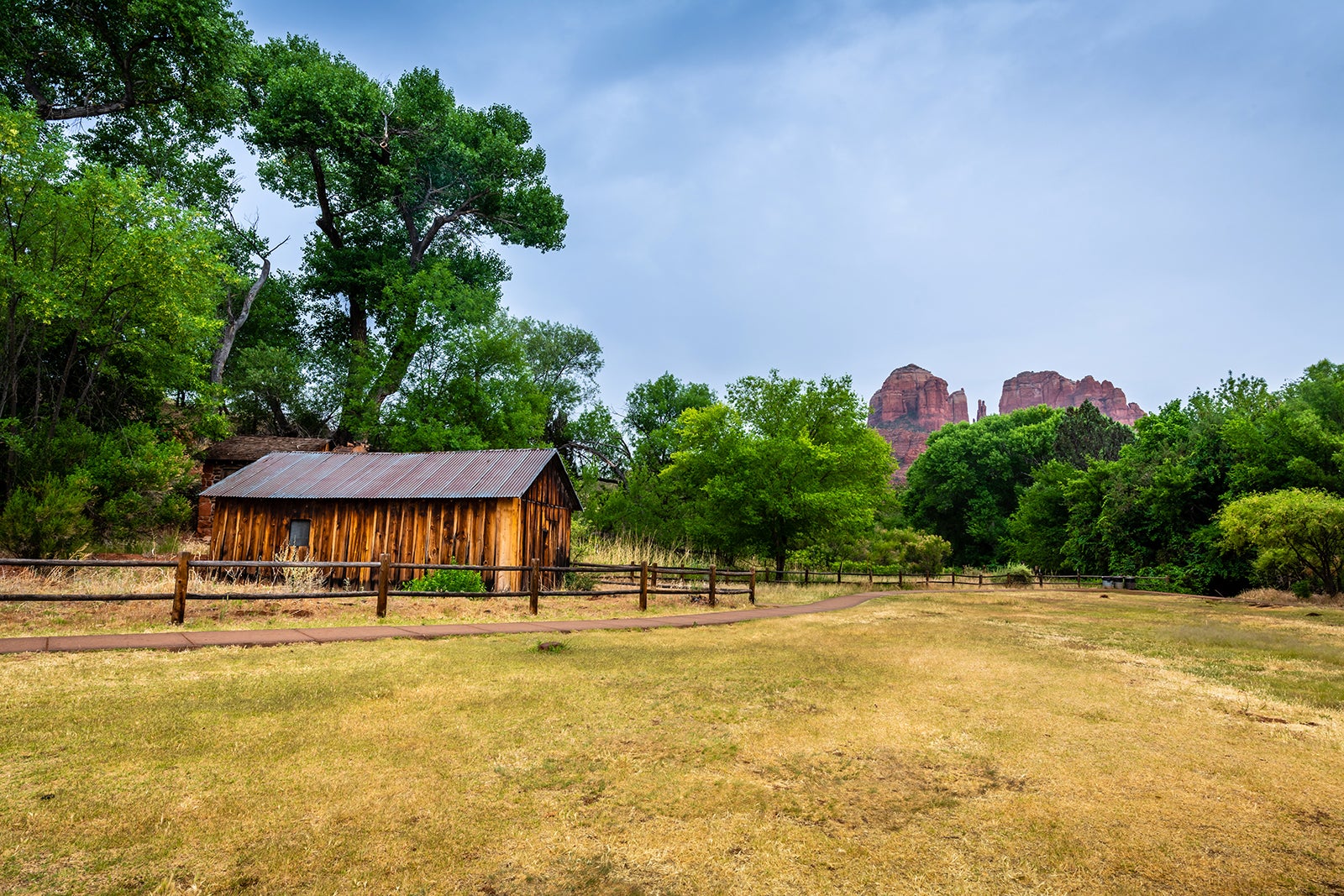 Crescent Moon Ranch is one of Sedona's most scenic spots. First settled in 1880 by a local cattle owner, it was a thriving apple orchard with lush trees growing along the edge of Oak Creek. With Cathedral Rock rising high above the ranch in the distance, Crescent Moon is hugely popular among nature photographers, swimmers, and hikers.
Also, at Crescent Moon Ranch is a historic cabin that's open for overnight stays. Volunteers have faithfully restored the structure to its former glory, preserving its original pine floors, windows, and kitchen. For a unique stay that transports you 50 years into the past, make your way to Crescent Moon Ranch.
Location: 300 Red Rock Crossing Rd, Sedona, AZ 86336, USA
Open: Daily from 8 am to 8 pm
Phone: +1 928-203-7500
10
Montezuma Castle National Monument
Multi-storey cliff dwellings built by the Sinagua culture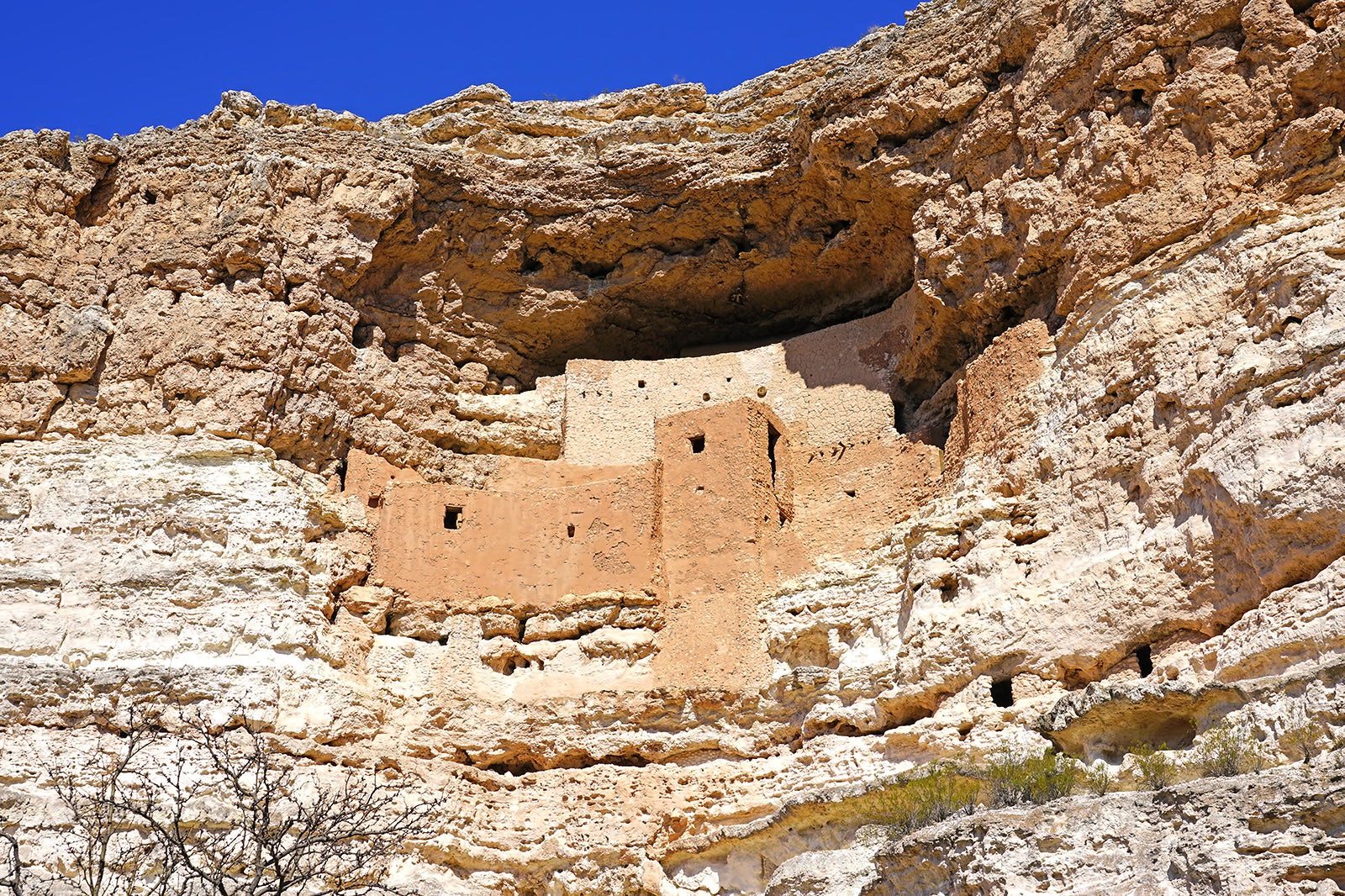 The American Southwest is rich with Native American sites, and one of the most interesting is Montezuma Castle National Monument. Here, you'll find a 5-story cliff dwelling build from local bricks and set within the face of a cliff. The self-guided tour takes you on a loop trail (1/3 mile) to the cliff face, through a grove of sycamores, and then along Beaver Creek.
In addition to the tour, you can also enjoy ranger programmes throughout the year, have lunch in the picnic area, or head 11 miles north to Montezuma Well. The visitor centre offers informational and educational opportunities, too. Note that pets are allowed in this area.
Location: Montezuma Castle Rd, Camp Verde, AZ 86322, USA
Open: Daily from 8 am to 5 pm
Phone: +1 928-567-3322 Ext:221
11
Verde Valley Wine Trail
Sedona's dreamy vino route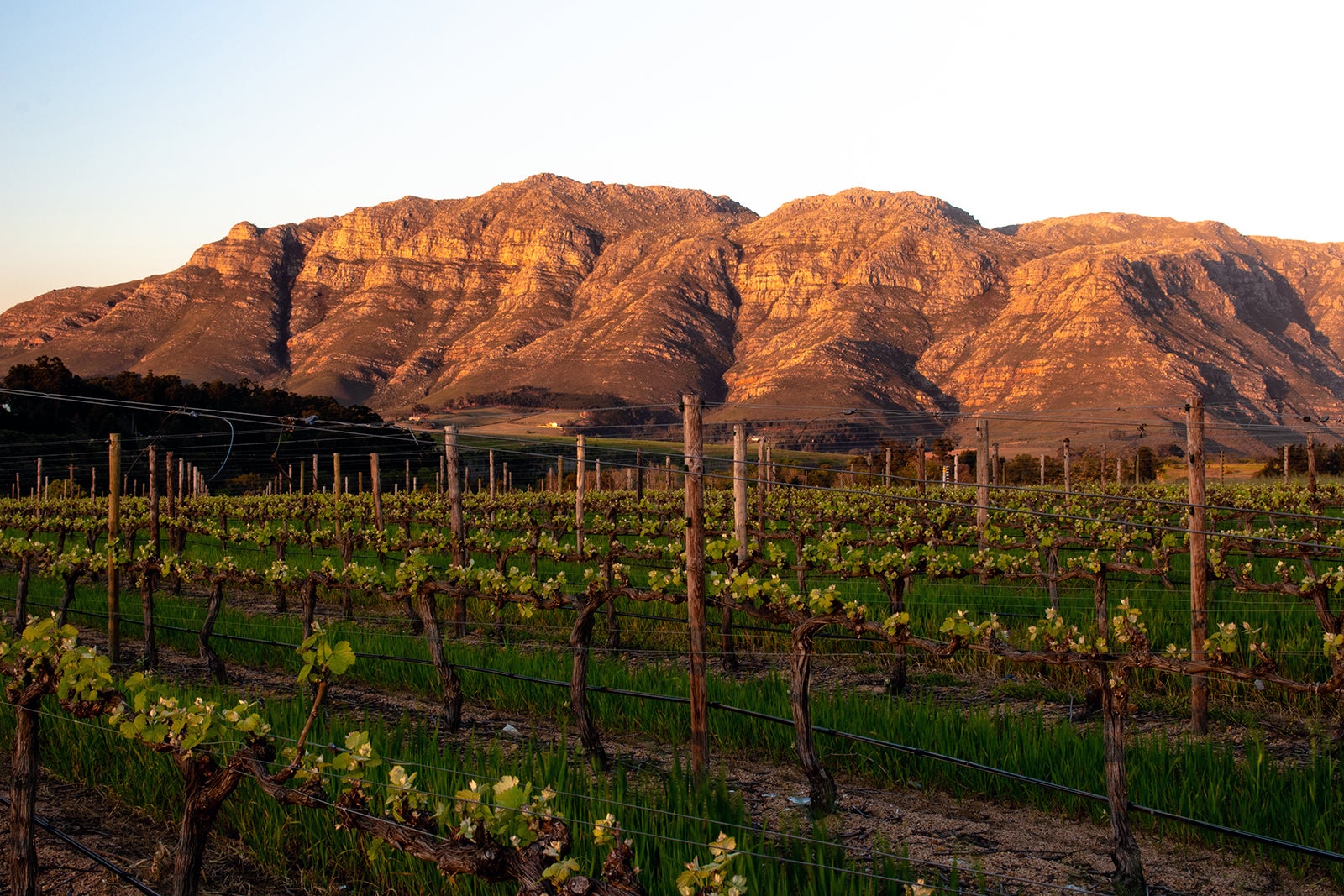 The Verde Valley Wine Trail lets you experience the region's distinguished winemaking traditions. Stretching from Sedona and into surrounding areas such as Cottonwood and Page Springs, there are over 20 wineries and tasting rooms where you can sample delightful flavours.
With each stop offering its own perspective on the region's winemaking history and production, there's hardly a more scenic setting to put your palette to the test. Fortunately, a host of tour operators make it easy to get from one destination to the next – you're also plied with local cheeses, charcuterie and grapes picked fresh from the vine.
Back to top