10 Best Things to Do in Lake Tahoe
What is Lake Tahoe Most Famous For?
The best things to do in Lake Tahoe aren't too far from the magnificent lake and surrounding natural beauty. Towering mountains and pristine wilderness make Lake Tahoe a fabulous year-round destination. The lake straddles the California–Nevada state line and is the clearest and second-deepest lake in the USA. From the surface, you can see some 30 feet down into the blue water.
With a wide variety of activities, Lake Tahoe is an outdoor adventurer's paradise. In summer, you can go swimming, camping, hiking, snorkelling, and kayaking. Winter promises powder days and large snowfall, perfect for skiing, snowboarding, and sledging. The glistening lakes and breathtaking views aren't the only draws to the area. The après nightlife, flashy casinos and exciting historical attractions make Lake Tahoe a fun and unique vacation spot for couples, friends and families.
What are the best things to do in Lake Tahoe?
1
Glen Alpine Falls
An impressive and accessible waterfall in South Lake Tahoe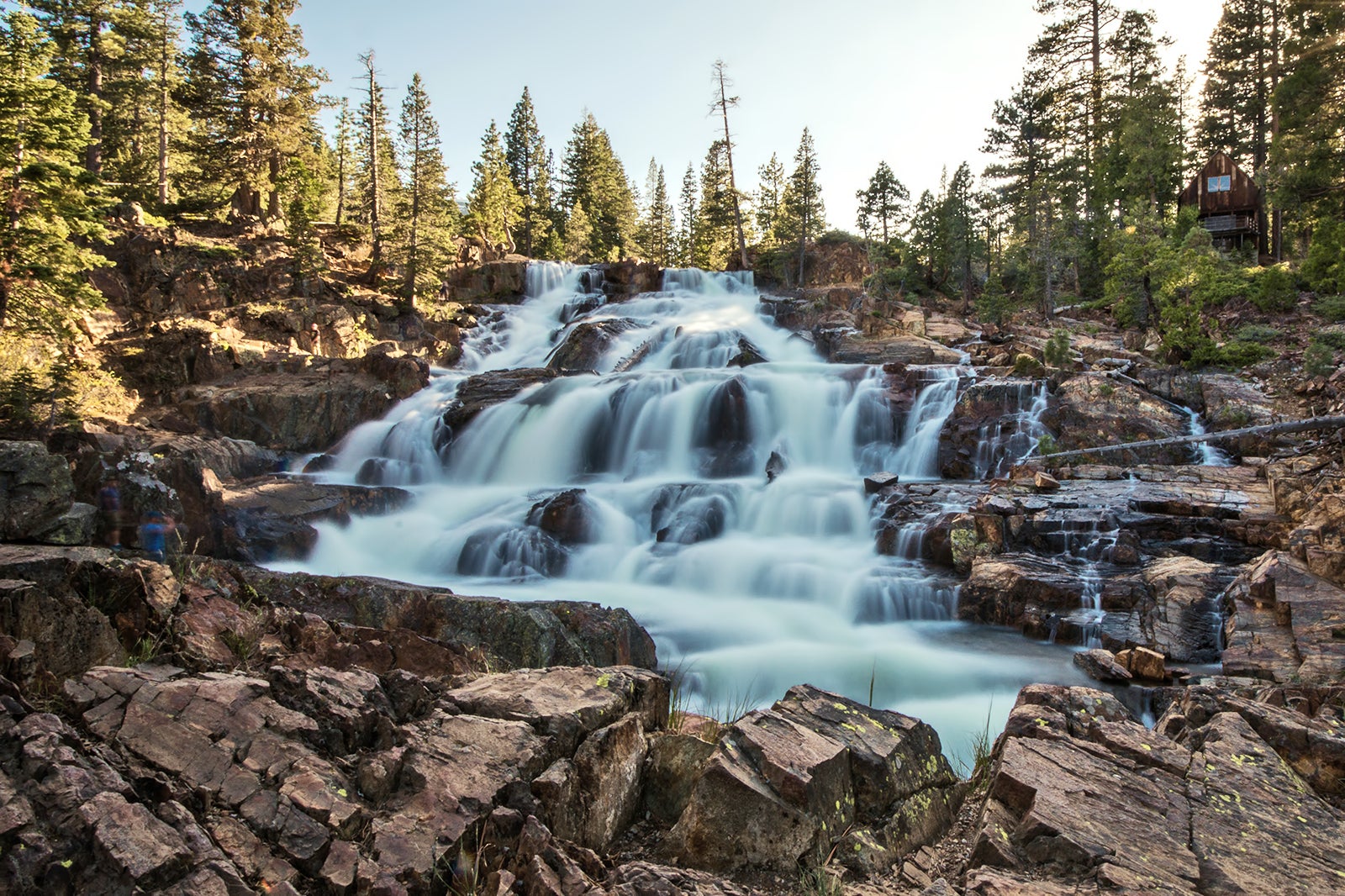 Glen Alpine Falls is a beautiful spot to visit in South Lake Tahoe. The wide waterfall cascades down about 75 ft over step-like rock slabs into a river that flows into Fallen Leaf Lake. The falls are easily accessible from the roadside, so no hiking is required. But you can take a short walk down to the base of the waterfall.
A highlight of Glen Alpine Falls is that you can get up close and feel the roaring water. There is a lookout point where you can sit, relax and listen to birds chirping around you. The best time to visit is in spring and early summer.
Location: 1580 Glen Alpine Rd, South Lake Tahoe, CA 96150, USA
2
Lake Tahoe beaches
Soak up the sun on picture-postcard stretches of sand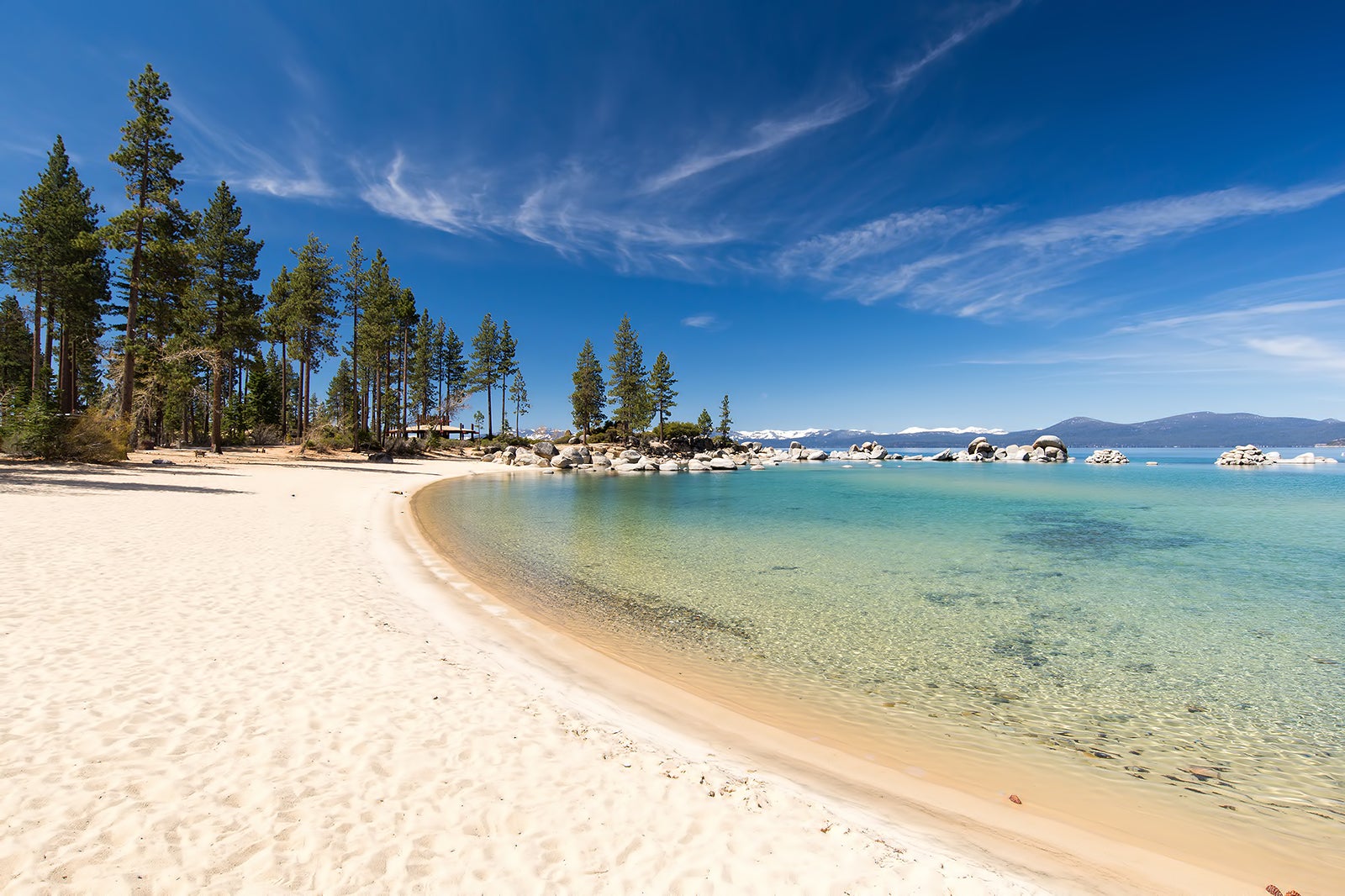 Lake Tahoe has some beautiful beaches with clear water and stunning views. Sand Harbor on the Nevada side frequently ranks as the prettiest beach in Lake Tahoe. With several miles of golden sand, excellent swimming areas, and water sports rentals, the beach draws summer weekend crowds. Get there early to grab a parking spot. Another popular beach is Lester Beach in DL Bliss State Park. The water here is very calm, making it perfect for snorkelling and swimming. There also many hiking trails nearby.
Kiva Beach on the south shore offers marvellous views of Mt. Tallac. It is one of Tahoe's lesser-known beaches and is usually less crowded than others. The beach is dog-friendly. Pack light and take a 3/4 mile steep, but moderate, hike down to Secret Cove on the East Shore. The secluded beach is tucked away from prying eyes and is popular with nudists. Just north from there is Chimney Beach, a local favourite with impressive boulders.
3
Lake Tahoe hiking trails
Put on your hiking boots and spend a day exploring pristine nature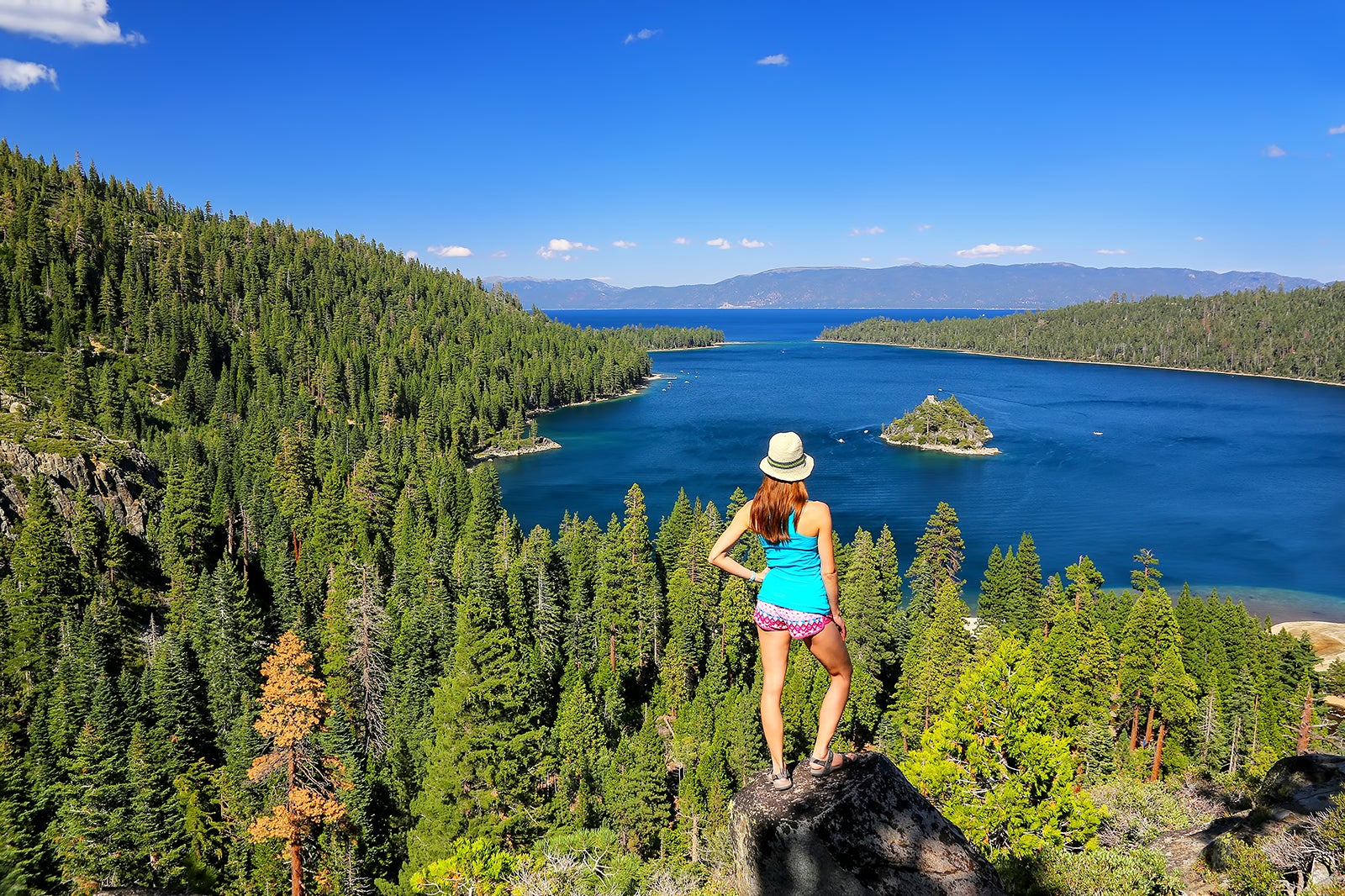 Hiking is a superb way to explore the breathtaking wilderness of Lake Tahoe. For a fabulous day hike with panoramic views, Mount Rose on the North Shore is a popular choice. The 11-mile loop trail traverses forests and meadows before zig-zagging up rocky terrain to the summit. Pack a warm jacket because the weather at the top can be windy and cold any time of the year. For equally stunning views, but less strenuous, stroll to the Stateline Lookout near Crystal Bay. Enjoy spectacular views of the north shore through free telescopes.
On the East Shore, start at Spooner Lake and walk along the North Canyon trail through pine forests to reach the fish hatchery of Marlette Lake. It's a 9.5-mile roundtrip, and you can expect fantastic vistas of Lake Tahoe. Sugar Pine Point State Park on the West Shore has many miles of hiking trails suitable for all levels. Lastly, the famous Mount Tallac in the south is one of the more challenging hikes in the area. Your efforts are rewarded with views of Emerald Bay, Cascade Lake, Fallen Leaf Lake, and the entire South Shore.
4
South Tahoe Beer Trail
A great guide to the best local craft beer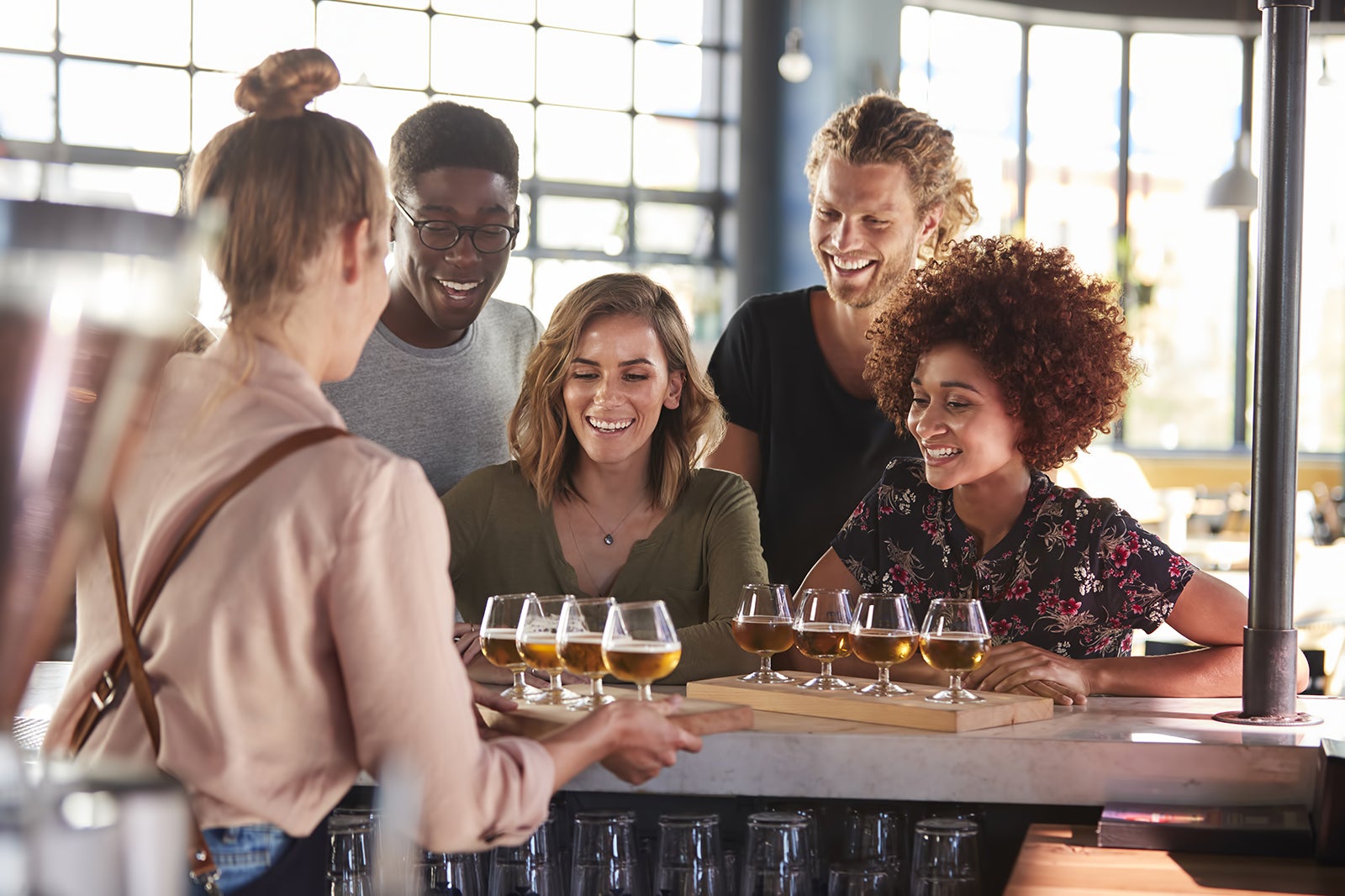 The South Tahoe Beer Trail lets you discover Tahoe South's best craft beer. The trail was created by the Tahoe Chamber and maps out 9 different breweries in the area. Each one has a unique vibe and offers a wide variety of craft beer made on-site. All breweries sell food if you're feeling peckish. Some places allow 4-legged friends to join in the fun, too.
At South Lake Brewing Company, you can sample beers made before your eyes. Other prominent breweries along the trail include Lake Tahoe AleWorX, Cold Water Brewery & Grill, Sidellis, and The Hangar.
5
Lake Tahoe ski resorts
World-renowned skiing and gorgeous settings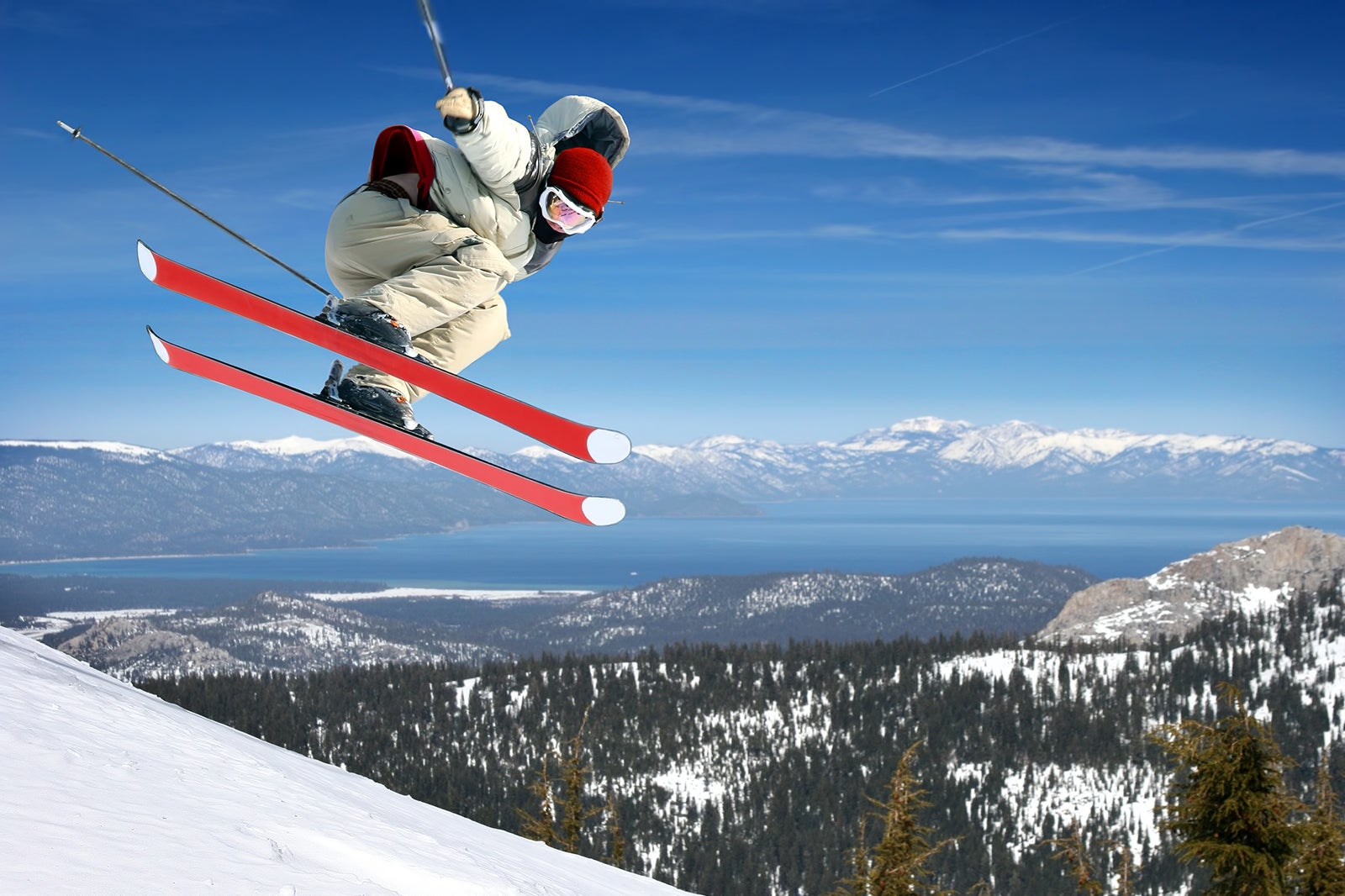 Sublime mountain scenery and sunny skies make Lake Tahoe a top ski destination in the USA. Heavenly Ski Resort near South Lake Tahoe boasts spectacular views of the lake and desert from its 97 trails and 28 ski lifts. This resort is great if you're all about a fun party atmosphere. On the northwest shore lies the world-renowned ski resort, Squaw Valley. Everyone, from beginners to pros, can enjoy the powdery slopes and a wide variety of terrain.
One of Tahoe's best-kept secrets is Homewood Resort on the West Shore. While the lifts are slower, the old-school resort makes up for this with relatively cheap tickets, incredible glades, and magnificent views of Lake Tahoe from every run.
6
Taylor Creek Visitor Center
For Lake Tahoe's spectacular salmon run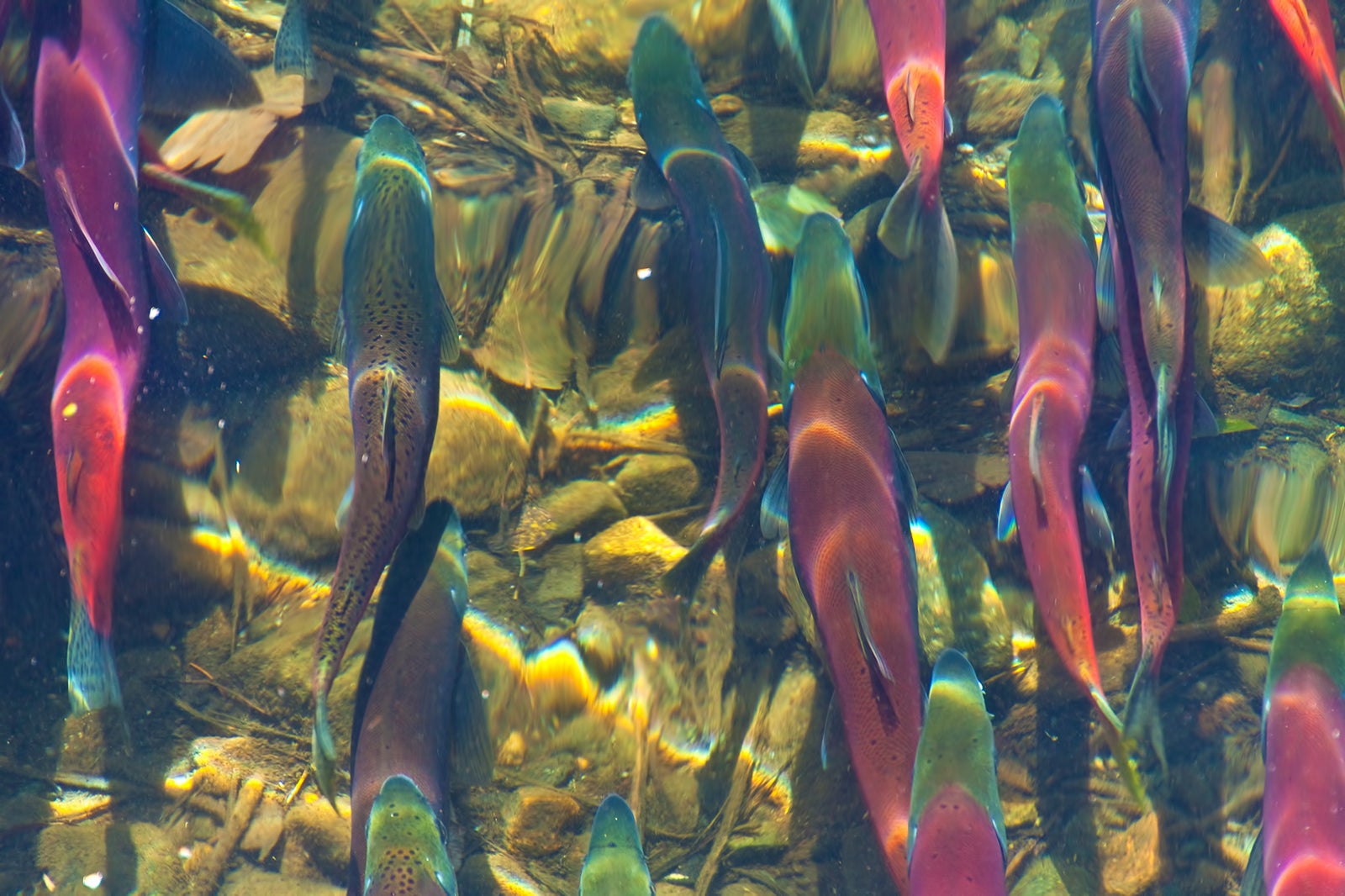 The Taylor Creek Visitor Center is the starting point for 4 self-guided hiking trails. It sits on the south shore of Lake Tahoe. The centre is also home to the Stream Profile Chamber. Located on the Rainbow Trail, the underground viewing chamber provides a view of Taylor Creek's underwater environment. You can observe fish and other aquatic animals through big, aquarium-like windows.
If you visit in autumn, you'll catch the Kokanee salmon turn bright red as they swim up Taylor Creek to spawn. You can watch the fascinating spectacle from the chamber and at many spots along the hiking trails. The family-friendly Fall Fish Festival takes place on the first weekend of October. Entrance to the Visitor Center, Stream Profile Chamber, and the festival is free.
Location: Visitor Center Road, CA-89 N, South Lake Tahoe, CA 96150, USA
Open: Late May–October: daily from 8 am to 4.30 pm
Phone: +1 530-543-2674
7
Hellman-Ehrman Mansion
A beautiful landmark on the Tahoe lakefront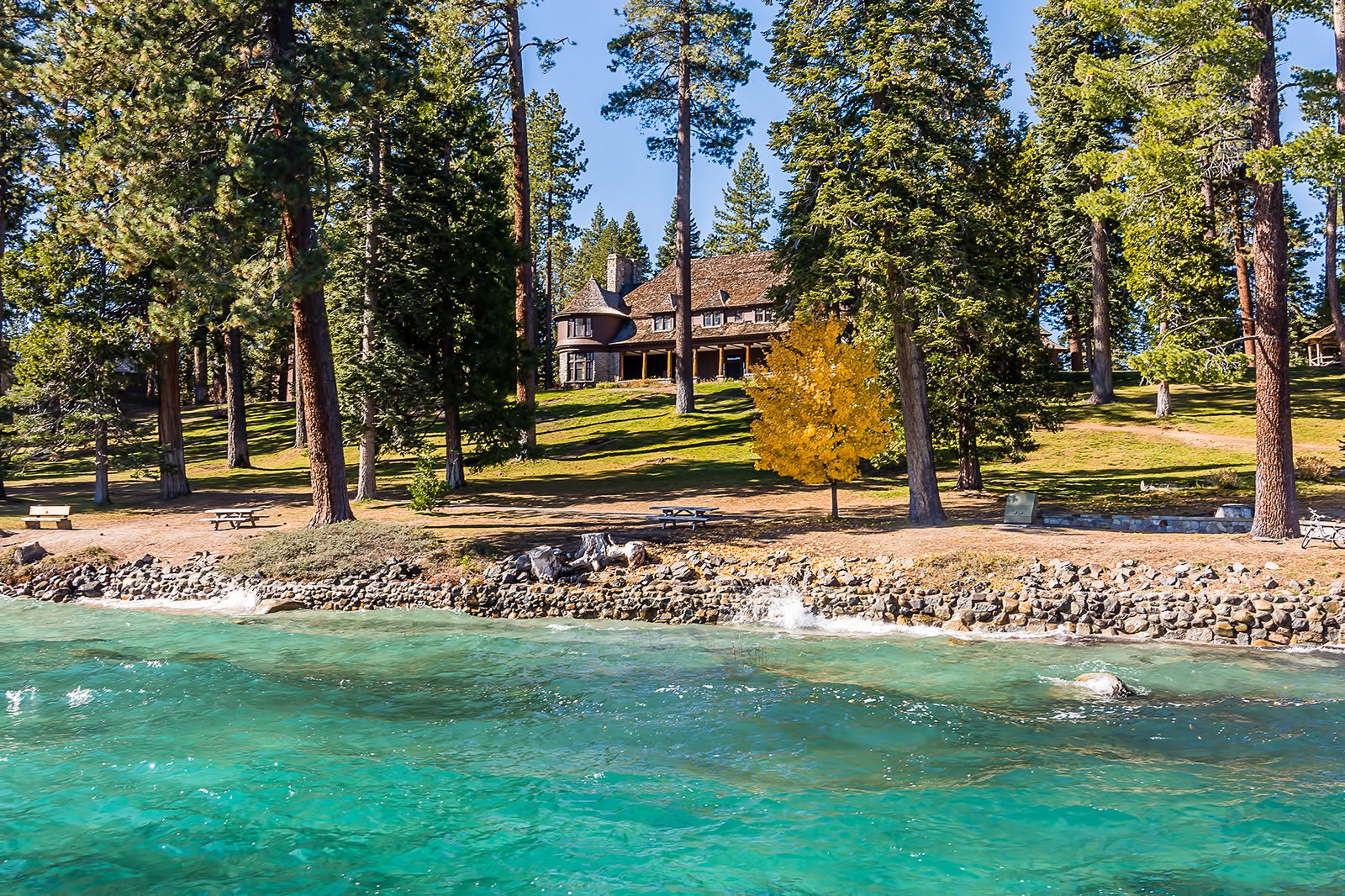 The Hellman-Ehrman Mansion is the main attraction at Sugar Pine Point State Park in West Lake Tahoe. The stone-and-shingle home was constructed in 1903 by San Francisco financier I.W. Hellman. Today, it's a well-preserved national landmark and historical treasure. A visit offers a one-of-a-kind peek into the once-grand tradition of Tahoe summer homes.
On a guided 30-minute tour, you can explore the elegant main house, as well as several outbuildings on the property. Inside, you'll see the original period furniture, a game room, a spiral staircase, ornate Navajo rugs, leaded-glass windows, and marble fireplaces. Other sights include the caretaker's lakeside cottage, ice house, children's house by the tennis court, coach house and boatman's cabin. Tours take place from May to September, for a fee for adults and free for kids (6 years old and under).
Location: Tahoma, CA 96142, USA
Open: Mid-June–September: daily from 10.30 am to 3.30 pm
Phone: +1 530-525-7982
8
Gatekeeper's Museum
Discover what Lake Tahoe life was like 100 years ago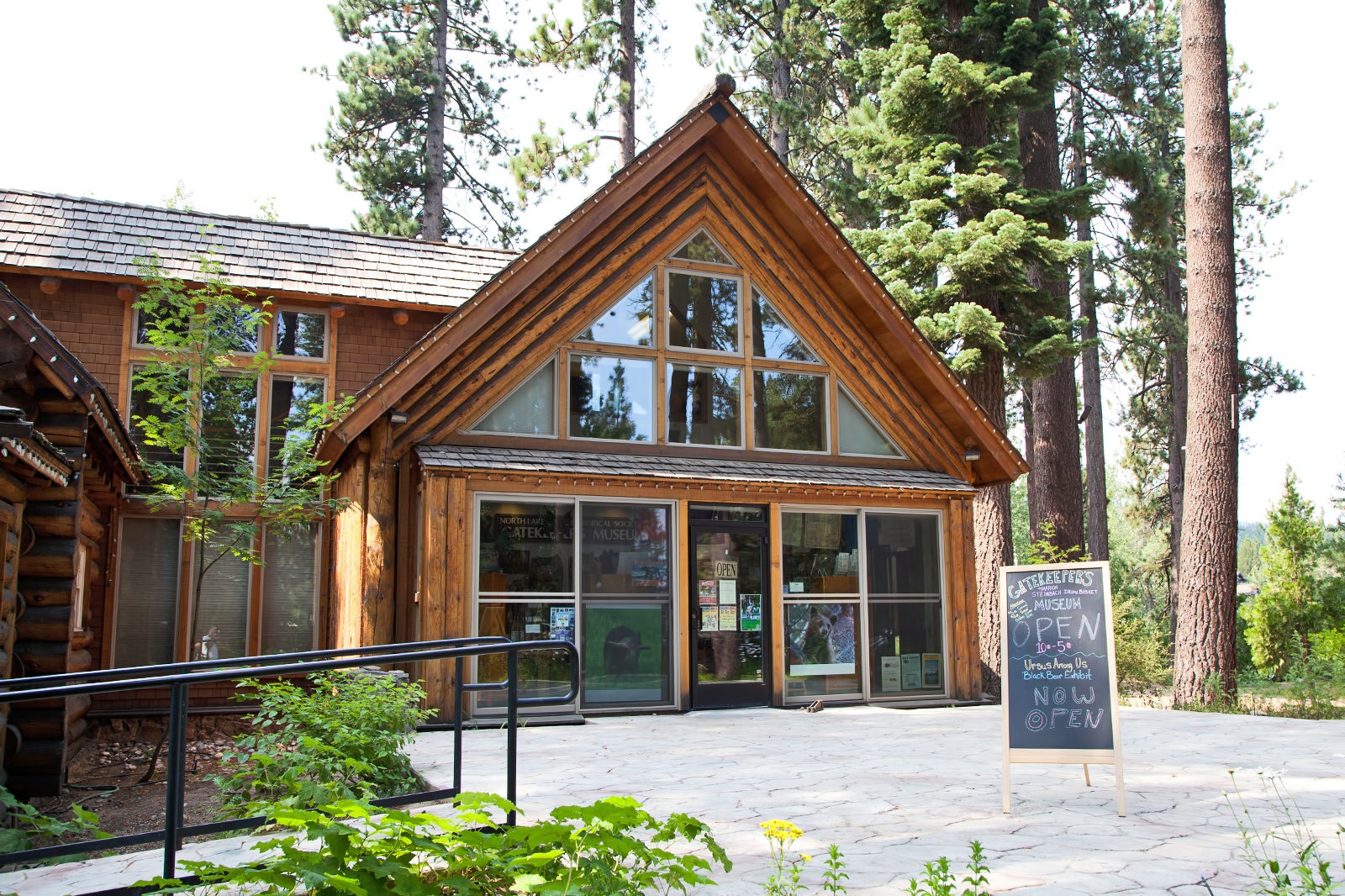 Visit the Gatekeeper's Museum on the Truckee River dam in Tahoe City and learn the history of the Tahoe area. The museum occupies a replica of the original Gatekeeper's Cabin. The log cabin was the home of the person who controlled the flow of water out of Lake Tahoe back in the early 1900s.
Inside, you'll find fascinating exhibits and artefacts related to logging, mining, geology, early steamboat era, the 1960 Olympics, and the development of Lake Tahoe's tourism industry. Also on display is an excellent collection of Native American baskets made by the native peoples of western North America.
Location: 130 W Lake Blvd, Tahoe City, CA 96145, USA
Open: May–September: daily from 10 am to 5 pm, October–April: Friday–Saturday from 11 am to 4 pm
Phone: +1 530-583-1762
photo by Almonroth (CC BY-SA 3.0) modified
9
Lake Tahoe Historical Museum
A fascinating look into Lake Tahoe's history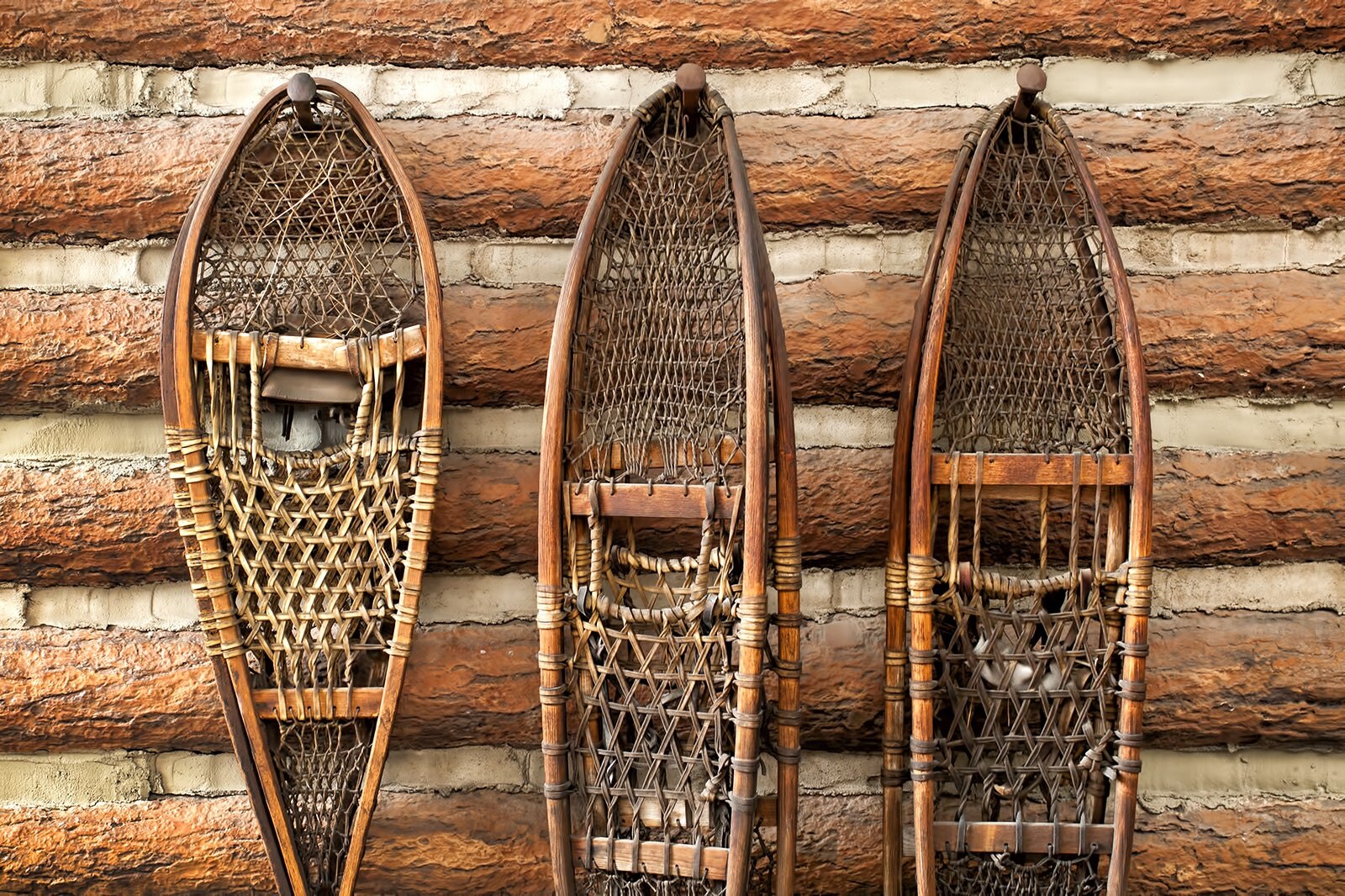 The Lake Tahoe Historical Museum in South Lake Tahoe has fantastic exhibits about the area's history and heritage. Using artefacts and photos, you can learn about Tahoe's earliest occupation by the Washoe people through to its pioneer days. Displays include the Post Express Trail, gold and silver rush, and gaming. You can also discover the glamorous era of steamship travel and exclusive resorts in the early 1900s.
In the summer months, take a tour of the restored 1930s cabin that sits behind the museum. The museum also has an excellent bookstore. You'll find posters, cards, and photographic books by local authors. Entrance to the Lake Tahoe Historical Museum is free.
Location: 3058 Lake Tahoe Blvd, South Lake Tahoe, CA 96150, USA
Open: May and September–mid-December: Saturday from 11 am to 3 pm. June–August: Thursday–Saturday from 11 am to 3 pm
Phone: +1 530-541-5458
10
Lake Tahoe casinos
For gambling and non-stop entertainment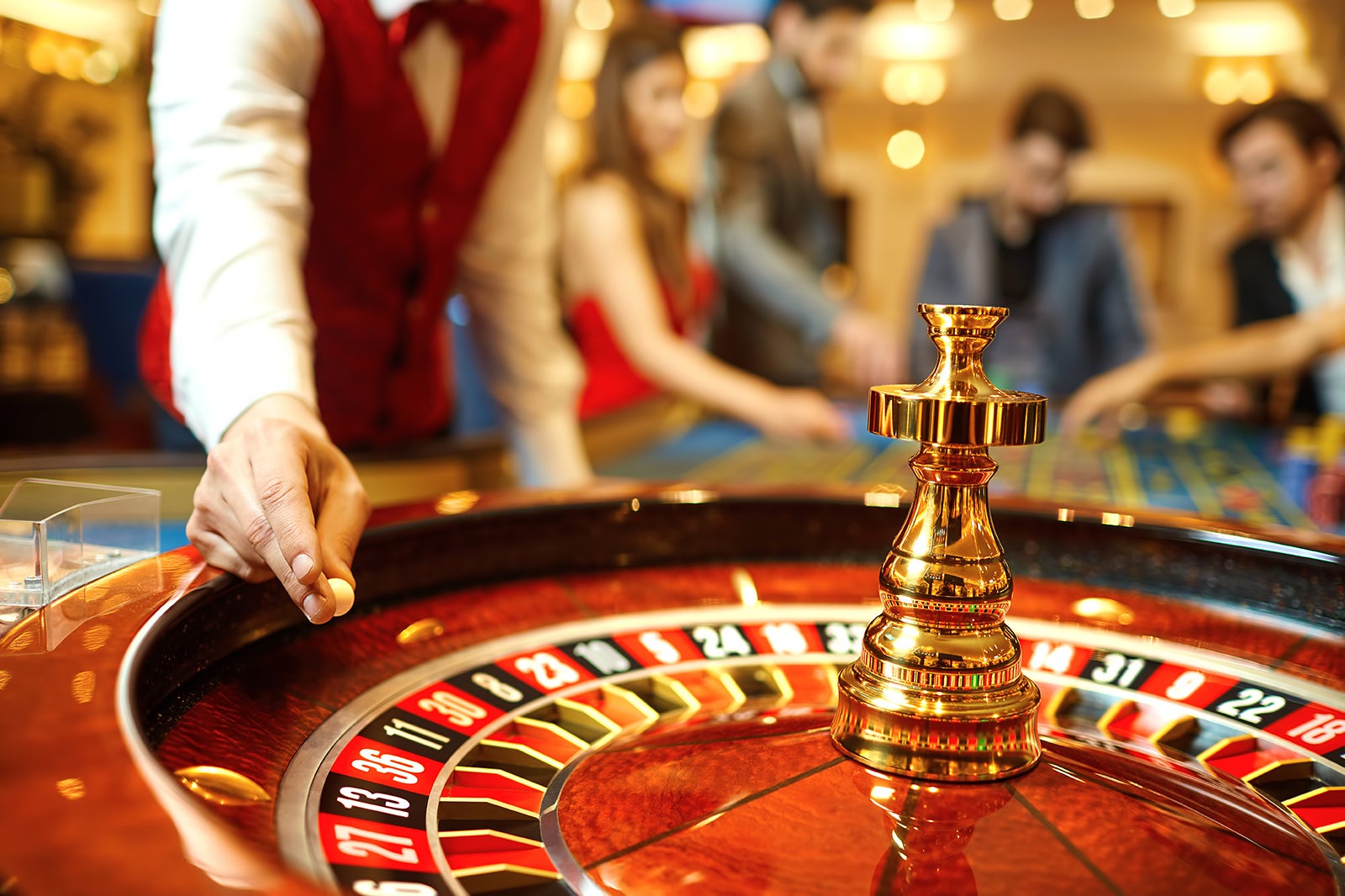 Gambling is only legal in Nevada, so you'll only find casinos on this side of Lake Tahoe. Some of the best casinos are along the US Highway 50 in South Lake Tahoe's town of Stateline. These include Harrah's Lake Tahoe, Harvey's, and Hard Rock Hotel. All of these casinos offer typical gambling options, slot machines, and table games.
The towns of Crystal Bay and Incline Village in North Lake Tahoe are home to a couple of great casinos. To hang out with locals, Crystal Bay Casino is where you should visit. The casual casino is known for its excellent live music concerts and comedy shows. Many of the events are free.
Back to top