11 Best Nightlife in Columbus
Where to Go in Columbus at Night
The nightlife scene in Columbus includes trendy bars, live music venues and even late-night shopping. Following your busy day out and about in Ohio's state capital, you can settle down with a refreshing local beer and a late-night bite – from traditional college bars near Ohio State University to local microbreweries in the Brewery District, you'll find lots of options. And if nightlife for you means lively fun and big-name entertainment, Columbus has you covered, too.
There are retro arcade bars where you can relive some good old times with a cold pint, and there are also places where you can pick up new skills such as axe throwing! From smooth libations to live spectacles, check out where to go at night in Columbus below.
1
Newport Music Hall
The country's oldest continually operating rock hall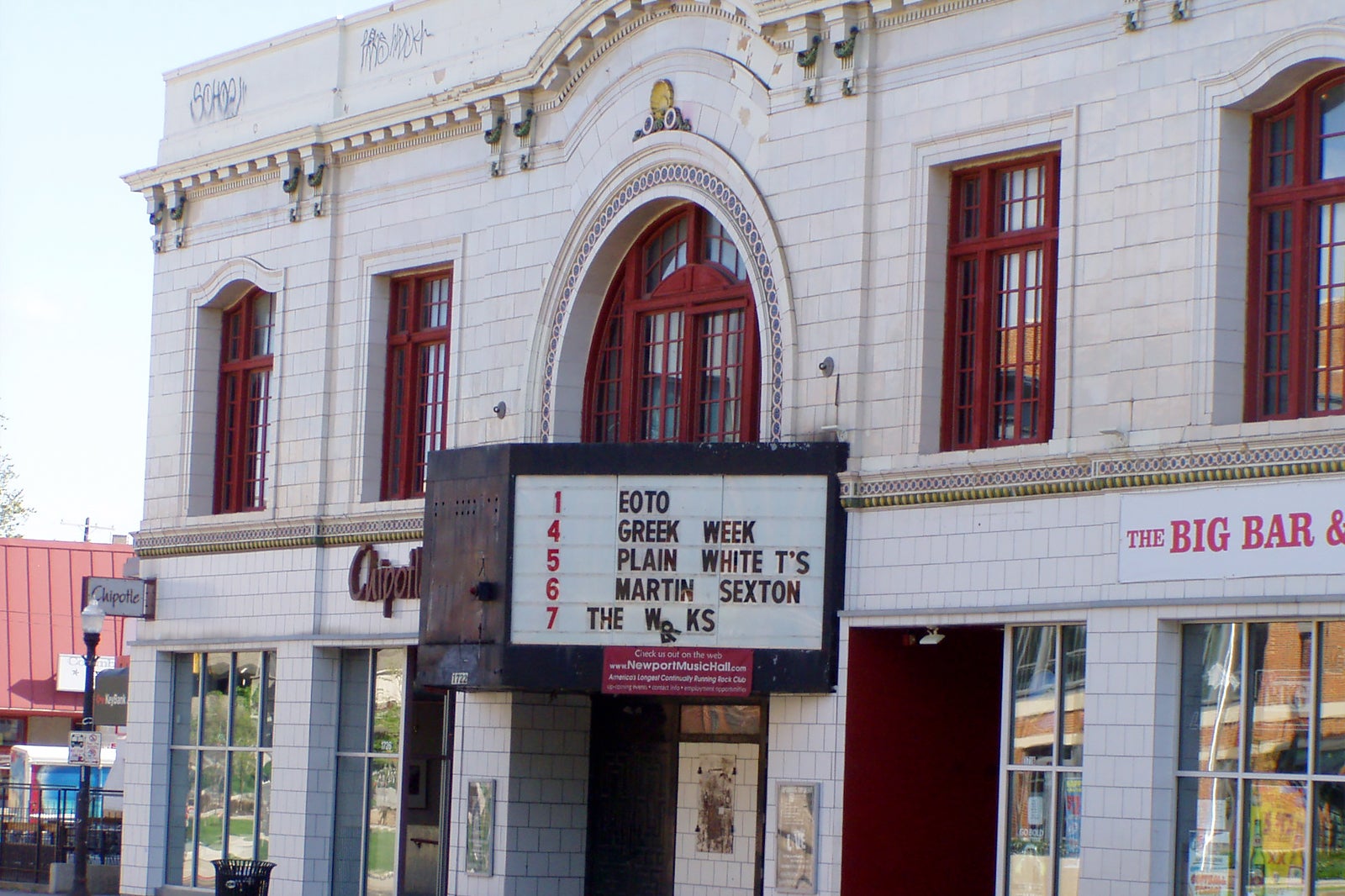 Newport Music Hall is known as the oldest continually operating rock hall in the US. The historic music hall was formerly the State Theater that showed '20s movies, then handsomely renovated as the Agora Ballroom in the '70s. It now offers impressive line-ups, with legendary artists such as Neil Young, B.B. King, and James Brown having performed here.
You can expect great line-ups throughout the year, which includes up-and-coming superstars, and its 1,700-person capacity welcomes a wonderful crowd. Note that it's a standing venue, and it's best to hit the balcony railing upstairs for the view over the stage and main floor if you wish to avoid the crowd. Not far away is Nationwide Arena, which is another premier venue for big-name acts, where the likes of Taylor Swift and Shania Twain have pleased their fans.
Location: 1722 N High St, Columbus, OH 43201, USA
Open: Showtimes vary
Phone: +1 614-461-5483
photo by Grzegorczyk1 (CC BY 3.0) modified
2
Route 33 Brew Trail
A beer lover's dream trip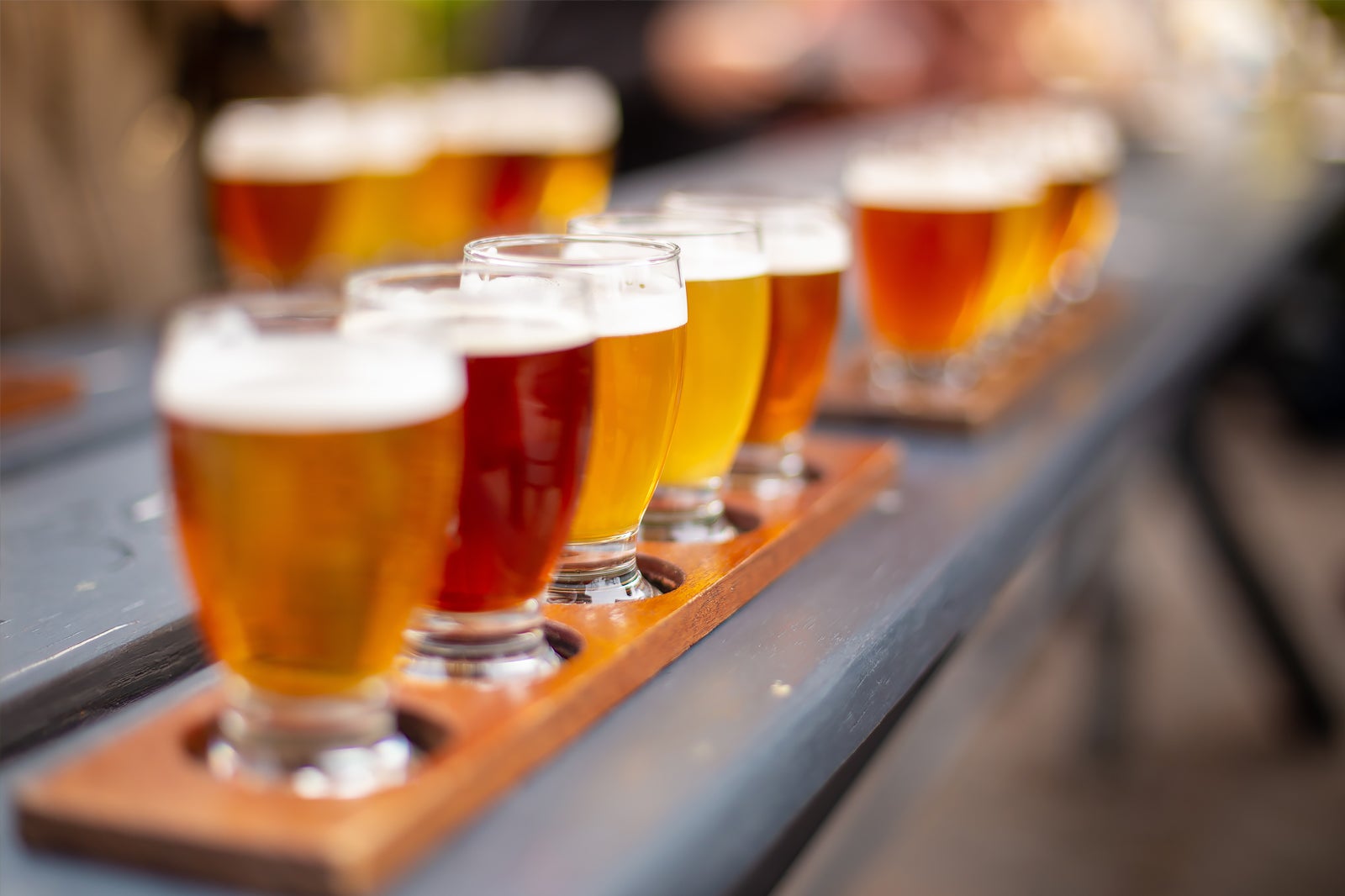 Route 33 Brew Trail is a great option for beer lovers wanting to discover the thriving craft beer scene in Columbus. Brewing beer is so big here that the city even has an area named after it – the Brewery District. Columbus's breweries specialise in local microbrews, and many have tasting rooms, as well as tours and special 'brewmaster' programmes for real aficionados. And it doesn't end there.
You can continue your beer adventures just south-east of Columbus as Route 33 Brew Trail brings you to 6 more breweries and taprooms spanning between Pickerington, 20 minutes east of Columbus, and Hocking Hills in Logan. First, get your beer 'passport', in which you collect a stamp at each location. These can earn you cool swag and bragging rights.
Location: Combustion Brewery, 80 W Church St #101, Pickerington, OH 43147, USA
Phone: +1 614-834-9595
3
Columbus' cocktail bars
For when beer isn't your main drink of choice
Columbus has plenty of cocktail bars serving the classics as well as unique house creations. Whether you're downtown, in Short North or the Arena District, you're within easy reach of a handcrafted drink. To cap off your evening, try a Moscow mule at the casual neighbourhood bar Mouton, or sip a creative cocktail at Euro-chic Denmark.
The cocktail list at Mouton offers classics like Manhattans, Cuba Libres, and Greyhounds. If you're feeling a little more adventurous, you can opt for a house cocktail like the Path to Hades, made with absinthe. At Denmark, you can expect a European-inspired bar serving vintage and modern cocktails, plus a food menu with flatbreads and Danish sandwiches. If you're not looking for a cocktail, you can choose from an assortment of wines and local beers.
4
Columbus Ale Trail
Taste some of the city's best craft beers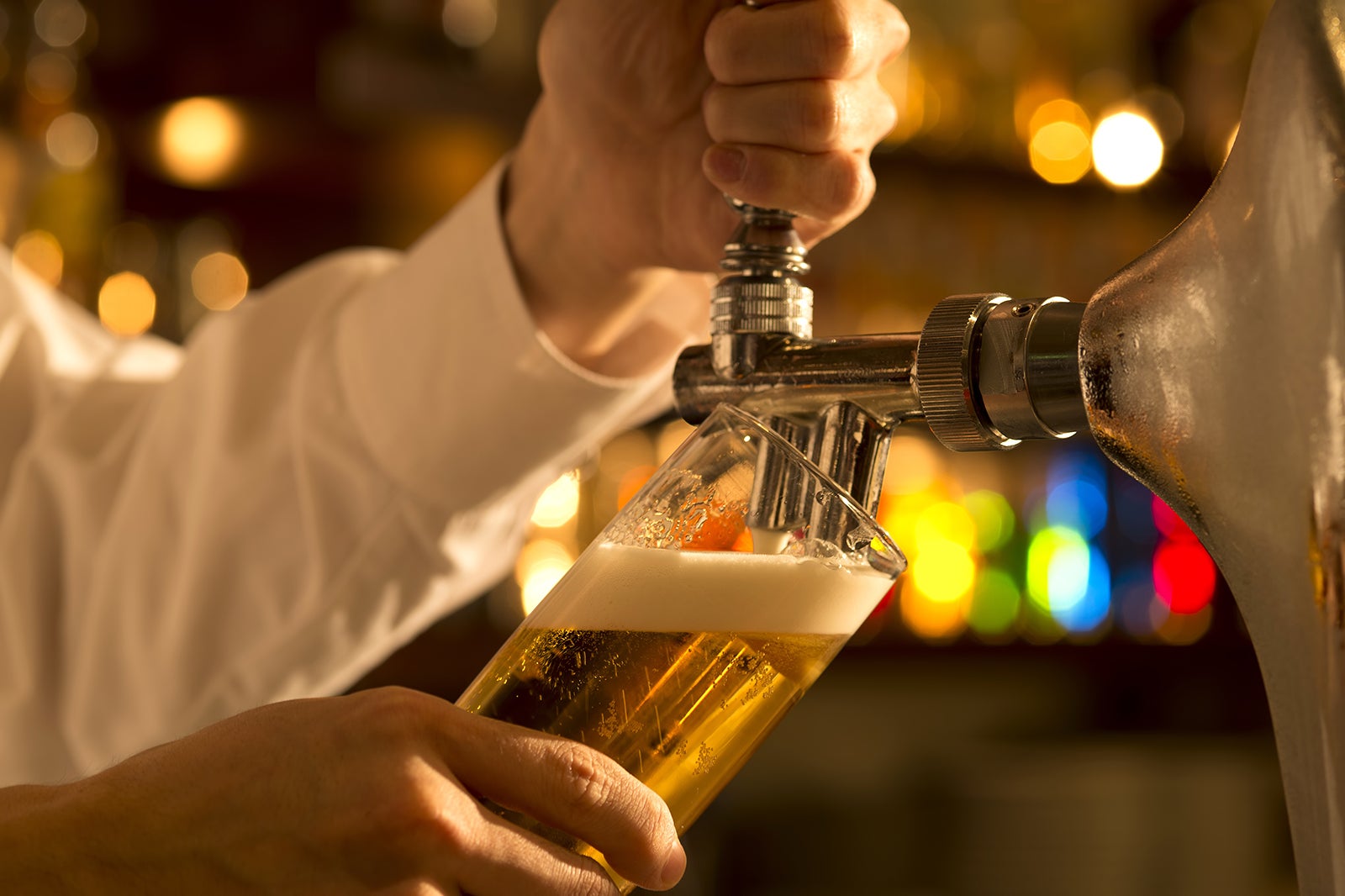 The beer scene in Columbus is flourishing with dozens of new breweries and taprooms established every year. The Columbus Ale Trail covers 46 of the best across the city, taking you to try from classic Bavarian beers to modern experimental lagers. Grab a stamp every time you visit a bar to earn a commemorative glass, bottle opener or limited-edition art print.
Beers change every season, but among the unmissable experiences are innovative fruit beers from Somewhere in Particular, hoppy ales produced by 2 Tones, and oak-aged sour ales at Antiques on High. Short on time? Visit the 6 taprooms on Brewer's Row, all within easy walking distance of each other in downtown Columbus.
Location: Greater Columbus Visitor Center, 400 N High Street, Columbus, OH 43215, USA
5
North Market Night Market
Columbus' downtown market comes alive after sunset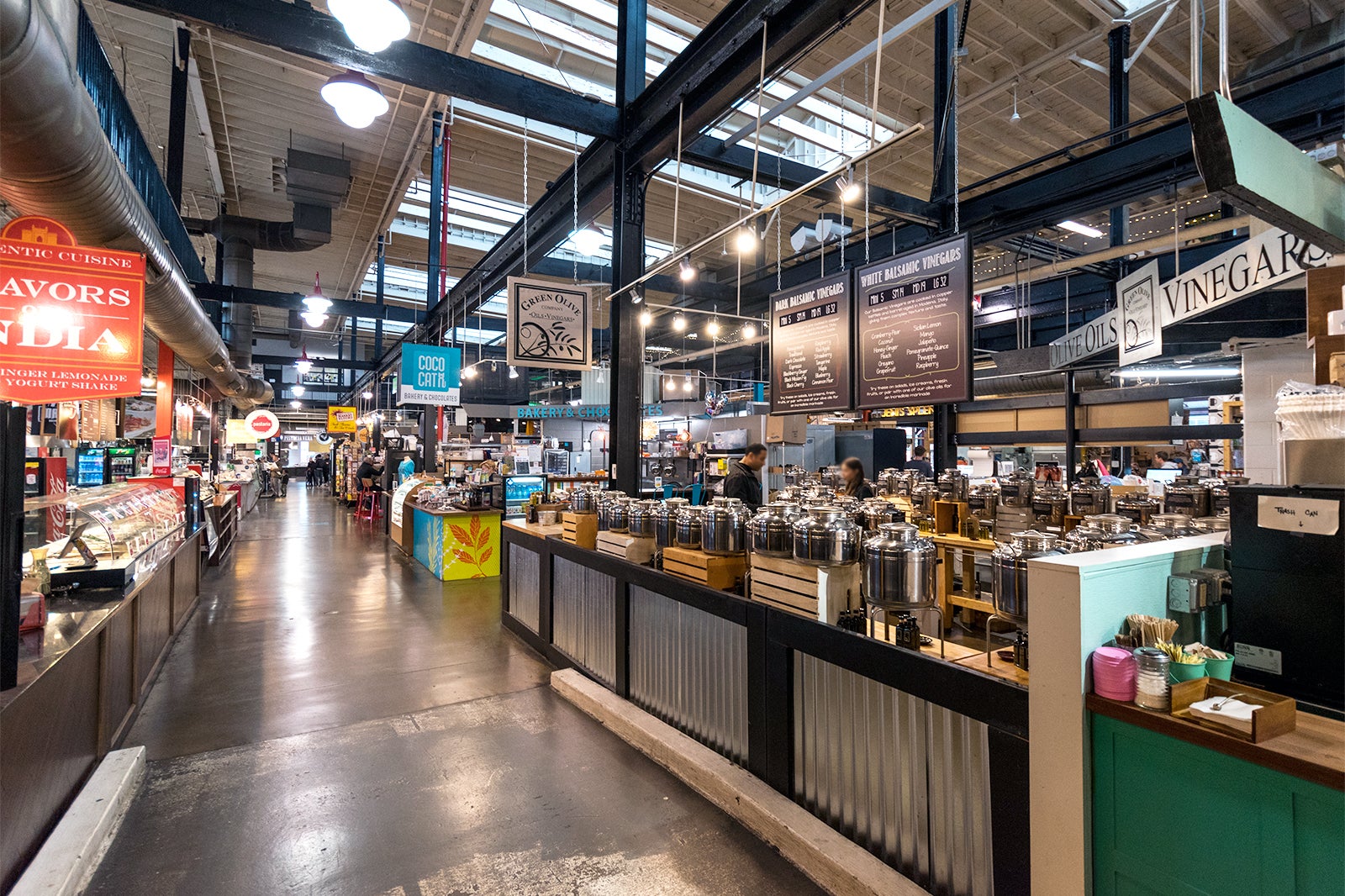 Families
Shoppers
Nightlife
Budget
Head to North Market in Arena District in downtown Columbus during a night market event and you can expect fun shopping and great food variety augmented by a cool vibe. The North Market has served as central Ohio's public market since 1876 and its summer night market events keep the lively market scene alive after sundown.
The night market is held between June and October. You can browse through a selection of farm-fresh produce and artisan foods from local vendors and anticipate special events like the Ohio Wine Festival. There's live music and games with giveaways that the kids can enjoy, while grownups can make use of their drink tickets for beer and wine.
Location: 59 Spruce St, Columbus, OH 43215, USA
Open: June–October: Friday from 6 pm to 9 pm
Phone: +1 614-463-9664
photo by Ɱ (CC BY-SA 4.0) modified
6
Columbus wineries
Raise a glass at these fine spots around town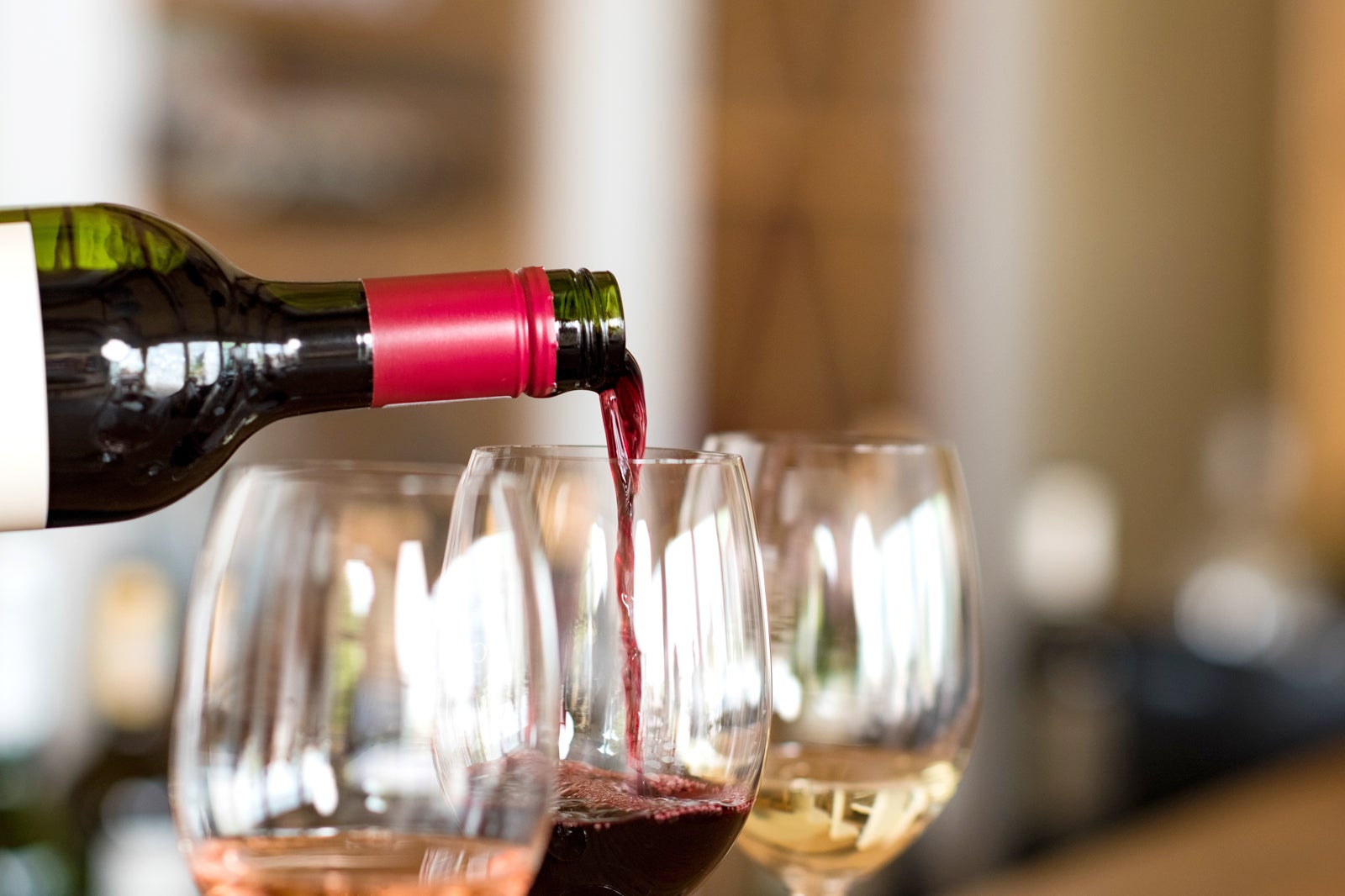 Columbus wineries bless the city with plenty of options where you can sample and admire selections of Ohio's best wines. The Ohioan wine industry began in 1823 and has flourished since, having gained favour among wine lovers with its range, from Chardonnays to Pinot Noirs.
Make your way to the Columbus wineries around town such as the family-owned Wyandotte Winery, Via Vecchia Winery, Signature Wines, the upscale Cooper's Hawk Winery, or the boutique Camelot Cellars Winery, where you can plan a dine-and-wine moment with 'make-your-own' wine options as well as pampering spa evenings.
7
Columbus arcade bars
Have some good old-time fun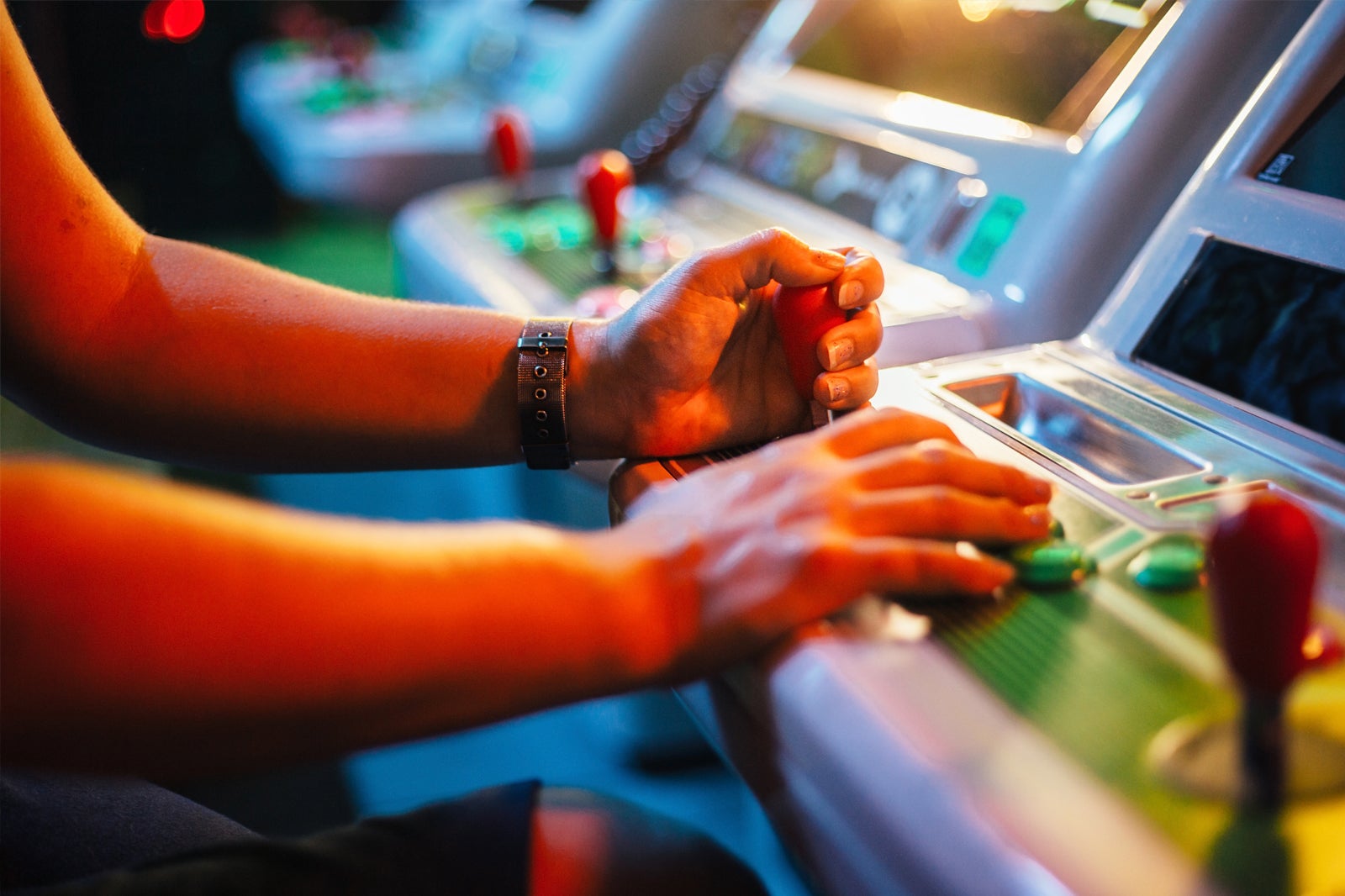 Columbus arcade bars or 'barcades' mix nostalgia, gaming fun, and libations. You can find these laidback places all over town, offering an unconventional way to spend your time after dark. The city has a good variety of barcades to choose from.
First off, there's Pins Mechanical Co. that also offers duckpin bowling and other classic games besides pinball machines, as well as a bar serving a selection of crafty cocktails and beer. 16 Bit Bar is a local favourite, where you can play Atari greats like Space Invaders as well as Nintendo 64 titles. For a subdued setting with some old-school arcade games, head down to Barley's Brewcadia and order pizzas and submarine sandwiches when you're feeling peckish mid-game.
8
Columbus Axe Throwing
Unleash your inner lumberjack
Experience axe throwing in Columbus at the candidly named Columbus Axe Throwing bar on South High Street. The bar offers a unique way to spend an evening out with friends or family. There are lanes just like in a bowling alley, and staff at hand to guide you on the safety aspects. Axes and beer together? Don't worry, they're quite strict on who enters the alleys.
Another unique experience on offer is their 'dining in the dark' experience called The Blind Ninja Dinner Challenge, where you enjoy a secret 5-course dinner wearing blindfolds – aided by live actors in the dark and relying only on your other consequently heightened senses. In all, the spot is an answer if you're looking for something different your Columbus after hours.
Location: 560 S High St, Columbus, OH 43215, USA
Open: Wednesday–Thursday from 4 pm to 10 pm, Friday from 4 pm to midnight, Saturday from midday to midnight, Sunday from midday to 8 pm (closed on Mondays and Tuesdays)
9
Columbus comedy clubs
Who knew a cold pint could be so hilarious?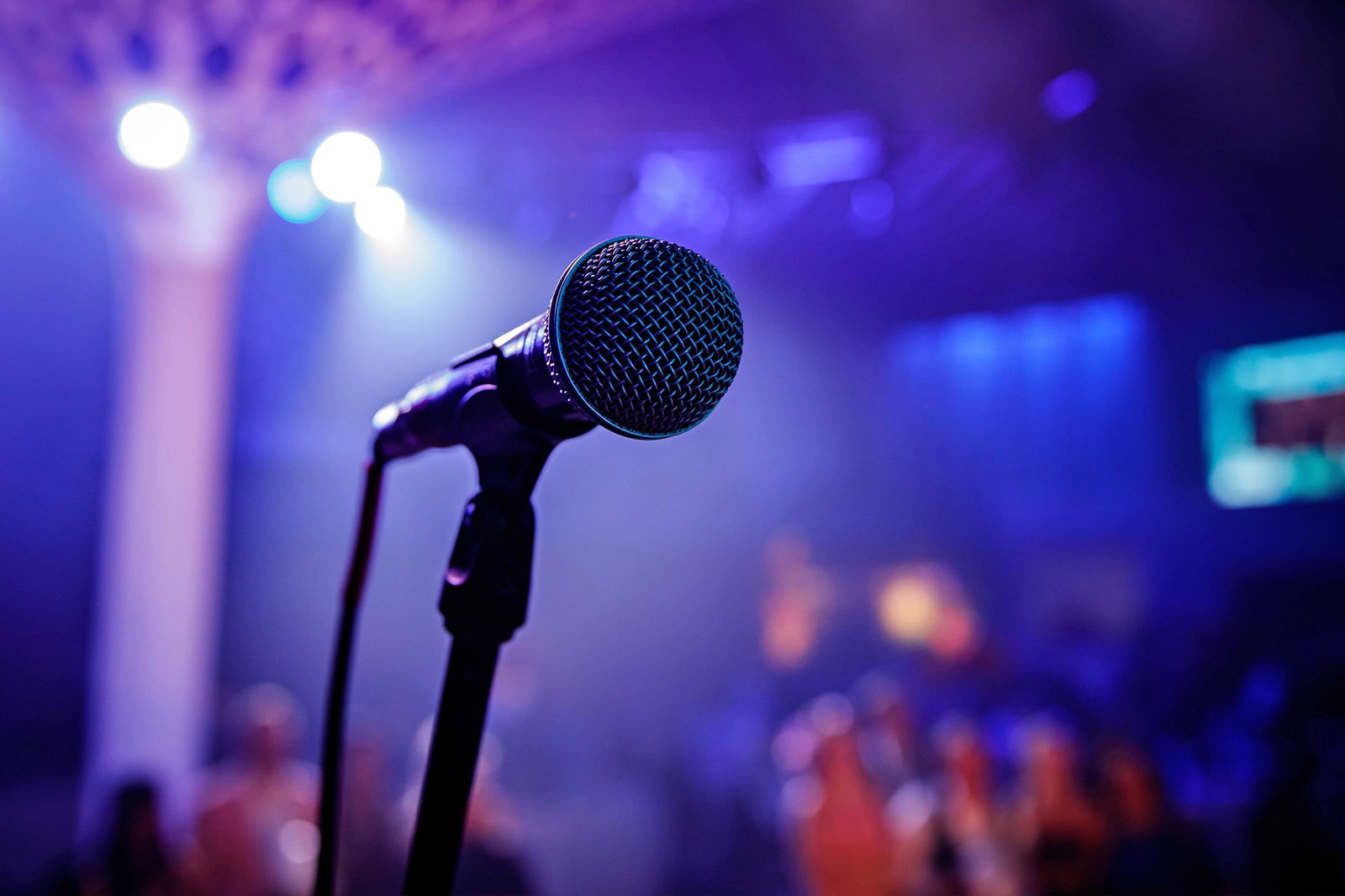 Downtown Columbus is dotted with comedy clubs, making it a great choice for those looking for some good laughter and relief with a joyful crowd. You'll be surprised at the wealth of creative minds the city has with its community of stand-up comedians. They can present sketches and improvise on the spot – all to bring up a roar of cackles and giggles from the audience.
The Up Front stage at Shadowbox Live is a regular go-to in the city for a good laugh and they sometimes present funny music sketches as well. Columbus Funny Bone is a comedy club and café in Easton Town Center, known for featuring major talents. And if a touch of artsy and burlesque style is what you're looking for, try The Shrunken Head and look out for their open-mic nights.
10
Ohio Theatre
Enjoy classical music and modern gigs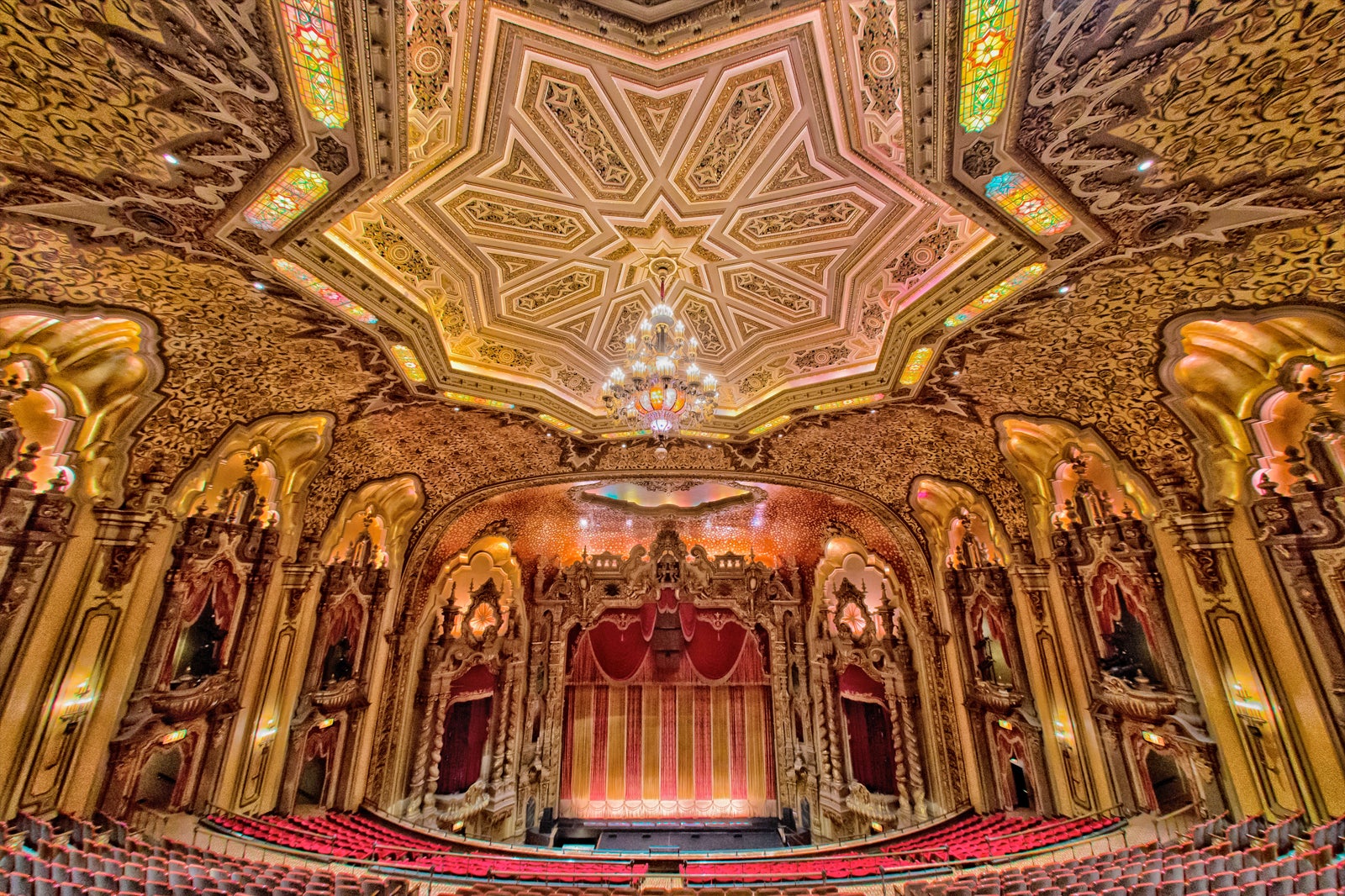 Nightlife
Couples
History
Luxury
Ohio Theatre is a historical entertainment venue in downtown Columbus where you can experience a luxurious fantasy of the Roaring Twenties thanks to its magnificent interior. The theatre has 2,791 plush red seats under an opulent Spanish-Baroque ceiling with a chandelier hanging 21 ft above the audience.
The theatre is now home to the Columbus Symphony, BalletMet, and Broadway in Columbus. The Columbus Association for the Performing Arts (CAPA) frequently presents its performances here. From Broadway musicals to its Winter Festival series presenting symphony greats, a night spent at Ohio Theatre is a visual and audible moment to remember.
Location: John F. Wolfe Columbus Commons, 39 E State St, Columbus, OH 43215, USA
Open: Event showtimes vary
Phone: +1 614-469-0939
photo by Jrdphotography (CC BY 3.0) modified
11
Express Live!
Spectacular gigs, inside and out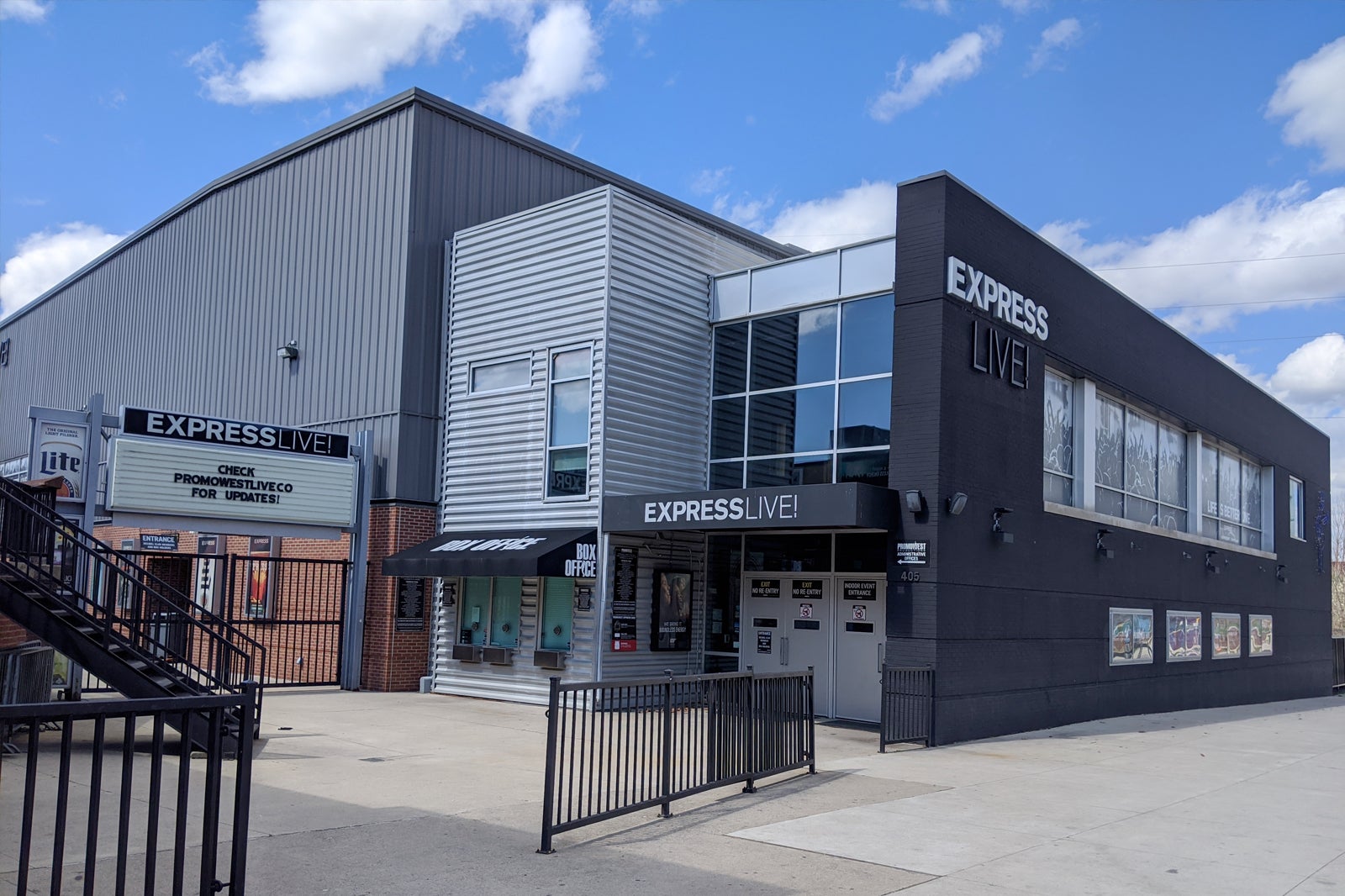 Express Live! is an events venue in Columbus that's also the first of its kind in the country – it has indoor and outdoor spaces where gigs are performed before lively crowds. Among the big names who have performed here are Radiohead frontman Thom Yorke and American punk rock band Bad Religion.
Both the Indoor Music Hall and the Outdoor Amphitheater are spacious, accommodating up to 2,300 and 5,200 concertgoers respectively. It's a massive venue – even if you were to get in last, particularly in the grassy outdoor space, you'll have plenty of space to sit or stand. Note that no chairs or other loose belongings are allowed inside due to security measures.
Location: 405 Neil Ave, Columbus, OH 43215, USA
Open: Showtimes vary
Phone: +1 614-461-5483
photo by Ɱ (CC BY-SA 4.0) modified
Back to top