10 Free Things to Do in Barcelona
Barcelona for Budget Travellers
A trip to Barcelona can quickly make a sizable dent to your wallet thanks to impressive museums and medieval landmarks with rather expensive entrance fees. The good news is, you can save some euros but still experience this cultural hub by doing some research beforehand.
Barcelona is teeming with unique festivals which often feature traditional dances, live music, street processions, and cultural activities that are free for all to enjoy. A stroll through the quaint neighbourhoods often offers beautiful snapshots of modern street art and 19th-century buildings by Antoni Gaudi and Joan Miró, and a lot in between. Stretch your holiday budget a little further by checking out our guide to free things to do in Barcelona.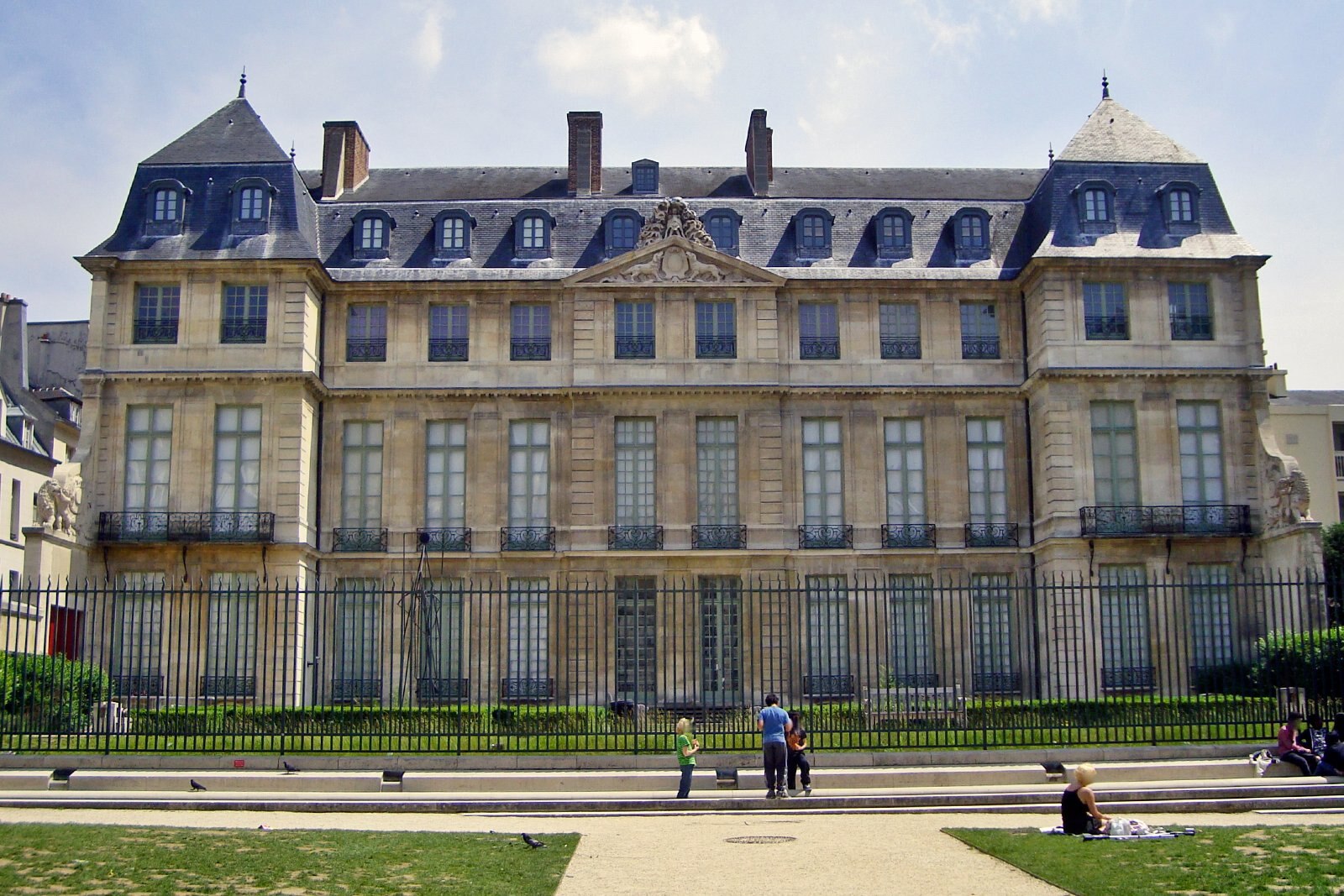 Take advantage of free museum days
Visit Museum Picasso on Sunday from 3pm to 8pm
On most days, you have to shell out at least €10 to visit a museum in Barcelona. However, popular museums such as the Picasso Museum, Museum of History of Barcelona, and the National Museum of Art of Catalonia offer free admission on the first Sunday of the month and after 3pm on subsequent Sundays. Do get there as early as possible as queues can get rather long and you won't be able to enter the museums 30 minutes before closing.
photo by LPLT (CC BY-SA 3.0) modified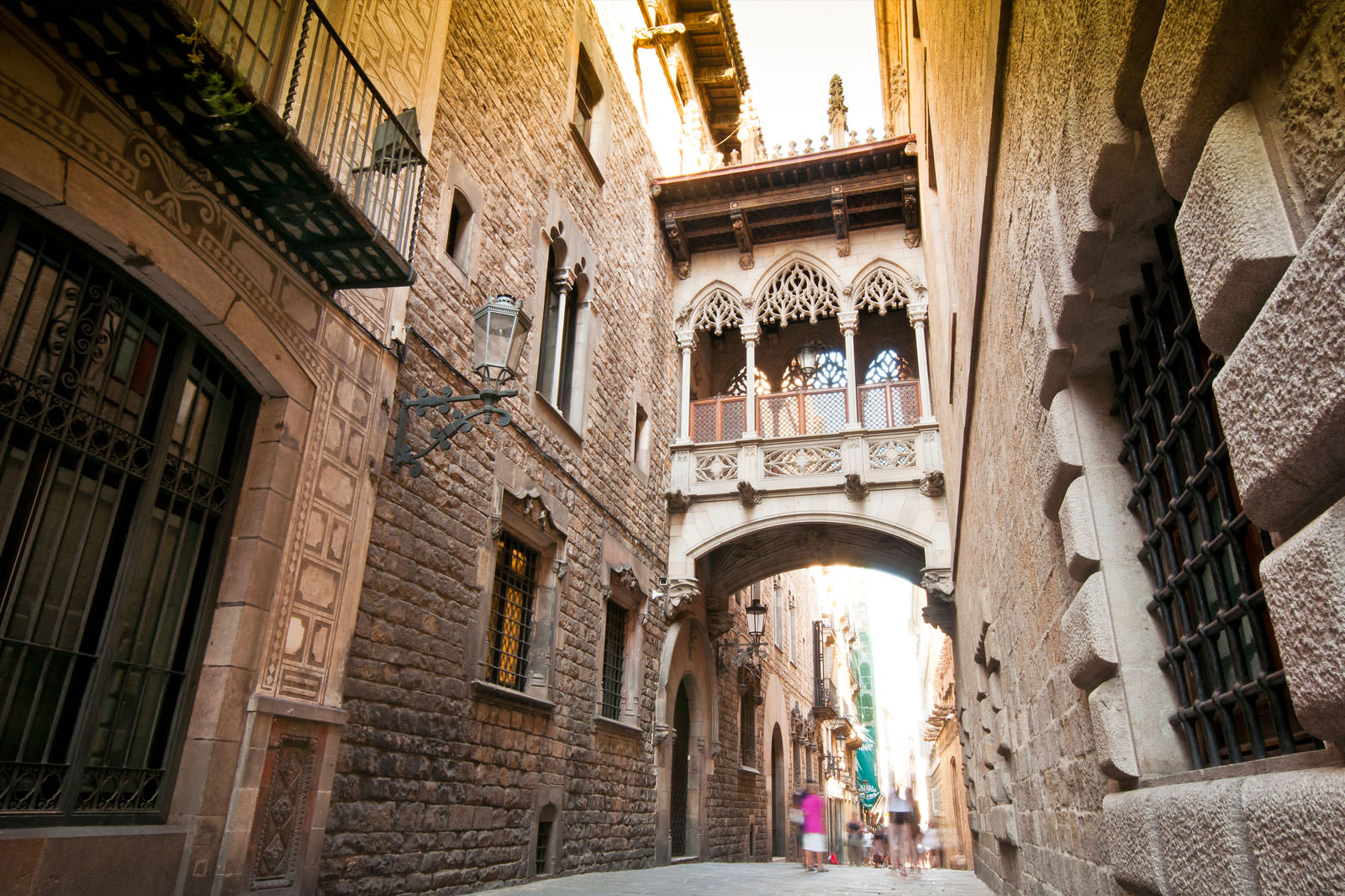 Explore the Gothic Quarter
Join a free walking tour and explore the maze of alleyways
Barcelona's most picturesque neighbourhood is the Gothic Quarter. The narrow, cobbled streets and medieval buildings make exploring fun, and the mix of shops and restaurants in the public squares means you can spend all day here and not get bored. Bright and colourful street art decorates the facades of many buildings in the Gothic Quarter, resulting in a contrast of modern and traditional atmospheres. Take the metro to Jaume I station and head for Barcelona's iconic La Catedral before moving southeast towards Plaça Reial, with its kitschy cafés and tapas bars at the fringe of a public square.
Location: Plaça Reial, 9, 08002 Barcelona, Spain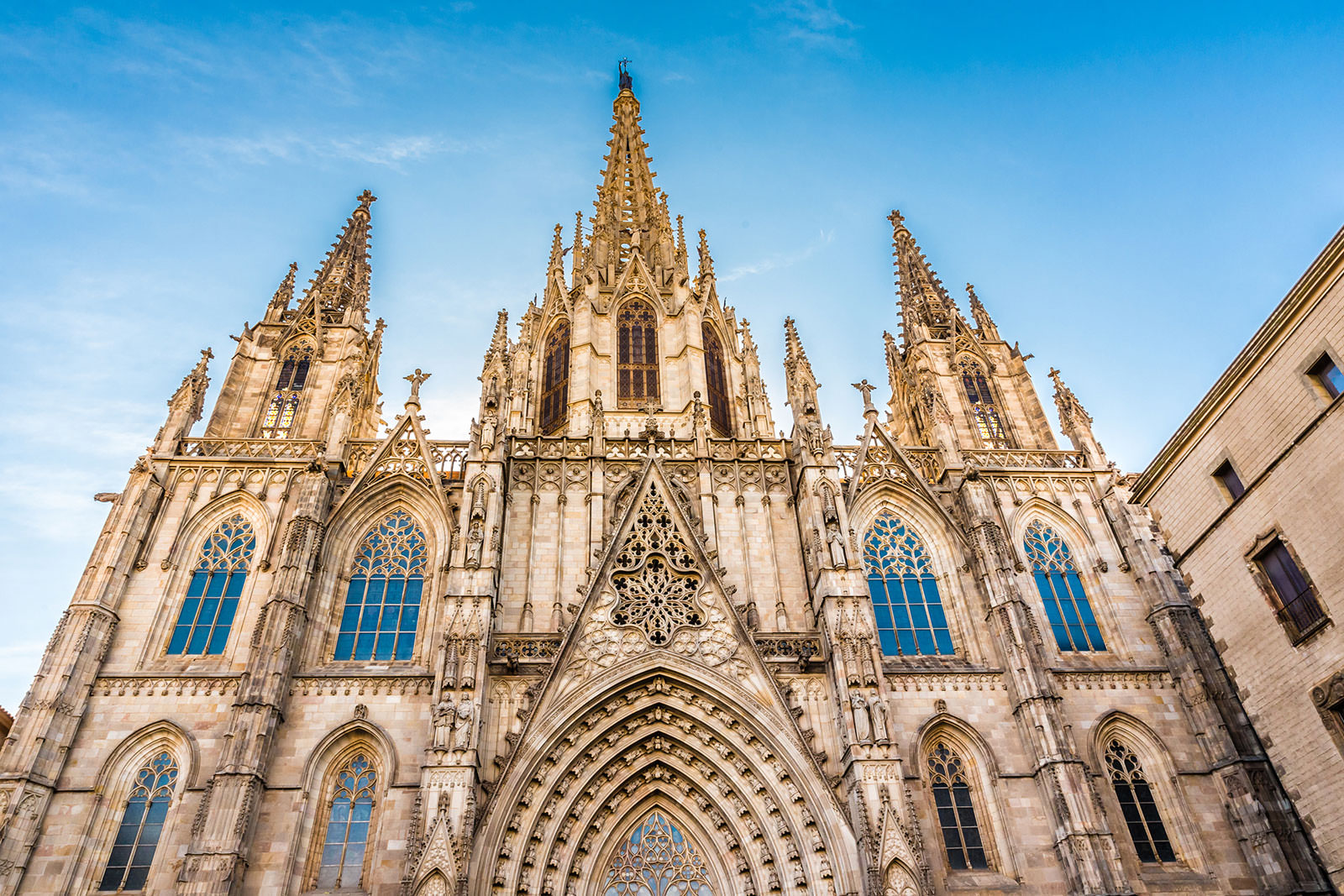 La Catedral
See intricate Gothic designs at every corner of this grand cathedral
La Catedral is a 13th-century Roman Catholic church dedicated to Saint Eulalia, who died at the age of 13. The cathedral mainly features Gothic architecture such as pointed ceiling arches, elongated stained-glass windows, and stone gargoyles in various shapes and sizes. The neo-Gothic façade of the church was added in the 19th century by industrialist Manuel Girona Agrafel. La Catedral's cloister is a tranquil courtyard dating back to the 15th century. Its centrepiece is the Well of Geese fountain and you can find 13 geese wandering about the area.
Location: Pla de la Seu, s/n, 08002 Barcelona, Spain
Open: Monday - Friday from 8.30am to 12.30pm and from 5.45pm to 7.30pm, Saturday - Sunday from 8.30am to 12.30pm and from 5.15pm to 8pm (hours may vary)
Phone: +34 933 15 15 54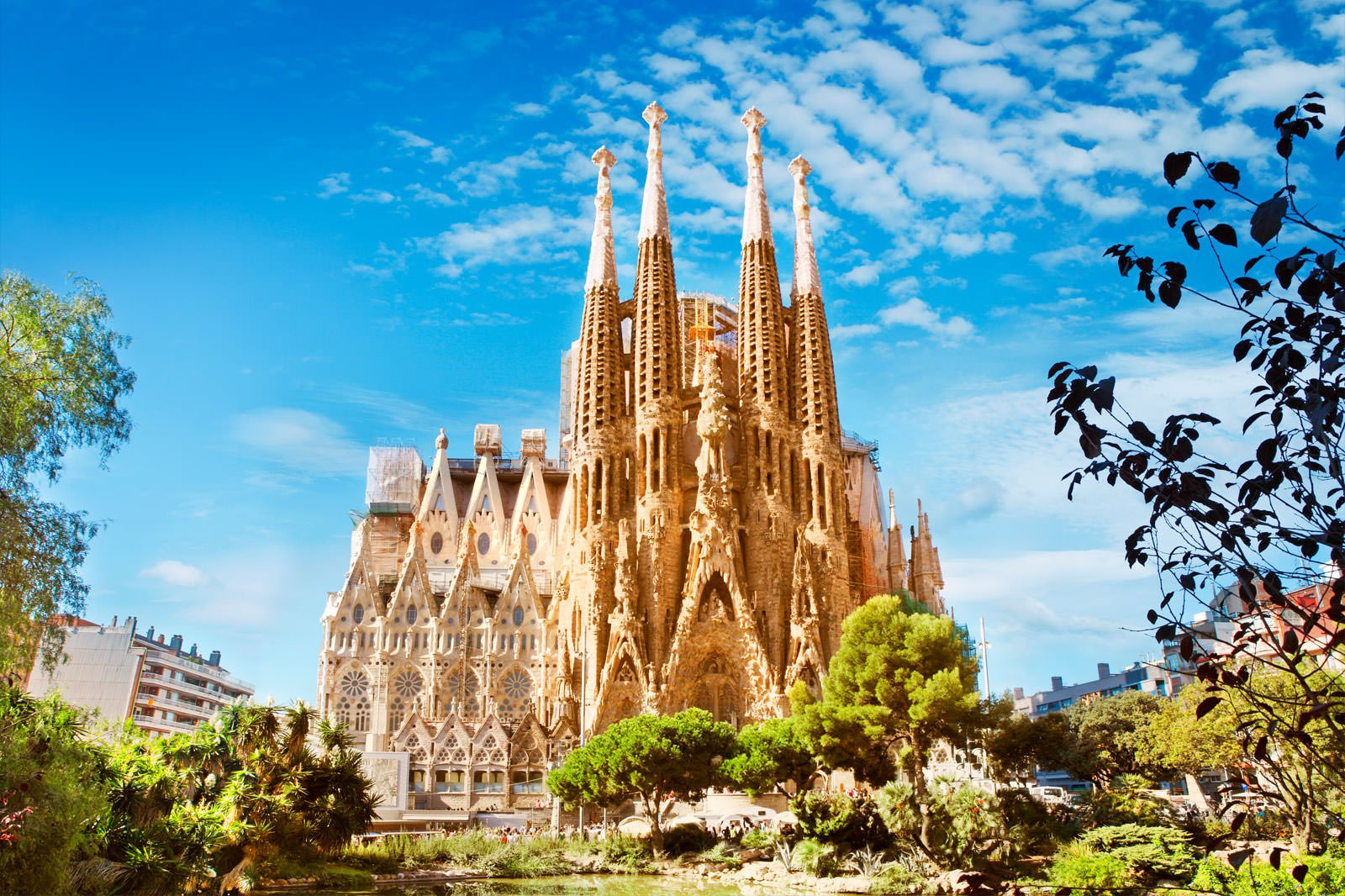 Admire the La Sagrada Familia from outside
See the nativity façade placed by Gaudi in 1892
La Sagrada Familia, first built by Antoni Gaudi in the late 19th century, is one of Barcelona's most impressive modernist structures. Although tickets are required to enter this unfinished cathedral, you can take plenty of photos of its unique façades and towers without paying for anything. Among the many people who have contributed to the La Sagrada Familia's construction after Gaudi's passing in 1926 were Domenec Sugranes i Gras, Josep Maria Subirachs, and Mark Burry.
Location: Carrer de Mallorca, 401, 08013 Barcelona, Spain
Open: Daily from 9am to 7pm (hours may vary)
Phone: +34 932 080 414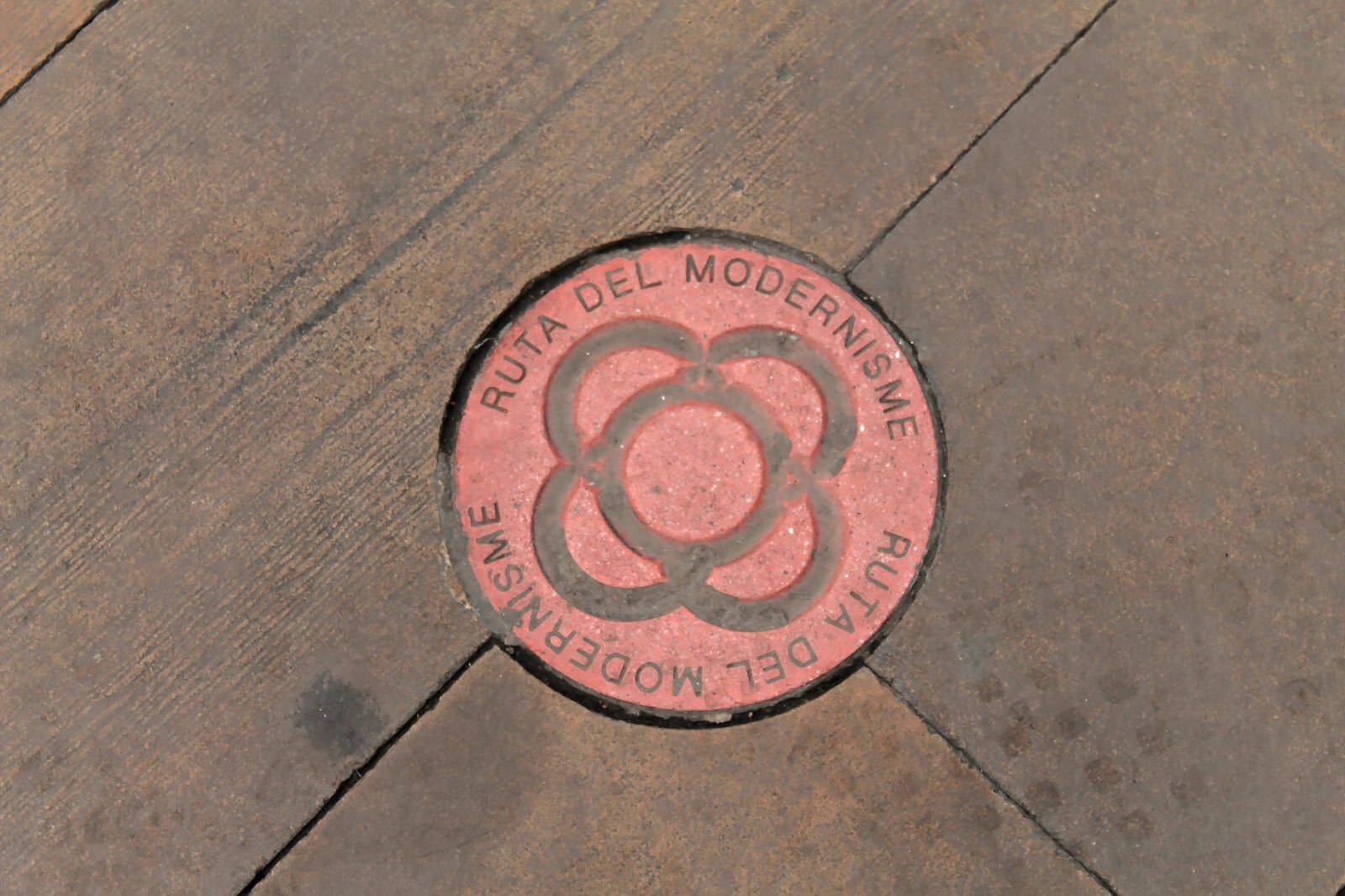 Walk along the Route of Modernisme
Snap photos of Gaudi's stunning modernist buildings
The Route of Modermisme is a self-guided walking tour of modernist structures dating back to between the 19th and 20th centuries. Located in central Barcelona, these buildings are known for their whimsical designs featuring wrought ironwork, floral decorations, stained glass, and sgraffito work (etched ceramic details). Catalan architect Antoni Gaudi may be the most prolific figure in modernist architecture, but this route also includes buildings by Josep Puig i Cadafalch and Lluis Domenech i Montaner. Must-visits include Park Güell, Palau de la Música Catalan, and Casa Batlló.
Location: Ruta del Modernisme, Plaça de Catalunya, 17, 08002 Barcelona, Spain
Phone: +34 933 177 652
photo by Elisabetta Stringhi (CC BY 2.0) modified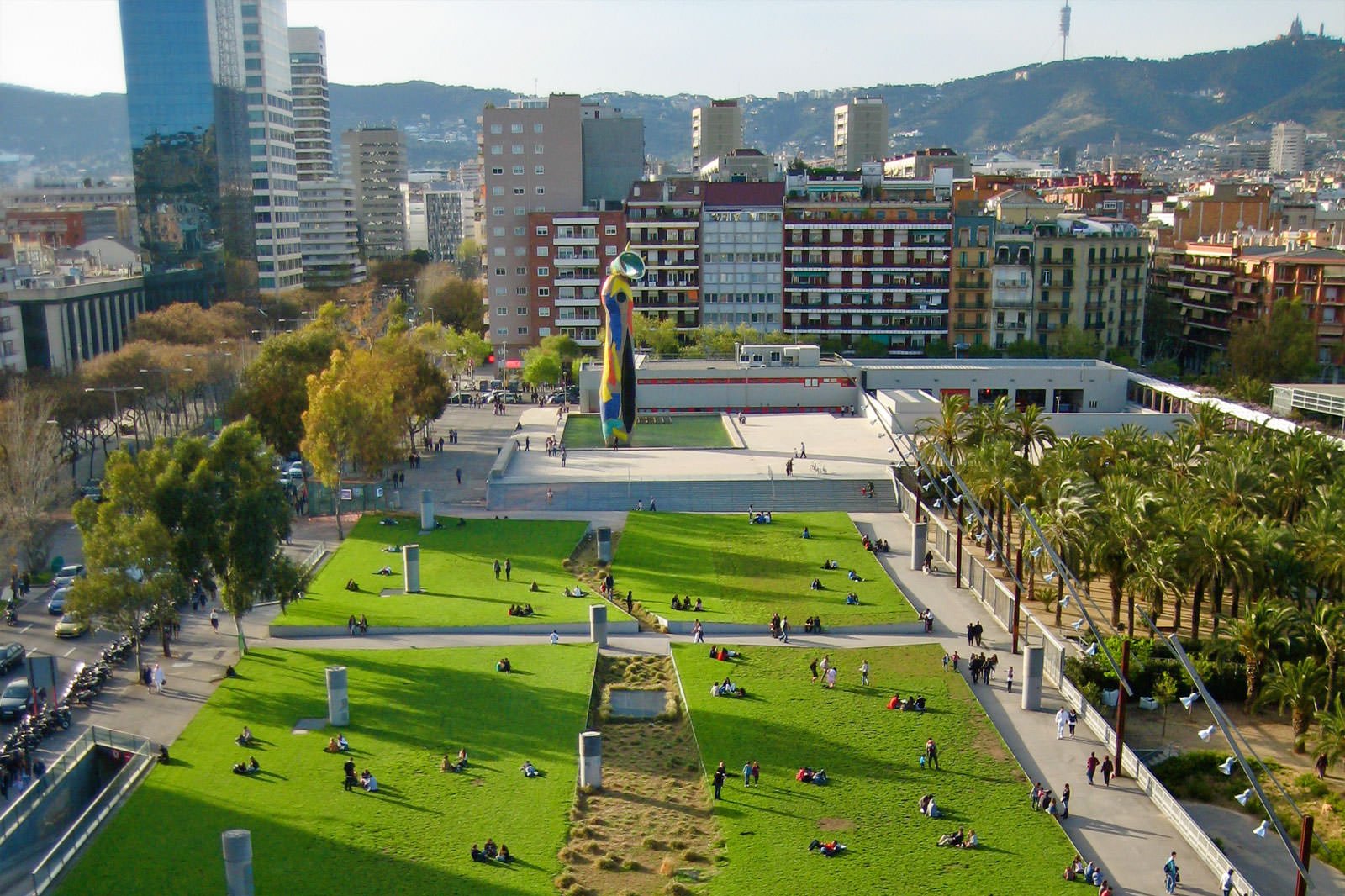 Joan Miró's art installations
Check out the "Woman and Bird" sculpture at Parc de Joan Miró
If forking out over €10 for a ticket to the Fundació Joan Miró feels like a splurge, you'll be happy to know that many of Barcelona's neighbourhoods contain several art installations by the renowned Spanish artist. Located 3 km northwest of the museum, Parc de Joan Miró is where you can see his Woman and Bird sculpture, which is made with glazed tiles and measures an impressive 22 metres in height. Another prominent masterpiece by Miró is a pavement mosaic on La Rambla's central walkway.
Location: Carrer de Tarragona, 76, 08015 Barcelona, Spain
photo by Börkur Sigurbjörnsson (CC BY 2.0) modified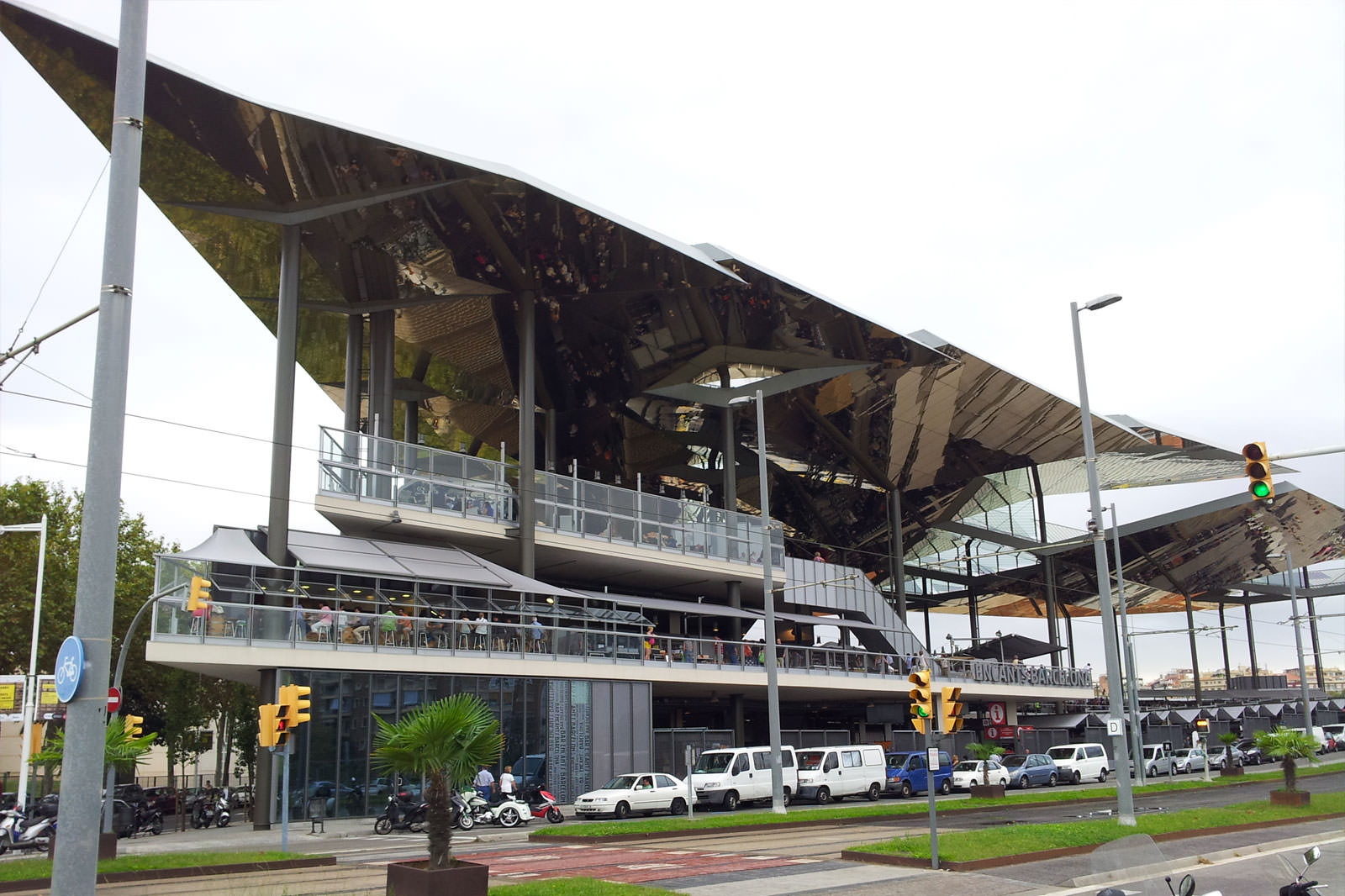 Mercat Fira de Bellcaire Els Encants
Browse through 500 stalls selling Catalan handicrafts
Mercat Fira de Bellcaire Els Encants dates back to the 14th century, making it one of Spain's oldest flea markets. Today, it occupies a modern multipurpose centre opposite Agbar Tower in Carrer de los Castillejos. Under its mirrored canopy are over 500 stalls selling second-hand clothes, books, cameras, and electronics, as well as antique furniture and home décor. Even if you're not planning on buying anything, you get to experience some Spanish tradition and lifestyle while you're here.
Location: Carrer de los Castillejos, 158, 08013 Barcelona, Spain
Open: Wednesday, Friday - Saturday, Monday from 9am to 8pm (closed on Tuesday, Thursday and Sunday)
Phone: +34 932 463 030
photo by Rwxrwxrwx (CC BY-SA 4.0) modified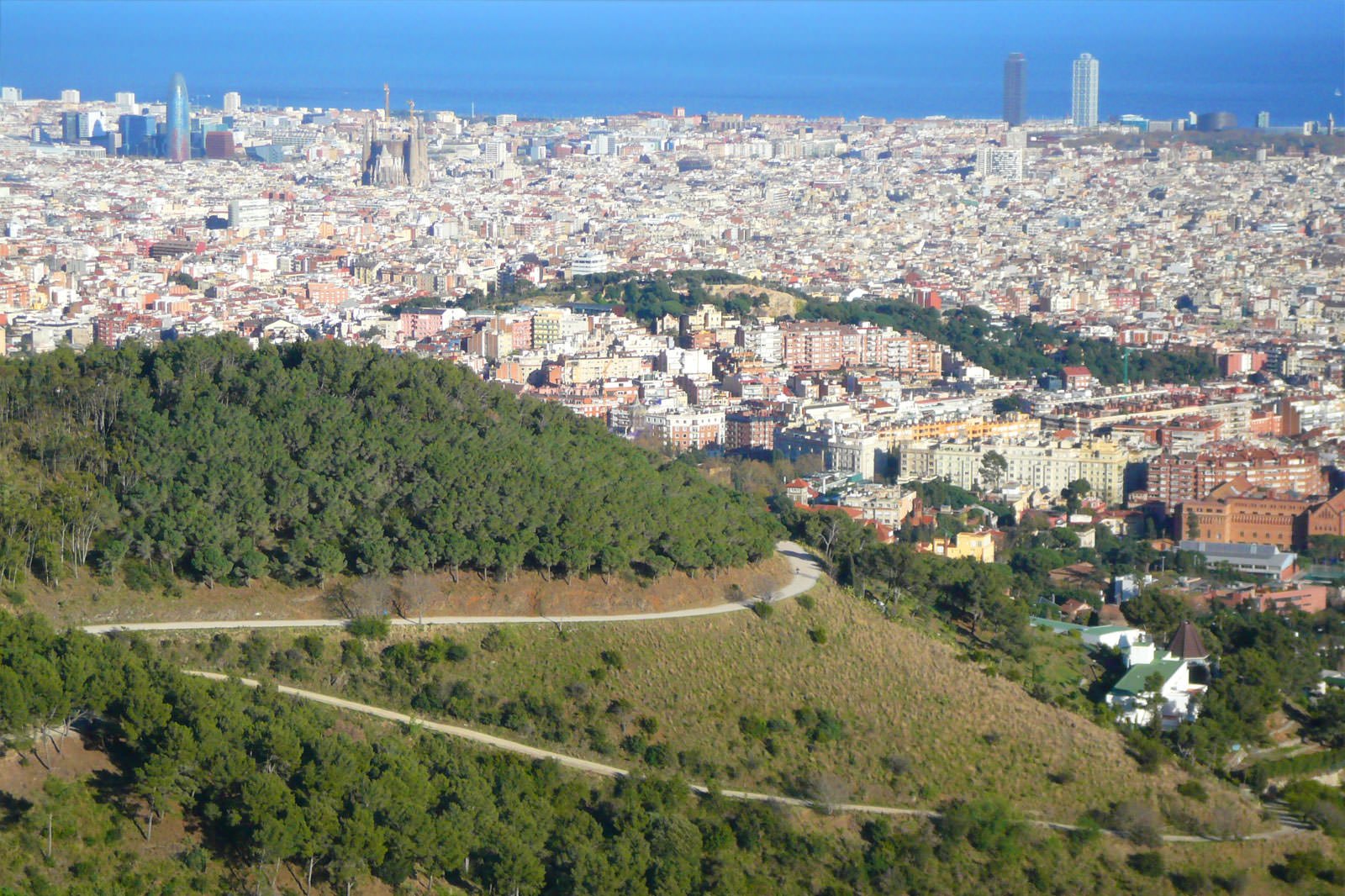 Hike up the Carretera de les Aigües trail
See panoramic views of Barcelona at the Tibidabo summit
Carretera de les Aigües offers nature lovers a scenic hike towards the top of Tibidabo Mountain. This 10-km footpath is relatively flat and easy to follow and is usually packed with joggers, cyclists, and even families during weekends. Carretera de les Aigües is located 9 km northwest of central Barcelona, and you can easily make your way here by bus or train. If you're up for it, you can even rent a bicycle from the city centre.
Location: Carretera de les Aigües, Barcelona, Spain
Families
Photo
Budget
Adventure
photo by pere prlpz (CC BY-SA 3.0) modified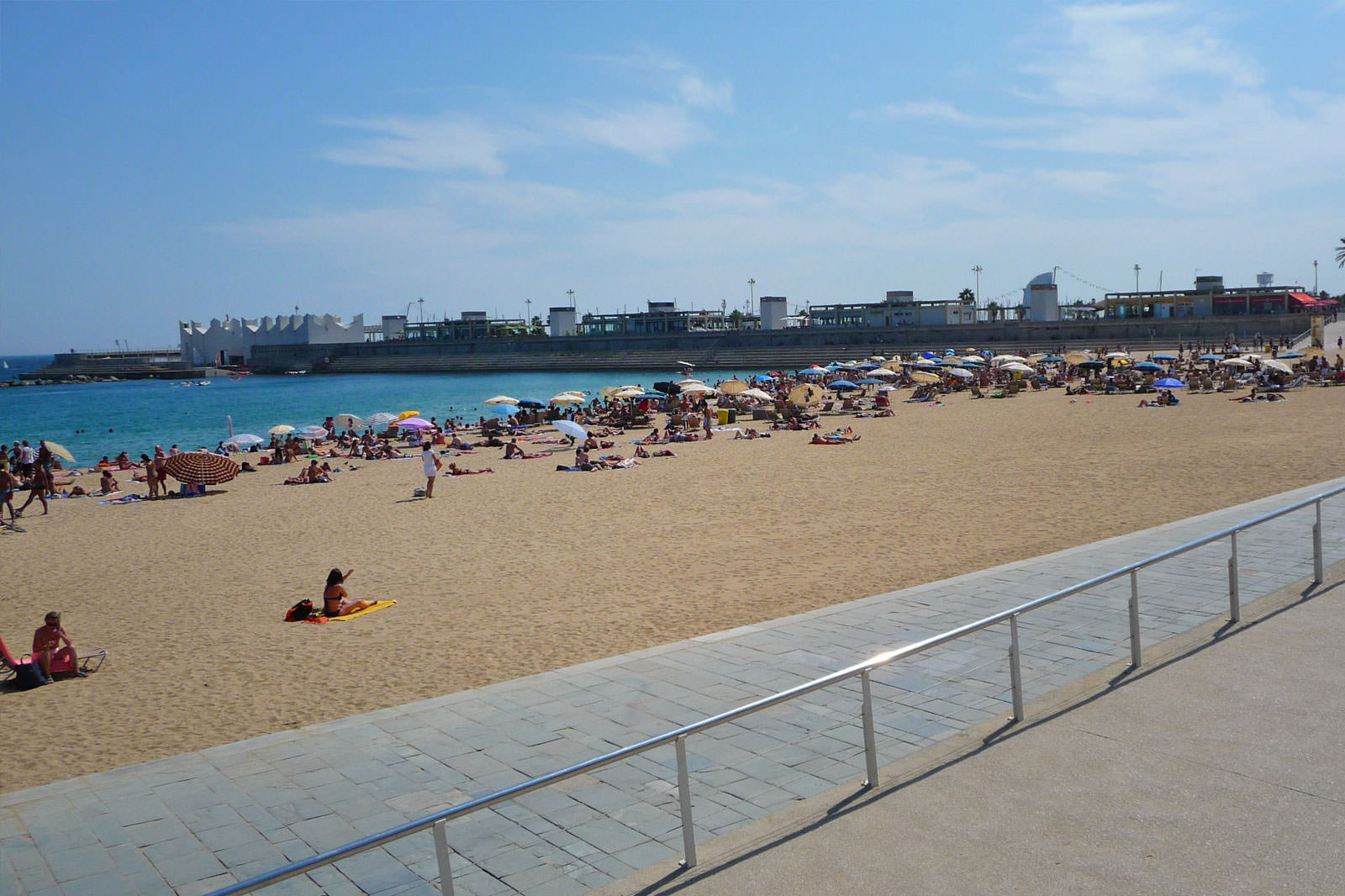 Nova Icaria Beach
Get a tan on this family-friendly beach
Nova Icaria attracts beachgoers with its clean sands and waters, along with a beautiful promenade, kid-friendly facilities, and water sports. Located within the La Vila Olímpica del Poblenou neighbourhood, the beach is just a 10-minute walk from the Olympic Park, which was built in 1992. Renting a sun lounger may cost a few euros, so make sure to bring a beach towel if you're planning on getting a tan while you're here. Alternatively, you can wander along the Passeig Marítim de la Nova Icària to enjoy beautiful views of the ocean.
Location: Nova Icaria Beach, Passeig Marítim de la Nova Icària, 08005 Barcelona, Spain
Couples
Families
Photo
Budget
photo by Cary Bass-Deschenes (CC BY-SA 2.0) modified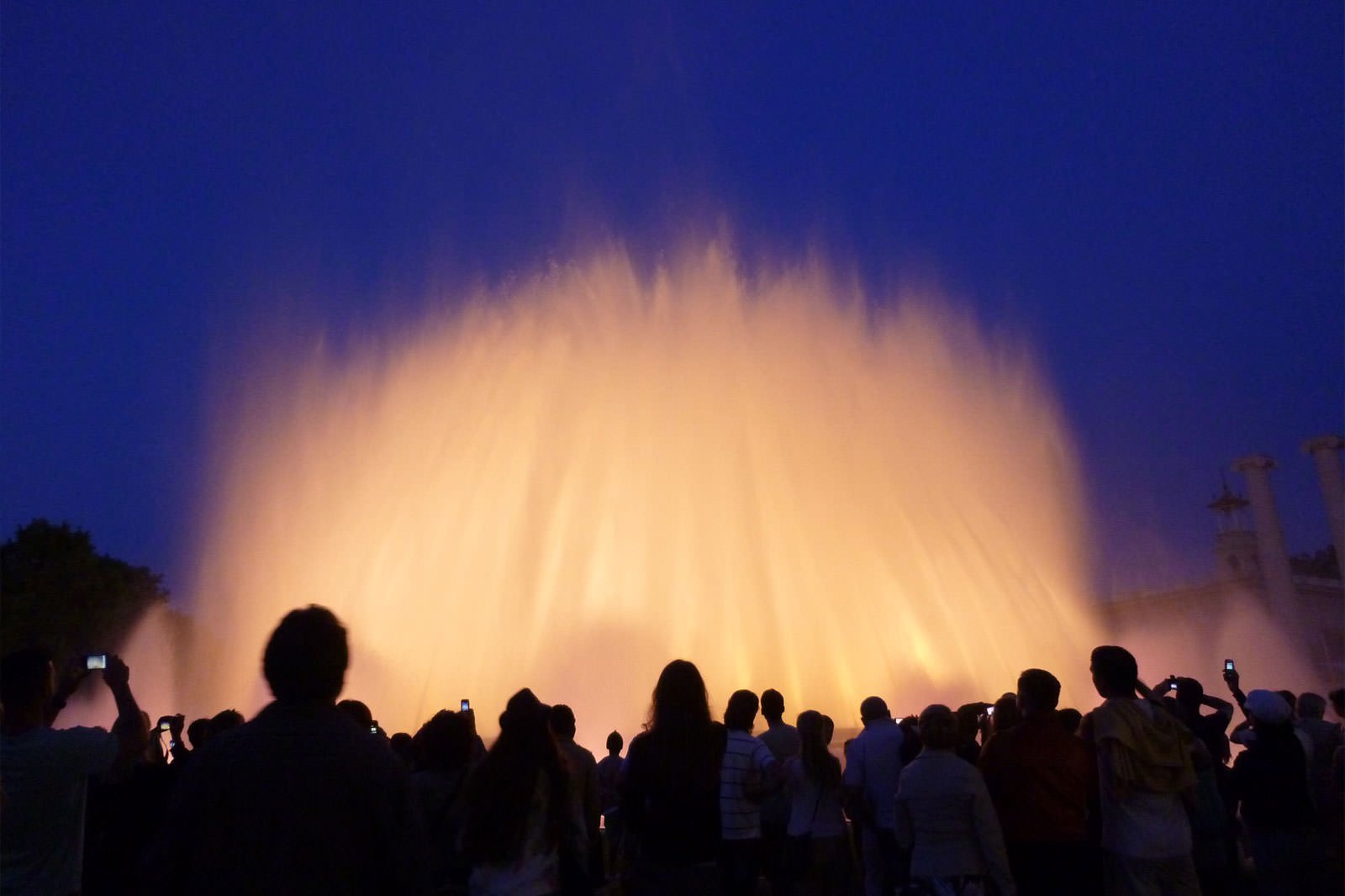 Font Magica
Enjoy colourful lights, music, and water shows in the evening
Font Magica features a complex of well-lit fountains and pools at Plaça de Carles Buïgas. Built in 1929, this circular fountain attracts many tourists – mostly families with young children – with its nightly display of water, music, and lights. It's a good way to enjoy the evening instead of paying for a drink at a bar, but be on the lookout for pickpockets when you're watching the light show.
Location: Plaça de Carles Buïgas, 1, 08038 Barcelona, Spain
Families
Photo
Nightlife
Budget