Burlington Arcade in London
Opulent Shopping Arcade with High-End Fashion and Jewellery
Burlington Arcade is where locals and tourists flock to browse a luxurious set of stores and find something truly beautiful in London. The shopping arcade has 46 boutiques ranging from high-end fashion to lavish jewellery-makers. More than 4 million people pass through its glamorous array of shops every year.
Established in 1819 by Lord George Cavendish, the arcade was originally founded to stop locals from littering the gardens next to Burlington House. It's behind Bond Street, running from Piccadilly to Burlington Gardens. Over the years, the arcade has become recognised as one of London's top destinations for upmarket shopping.
Designed by architect Samual Ware, the interior of the arcade is just as special as the fancy items up for sale. Spend a couple of hours strolling beneath the arches of this historic passageway, where charming lanterns illuminate the path and natural sunlight floods in through the overhead skylights.
Burlington Arcade in London - one of the highlights of 10 Best Shopping Malls in London (Read all about London here)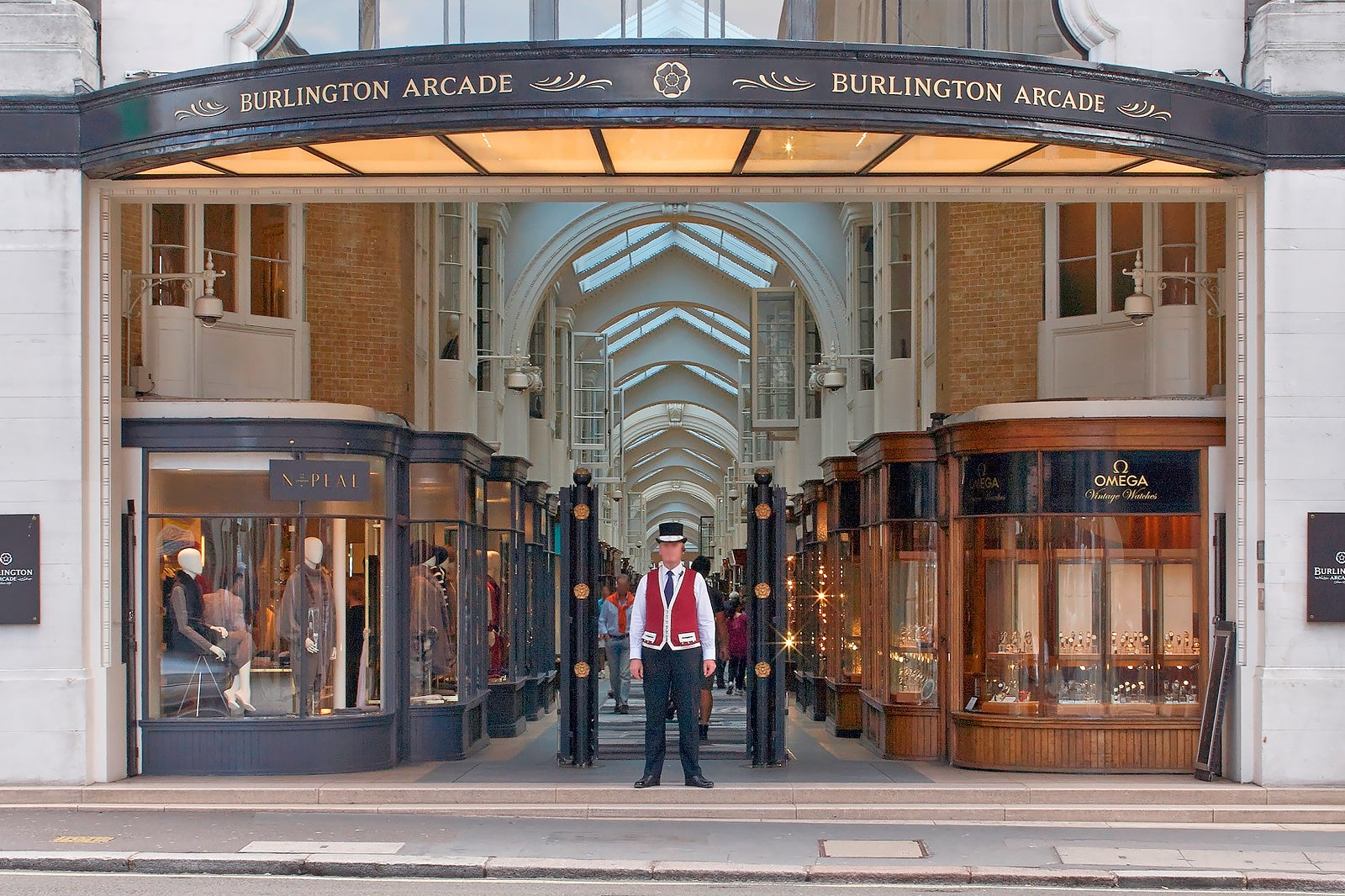 What are the highlights of Burlington Arcade?
Burlington Arcade serves as a time capsule into the pomp of upscale shopping from days gone by. The arcade employs the oldest and smallest police force in Britain to keep the place in order. Known as Beadles, these officers are dressed in Regency-inspired uniforms to enforce rules like no singing, whistling, riding bicycles or holding an open umbrella.
With more than 200 years of history, the Burlington Arcade offers immersive guided tours that reveal many of the landmark's most fascinating tales. Led by Head Beadle Mark Lord, you'll learn about the Victorian stoves found in the basement, the hidden underground walkways and special details about the arcade's oldest storefronts.
In keeping with this attractive Victorian-era theme, a classy shoe-shine service has been operating in Burlington Arcade since 2006. Run by the ever-popular Romi Topi, this traditional trade will add another layer of fun and ceremony to your visit.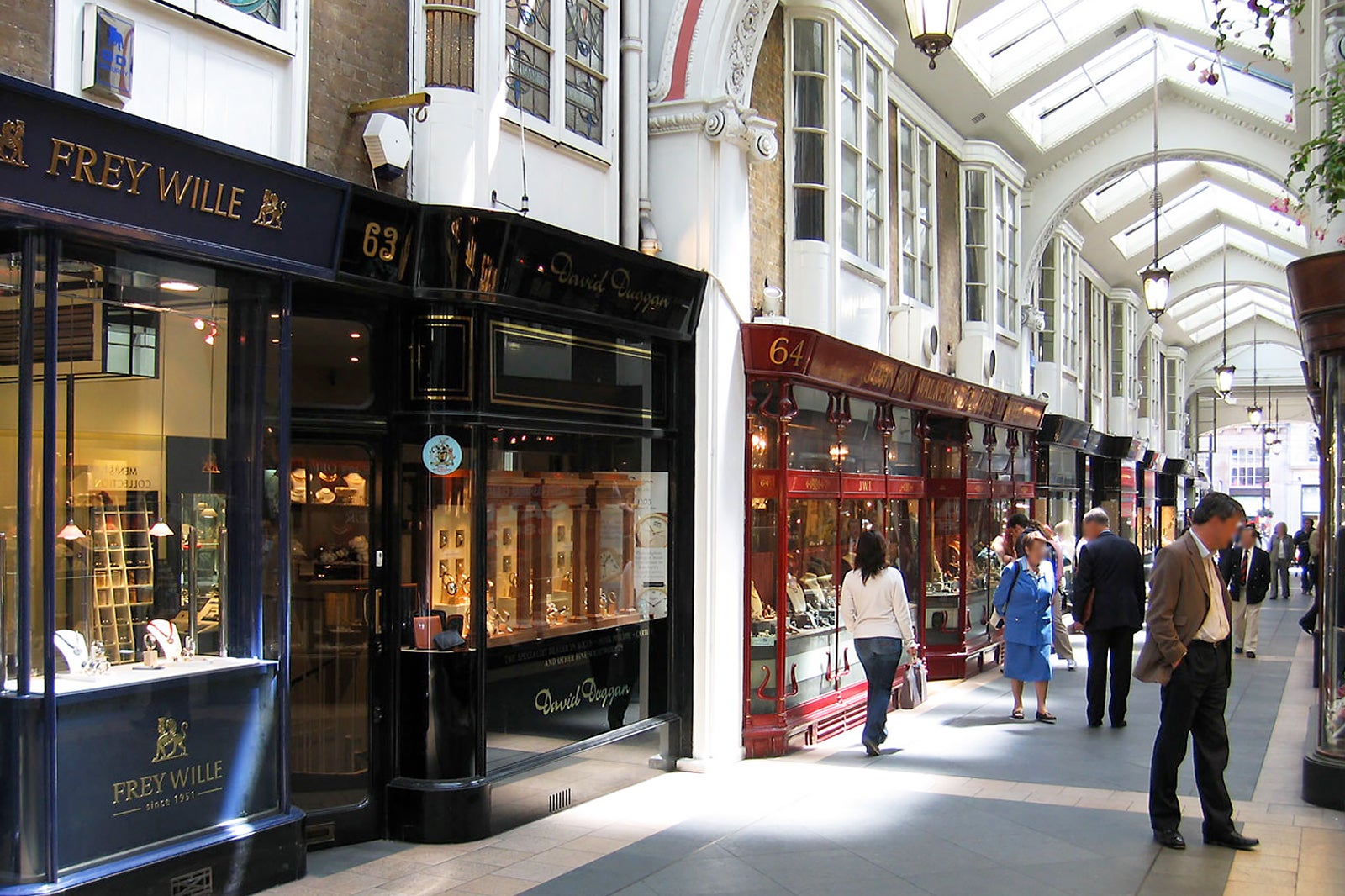 What to eat and buy at Burlington Arcade?
If you've been on the lookout for a fancy watch to add to your collection, there's no better place than Burlington Arcade. The Vintage Watch Company has called the arcade home for over 15 years, displaying over 1,000 classic watches produced between 1910 and 1970. With a particular focus on antique and sport Rolex watches, you won't find a better retailer in London.
One of the arcade's most venerable residents is N. Peal, where you'll find a top-notch range of luxury knitwear. The brand has long been regarded as one of the world's leading cashmere retailers, with the likes of Sophia Loren, Marilyn Monroe and Grace Kelly frequently shopping here. The brand has been featured in numerous James Bond films.
Finally, Michael Rose is a highly respected jewellery designer that's called Burlington Arcade home for over 30 years. Inside, the boutique radiates with new and vintage rings, necklaces and tiaras adorned with a dazzling collection of diamonds, aquamarines and sapphires.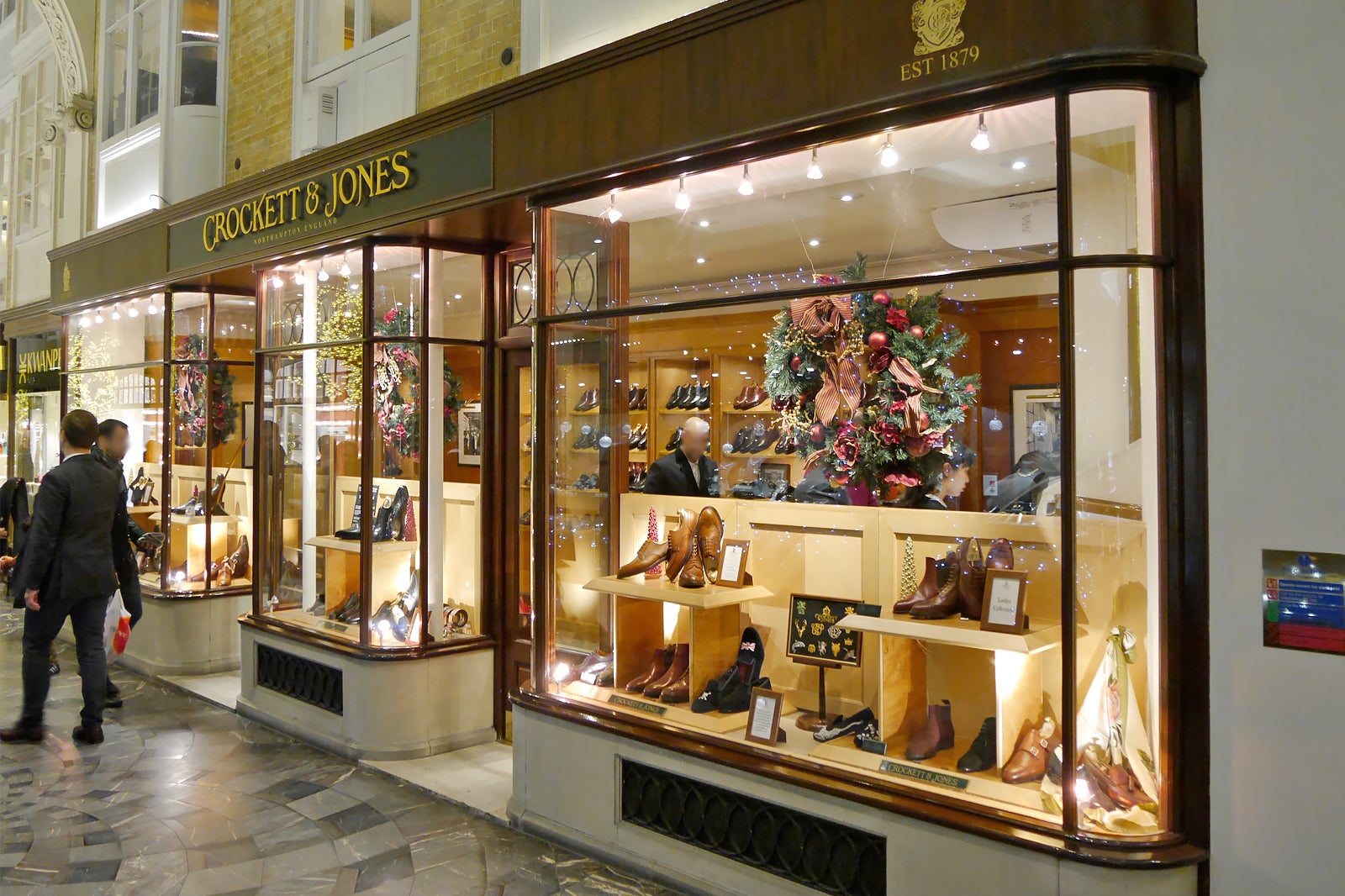 Good to know about Burlington Arcade
With Burlington Arcade situated in Piccadilly, close to the centre of London, it can get rather busy with window-shoppers. Entirely free to visit, it's best to head along in the morning or evening, when the crowds are at their thinnest. While the Beadles ensure you can't run inside the arcade, it is dog-friendly if you happen to have your furry friend in tow.
Thanks to the arcade's prime position, there are plenty of great landmarks to explore nearby. Burlington Arcade provides the main thoroughfare between the Royal Academy of Arts and its detached galleries. St James's Palace, Buckingham Palace and Trafalgar Square just a short walk or Tube ride away.
To reach Burlington Arcade, you have plenty of public transport options. Green Park, Oxford Circus, Piccadilly Circus and Leicester Square Tube stations are all convenient stops. The 8, 9, 14, 19, 22 and 38 bus lines also ensure a straightforward journey.
Burlington Arcade in London
Location: 51 Piccadilly, Mayfair, London W1J 0QJ, UK
Open: Monday–Saturday from 9.30 am to 7 pm, Sunday from 11 am to 6 pm
Phone: +44 (0)207 493 1764
Back to top