10 Best Things to Do in Preston
Discover the Best Things to Do at The Gate
Preston, also known as The Gate, is a lovely city with plenty to see and do, including museums, outdoor adventures and historic train rides. Throughout the town, local history is on display with numerous museums and memorials dedicated to Preston's proud history.
Alternatively, you can relax in numerous parks and explore an expansive walking/biking trail around town. Don't forget to check out the steam train during your visit, too. Whatever your plans, you'll find nothing short of entertainment when you check out the 10 best things to do in Preston.
1
Harris Museum and Art Gallery
Explore local history and fine art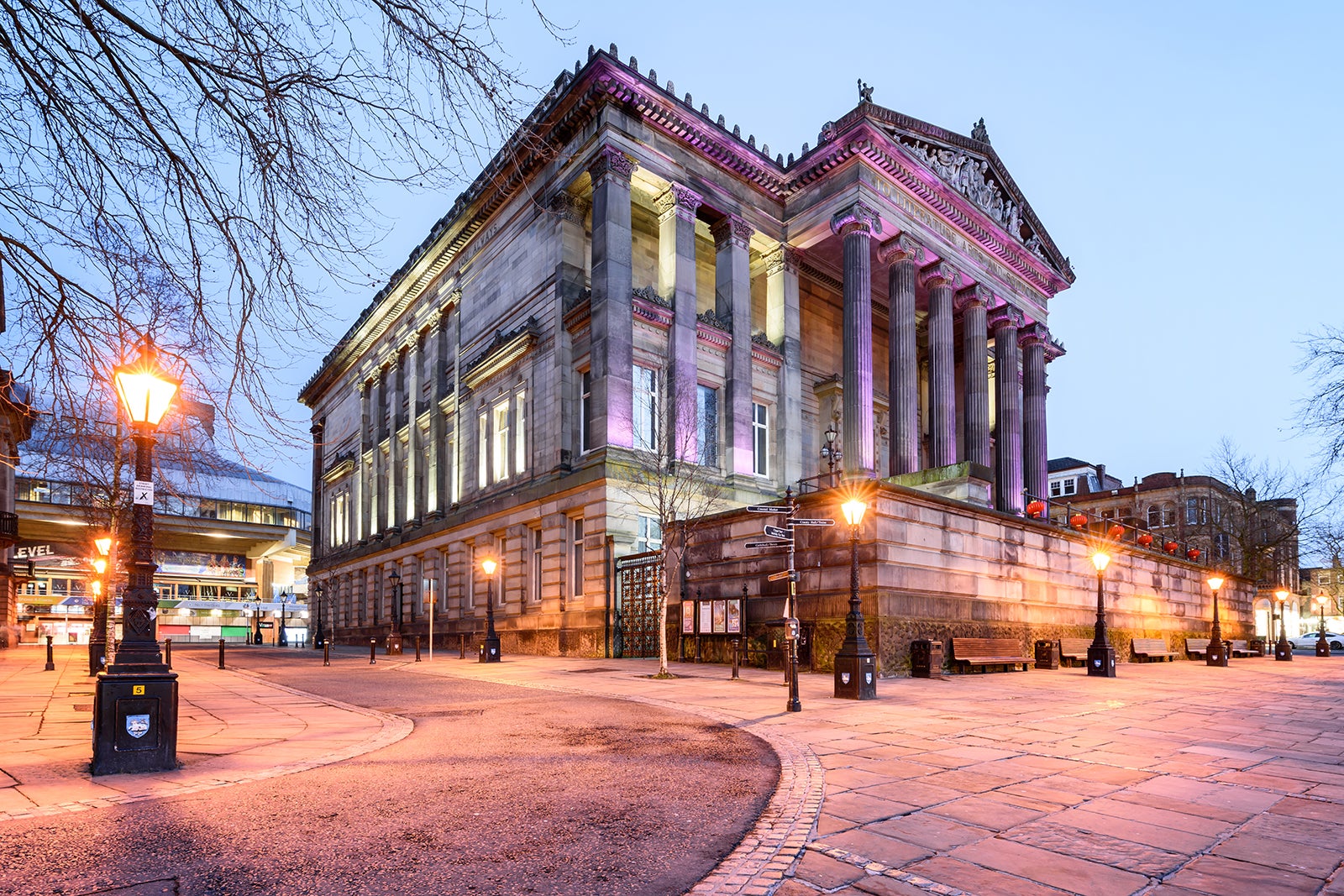 The Harris Museum and Art Gallery is an exhibition where you'll find numerous relics, such as famous oil paintings and remains of an Ice Age elk. Housed in a Grade I listed building, this museum has an exterior that's just as impressive as the many artefacts inside.
Among the museum's displays, you'll find a 19th-century copy of the Florence Baptistery doors, as well as a Foucault pendulum. You can explore all its offerings by visiting the museum near the town centre, just a short walk from the bus station.
Location: Market Square, Preston PR1 2PP, UK
Phone: +44 (0)1772 258248
2
Avenham and Miller Parks
Go for a lovely stroll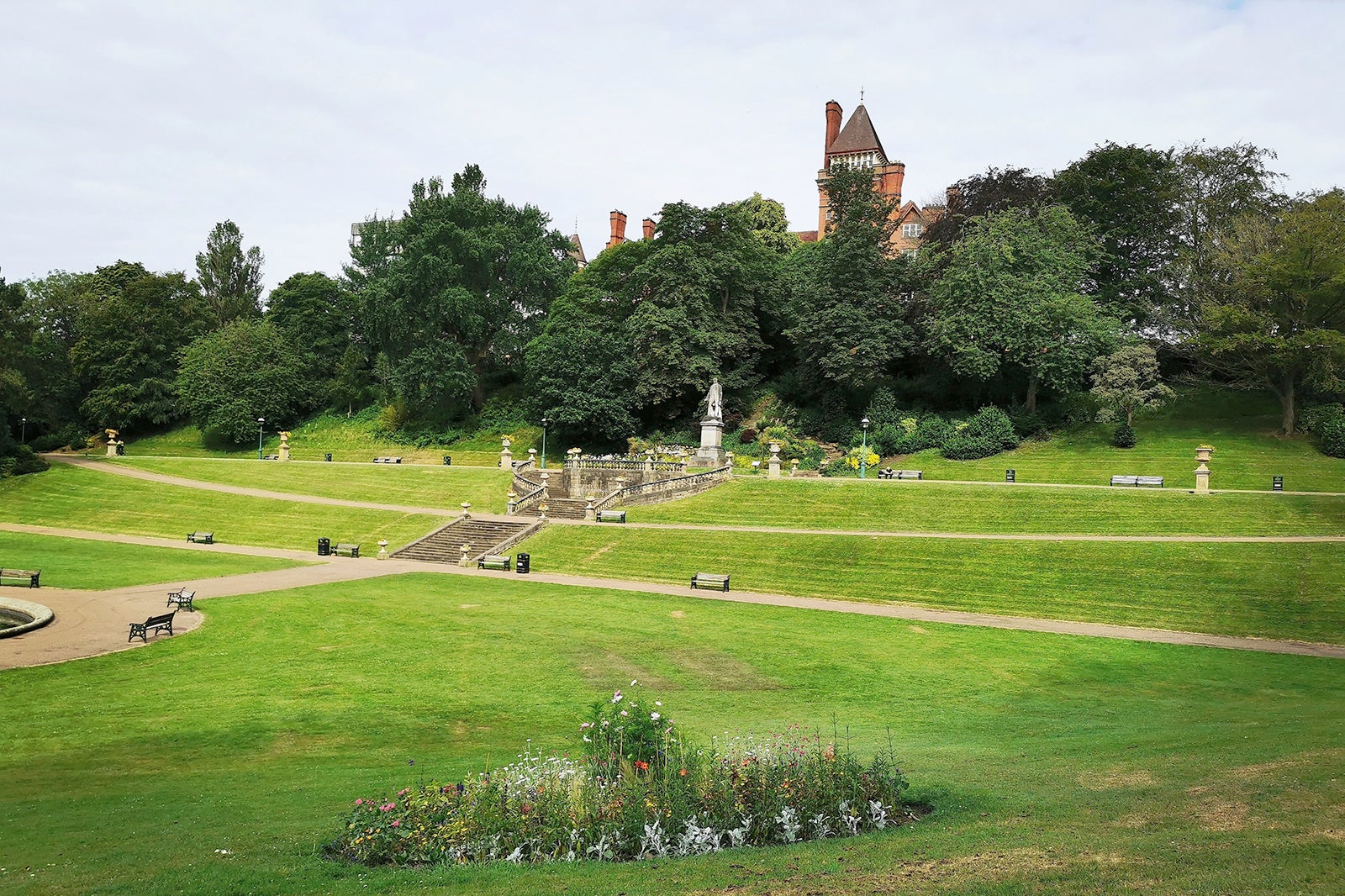 Avenham and Miller Parks serve as an urban oasis in Preston with Grade II listed status, offering vibrant greenery and scenic walking paths. The paths are particularly impressive, as they extend along numerous walkways for varied experiences, and yet they're all interlinked to allow you to explore as you see fit.
Both parks have something special that any visitor can enjoy. Avenham Park has a natural amphitheatre, for example, while Miller Park boasts the famous Derby Walk, featuring the Earl of Derby Statue. You'll find them both a short walk south of the town centre, along the banks of the River Ribble.
Location: S Meadow Ln, Preston PR1 8JP, UK
Open: 24/7
Phone: +44 (0)1772 906471
3
Shrine Church of St. Walburge's
Visit a Gothic revival church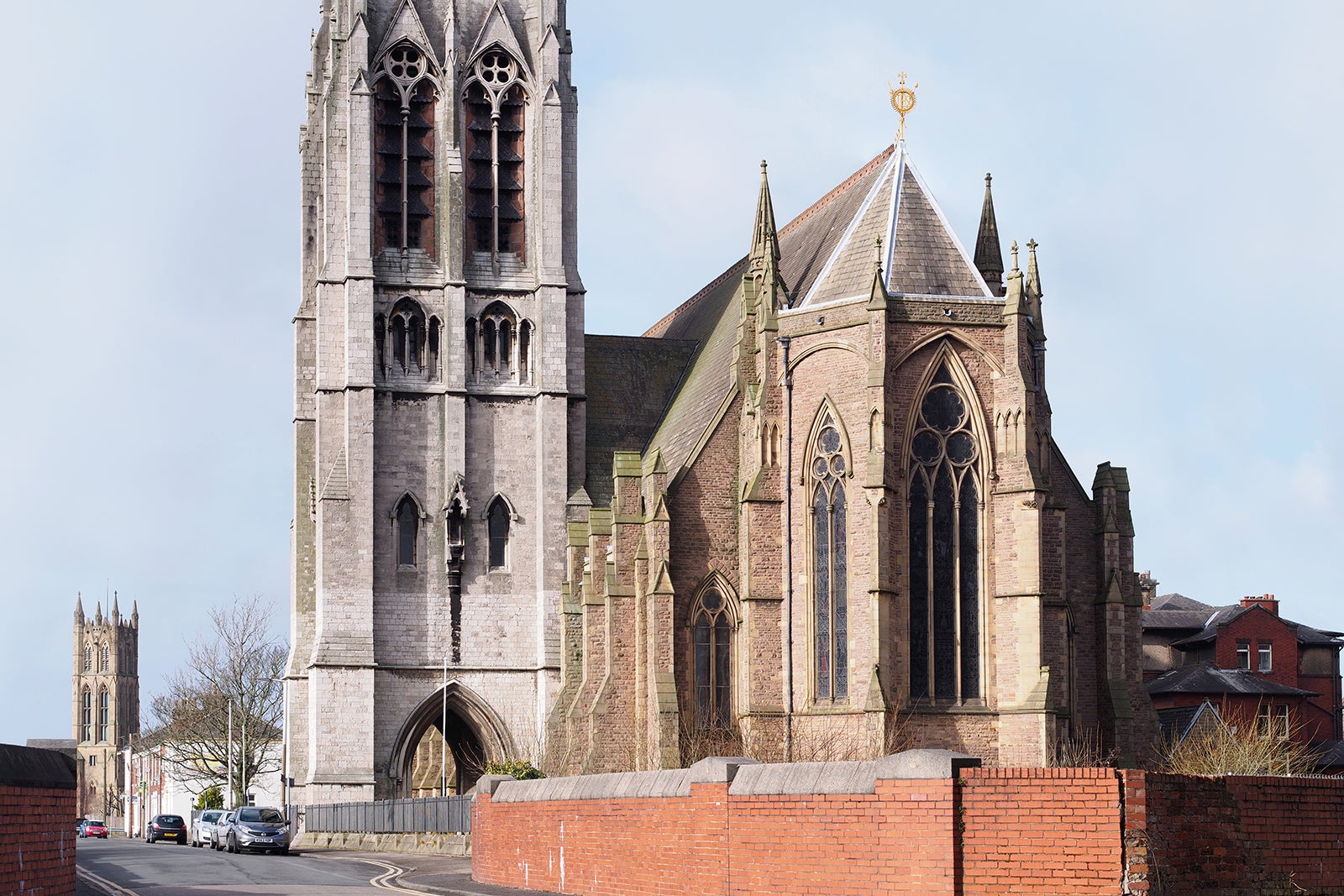 Shrine Church of St Walburge's is a 19th-century Gothic revival-style church that contains the tallest spire of any parish church in all of England. If you visit during sunset, one of the first things you'll notice about the spire is the red tint caused by the use of limestone sleepers during construction. Inside, you'll find a massive interior with room enough to seat 1,000 people.
The open, wooden roof is especially picturesque, as it's supported by 14 hammer beams, each with a life-size carving of a saint on the ends. You can see it for yourself just a short walk west from the University of Central Lancashire near the town centre.
Location: Weston St, Ashton-on-Ribble, Preston PR2 2QE, UK
Open: Wednesday–Saturday and Monday from 7.30 am to 7.30 pm, Sunday from 9 am to 7 pm, Tuesday from 8.15 am to 6.30 pm
Phone: +44 (0)1772 739367
photo by Francis Franklin (CC BY-SA 4.0) modified
4
Winckley Square
See this Georgian square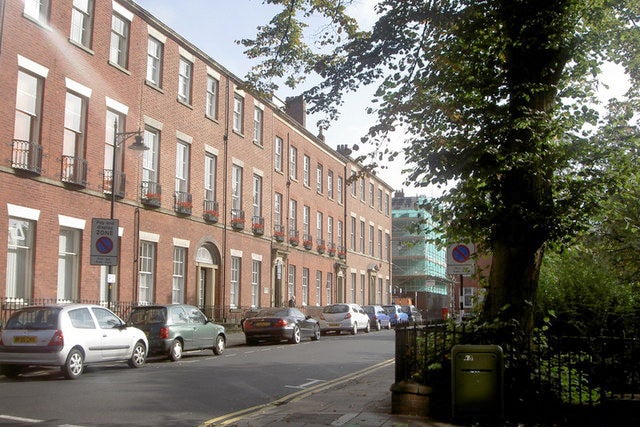 Winckley Square is a historic square most widely known for its Georgian buildings. This renowned site is remarkably well preserved, as are its several prestigious schools. Preston Grammar School is the most well known, with a history dating back to the 15th century and notable alumni such as the richest man in Scotland and the designer of the Bond Minicar.
In addition to the historic buildings, you'll also find Winckley Square Gardens, a vibrant greenspace that's useful if you're looking to get away from the hustle and bustle of the city. You'll find the square right by the town centre, just north of Avenham Park.
Location: Winckley Square, Preston, PR1 3JJ, UK
photo by Patrick (CC BY-SA 2.0) modified
5
Guild Wheel
Traverse this famous route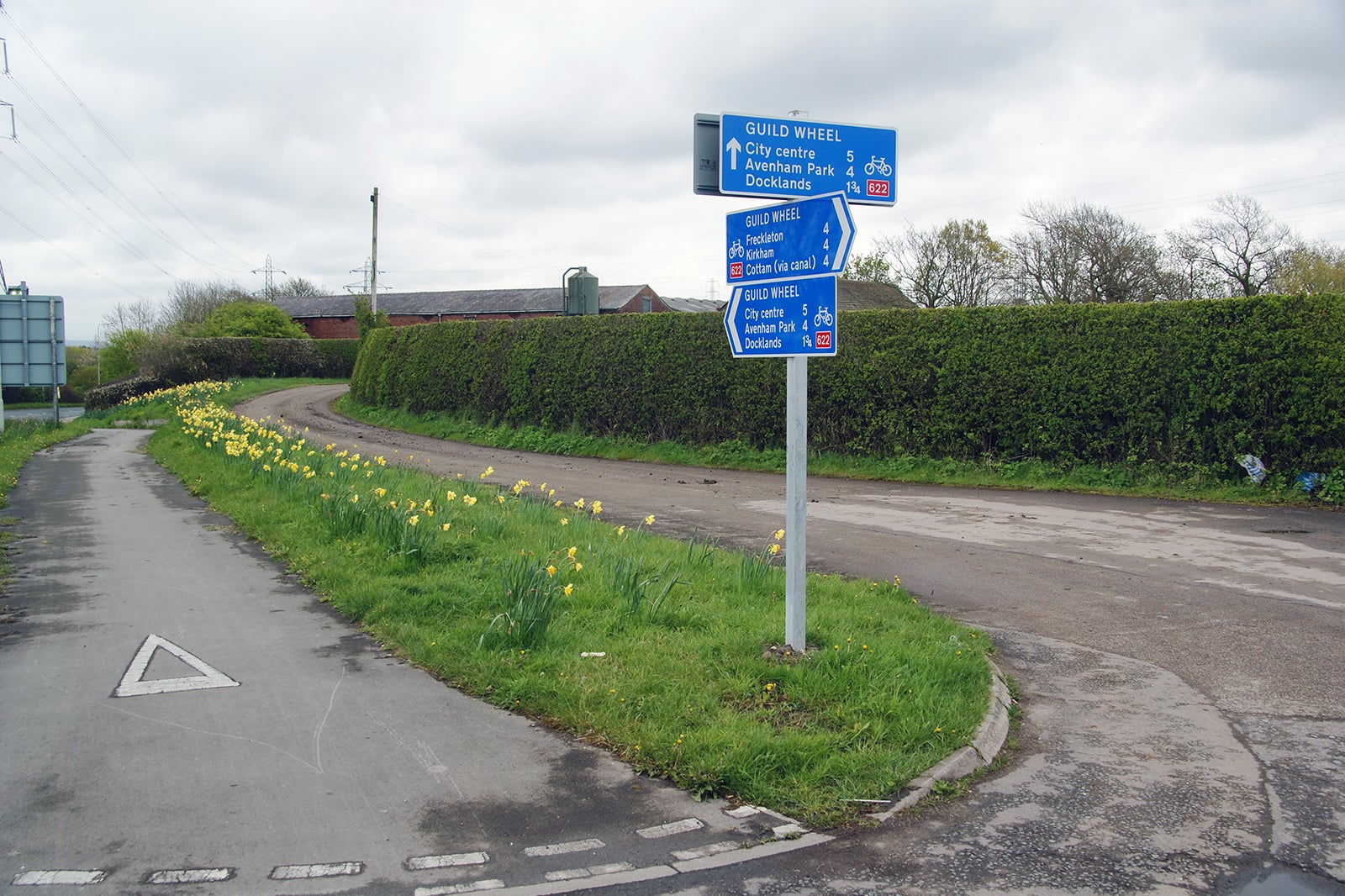 Guild Wheel is a 21-mile-route encompassing Preston that you can traverse by foot or bike. The route is usually traffic-free with much of its length being off-road. Not only does this make the path safe, but it allows walkers and riders to enjoy the scenic nature around Preston.
You don't have to travel the entire circuit to enjoy what it has to offer. It's easy to plan for shorter trips along the Guild Wheel that's suited to your ability. You'll find this route encircling Preston with the southern portion along the banks of the River Ribble.
photo by Bill Boaden (CC BY-SA 2.0) modified
6
Ribble Steam Railway
Visit a train museum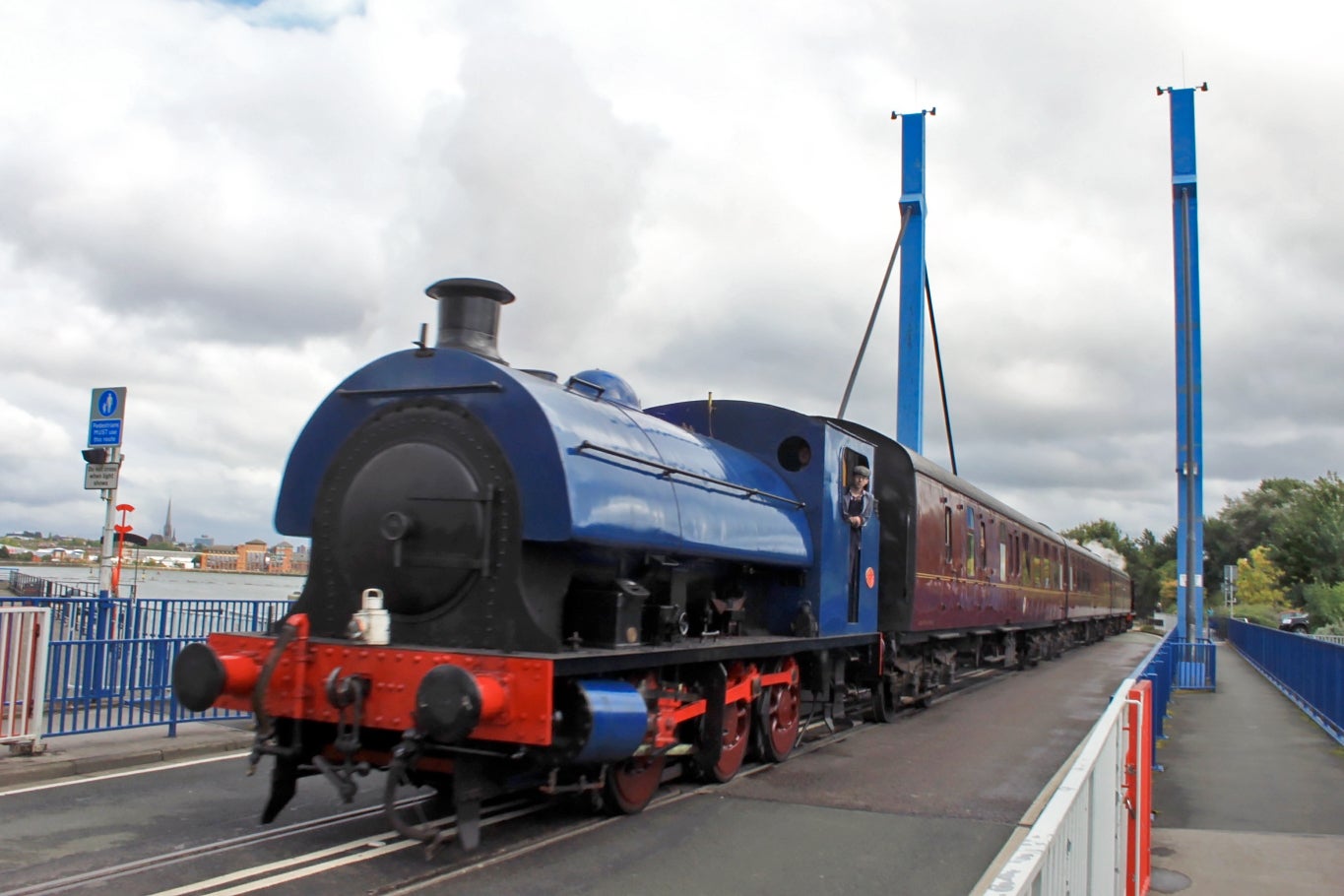 The Ribble Steam Railway is a functioning steam train and museum that you can visit to learn all about the fascinating history of the steam engine and rail. The train itself travels from Preston Riverside station to Strand Road, crossing about once every hour. You can ride the train to experience what train travel was like in the time of the steam engine.
The museum is quite comprehensive, containing numerous artefacts and exhibits on display. Knowledgeable staff is present to provide any insight you might need. You'll find this museum and railway on the west side of town, a few miles from the town centre, southwest of Ashton Park.
Location: Chain Caul Rd, Ashton-on-Ribble, Preston PR2 2PD, UK
Open: Saturday from 10 am to 5 pm (closed rest of the week)
Phone: +44 (0)1772 728800
photo by Geof Sheppard (CC BY-SA 4.0) modified
7
Preston Cenotaph
Visit a war memorial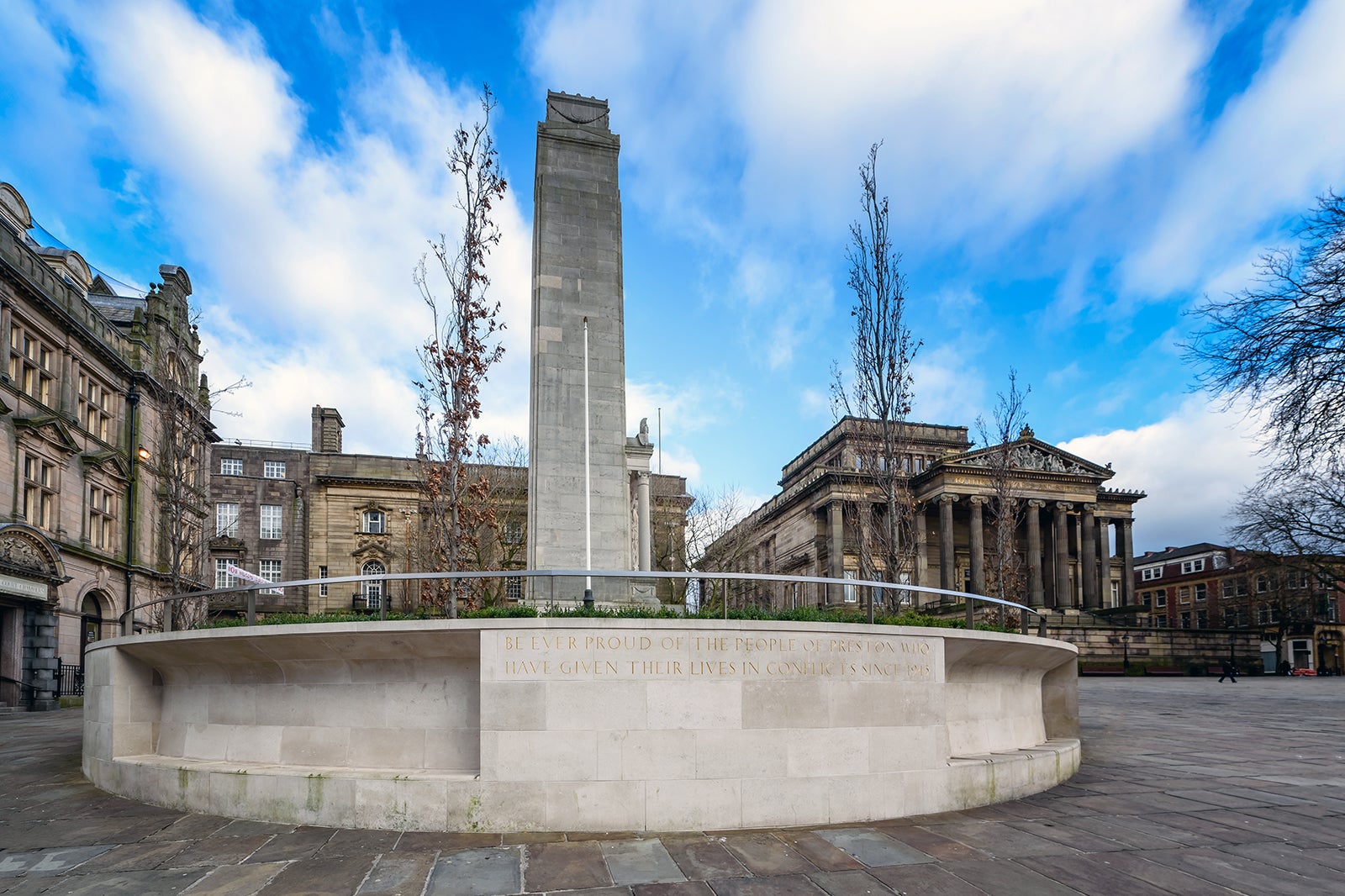 The Preston Cenotaph is a massive monument erected after World War I in honour of the fallen Preston soldiers and was later amended to honour World War II fighters. The main feature of the monument is the central statue named 'Victory', which depicts a figure with outstretched arms holding laurel wreaths in each hand.
Around the central figure, Victory, you'll find 4 smaller figures looking up. This is meant to depict the dead 'pleading for acceptance of their sacrifice'. You can see it all for yourself in Market Square right by the city council building.
Location: Preston Flag Market, 4 Cheapside, Preston PR1 2AP, UK
Open: 24/7
8
Lancashire Infantry Museum
Explore the premier centre for military historical research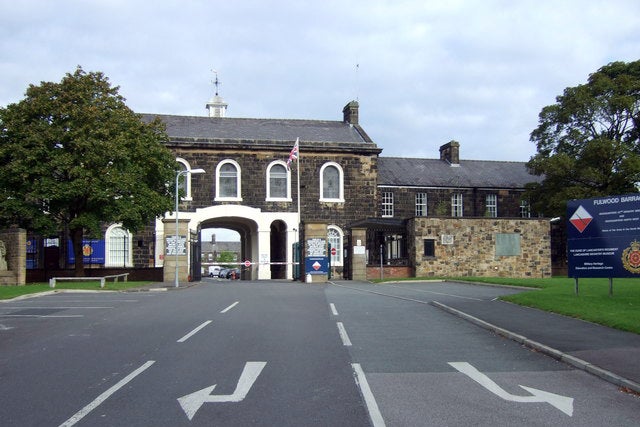 The Lancashire Infantry Museum is a comprehensive museum that showcases the history of Lancashire men who fought through various wars in local regiments. The museum's collections cover all 59 battalions that were part of the Lancashire regiments formed in World War I. When you visit the museum, the WWI section only covers a portion of everything on display.
You'll also find additional collections totalling 120 separate units. See it all for yourself at the museum between Eaves Brook and the Fulwood Barracks northeast of the town centre.
Location: Fulwood Barracks, Fulwood, Preston PR2 8AA, UK
Open: Saturday from 10 am to 4 pm (closed the rest of the week)
Phone: +44 (0)1772 260584
photo by JThomas (CC BY-SA 2.0) modified
9
Moor Park
Relax in vibrant greenery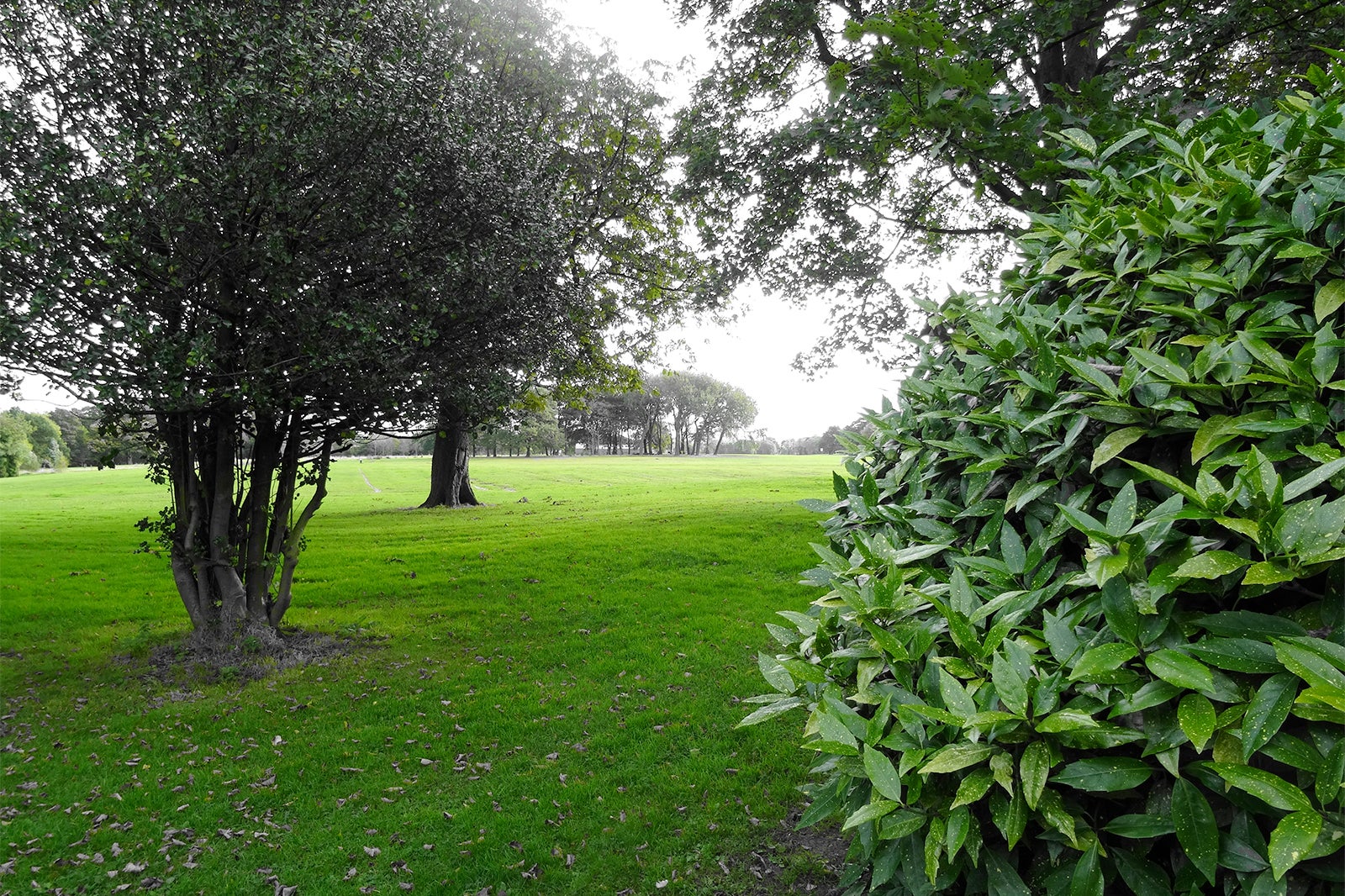 Moor Park is the largest and oldest city park in Preston with a landscape of grassy fields, walking trails and sporting pitches that create a relaxing break from city commotion. Officially, the park is a Grade II listed park, so it's remarkably maintained, as are the Victorian and Baroque architectural structures on the park's southern side.
The football pitches and tennis courts tend to be among the most popular areas of the park. Amid the sporting areas, however, you'll also find an observatory. The park can be found just north of the town centre on the corner of the A6 and Blackpool Road.
Location: Moor Park Ave, Preston PR1 6AS, UK
Open: 24/7
Phone: +44 (0)1772 906471
photo by Stufroguk (CC BY-SA 4.0) modified
10
Preston Docks
Experience a revitalised port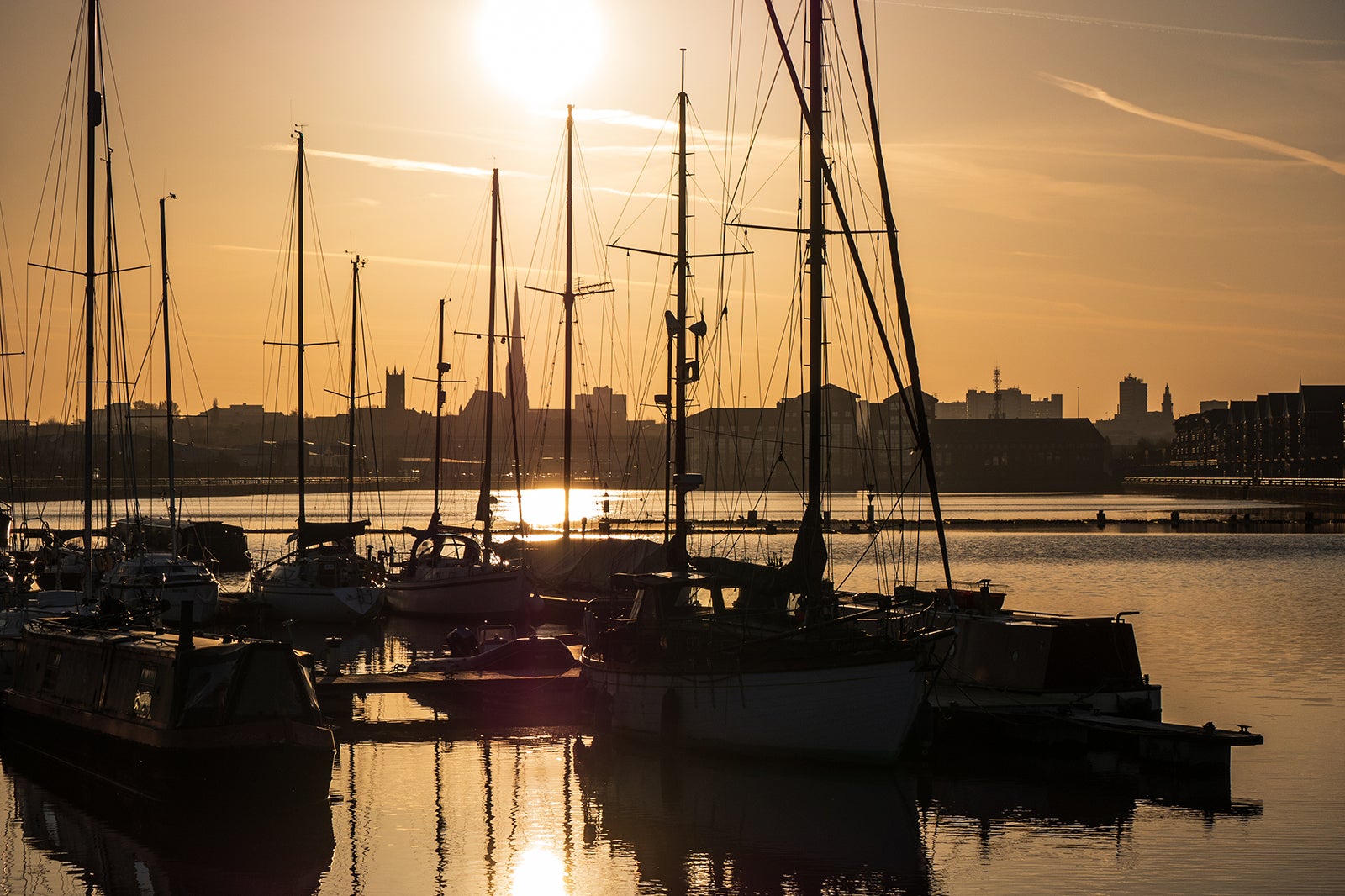 Couples
Families
Shoppers
Food
Adventure
Preston Docks is the site of a former port that was closed down in the '80s but has since been revitalised into a bustling business park and marina. The marina is an opportune place to spot seabirds flying high and low while you venture out onto the River Ribble.
One of the best aspects of Preston Docks is Riversway Retail Park. This section of the dock features a wide variety of enjoyable shops and restaurants. You'll find it all on the west side of town marked by the Preston Dock Lighthouse.
Why book with Hotels.com?