Puerto Rico Travel Essentials
Useful Information to Help You Start Your Trip to Puerto Rico
Our Puerto Rico Travel Essentials lays out the essential information you need to help you plan your trip to one of the most popular destinations in the Caribbean. No matter how frequently you travel, some questions will always need answers: What's the weather like? How can I get from Luis Muñoz Marín International Airport to my hotel? What currency and type of plug do I need?
We have all these answers plus other basic info about the best time to go, getting there, getting around, and a few useful travel tips. You'll learn about the most popular landmarks in Puerto Rico such as Castillo San Felipe del Morro, San Juan National Historic Site, and Catedral Basilica Menor de San Juan Bautista. You'll also learn about the most popular towns and resorts around Puerto Rico such as San Juan, Ponce, and Rincón. It's all compiled in this Puerto Rico Travel Essentials. After going through this short and easy-to-read guide, you'll be a little more prepared to start your trip to Puerto Rico.
1
What are the main towns and villages in Puerto Rico?
Puerto Rico is a Caribbean island that's 100 miles long and 35 miles wide, making it slightly smaller than Jamaica. This unincorporated US territory features a mountainous landscape with a lush interior of tropical broadleaf forests such as the El Yunque National Forest. San Juan is its bustling capital, with diverse architecture and ancient fortifications such as El Morro and the Castillo San Cristóbal. Ponce is the second-largest city and Rincón, on the west coast, is well known for its beaches.
San Juan
The largest city in Puerto Rico, San Juan is also known as the second-oldest European-founded city in the Americas. Among its main attractions are forts and landmarks in the Old City that form the San Juan National Historic Site. Strolling along the cobbled streets through the walled city takes you back through 5 centuries of history, with sights of pastel buildings, cathedrals and statues. All these serve as rich historical backdrops to modern pleasures such as shopping, dining, and a vibrant nightlife scene.
Ponce
The second-largest city in Puerto Rico after San Juan, Ponce is equally rich in history and culture. Plaza Las Delicias is a great spot to take in the city with its ornate colonial buildings and tree-shaded spaces. Cathedrals, coffee plantations, and grand old estates surround Ponce, as do breathtaking natural features such as Caja de Muertos with its Blue Flag beach. Shopping, dining, sunsets and cocktails are best at the picturesque seaside boardwalk of La Guancha.
Rincón
The surfing town of Rincón, on the west coast of Puerto Rico, is a popular haunt for wave riders and sun-seekers. It's also one of the best places on the island for sunsets. Besides great surf, the seaside town offers plenty for the adventurous at heart with dive spots, mountain biking, horseback riding, and plenty of ways to kick back and unwind after an exciting day out. The town's art walk appeals to art lovers and there are small local festivities of food and culture in the town square.
2
When is the best time to travel to Puerto Rico?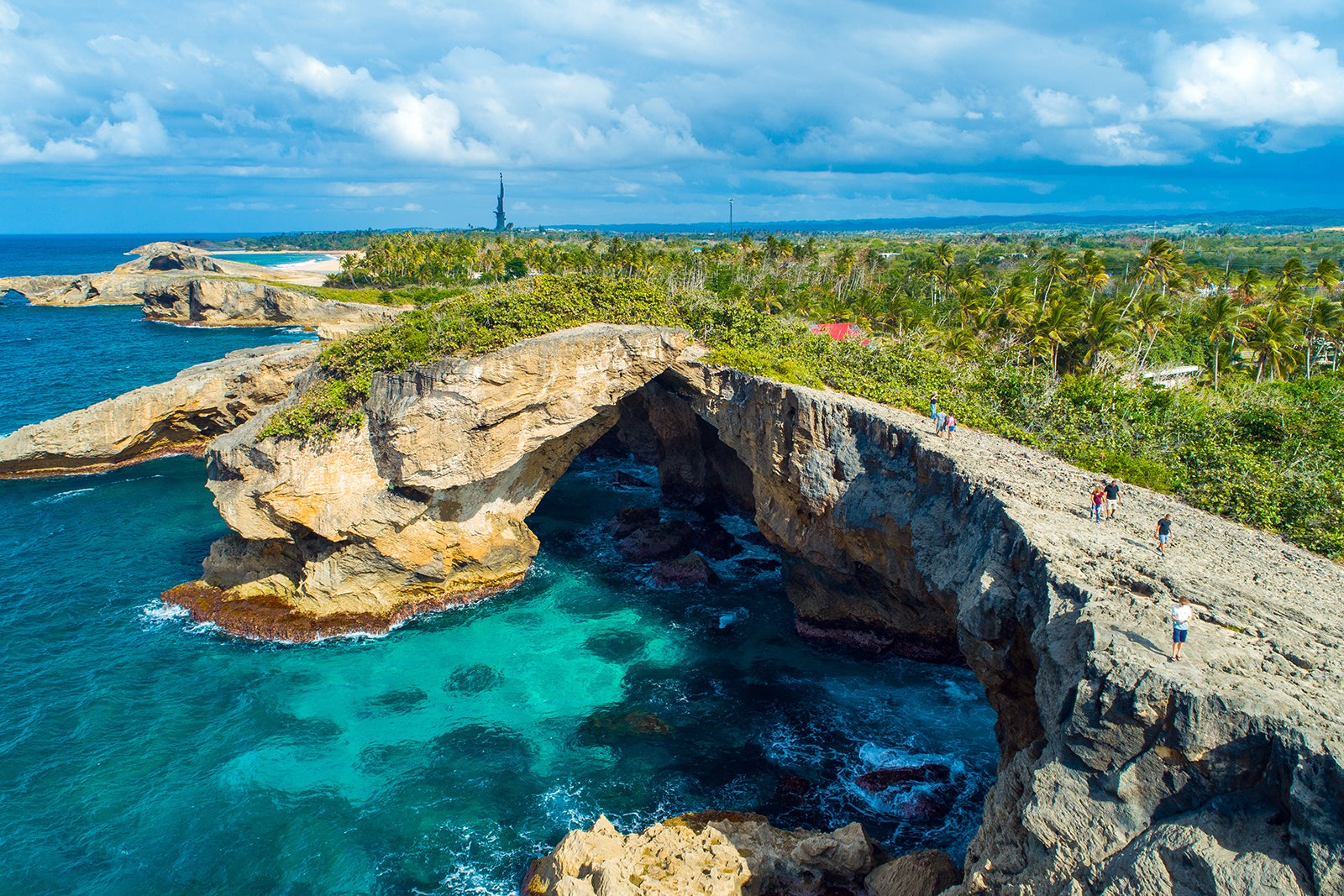 Puerto Rico has a tropical marine climate with warm and humid weather year-round. Average temperatures range from 73°F in the wetter months (from November through April) to 89°F in the peak summertime.
July is the wettest month in Puerto Rico, with the most rainfall occurring along the north coast and in the highlands. Puerto Rico has its hurricane season from June to November.
June–September is the warmest time of the year in Puerto Rico. Summertime may be the low season for off-island visitors, but it's usually considered the high season for Puerto Ricans.
Peak tourist season in Puerto Rico is usually from December to May. Expect crowds and high hotel rates at this time of the year. Many prefer visiting Puerto Rico in spring, between April and June, thanks to the decent weather and smaller crowds.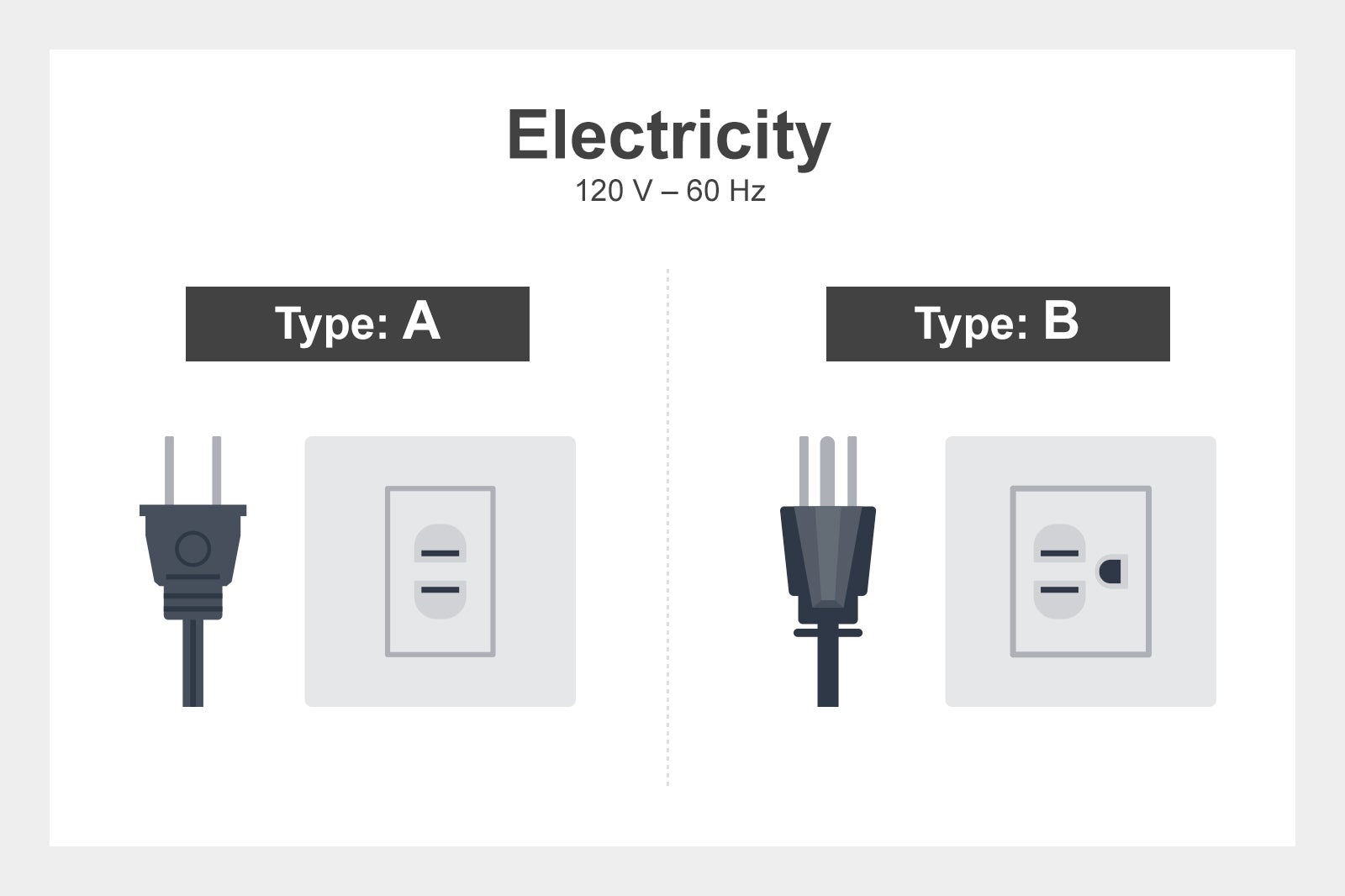 Plug type: A and B
Electricity: 120 V – 60 Hz
Currency: United States Dollar (US$)
International dialling code: +1 787 / +1 939
Emergency telephone number: 911
4
How to get to my hotel in Puerto Rico?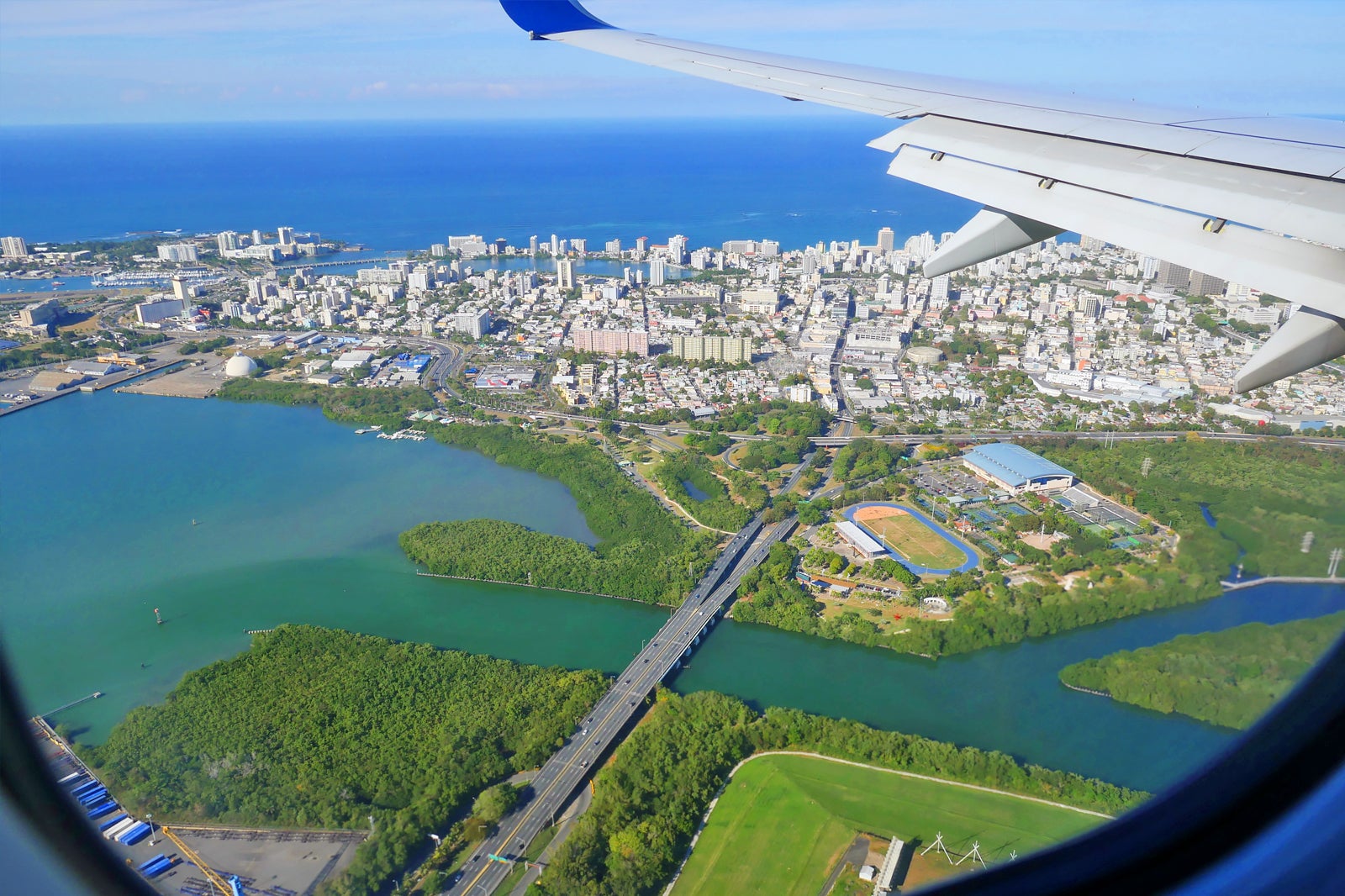 Luis Muñoz Marín International Airport is the main international gateway to Puerto Rico. Located in the municipality of Carolina, just a 10-minute drive east of San Juan, SJU is also the most modern airport in the whole Caribbean.
The airport has a single terminal building with 5 connected terminals. Almost all major US airlines have domestic flights to Puerto Rico, and SJU also serves international flights from Canada, Venezuela, Colombia, Panama, the Dominican Republic, Mexico, and Europe.
Since Puerto Rico is a US territory, you'll need to meet the requirements for entering the United States to be able to fly into the island. US travellers won't need to go through passport control between the island and the US mainland.
Puerto Rico is an archipelago with offshore islands and keys. Ferry services in Puerto Rico allow you to island-hop and discover even more pristine sides of the popular Caribbean destination.
Luis Muñoz Marín International Airport (SJU)
Luis Muñoz Marín International Airport is 3 miles east of San Juan or about 6.5 miles by car. Most travellers transfer to their hotels in San Juan by taxi after landing at the airport. Travel times range between 10 to 15 minutes via the Expreso Román Baldorioty de Castro or Puerto Rico Highway 26. You may also check and arrange with your hotel for possible complimentary airport transfers.
Major car rental agencies such as Avis, National, Enterprise, Hertz and Thrifty have representatives at the airport, while some others offer free transfers to their off-site offices. You can find the taxi agencies right outside Arrivals at Terminal B.
Puerto Rico ferries
Ceiba Ferry Terminal on Puerto Rico's east coast serves as the port for visitors taking a day trip to the beautiful islands of Culebra and Vieques. On the main island's southern coast, there are ferries from the town of Ponce taking day-trippers to Caja de Muertos. On the southwest, ferries depart every half hour to Gilligan's Island.
On the west coast, a commercial ferry service connects the municipality of Mayaguez to Santo Domingo in the Dominican Republic. Most ferry terminals in Puerto Rico get quite busy in the peak season, and pre-booking your tickets is highly recommended.
The San Juan Cruise Port welcomes millions of passengers each year, with different cruise lines calling at San Juan for several days, depending on their itineraries.
5
How to get around Puerto Rico?
Travel tips
Each town in Puerto Rico, especially Old San Juan, is incredibly walkable. Further afield, the small island's relatively easy to get around by car. Driving rules in Puerto Rico are identical to those in the US. It takes roughly 2.5 hours to drive from San Juan to the far west coast. Besides car rentals, taxis and public buses are also available.
How does the Tren Urbano work?
Tren Urbano is the public rapid transit system in Puerto Rico, with a single line that runs for 10.7 miles, serving the municipalities of San Juan, Bayamón, and Guaynabo. There are over a dozen Tren Urbano stations and over 70 rail cars in operation. To use the service, you need to get a stored-value, multi-use farecard, which can also be used on buses. Tren Urbano rides cost roughly half as much again on top of the price of an equivalent bus fare, but the journey time is much shorter.
Taking a taxi
Taxis are readily available outside the airport terminal. Airport staff can assist you with pre-fixed fares according to your destination. In most cases, taxis accept credit cards. For getting around, taxis are readily available in the larger towns – you can easily hail them on the street. It's recommended to call and arrange for one beforehand, though.
Uber is available in Puerto Rico but is only widely available in the San Juan region and nearby districts. A local ridesharing app is Jaime te lleva, with cars that can drive you around the capital and the nearby municipalities of Carolina and Bayamón.
Most cities and towns in Puerto Rico also operate jitneys, locally referred to as Carros Públicos. They typically gather near Terminal A of Luis Muñoz Marín International Airport as well as around cruise piers and main town plazas. Before going, they'll wait for their fill of passengers, so it won't be the fastest way to get around Puerto Rico. They are very affordable, though.
Travelling by bus
The San Juan metro area is well served by a public bus service run by the Department of Transportation and Public Works (DTOP). There are 30 routes that serve Toa Baja, Cataño, Bayamón, Guaynabo, San Juan, and Carolina. Stored-value multi-use farecards, as well as transit passes, can be bought at any Tren Urbano station.
Renting a car in Puerto Rico
You can easily find most major car rental companies in the San Juan metro area. When you land at Luis Muñoz Marín International Airport, you'll have the most options with the likes of Enterprise, Payless, Sixt, Alamo, Thrifty, and National readily available.
US travellers must be 25 or older and have a valid driver's license and a credit card to be able to rent a car in Puerto Rico. International travellers may drive in Puerto Rico with their international driving permits and valid national driver's license for 120 days after arrival.
Rental cars often already have AutoExpreso stickers, allowing easy payment for toll service. The rental company will add a surcharge to your bill afterwards to pay for its usage.
6
What are the main annual events in Puerto Rico?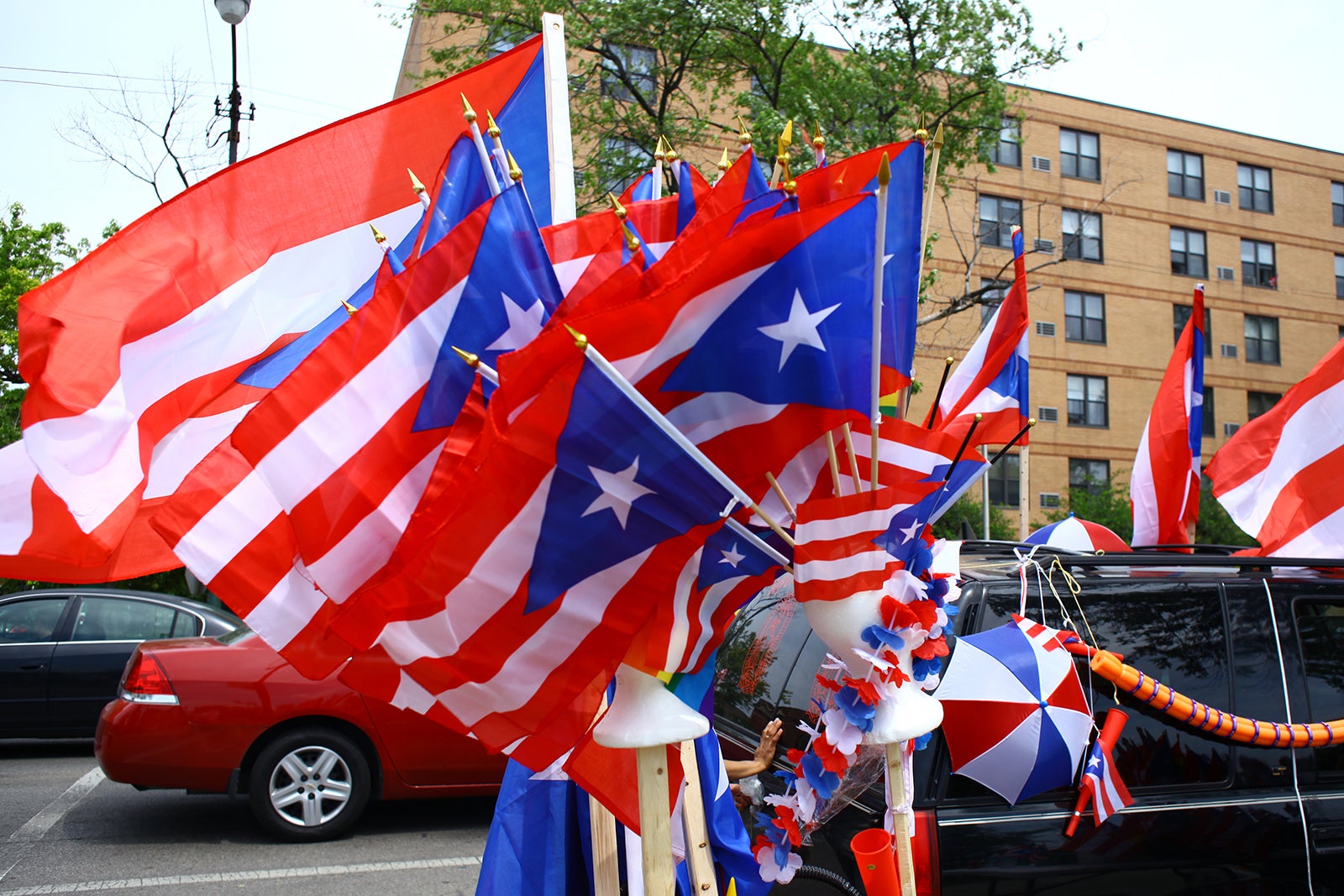 Fiestas de la Calle San Sebastián
January
Puerto Rico's biggest festival serves as the unofficial closing to the Christmas holiday season. Also called the San Sebastían Street Festival, it sees Old San Juan filled with parades, salsa dancers and live music.
Where: Old San Juan
Carnaval de Ponce
February/March
This annual and vibrant celebration with street parades and floats is held in the southern seaside town of Ponce. The festivity lasts a week, ending on the day preceding Ash Wednesday.
Where: Ponce
Hatillo Mask Festival (Festival de las Máscaras de Hatillo)
When: December
Hatillo Mask Festival takes place on 28th December in the town of Hatillo, on Puerto Rico's north coast. The centuries-old festival commemorates the first Christian martyrs or Holy Innocents (Santos Inocentes).
Where: Hatillo
7
What are the main landmarks in Puerto Rico?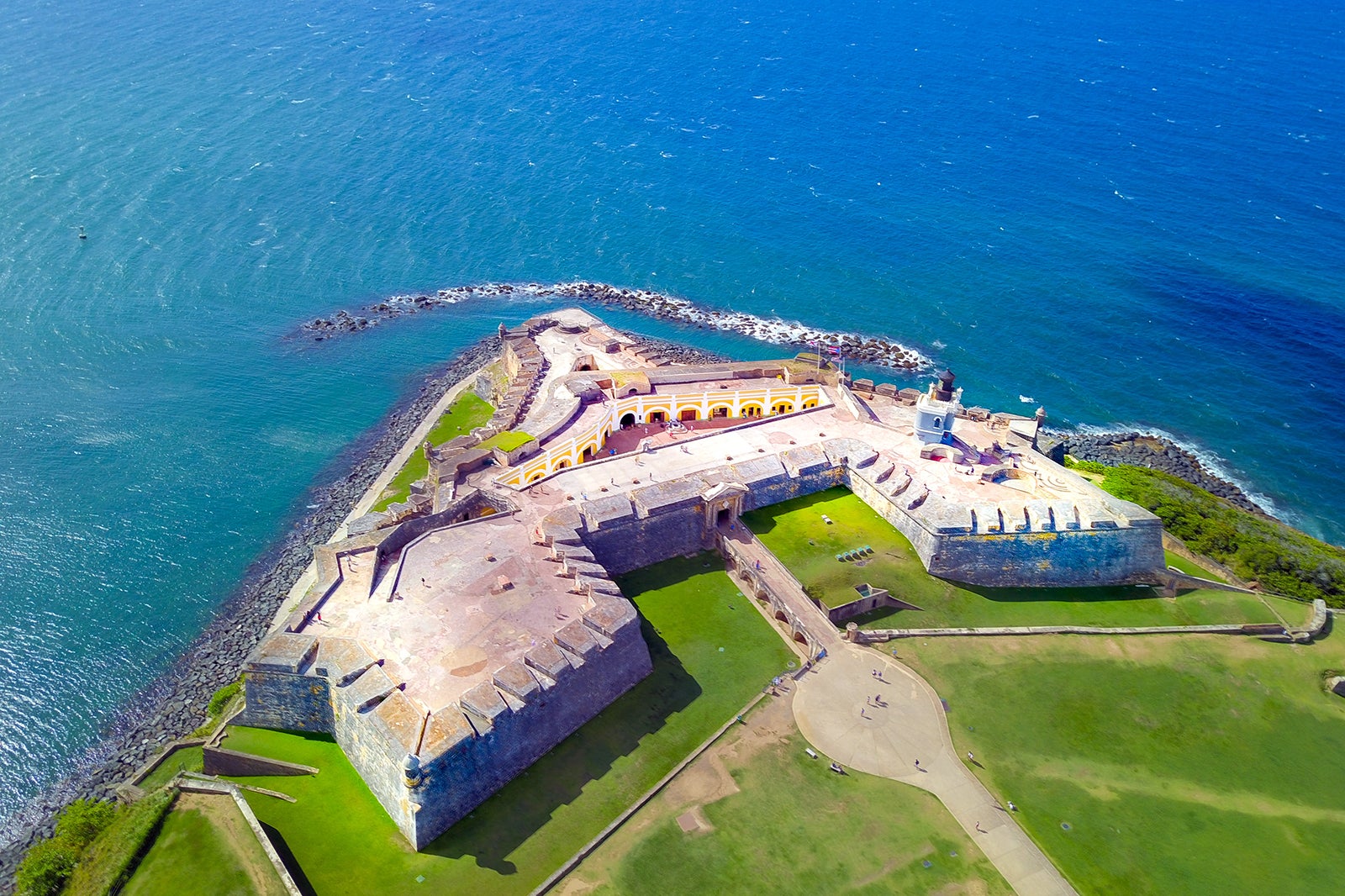 Castillo San Felipe del Morro
A 16th-century citadel and iconic landmark that sits at the very top of Old San Juan.
Castillo de San Cristóbal
An impressive fortress in San Juan, built by the Spanish to protect against land-based attacks on the city.
San Juan National Historic Site
A major Puerto Rican landmark in Old San Juan, filled with colonial-era forts, bastions, and a major portion of the old city wall.
Catedral Basilica Menor de San Juan Bautista
The Metropolitan Cathedral Basilica of Saint John the Baptist is Old San Juan's venerated Roman Catholic cathedral for the Archdiocese of San Juan de Puerto Rico.
Back to top