Plage du Prado is a popular stretch of coast in the south of Marseille. This manmade beach is made of mostly small pebbles, so don't expect golden sand. Even so, this doesn't deter the crowds of locals who visit the beach throughout the summer.
Plage du Prado is the collective name for several beaches that stretch for 2 km, from Plage du David (David Beach) in the north to Plage de la Vielle Chapelle in the south. If you carry on south, you'll reach the Port de la Pointe Rouge harbour that's lined with yachts and a collection of nice restaurants.
Plage du Prado in Marseille - one of the highlights of 10 Best Family Things to Do in Marseille and 10 Best Beaches in France (Read all about Marseille here)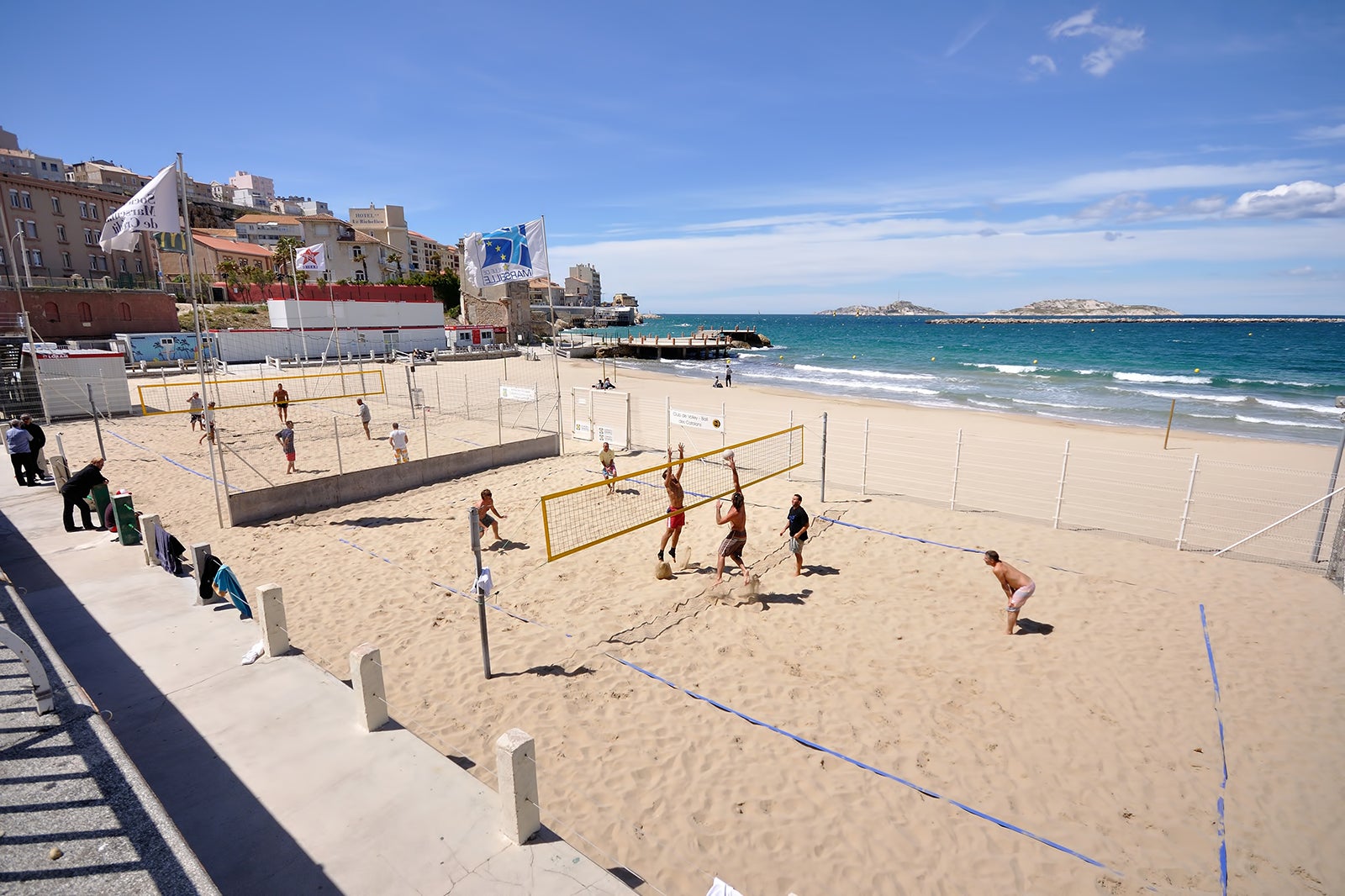 What are the highlights of Plage du Prado?
Active types will love spending a few hours here. You can go swimming in the ocean or play beach football or volleyball. Water sports are very popular at Plage du Prado, especially windsurfing. The constant sea breezes found off the coast of Marseille make this one of the best places in southern France to learn this fun sport. You can rent a board by the hour and even get lessons from experienced trainers. An outdoor fitness park is found next to David Beach and, if you're a skater, bring your board along and you can enjoy the skate park located next to Bonneveine Beach in the central section of Plage du Prado.
Away from the beach, you'll find Parc Borley, a beautifully landscaped park crisscrossed with running tracks around a central lake. For a bit of culture, take a look around Museum of Decorative Arts, Earthenware and Fashion (Château Borély - Musée des arts décoratifs, de la faïence et de la mode de la Ville de Marseille), a small museum in a beautiful 18th-century manor house. Despite its size, it contains some interesting pottery and fashion items. If you're hit by a sudden shower, you can shelter in the museum and enjoy the stunning country house.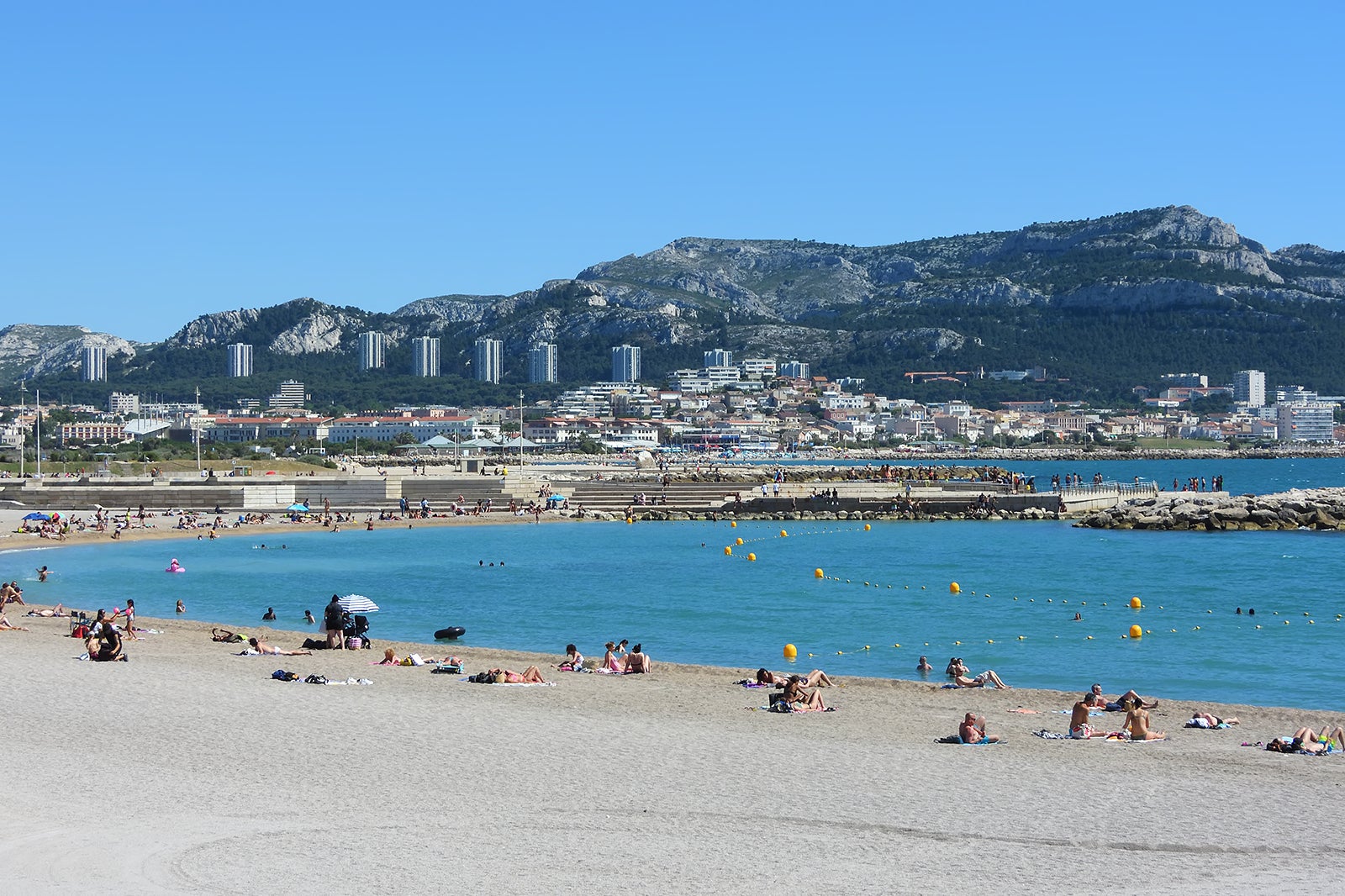 Where to eat at Plage du Prado?
Whether you're looking for a quick takeaway snack or a fancy sit-down meal, you can find what you're looking for at Plage du Prado. The largest collection of restaurants and cafés can be found in the central section of the beach, at the end of Avenue Bonneveine.
L'Indigo Café has a nice selection of sandwiches, patisseries, and baked goods to pick up and enjoy on the beach. Le Greenwich serves a range of pasta and grilled seafood, and it has a terrace area if you would prefer to sit down and enjoy the views.
Further north, David Beach has a great churros stall along with some ice cream outlets, which always goes down well with the kids. Just behind the beach, next to Statue du David, you'll find a nice pizzeria called Pizza David Marseille. For steak and fries, head for Les Huttes Marines, which enjoys ocean views and is surprisingly good value. There are also plenty of world cuisines within minutes of the beach, from Indian curries to Vietnamese spring rolls.
For high-end dining near Plage du Prado, head south to the marina, and enjoy a fancy meal with your feet in the sand at L'escale Restaurant.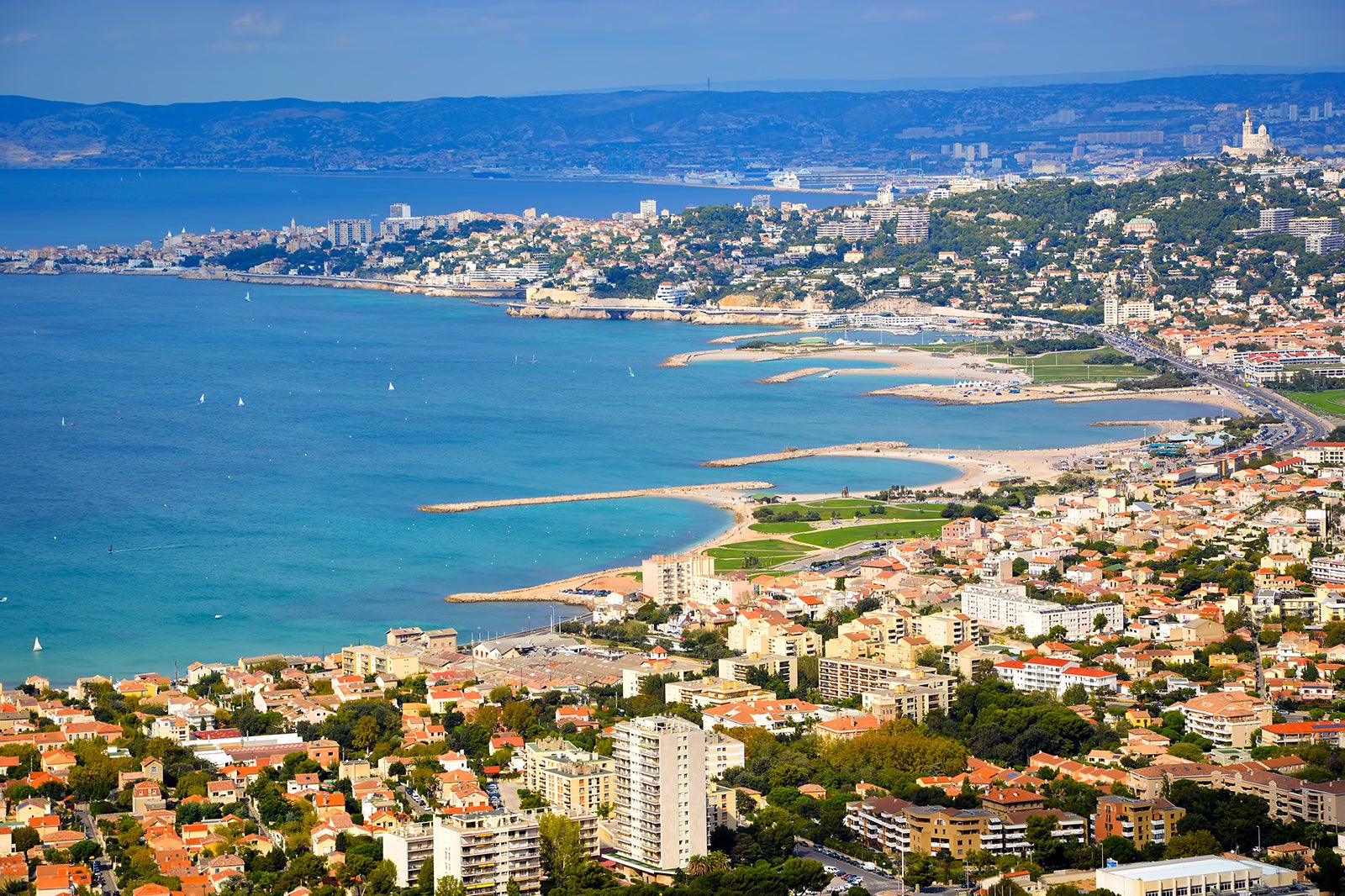 How to get to Plage du Prado in Marseille?
Plage du Prado is around a 15-minute drive from central Marseille, which makes it incredibly convenient for a morning at the beach even on short trips to the city. You can reach the coast on public transport by taking Bus 83 from the Old Port (Vieux Port) area of Marseille.
Plage du Prado in Marseille
Location: Plages du Prado, 13008 Marseille, France
Back to top