The 3 piers along Blackpool's seafront have been jutting out into the Irish Sea since they first opened in May 1863. Originally intended to attract England's upper class to the booming seaside resort, the 3 are now much-loved icons of Blackpool's promenade, boasting a surprising array of attractions.
The oldest and longest of the 3 is North Pier, though it was originally named 'Blackpool Pier'. It was specifically sited within less than half a mile of Blackpool North railway station – the opening of the line to Blackpool in 1846 was a big part of the reason the city was becoming such a popular destination. Central Pier was added in 1868, near the now-closed Blackpool Central railway station. South Pier (originally 'Victoria Pier') is the shortest and, having opened in 1893, the youngest.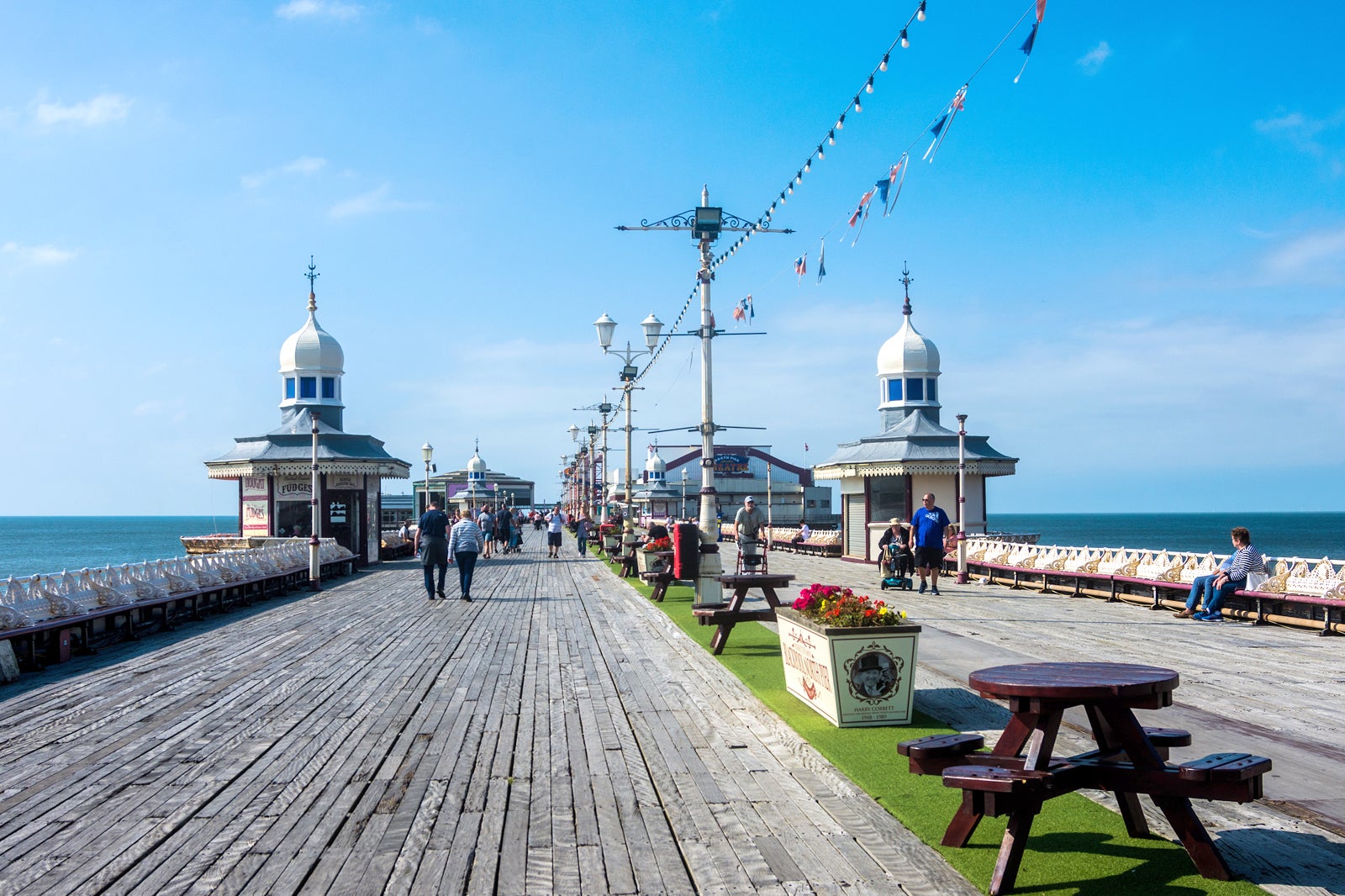 What are the highlights of North Pier?
Given that historical piers in Britain have an unfortunate habit of being demolished or destroyed by fires, storms and collisions, the fact that North Pier is still standing is perhaps its more remarkable feature. The Grade II-listed structure has certainly seen its share of disasters but remains the oldest surviving work of Eugenius Birch, who built a total of 14 piers around Britain in the 19th century.
The 550-yard-long North Pier was originally aimed at luxury travellers, with attractions like orchestral concerts playing in its exotically decorated pavilion. This was, in fact, Blackpool's main indoor entertainment venue until the Winter Gardens opened in 1879. Sadly, a fire in 1938 destroyed the pavilion and it was replaced with the 1,564-seat North Pier Theatre, which still hosts some big-name stars to this day.
Alongside the theatre, North Pier features an arcade, a palm reader, an ice cream parlour, a Victorian tearoom, and a couple of fun show bars. There's also a fairly iconic glove puppet in residence – one of the earliest to play the part of Sooty. The original puppet was bought here by Harry Corbett for his son, Matthew. Both father and son would go on to take British children's TV by storm from 1955 onwards with the famous orange bear on their hand.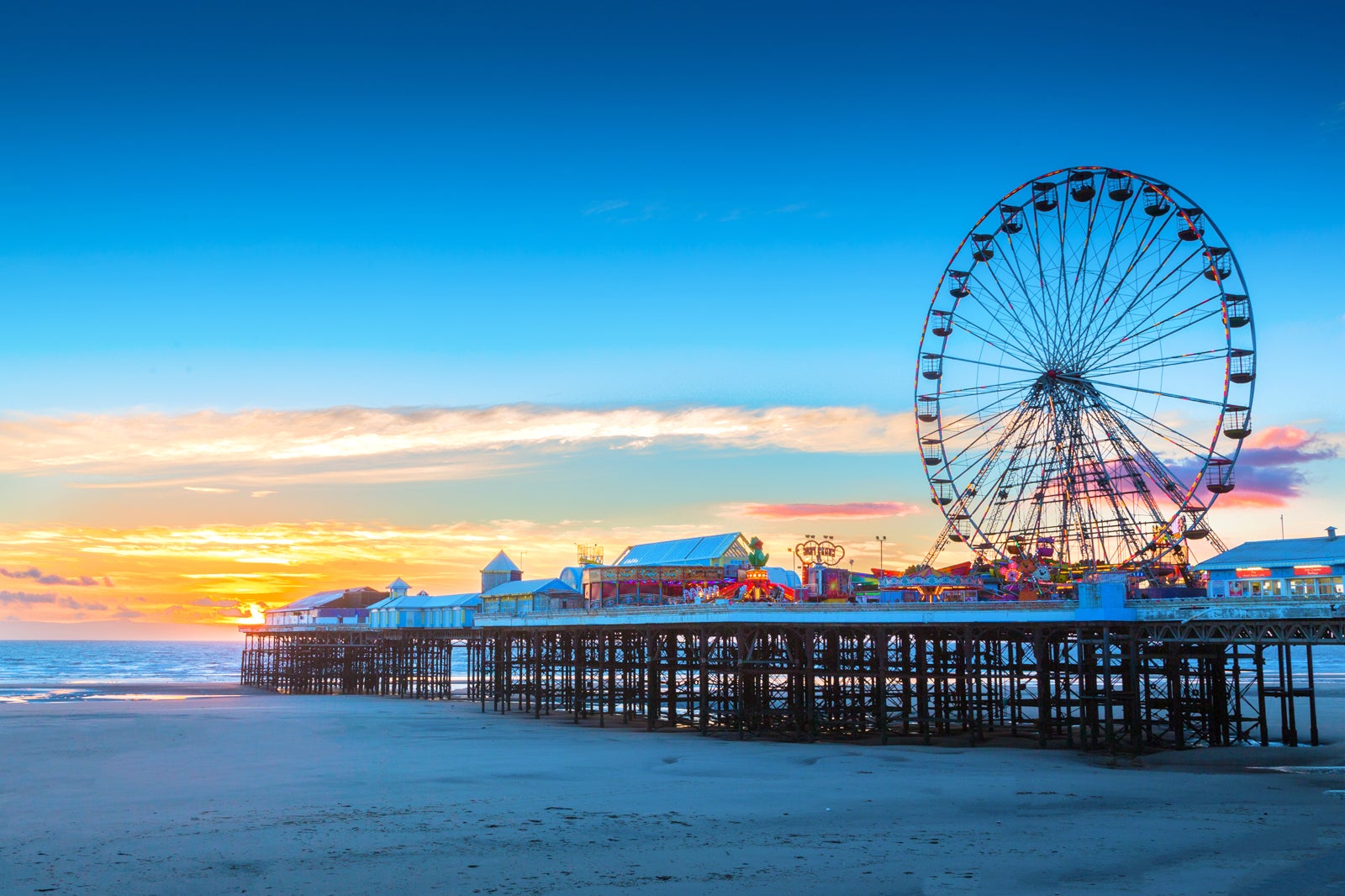 What are the highlights of Central Pier?
A little over half a mile south of North Pier, Central Pier was built as a working-class equivalent, earning it the nickname "the People's pier". The 108-ft Ferris wheel near the shore is the most striking of its features, but is a relatively recent addition, opening in 1990. It offers great views along the coast from the top. The wheel is surrounded by a little funfair consisting of an arcade, carousels, waltzers, bumper cars and a helter skelter.
Before the Blackpool Big Wheel, however, you've got to pass the Central Pier Showbar, which regularly hosts fun musical shows. At the opposite end of the 371-yard-long pier, you'll find the Pirate's Bay Family Bar, where food and drink are accompanied by exciting family-friendly shows with, as the name suggests, a pirate theme.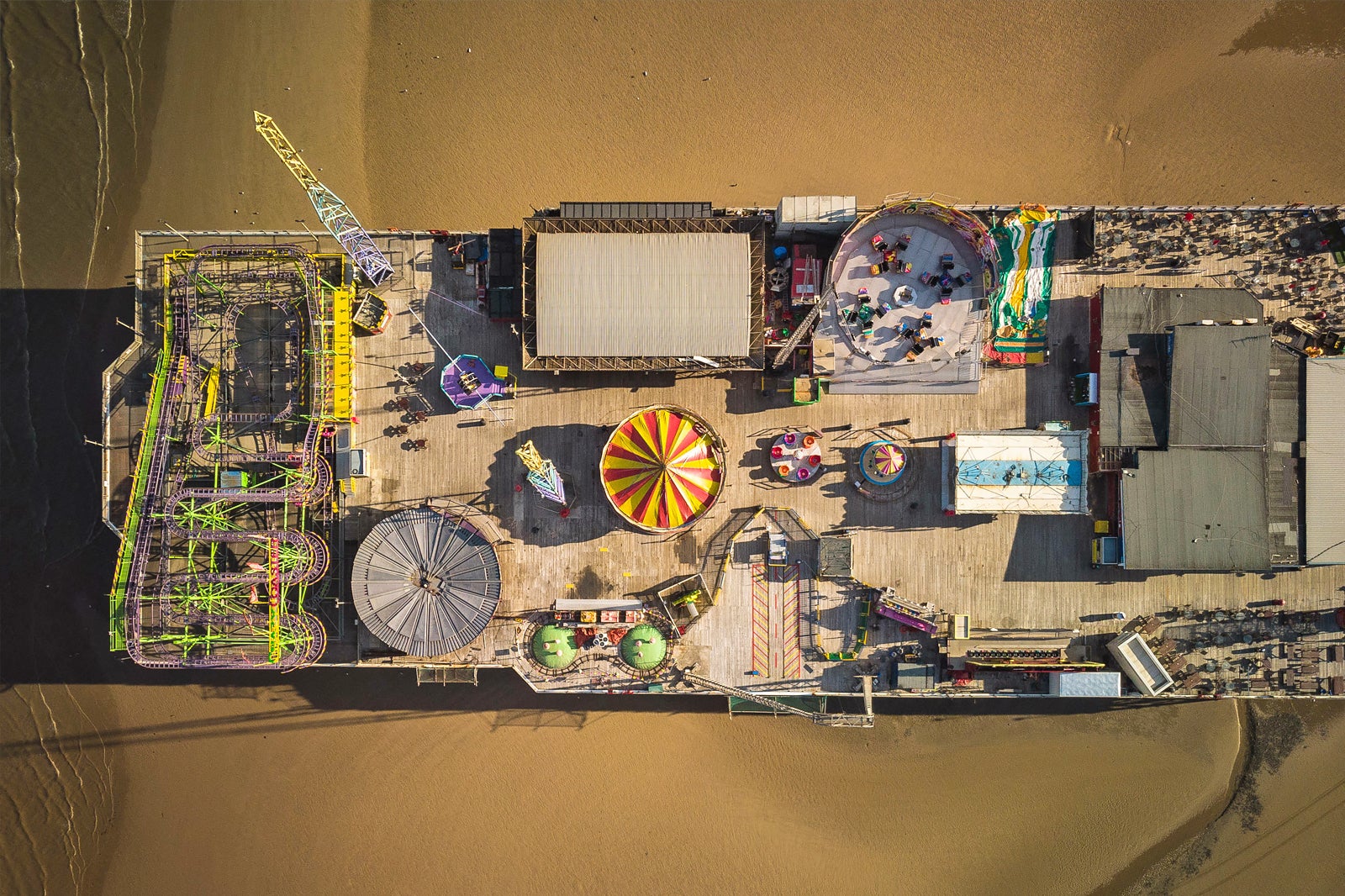 What are the highlights of South Pier?
At a mere 163 yards in length, South Pier is significantly smaller than the other Blackpool piers. However, it's still worth travelling a little over 1 mile south of Central Pier to get there as the small space is packed with attractions. Its base is right next to the Sandcastle Waterpark and a go-karting circuit. With Blackpool Pleasure Beach a stone's throw away, this makes it a hub for family fun.
South Pier takes the funfair and family bar approach of Central Pier and ramps it up a few notches. The Laughing Donkey Family Bar marks the entrance to the Adrenalin Zone – a fairly substantial fairground with the Crazy Mouse rollercoaster as its star attraction. There are more modern attractions here than on the other piers, with a reverse bungee ride, a safety harnessed trampoline and a 124-ft freefalling swing.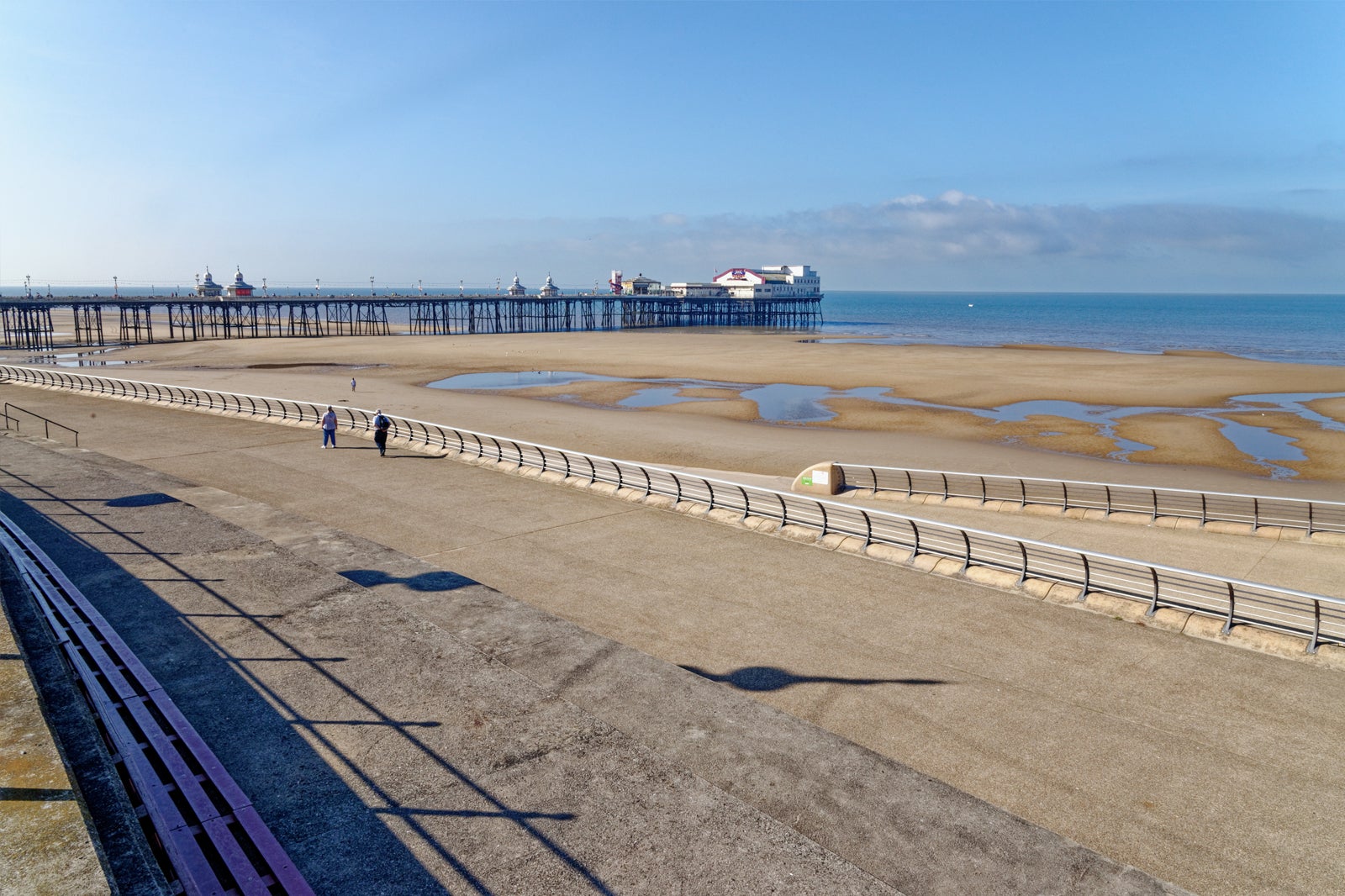 Good to know about Blackpool's piers
With a total distance of about 1.6 miles between North and South Piers, it's arguably possible to walk between the 3 of them. However, being right along the Promenade, other transport options are available to save you the trouble, including buses and the Blackpool Tramway. There aren't many parking spaces near the piers, so walking or using public transport is highly recommended.
Each of the piers has its own collection of eateries, inevitably including fish and chip shops and fairground favourites like doughnuts. They're all wheelchair accessible and all but South Pier allow access for dogs. You can fish from the North Pier, but only by joining one of the angling clubs that operate this pitch. All 3 piers can be accessed for free, but individual rides and attractions have small entry fees.
It's worth noting that all 3 piers are now well over 100 years old, and many piers of a similar age around the country have succumbed to the sea in recent years. While Blackpool's piers receive regular safety inspections, it's probably a good idea to give them a miss on days with rough seas.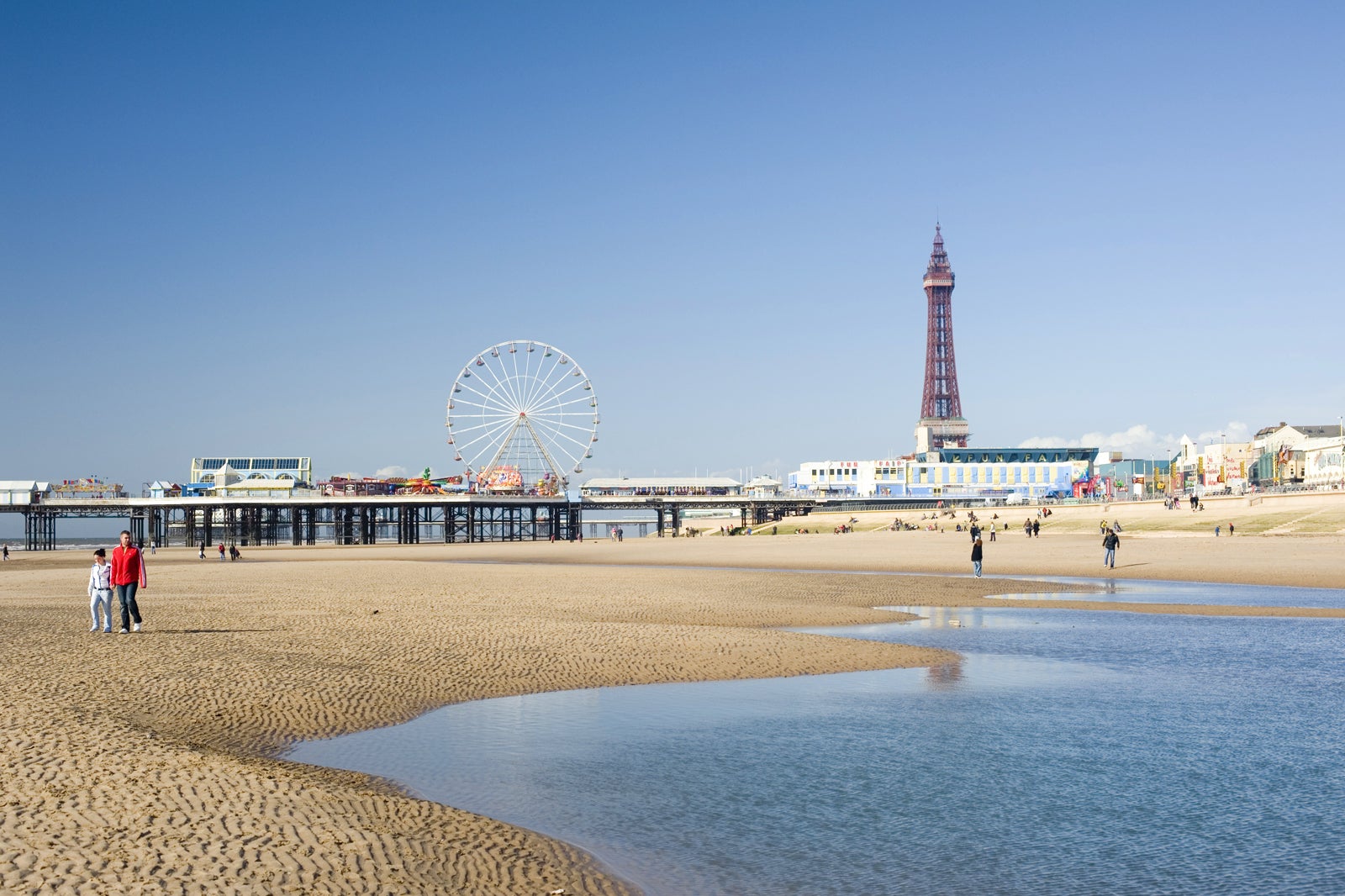 Blackpool's 3 Piers
Location: Promenade, Blackpool FY4 1BB, UK
Open: Monday from 8 am to 4.45 pm, Tuesday–Wednesday and Friday–Sunday from 8 am to 11 pm, Thursday from 8 am to 9 pm
Phone: +44 (0)1253 623422
Back to top