Lodgings in Bendigo - From Plush Boutique Hotels to Bed-and-Breakfasts
Lodgings in Bendigo - From Plush Boutique Hotels to Bed-and-Breakfasts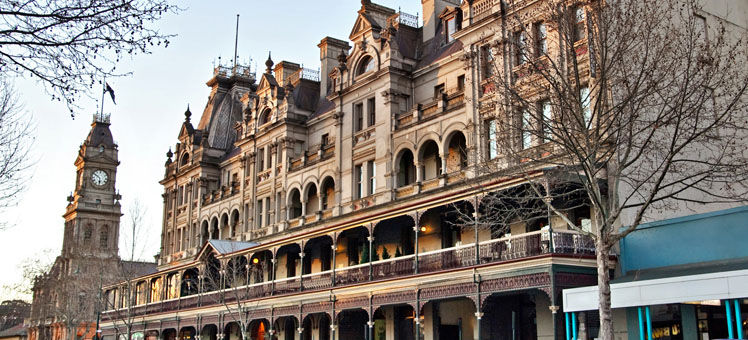 Bendigo's accommodation covers the full gamut, from plush boutique hotels to cozy cottages and basic roadside motels. In the city centre (or "CBD"), you'll find many of these options are in period buildings with imaginative decor, while the surrounding districts have less-characterful offerings. The region also has farm rentals and rural retreats, while a few wine estates in and around Heathcote offer their own accommodation.
Central Bendigo
Central Bendigo is the place to be if you want to nip out and do some shopping, or have excellent restaurants on your doorstep. It's also the best area for weekend visitors who don't plan to go too far, as most of the main sights and parks are within walking distance. Transport within Bendigo is restricted to buses and the charming old tram network; visitors who do bring a car should be aware that parking is not plentiful in the CBD, so it's best to check if your hotel has a garage.
Boutique hotels in historic buildings and privately run bed-and-breakfasts (often called "cottages") are what you will find in Central Bendigo. Many are located in the CBD itself, and also clustered around the Bendigo Hospital, catering to families and visiting medical staff.
Outer Bendigo
Bendigo's outer neighbourhoods such as Kangaroo Flat to the south and White Hills to the north offer more functional and car-accessible accommodation. You will find options right off the highways and close to supermarkets and other amenities. Some are in residential streets, and others on the edge of town where the bush meets the 'burbs.
Functional motels, private guesthouses, holiday homes, and holiday parks with cabins make up the hotel scene in Bendigo's outer districts. There are also some convention hotels for business travellers and events.
Castlemaine
Although a destination within its own right, Castlemaine may be suitable for those who prefer a more village-type ambience and enjoy mooching around eclectic shops and galleries. Bendigo is an easy 30-minute drive up the highway, or a local train takes you from Castlemaine's train station to central Bendigo in about the same time.
Charming boutique hotels, private rooms in old homesteads, and renovated lodgings in historic pubs are the accommodation options you'll find in picturesque Castlemaine. Most are situated within walking distance of the town centre.
Search for Castlemaine hotels
Heathcote
Bendigo's wine region is centreed in and around Heathcote. As well as producing an award-wining shiraz, most wineries open their doors for public visits and tastings. Small in size compared to other Australian wine regions, wineries here are often family-run, and members are only too happy to show you around. Lake Eppalock, a popular vacation retreat, is also nearby.
Some wine estates offer private accommodation. You will also find cottage and motel accommodation in the village of Heathcote itself, situated 45 kilometers from Bendigo. Lake Eppalock features holiday parks and cabins.
Discover
Find your perfect holiday in Bendigo
From 50 hotels.