Where to Stay in Santa Monica - Seaside and Downtown Retreats
Where to Stay in Santa Monica - Seaside and Downtown Retreats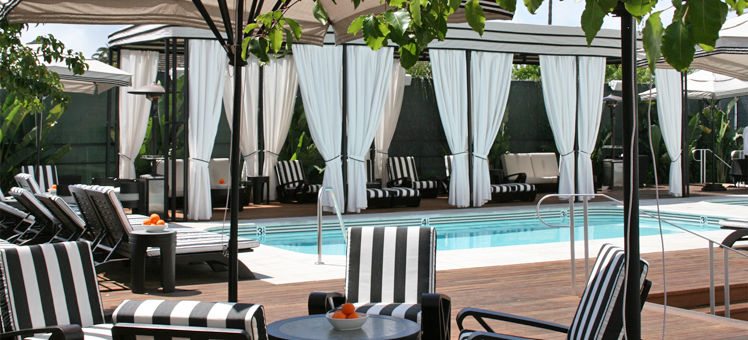 From spa hotels to upscale boutiques, Santa Monica's stylish stays lie mostly along the mile-long coastline, overlooking the Pacific Ocean. A few blocks from the sand and the city's famous pier, downtown Santa Monica accommodation is less glam but closer to shopping, dining, and nightlife. For the traveller on a budget, more modestly-priced hotels are located farther inland.
Santa Monica Pier/Ocean Avenue
Visitors seeking oceanview escapes often stay along Ocean Avenue, atop a sandstone bluff overlooking Pacific waters. A tree-shaded stroll through Palisades Park takes you through greenery and past sculptures like Overlook Beacon, a wooden platform modeled after a sailing ship with views of Santa Monica Bay. You can relax on benches, at grassy picnic areas, or play a horseshoe-like game on pétanque courts. The park's south end meets Santa Monica Pier, an iconic wooden wharf with seafood restaurants, a theme park, and stairs leading to the sand.
While a few moderately priced hotel options exist - like unassuming boutiques and vintage-style lodging - most beachside hotels are upscale. South of the pier, you'll find large oceanfront hotels with spas, fine dining at in-house restaurants, and rooms with spa tubs and plush bathrobes. Ocean Avenue accommodation is similarly high-end.
Downtown Santa Monica/Third Street Promenade
A few minutes' walk east of Ocean Ave, Downtown Santa Monica begins. The top attraction is Third Street Promenade, a bustling 3-block pedestrian strip with restaurants, shops, and street performers. At Santa Monica Place, a shopping-and-dining complex on the Promenade's south end, you can dine while watching the sunset from a rooftop deck. Jaunts to adjacent Fourth and Second Streets reward with more shopping and eateries along stroll-friendly lanes. Main Street's art galleries and sidewalk cafes are a 4-minute drive away.
While not all downtown offerings are in the upmarket category, many have balconies with ocean views and price tags to match Ocean Avenue. You can spoil yourself with spa toiletries, heated outdoor pools, and gourmet onsite restaurants. Among mid-range choices are an all-suite hotel with kitchens, and a hostel with dormitory lodging.
Mid-City
To steer clear of hotels frequented by the well-to-do crowd, head about 20 blocks inland and stay along Santa Monica Boulevard, or nearby Pico and Ocean Park Boulevards. Downtown is easily accessible by bus or taxi. You'll find great restaurants and bars along Santa Monica Boulevard, while Pico Boulevard has eclectic coffeehouses and diverse dining options. Ocean Park Boulevard is home to green spaces like Clover Park, with a long walking path, tennis courts, and picnic areas.
Reasonably priced and sporting modern rooms with flat-screen TVs and microwaves, mid-sized chain hotels are most prevalent in Santa Monica's inland areas. While lacking the fancy trimmings of their seaside neighbours, this functional best-value accommodation offers niceties like fitness centres and free continental breakfasts.
Search for Mid-City hotels
Discover
Find your perfect holiday in Santa Monica
From 30 hotels.