What To Do in Weston-super-Mare - Explore History, Discover Nature, and Visit Museums
What To Do in Weston-super-Mare - Explore History, Discover Nature, and Visit Museums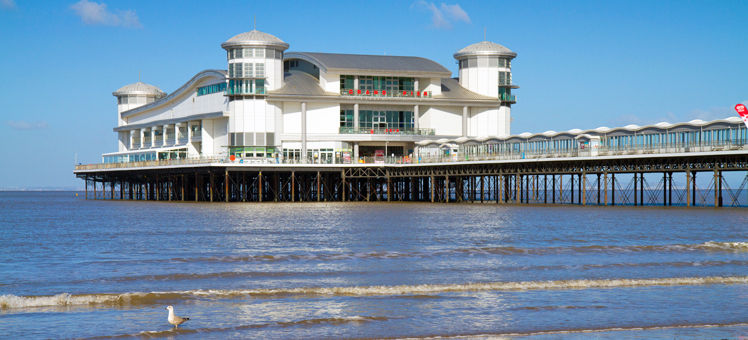 Weston's beach is ideal for long and tranquil days of building sandcastles, picnicking, or getting a ride from one of the donkeys that reside along the shore. You can also take a boat trip to an island in the Bristol Channel or investigate marine life at the SeaQuarium. For land-based fun, you can hike, bike, visit museums, or check out Clevedon Court, a medieval manor house located 11 miles away.
The Grand Pier
Originally built in 1904, the Grand Pier was refurbished and reopened in high style in 2010. Activities include a ghost train, bumper cars, and an indoor go-kart track, as well as myriad arcade games. Tiffany's Edwardian-style tearoom, located at the end of the pier, is a great spot to enjoy a relaxing English cream tea, and gives sweeping sea views all the way to the mountains in South Wales.
The Grand Pier, Marine Parade, Weston-super-Mare BS23 1AL; Tel: +44 1934 620 238; Website: The Grand Pier
Weston's SeaQuarium underwater world
Located on its own mini-pier on the seafront, the SeaQuarium is home to over 30 species of marine life sourced from around the world. The tropical zone features lionfish and puffer fish, and there's an underwater tunnel that offers up close encounters with rays and hound sharks. For those with a strong stomach, you can have a hands-on experience with cockroaches, spiders, and rats. There are also regular events held throughout the year, including Pirate Month in the summer and a visit from Santa during the Christmas season.
Visit Weston's museums
One of Weston's biggest draws is the Helicopter Museum, located on the eastern edge of town, where you'll find over 80 machines from America and Europe. It's one of the largest dedicated collections in the world and spans designs built in the 1930s to modern day models. There are Open Cockpit Days where you can learn about the various controls and you can book a flight. Weston Museum showcases archaeological artifacts from the Iron Age and Roman times, as well as tools that highlight Somerset's mining history. Note that the museum is undergoing renovations and will be closed until 2017.
Clevedon Court
Less than a 30-minute drive north of Weston-super-Mare sits Clevedon Court, a medieval manor house that dates back to the early 14th century. Purchased by Abraham Elton in 1709, it remains within the same family to this day, and houses elaborately furnished rooms, as well as collections of colourful local Nailsea glass and Elton Ware pottery. You can also explore the terraced gardens that date back to the 18th century, which include a spectacular Octagon garden pavilion.
Get into Weston's nature
If you're looking to take in the splendor of Weston's surrounding areas, you can hop a boat to Steep Holm, an island in the Bristol Channel that's rich in rare plant life, and home to Muntjac deer and birds. On Weston's southern edge, Uphill Hill Local Nature Reserve offers sweeping views of the bay from the tower located at the summit and you can stop to explore St. Nicholas Church along the way. For walking and biking, the Mendips are laden with enticing trails, like the flat 15-mile Strawberry Line and the challenging Bleadon Hill route.