Where to Shop in Agra - Bustling Bazaars, Handicraft Stores, and Carpet Emporiums
Where to Shop in Agra - Bustling Bazaars, Handicraft Stores, and Carpet Emporiums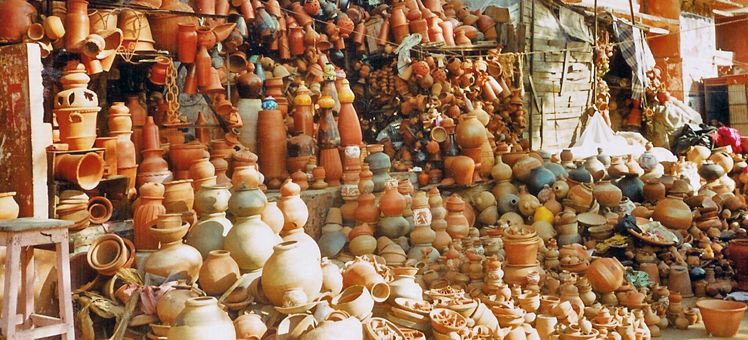 Agra is an exciting shopping destination where you'll find distinctive handicrafts, locally made jewelry, and memorable souvenirs inlaid with marble. Embroidery and handwoven carpets created using traditional techniques make colourful gifts to take home. From lively bazaars serving tasty street food to welcoming, family-owned stores, the city offers an inspiring variety of retail experiences.
Sadar Bazaar
Located close to Agra Cantonment Railway Station, the Taj Mahal, and Agra Fort, Sadar Bazaar is a place where you'll be able to find just about anything. It's open from 11 in the morning until around 11 at night, every day except Tuesday. But it really comes alive in the evening when tourists and locals gather for street food (called chaat) and shopping. Wander through the market to find Panchhi Petha, a sweet shop which also offers savory snacks like masala-spiced nuts. Or head to Café Coffee Day for fresh sandwiches, sundaes, and smoothies.
Café Coffee Day, Inside Agra Cantonment Shopping Arcade, Saudagar Lines, Sadar Bazaar, Agra 282001, Uttar Pradesh; Tel: +91 935 9284112; Website: Café Coffee Day

New Panchhi Petha Store, 49 Taj Road, Sadar Bazaar, Idgah Colony, Agra 282001, Uttar Pradesh; Tel: +91 844 9686078; Website: New Panchhi Petha Store
Marble-inlaid handicrafts
Great time and care is taken to create the handcrafted, marble-inlaid souvenirs found in Agra. You can visit J.K. Cottage Industries to learn how the Taj Mahal's marble inlay was created during the Mughal era. The shop is a cooperative where local artists, many of whom are descendants of those who originally built the Taj, continue their family's tradition. At Marble Cottage, a 3-minute drive away, marble-inlaid pieces including vases, lamps, and chess boards are adorned with semi-precious stones such as lapis lazuli and coral.
Traditional textiles and jewelry
If you want to browse through piles of brightly coloured clothes and shawls, Agra has plenty of options. For a wide selection of handmade saris, T-shirts, and pashminas, head to Ratan Handicrafts. Their showroom displays vibrant fabrics and stocks a tempting array of handicrafts and souvenirs. A 2-minute walk away, Handicrafts Gallery spans a few floors, with colourful textiles, saris, and semi-precious gemstone jewelry cramming every nook and cranny.
Jewelry and gemstones
What better way to commemorate a trip to the Taj Mahal than with a precious keepsake? There's something to suit every budget at Gems Jewellery & Handicrafts Gallery, including star sapphire rings and semi-precious stone necklaces. There's live music every evening after 6 PM at Gems & Art Gallery, which is also on Fatehabad Road, so you'll not only get a dose of retail therapy but some entertainment, too. The large showroom showcases fine jewelry pieces including diamonds and rubies set in solid gold and sterling silver.
Handwoven carpets and embroidery
Persian influences can be seen in many places in Agra, including in local art and homeware, but it's particularly obvious in the handwoven carpets sold in the city. At Mughal Carpet, you'll be able to browse through pieces woven by villagers using techniques handed down from generation to generation. Expect to be welcomed with a warm cup of chai (tea). Embroidery Palace, 1 km down the road, offers jeweled carpets, vibrant wall hangings, and embroidered bags. Sparkly gemstones are used in many pieces. You can learn about different stitching techniques while wandering through the shop's large showroom.
Discover
Find your perfect holiday in Agra
From 280 hotels.