Indulge in Sorrento's Coastline and Gastronomic Delights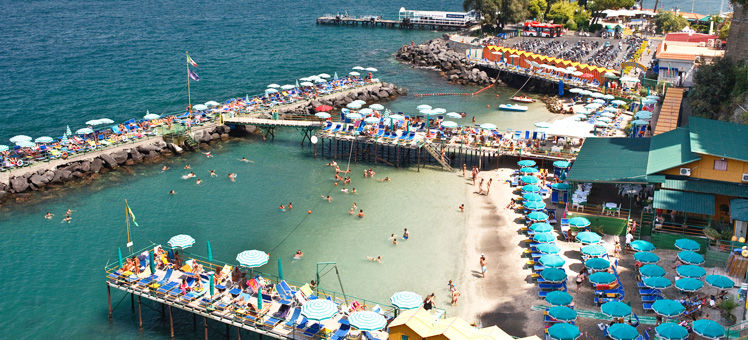 There's little that can prepare you for the onslaught of natural beauty Sorrento has to offer. From volcanic sand beaches that spill into the Tyrrhenian Sea, to myriad hiking and biking trails that wind through the limestone Lattari Mountains, you'll be bowled over by nature. For even more breathtaking panoramas, you can take a day trip to the neighbouring Amalfi Coast, then refuel with a gastronomic tour.
Hit the Beaches
Sorrento is located on the Tyrrhenian Sea, which is noted for its warm, crystalline waters. There are a number of beaches to choose from that offer either sandy, rocky, or pebbled terrain. You can walk to the beaches that are located in Sorrento, like Marina Grande and Marina Piccola, and spend the day on narrow stretches of volcanic sand with views of the gulf. Or you can drive to nearby beaches like Baia di Puolo, 12 km away, or Meta - at 6 km - for wide stretches of sandy and pebbled areas that sport restaurants, bars, and family-friendly activities.
Day trips from Sorrento
You may not think that you can handle any more natural beauty, but Sorrento is just a taste of what this area has to offer. Take a day trip to Positano or Ravello, and other towns and villages that cling to the Amalfi Coast. You can opt for a bus tour or a private taxi along the famously winding coastal road, but the best way to see this region is by boat, which will take you through stunning grottos and multihued, illuminated sea caves. For ancient history, you can take a trip to the ruins of Pompeii.
Goldentours International, Via Degli Aranci 25/b, Sorrento 80067; Tel: +39 81 878 1042; Website: Goldentours International

Blu Welcome Travel, Via San Cesareo 34, Sorrento 80067; Tel: +39 81 877 3950; Website: Blu Welcome Travel
Hiking and biking
There are few better ways to get up close and personal with Sorrento's stunning nature than to wind through the trails of the peninsula. Surrounded by the Lattari Mountains, whose limestone formations offer plateaus, gorges, and cliffs that overlook the Gulf of Naples, you can enjoy easy hikes that only require a good pair of walking shoes. Trails include the famous "Path of the Gods" that starts in Amalfi and ends in Nocelle, a small village above Positano. If you're feeling more vigorous, you can take a bike tour to Mount Vesuvius or Monte Faito.
Trek or Trak; Tel: +39 81 802 8854; Website: Trek or Trak

Genius Loci Travel, Via Antonio Rotondo 5, Salerno 84127; Tel: +39 89 791 896; Website: Genius Loci Travel
Gastronomy tours
What better way to discover the food and wine of the Campania region than to spend a few hours eating and drinking your way through Sorrento? On a food tour, you'll be taken to eateries that specialize in local dishes such as homemade gnocchi with buffalo mozzarella and wood-fired pizza, and learn how the local limoncello lemon liqueur is made. Oenophiles can opt for a wine tour that includes sampling local varietals, like Aglianico and Falanghina, as well as authentic balsamic vinegar, and cold-pressed olive oil.