Jazz, Barbecue, and Culture - Your Guide to Kansas City, the Paris of the Plains
Jazz, Barbecue, and Culture - Your Guide to Kansas City, the Paris of the Plains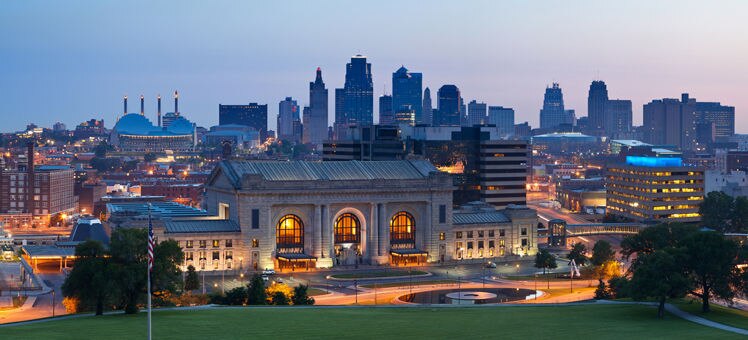 Kansas City is "America's heartland" at its most sophisticated. It's a city of wide boulevards and majestic fountains. Foodies are lured here by the call of the city's smoky, sauce-slathered barbecue. Music lovers come to catch the be-bopping rhythms of its legendary jazz scene. Families also flock to KC, thanks to the city's commitment to providing culture and fun for all ages.
The City of Fountains
Only Rome has more fountains that Kansas City. More than 200 are scattered across town and they're located everywhere from shopping malls to baseball stadiums. Many fountains are located downtown or around Country Club Plaza, including some of the more famous ones like the J.C. Nichols Memorial Fountain. If you grab a map for a self-guided tour of either area, you'll see waterfalls, ornate sculptures and statues, synchronized water jets, and reproductions of famous landmarks.
Downtown jazz venues
When it comes to music in Kansas City, jazz is king. This is especially the case in the city's revitalized downtown, where dropping in on the right establishment could immerse you in a swirl of brass, piano, and bass. Classic venues like the speakeasy-turned-juke joint The Phoenix Jazz Club carry a sense of character that's almost as noteworthy as the notes filling the space. You can also stop by the American Jazz Museum, in the historic 18th & Vine District, to see how the city's love affair with jazz developed.
The Missouri River
You'll find plenty of activity on or near North America's longest river, which cuts through the heart of Kansas City. Casinos like Ameristar Casino Hotel Kansas City take advantage of Missouri's riverboat gambling laws to tempt visitors with games, restaurants, and live entertainment along the waterfront. If you're not feeling too lucky, you can always go a couple blocks south of the river and explore the trendy shops, restaurants, and cultural attractions that the Kansas City River Market district has to offer.
Traditional barbecue joints
Foodies from around the globe descend on Kansas City to indulge in their distinctive barbecues. There are nearly 100 places in the city that specialize in this cultural and culinary tradition. You can also sample staples from other regions, such as Carolina pulled pork and Texas brisket, which are ready to be covered in tomato-based sauces. Smoky nuggets of meat called "burnt ends" are also a popular KC barbecue specialty. Don't expect anything too fancy - legendary restaurant Arthur Bryant's still serves up slabs of pork ribs and cafeteria-style sandwiches just like they did in the 1920s.
Excursions from KC
Another Kansas City stands directly west from the city, in the state of Kansas. If you wander over here, you'll find plenty more casinos, music venues, public artworks, and legendary barbecue joints to keep you entertained. American history buffs might want to head about 20 minutes east of downtown to visit Independence. The Kansas City suburb is home to the Harry S. Truman Presidential Library and Museum along with the former President's boyhood home and gravesite.
Discover
Find your perfect holiday in Kansas City
From 280 hotels.