The Natural Attractions of Kodaikanal - Hills, Lakes, and Forests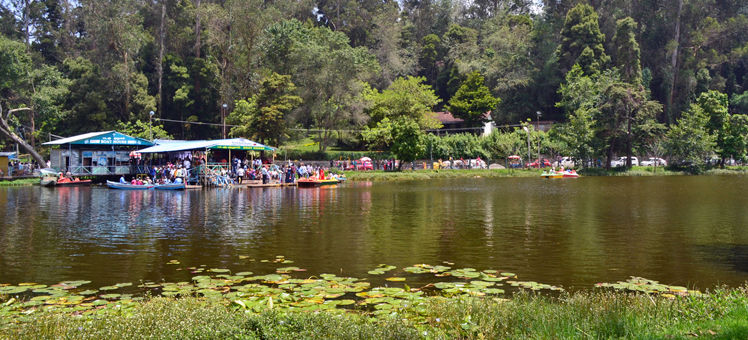 The name Kodaikanal means "gift of the forest" in the native Tamil language. The surrounding Palani Hills and Shola Forests open out into deep valleys, inlaid with waterfalls and shrouded by swirls of mist. Visitors can make the most of this mysterious landscape by rowing across blue lakes, climbing green hills, and standing still to listen to birds, breezes, and rushing waters.
Kodaikanal Lake
Calm, blue Kodaikanal Lake covers 24 hectares at the heart of the hill station. It looks entirely natural but it's actually artificial - the British official Sir Vere Henry Levinge thought a lake would be a pleasing addition to this colonial summer retreat. Since 1863, a hub of leisurely activity has grown around its shores. Today you can board a slim Kashmiri wooden boat known as a shikara to cross the waters amid floating lotus fronds. You also have the options of pony riding, cycling, or ambling around the star-shaped lake under shady trees.
Coaker's Walk
A short distance from Kodaikanal Lake, Coaker's Walk is a tiled pathway that takes you up and over jagged hills covered in a carpet of green. The view drops away 2,000 meters so you can see patches of forest below and small towns in the distance. On cold days, visibility may be limited to a blanket of mist that makes you feel like you're floating in clouds. It may be a short 5-minute walk but you won't forget the experience.
Silver Cascade
Waterfalls are scattered and sprinkled all around Kodaikanal but the dramatic terrain makes most of these inaccessible to visitors. For this reason, travellers flock to Silver Cascade, where gurgling falls are created by the outflow from Kodaikanal Lake. Easily reached from the road, its rather gentle flow down the steep rocks makes it an ideal spot for a quick splash and a few memorable pictures.
Silver Cascade, Kodaikanal Ghat Road, Kodaikanal 624101, Tamil Nadu; Website: Silver Cascade
The Pillar Rocks
At the southern corner of Kodaikanal, the pale-brown Pillar Rocks shoot up from the thick undergrowth of Vellagavi Forest. These spectacular granite outcrops tower over 120 meters, topped with foliage that makes them look like they're wearing green berets. Guna Caves are nearby, their deep hollows filled with the screeches of resident bats. The caves are best viewed from a distance, as the dark, dank insides can be dangerous.
The Pillar Rocks, Golf Links Road, Kodaikanal 624101, Tamil Nadu; Website: The Pillar Rocks

Guna Caves, Pillar Rocks Road, Kodaikanal 624101, Tamil Nadu; Website: Guna Caves
Berijam Lake
Only 20 km from Kodaikanal, Berijam Lake was once the site of a British military outpost, Fort Hamilton. It has since become the site of a scenic freshwater reservoir, with limited public access that keeps the area quiet and unspoiled. Only a few cars per day are granted entry at the checkpoint, but once you have a permit you can make your way through to the banks of Berijam. It's a great spot for a picnic though you may have to share it with bison, deer, and elephants who come here to drink. Watch out for local leopards too.