Shop Your Way Around Newcastle Upon Tyne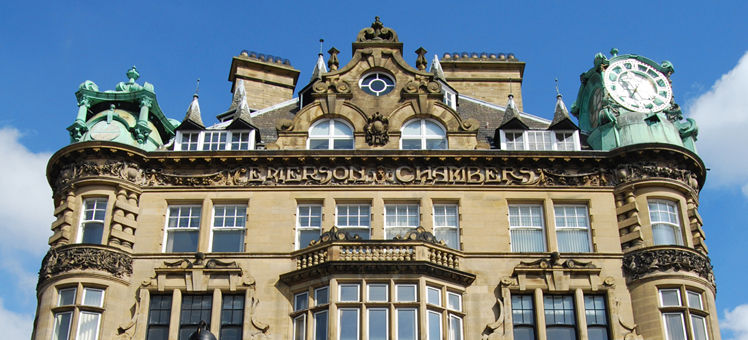 Newcastle Upon Tyne is northeast England's shopping capital. You'll find some of Europe's largest retail malls here. The city also has factory outlet stores where you can pick up sportswear, fashion items, and accessories at bargain prices. Smaller stores and galleries sell original arts and crafts, antiques, and vintage clothing. Open-air markets sell goods like handmade knitwear, ceramics, and jewelry as well as local farm produce.
Arts and crafts
Newcastle Upon Tyne abounds in places where you can find hand-made arts and crafts of all kinds. The 19th-century Grainger Market is an attraction in its own right, with its grand arcaded interior. There are almost 200 shops here, selling jewelry, footwear, clothes, accessories, toys, and memorabilia, as well as food and drink. Several cafés offer places to take a break from shopping. A few blocks away, The Biscuit Factory is another historic building that houses Britain's largest commercial art and design gallery. Works by sculptors, potters, painters, jewelers, and printmakers are on sale here.
Grainger Market, Grainger Street, Newcastle Upon Tyne NE1 5JQ; Tel: +44 191 211 5542; Website: Grainger Market

The Biscuit Factory, Stoddart Street, Newcastle Upon Tyne NE2 1AN; Tel: +44 191 261 1103; Website: The Biscuit Factory
High Bridge Quarter
With cobbled streets and old red-brick shops, Newcastle Upon Tyne's High Bridge Quarter is one of the city's quainter retail districts. Small independent shops here specialize in vintage clothing and accessories, collectables, and hard-to-find brands. Shops like Union Clothing offer limited-edition denim and sportswear, scarves, and other accessories for dandies. Connoisseurs of rock, soul, and jazz can find rare grooves from the vinyl era at places such as RPM Music.
Shopping in Gateshead
For many locals and visitors to Newcastle Upon Tyne, Gateshead's vast intu Metrocentre is a destination in its own right. You could happily spend a morning or a whole day here. Alongside more than 300 shops, including big department stores and small independent traders, you'll find more than 60 places to eat and drink. Leisure facilities include play areas, Odeon IMAX cinema, and Namco Funscape entertainment area. At Gateshead's BALTIC Centre for Contemporary Art, BALTIC Shop is the place to seek out limited edition prints and posters, souvenirs, jewelry, and original works of art.
Factory outlet stores
Sportswear and street fashions for men and women are big in northeast England. Newcastle Upon Tyne's designer outlets supply trendy locals with a cornucopia of big-name brands such as Gap and Nike at bargain-basement prices. You can embellish your wardrobe without breaking the bank at malls such as Royal Quays Outlet Centre and Sunderland's Dalton Park Outlet Shopping Centre.
Open-air markets
If browsing open-air markets is one of your favorite vacation pastimes, you'll enjoy exploring the ones Newcastle has to offer. At Newcastle Farmers' Market, held the first Friday of every month, you'll find fresh fruit and vegetables, local cheeses, pickles, and preserves as well stalls selling knitwear and ceramics. Quayside Market, held on Sundays, is at its liveliest in summer, when there are jugglers, musicians, and other entertainers as well as stalls selling farm produce, arts, crafts and jewelry.
Discover
Find your perfect holiday in Newcastle-upon-Tyne
From 380 hotels.