Margaret River City Guide - Wine, Surf, and Caves
Margaret River City Guide - Wine, Surf, and Caves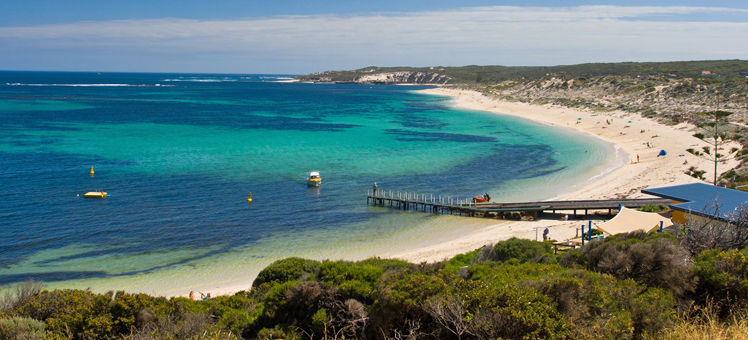 Once a sleepy town known as a magnet for those seeking an alternative lifestyle, Margaret River is now best recognized as a major international wine centre. But it also offers much more; art galleries, award-winning restaurants serving fresh local produce, weekend markets, white, sandy beaches, and stalagmite-filled caves within easy reach of the town.
Wineries: vintage tastings
Mention Margaret River anywhere in the world and the first thing that comes to mind is wine. In less than 50 years, the region has evolved into a major wine-growing hub with over 100 producers, many of who welcome visitors into their cellars for tastings. Margaret River's wineries are especially known for their distinctive cabernet sauvignon and chardonnay varietals, but sauvignon blanc, semillon, and shiraz vintages are also gaining a reputation as showstoppers. You can take one of the many wine tours on offer, or hire a car and visit them yourself.
Margaret River Tours, PO Box 641, Margaret River WA 6285; Tel: +61 419 917 166; Website: Margaret River Tours

Cape Mentelle Vineyards, 331 Wallcliffe Road, Margaret River WA 6285; Tel: +61 8 9757 0888; Website: Cape Mentelle Vineyards
Beaches: white sand and surf
Just a few kilometers out of town are some of the best surf and swimming beaches in the world. The region hosts an international surfing championship at Surfers Point every April – about 10 km out of town at the mouth of the river. For those who just want to take in the sun and have a dip in the ocean, a couple of kilometers further along the coast there are white sandy beaches and cafés of Gnarabup. Margaret River Visitor Centre has a detailed map of the surf spots along the coast.
Caves: discover worlds underground
More than 150 caves lie below the Leeuwin Naturaliste Ridge. A trio of them – Lake Cave, Mammoth Cave, and Jewel Cave – offer guided tours for visitors. Each cave is different, with stalagmites, stalactites, ancient limestone walls, or underground lakes. They are easily accessed and provide a special insight into the world underground. In the CaveWorks Eco Centre, children can try out the "cave crawl" and see what it's really like to crawl through the tight, confined spaces of an underground cave.
CaveWorks, Caves Road, Forest Grove, Margaret River WA 6285; Tel: +61 8 9757 7411; Website: CaveWorks
Whale-watching in Margaret River
From June to September, whales come to breed and feed in the waters near Augusta, 50 km south of Margaret River. The main species you can spot are humpback and Southern right whales. You can stay on dry land to see them from the viewing decks at Cape Leeuwin Lighthouse, or book a place on a charter to see them close up. From September to December, you can find them off the Dunsborough coastline, around 50 km north of Margaret River. You may even catch sight of rare blue whales, which sometimes blow their spouts in Geographe Bay.
Art: creativity on show
Margaret River has become a centre for artists and craftspeople, including photographers, glassblowers, jewelers, woodworkers, and painters, whose wares are on display at wineries, art galleries, and other venues throughout the region. You can pop into studios to see how wood furniture is crafted, or cast your eye over paintings and pottery in galleries and workshops surrounded by towering karri trees. The Margaret River Visitor Centre can provide information about the local artisans in the region, and where to find their work.
Margaret River Gallery, 1 Charles West Avenue, Margaret River WA 6285; Tel: +61 8 9757 2729; Website: Margaret River Gallery

Jahroc Galleries, 83 Bussell Gallery, Margaret River WA 6285; Tel: +61 8 9758 7200; Website: Jahroc Galleries
Discover
Find your perfect holiday in Margaret River
From 30 hotels.