What to See and Do in Whitby - Whale Watching, Steam Trains, and Seaside Delights
What to See and Do in Whitby - Whale Watching, Steam Trains, and Seaside Delights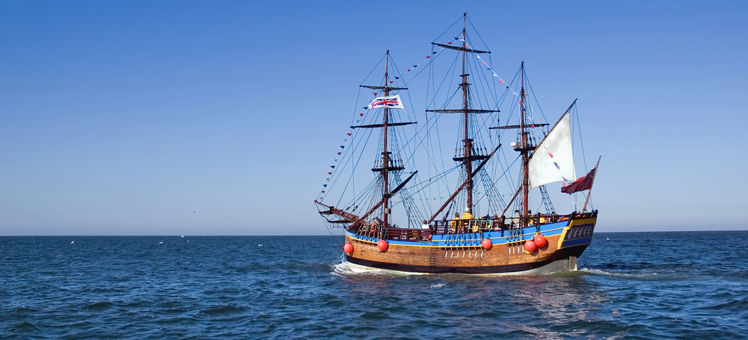 Whitby's fishing industry heritage and maritime history are evident in the town's every nook and cranny - but there's more to this seaside town on Yorkshire's east coast. Whether sailing or splashing around in the coastal waters, exploring the shoreline or clifftop ruins of Whitby Abbey, or hiking the scenic coastline, you'll find many enticing possibilities for a classic British seaside holiday.
Picturesque piers, lighthouse views
Whitby's piers and scenic breakwaters provide the perfect setting for pleasant strolls and picture-postcard snaps. The wooden benches are ideal for enjoying your fish and chips while looking out across the North Sea. The East Pier's weathered lighthouse is often open during good weather, and you can climb its spiral staircase to find memorable views of the town's bustling harbor.
From sea to screen
You can get a sense of the perilous side of the town's fishing industry at the quayside Whitby Lifeboat Museum. The many awards for gallantry presented to Whitby lifeboat crews are proudly on display alongside the last of the country's oar-powered lifeboats. A 7-minute stroll from the museum along the winding Khyber Pass brings you to the red-brick Whitby Pavilion. It's often used as the venue for the town's festivals and concerts, and the old-fashioned theatre wing also screens the latest Hollywood releases.
Glass-making, homemade toffee, kippers
There are lots of independent shops to browse along Whitby's narrow streets. Pop into Church Street's Whitby Glass to watch how the expert glass workers make their world-renown Lucky Duck ornaments. After exploring some local boutiques, you can indulge in tasty homemade treats at Justin's Original Fudge & Toffee Shop. Near the 199 Steps, you can follow your nose to Fortune's Kippers, established in 1872, whose famous kippers (smoked herring) are reputed to be the world's finest.
Walking tours and whale watching
The most rewarding way to explore the town is on foot. Whitby Walks organize walking tours led by locals; their Heritage Town Tour is full of intriguing tales of smugglers and local legends. Leaving dry land, you can take a short boat trip along the coast or out to the bay, while Whitby Whale Watching's longer 4-hour trips offer a rare chance to spot a whale in its natural habitat.
Excursions by steam train
The North Yorkshire Moors Railway's steam train carries visitors into the scenic national park and to popular destinations such as the market town of Pickering. With local beers and live music on board, the Esk Valley Music and Ale Trains provide lively evening entertainment as they snake their way through wooded valleys and over hilly moors.