Sorrento By Night - Cocktails By The Sea and Dancing Until Dawn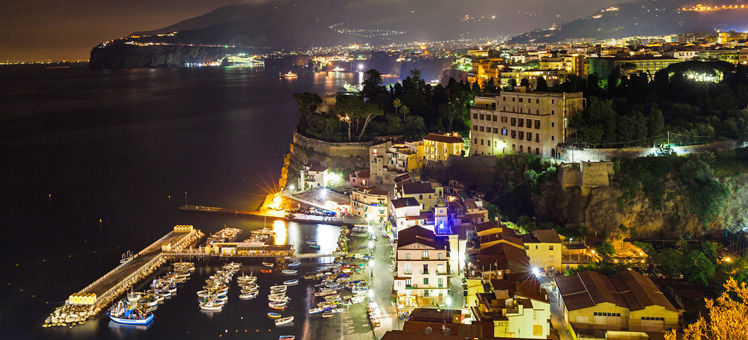 You'd be hard-pressed to think of a Sorrento without blue skies and eye-popping vistas, but in the evening, you'll find an equally enchanting city that draws you in with its warm atmosphere and endless cocktails. You can enjoy a typical Italian aperitivo with locals, take in some live music, or dance the night away at a club.
Bars and hotel lounges
When evening falls in Sorrento, locals and visitors hit up the bars for an aperitivo, a pre-dinner drink that can easily turn into an all-night affair. You can sit down to a Campari and soda, or even a limoncello, the region's ubiquitous lemon liqueur, at an outdoor café in the city centre and while away the hours people watching or mingling with locals. If you choose to enjoy your aperitivo at one of the city's many upscale hotels, you can expect stunning views overlooking the Gulf of Naples, as well as a selection of snacks.
Fauno Bar
Located in the historic city centre, you can choose from a long list of cocktails as well as tasty appetizers such as prosciutto ham, cheeses, and crostini.
Via T.Tasso 13, Sorrento 80067Tel: +39 81 878 1135
Fauno Bar website
Bellevue Syrene
A luxury hotel with terraces that offer vistas of the Gulf of Naples and Vesuvius, the aperitivo at the Club Lounge runs from 6 PM to 9 PM and includes snacks like canapés, olives, charcuterie, and cheeses.
Piazza della Vittoria 5, Sorrento 80067. Tel: +39 81 878 1024
Bellevue Syrene website
Catching live music in Sorrento
As is often the case in smaller Italian cities, live music generally comprises a singer at a piano belting out tunes, sometimes even in English. Although you may not recognize the songs, the melodies are infectious and the spirit lively. Add to this inventive cocktails and a crowd that is genuinely grooving along, and you've got yourself a guaranteed good time.
Filou Club
Filou offers a piano bar occupied by a rotating cache of local musicians, as well as a long list of cocktails.
Via Santa Maria della Pietà 12, Sorrento 80067. Tel: +39 81 878 2083
English Inn Pub
A bed-and-breakfast noted for its garden terrace filled with bougainvillea and orange trees, you can expect nights featuring live jazz, disco beats, and karaoke.
Corso Italia 55/57, Sorrento 80067. Tel: +39 333 159 9307
English Inn Pub website
Nightclubs in Sorrento
Partying into the early hours of the morning is practically a pastime among Italy's youth, and it's no different in Sorrento. Here you'll find all the things you'd expect from a nightclub - pulsating lights, thumping beats, and a beautiful clientele - as well as multiple floors that showcase international DJs, performance artists, and multimedia spectacles.
Fauno Notte Club
With a history that dates back to the 1950s and famous patrons from the worlds of film, television, and music, Fauno Notte Club is the ultimate party destination in Sorrento.
Piazza Torquato Tasso 13, Sorrento 80067. Tel: +39 81 878 1021