Family Adventures in Honolulu - From Marine Life and Swimming With Sharks to Riding the Waves
Family Adventures in Honolulu - From Marine Life and Swimming With Sharks to Riding the Waves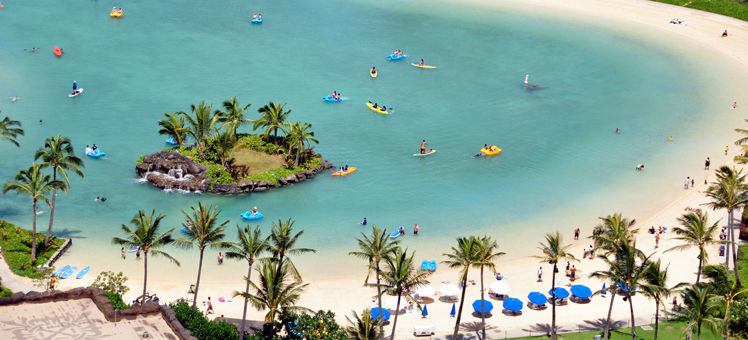 There's more to Hawaii than stunning beaches and dazzling nature - just let your kids show you. From getting up close and personal with exotic marine animals to spending an afternoon learning about the importance of rainforests, Hawaii will foster your kids' interest in the wonders of nature, while providing them with thrilling experiences they'll never forget.
Animal encounters
Hawaii is home to some of the most beautiful wildlife on the planet, and Honolulu offers plenty of opportunities for kids to see and interact with these animals. You can take the family to Sea Life Park or the Waikiki Aquarium to see green sea turtles, sea dragons, and vibrant coral colonies. For a more exhilarating and memorable experience, local companies offer immersive encounters with dolphins and sharks. These are sure to be a hit, even with grown-ups.
Sea Life Park
Located about 15 miles from Waikiki, Sea Life Park celebrates marine life with a 300,000-gallon reef tank. Kids can also swim with sea lions or sharks and even get up close with stingrays.
41-202 Kalanianaole Highway #7, Waimanalo 96795Tel: +1 808 259 2500
Sea Life Park website
North Shore Shark Adventures
North Shore Shark Adventures allows you to dive with sharks from the security of a cage. Tours last 2 hours and depart from Haleiwa on the North Shore. With any luck, you may even see dolphins on your way out.
66-105 Haleiwa Road, Haleiwa 96712. Tel: +1 808 228 5900
North Shore Shark Adventures website
Museums and culture
The Honolulu area is full of museums and cultural attractions, and a few of them are specifically geared to kids and families. Little ones can learn through interactive, educational exhibits at the Hawaii Children's Discovery centre. For a cultural experience the whole family will enjoy, be sure to visit the Polynesian Cultural centre, considered one of the most well known attractions in Hawaii.
Hawaii Children's Discovery centre
Let your kids explore the fascinating exhibits here that treat topics as diverse as rainforests and multiculturalism. There's also a full calendar of weekly programs.
111 Ohe Street, Honolulu 96813. Tel: +1 808 524 5437
Hawaii Children's Discovery centre website
Polynesian Cultural centre
The Polynesian Cultural centre, located on the east side of the island, celebrates the vibrant cultures of various Pacific island nations with authentic villages, live shows, demonstrations, and luaus.
55-370 Kamehameha Highway, Laie 96762. Tel: +1 808 293 3333
Polynesian Cultural centre website
Water wonders
What's a trip to Hawaii without some time in the water? Of course, you can hit up any of the beaches in Honolulu and the island of Oahu, including world-famous Waikiki Beach. For something a little different - and dazzling - you can travel to a natural aquatic location like Hanauma Bay and Waimea Bay Beach Park. Thrill seekers may want to look for more manmade adventures at Wet 'n' Wild Hawaii. You'll find multiple waterslides and a continuous 40-foot simulated surf wave, as well as calmer pools for little ones.
Hanauma Bay State Park
This pristine bay occupies a dormant volcano crater and is a protected marine conservation area. Your family can go snorkeling here or even take a picturesque hike. Shuttle service from Waikiki hotels is available for a fee.
7455 Kalanianaole Highway, Honolulu 96825.
Hanauma Bay State Park website
Wet 'n' Wild Hawaii
Cool off and rev up at this water park, which features big thrills like the Tornado extreme waterslide as well as the Water World Kids Playground geared to younger visitors.
400 Farrington Highway, Kapolei 96707. Tel: +1 808 674 9283
Wet 'n' Wild Hawaii website
Kid-friendly dining
It's easy to find dining options that will please both grown-ups and kids in Honolulu and around the island. Plenty of restaurants serve kid-friendly fare like burgers and sandwiches, but you'll also find welcoming restaurants that encourage adventurous small diners to sample Hawaii's diverse cuisines. For a truly unique experience, you can book a traditional Hawaiian luau.
Anna Miller's
A local institution, Anna Miller's is open 24 hours and offers kid-friendly dishes like burgers and grilled cheese sandwiches.
98-115 Kaonohi Street, Honolulu 96701. Tel: +1 808 487 2421
Anna Miller's website
Discover
Find your perfect holiday in Honolulu
From 350 hotels.