Scarborough's Arts and Culture - From Ancient Fossils to Modern Festivals
Scarborough's Arts and Culture - From Ancient Fossils to Modern Festivals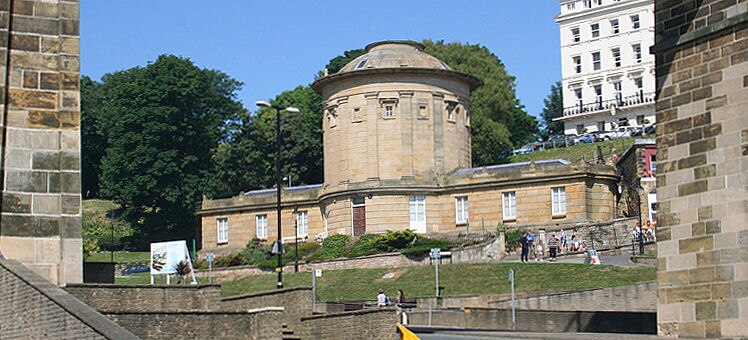 Scarborough's calendar is packed full of annual events including an Armed Forces Day, week-long music extravaganzas, and surfing festivals. If you're not in town during one of the regular events, there's still plenty of culture to enjoy, thanks to the abundance and high quality of local galleries, concert venues, and theatres.
Literary Scarborough
Scarborough's rugged landscape and bracing sea views are well-known for inspiring authors such as Anne Brontë. The town has a strong literary culture, with renowned contemporary authors like G.P. Taylor and Susan Hill born and raised here. The annual Books by the Beach festival celebrates this key aspect of the town's cultural heritage.
St. Mary's Church
Fans of the Brontës are often drawn to St. Mary's Church to visit Anne Brontë's grave. Though the headstone is as weather-beaten as the others, colourful flowers from admirers help the author's final resting place stand out in the cemetery.
Castle Road, Scarborough, North Yorkshire YO11 1THTel: +44 1723 500541
St. Mary's Church website
Books by the Beach
Each April, British and international authors descend on the town to hold talks and readings for Books by the Beach. Most events at this 4-day festival take place at Scarborough Library Concert Hall.
Tel: +44 1723 370541
Books by the Beach website
Treading the boards
Scarborough has enjoyed a long relationship with prolific playwright Sir Alan Ayckbourn, winner of the Olivier and Tony Awards. Most of his plays premiered at the town's Stephen Joseph Theatre, where he also served as artistic director. To this day, Scarborough is still known for its critically acclaimed theatre productions.
Stephen Joseph Theatre
This celebrated theatre-in-the-round features 2 auditoriums, along with a contemporary restaurant and a lively bar. theatre buffs can even take a behind-the-scenes tour.
Westborough, Scarborough, North Yorkshire YO11 1JW. Tel: +44 1723 370541
Stephen Joseph Theatre website
Scarborough Spa
Out along the promenade, the Victorian Scarborough Spa hosts a variety of comedies and dramas alongside a full calendar of concerts and private events.
South Bay, Scarborough, North Yorkshire YO11 2HD. Tel: +44 1723 821 888
Scarborough Spa website
Scarborough's gallery scene
Scarborough isn't a large city, but it has a robust art scene. The Scarborough Art Gallery offers an eclectic collection focusing on local art and artifacts. And, these days, there are around 20 active street artists who have left their creative mark across town. For all the latest artistic happenings, the place to be is the Cultural Quarter, located around The Crescent.
Scarborough Art Gallery
Housed in a handsome Italianate villa, Scarborough's main art gallery was established in the mid-19th century. In addition to the permanent collection, the gallery hosts special exhibitions such as the recent Seaside Snaps photography show.
The Crescent, Scarborough, North Yorkshire YO11 2PW. Tel: +44 1723 374753
Scarborough Art Gallery website
Woodend Creative Workspace
This innovative co-working space for the creative industries also showcases local artists in its art and craft gallery. Admission to the gallery is free.
The Crescent, Scarborough, North Yorkshire, YO11 2PW. Tel: +44 1723 384500
Woodend Creative Workspace website
Museums in Scarborough
With a setting on Yorkshire's Jurassic Coast and a colourful heritage as a fishing port, Scarborough has plenty of tales to tell. There are geological museums full of fossils and precious gemstones, many exhibitions throughout town dedicated to local history, and of course the romantic ruins of medieval Scarborough Castle.
Scarborough Castle
Perched high on the cliff overlooking the harbor and sea, Scarborough Castle hosts various events throughout the year and also has an exhibition featuring artifacts found in recent archaeology excavations on the site.
Castle Road, Scarborough, North Yorkshire YO11 1HY. Tel: +44 1723 372451
Scarborough Castle website