The Bright Lights of Cancun Nightlife - From Hip Clubs to Evening Cruises
The Bright Lights of Cancun Nightlife - From Hip Clubs to Evening Cruises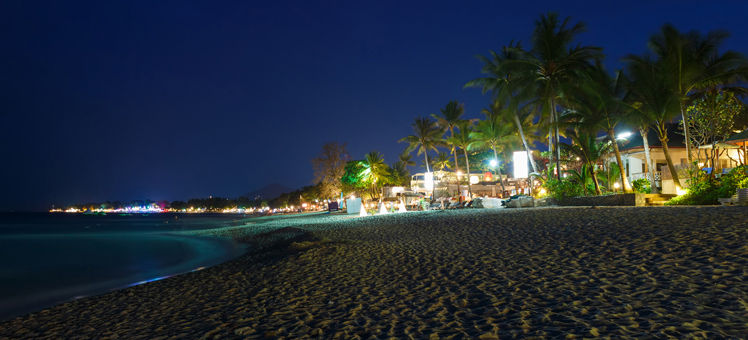 When the sun goes down in Cancun, lights gleam across the city and the moon shines over the Caribbean Sea. Excited travellers change out of their bathing suits and slip into casual resort wear, then step out of their hotels to experience Cancun nightlife. Whether you're up for a night of dancing, a quiet drink, or an evening cruise, you'll find plenty of options in Mexico's party central.
Party centre
The heart of Cancun's nightlife is known as Party centre, a strip that transforms into a show of lights and pounding music after 11 pm every night of the week. Some of the world's best nightclubs stand side by side in this district, with open bar deals and parties until the break of dawn.
Coco Bongo
You can dance all night at Cancun's most iconic nightclub, featuring spectacular live shows and celebrity impersonators.
Blvd Kukulcan Km 9.5, Plaza Forum by the Sea, Cancun, Quintana Roo 77500Tel: +52 998 883 23 73
Coco Bongo website
Hotel Zone bars
In addition to the super-clubs of Party centre, Cancun's Hotel Zone also offers low-key nightlife ranging from small outdoor bars to chic lounges. Pick a place along the main strip where you can cool off with a piña colada after a hot day on the beach or rev up for a night at the clubs.
Carlos'n Charlie's
A visit to Carlos'n Charlie's means a night of laughter and dancing fueled by burritos, burgers, and cocktails. Grab a table with a view of the street to see the party crowd lining up to get into the nightclubs.
Blvd Kukulcan Km 9.5, Plaza Forum by the Sea, Cancun, Quintana Roo 77500. Tel: +52 998 883 18 62
Carlos'n Charlie's website
Downtown Cancun bars
For a laid-back night in Cancun, the Downtown area can't be beaten. The bullring area on Avenida Bonampak buzzes with bars popular with local residents, in addition to a few spots to grab some late-night tacos before you head back to your hotel. Make sure you try a traditional Mexican michelada (beer mixed with lime, salt, and assorted sauces and spices) while you're at a Downtown Cancun bar.
Las de Guanatos
Iconic among Cancun locals, this bar is known for its flavorful micheladas and tortas ahogadas - hearty pork sandwiches literally "drowning" in spicy sauce. Las de Guanatos is set on the ground floor of the bullring, with a large outdoor area for drinks under the stars.
Avenida Bonampak, Plaza de Toros SM 4, Cancun 77500. Tel: +52 998 206 38 35
Las de Guanatos website
Nighttime tours
You can explore the moonlit waters of Cancun with themed nighttime cruises, from lobster dinners on pirate ships to mariachi music on traditional canal boats. With entertaining options for families, groups, and couples, Cancun's night tours allow you to experience this destination from a new and unique perspective.
Columbus Lobster Dinner Cruise
Sail across Nichupté Lagoon on board a Spanish galleon, where you'll be treated to a lobster dinner, live music and views of the Cancun skyline.
Marina Aquatours, Blvd Kukulcan Km 6.5, Cancun, Quintana Roo 77500. Tel: +52 998 193 33 60
Columbus Lobster Dinner Cruise website
Xoximilco
Modeled after Xochimilco park in Mexico City, this Cancun attraction offers nighttime canal tours on vessels known as trajineras. Feast on traditional Mexican recipes and listen to live mariachi bands during this all-inclusive tour, perfect for groups and celebrations.
Playa del Carmen, Carretera Cancun, Cancun, Quintana Roo 77500. Tel: +52 998 883 31 43
Xoximilco website