Culinary Creativity, Fresh Ingredients, and Whitsunday Views - the Best Dining on Hamilton Island
Culinary Creativity, Fresh Ingredients, and Whitsunday Views - the Best Dining on Hamilton Island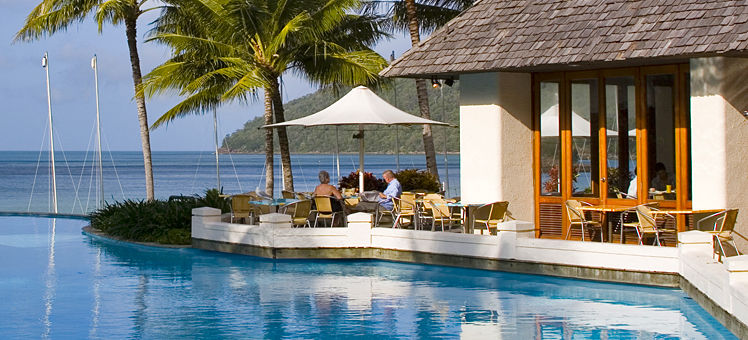 Hamilton Island offers an array of dining options, with enough variety for you to dine somewhere different every night. The emphasis is on fresh ingredients, with chefs making use of local, sustainable produce wherever possible. It's all here: memorable gourmet dining experiences, relaxed family meals, and quick, delicious takeaways. All of Hamilton Island's dining options have one thing in common: a breathtaking Whitsunday Islands' backdrop.
Typical dishes
Fish and seafood are the local specialty, fresh from the sparkling Coral Sea waters. Pacific oysters, mud crabs, ocean trout, and Queensland prawns arrive at the marina every day.
Fine dining experiences on Hamilton Island
Hamilton Island has a host of restaurants where culinary creativity, sophisticated ambience, and breathtaking views combine to make a meal to remember. Picture yourself and someone you love sipping aperitifs as the sun sinks into the Coral Sea, before you peruse the menu as the sky darkens and the stars appear. Bommie, right on the water at Hamilton Island Yacht Club, has an innovative, contemporary Australian menu featuring fresh seafood and produce direct from the fertile Queensland hinterland. Beach Club, overlooking Catseye Beach, does refined fusion cuisine accompanied by an extensive Australian and international wine list.
Fish and seafood by the sea on Hamilton Island
Seafood always tastes best on the water, and Hamilton Island gives you plenty of opportunities to sample the best that the clear Coral Sea waters have to offer. Reef fish, tiger prawns, sea trout, and Moreton Bay bugs will all tickle any seafood lover's palate. Mariners has a relaxed marina setting, with lavish seafood platters, and specials featuring the best of the day's catch. Sails has a laid-back poolside vibe, and does fish and seafood with a global touch, as well as steak and gourmet burgers. Their lavish buffet breakfast will get your day off to a sunny start.
Fun family dining on Hamilton Island
Hamilton Island is a great destination for a vacation with the kids, and you'll find lots of spots for relaxed, uncomplicated meals for the whole family. Several restaurants have a "kids stay and eat free" offer in combination with accommodation. You'll all love breakfast with the koalas at WILD LIFE café, or Asian street food-inspired cuisine at coca chu. Manta Ray has great marina views and a menu with seafood, meat dishes, and pizza. At Marina Café, you can watch the boats bobbing over barista-made coffee, smoothies, or milkshakes. The egg and bacon Marina Muffin is a Hamilton Island institution.
Takeaways and picnic basket fillers on Hamilton Island
Whether you're at one of the lookouts on the hiking trails that crisscross Hamilton Island, lazing under the swaying palms of Catseye Beach, or drifting offshore in your kayak, there's an abundance of spots where you'll want to stop and take in the scenery. And it's easy to grab a delicious takeaway to enjoy while you're there. Bob's Bakery has gourmet sandwiches and pies for your picnic basket, as well as Aussie lamingtons - small chocolate and coconut-covered sponge cakes. Popeye's does huge portions of fish and chips, along with scallops, prawns, and calamari, for a picnic on the sand.