Eating in Newcastle - From Red Hot Curries to Fine Dining
Eating in Newcastle - From Red Hot Curries to Fine Dining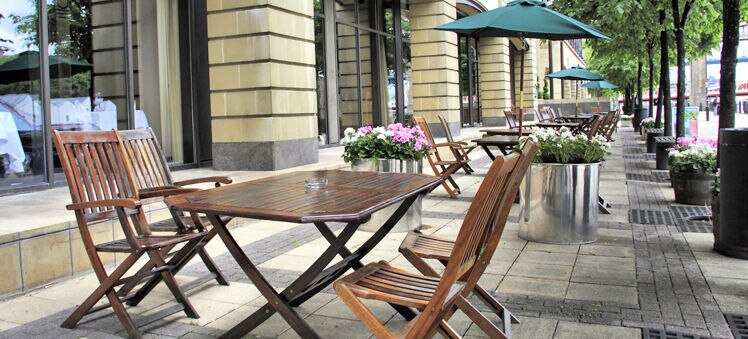 Newcastle Upon Tyne's fine dining restaurants emphasize fresh, seasonal produce such as halibut and cod from the North Sea, lamb and beef from local farms, and venison from the Northumberland moors. You'll also find restaurants from every continent except Antarctica. Curry houses abound, and there are lots of Chinese, Thai, and Vietnamese eateries. If Italian food is your thing, you'll also find plenty of trattorias and pizzerias.
Typical dishes
Newcastle Upon Tyne's signature snack is the chip buttie, a bun filled with fries. You'll also find delights like pease pudding, pan haggerty - made with cheese and potatoes - and savory, doughy stottie cakes.
Newcastle city centre
There are plenty of good places to eat in the centre of Newcastle Upon Tyne, close to the city's key sights. You can dine in historic surroundings at places like Blackfriars Restaurant, within a 13th-century building. This brasserie's menu is strong on meat and seafood - Northumbrian ham, steak, and lamb are key ingredients, along with North Sea scallops, salmon, and lobster. Locals like the burgers and craft beers at Fat Hippo Underground, near Theatre Royal.
Newcastle's Bigg Market
Bigg Market is where locals go for red-hot dishes from India, Pakistan, and Bangladesh as well as Thai and other Asian dishes, Turkish kebabs, pizza, and pasta. You'll find authentic tandoori, tikka, and masala dishes for meat-eaters and vegetarians at places like Raj Tandoori Restaurant. If your tastes run to less spicy fare, Italian eateries such as Ticino's will please you with filling pasta dishes and oven-cooked pizzas.
Quayside eateries
The Quayside waterfront is lined with cafés, bars, and pubs serving dishes ranging from fish and chips to steak and ale pie, curries, pizza, and Sunday roasts. Most of them welcome families. There's fine dining in this part of town too. At House of Tides, the menu is strong on seafood. There are also meaty options, and a nod to local culinary culture with hints of curry and cumin and dishes like pease pudding. You'll find a brasserie buzz at eateries like Café 21, where the menu blends Spanish influences with seasonal ingredients such as Northumberland venison.
Eating in Gateshead
You can eat well in old-school pubs and newer café-bars around Gateshead. The neighbourhood's malls and leisure centres also offer plenty of fast-food eateries. At Six, the rooftop restaurant at the BALTIC Centre for Contemporary Art, you can try innovative seafood choices such as crab benedict, roast hake with samphire, and roast monkfish with squid ink linguine. Looking for something spicier? Gateshead has its share of curry houses such as Angeethi, serving authentic and adventurous North Indian dishes like chicken makhni, tandoori sea bass, and pan-seared duck marinated in cumin.
Discover
Find your perfect holiday in Newcastle-upon-Tyne
From 380 hotels.