Fish and Chips, Rock Candy, and Ice Cream - What to Eat in Scarborough
Fish and Chips, Rock Candy, and Ice Cream - What to Eat in Scarborough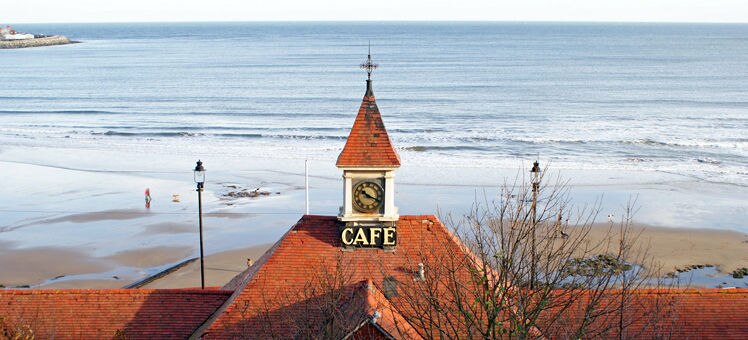 As you might expect from a traditional fishing port, Scarborough's dining scene revolves around the daily catches of local fishermen. Fresh fish is served in upscale restaurants as well as at the town's ubiquitous takeouts. Fans of cask-conditioned ale have a plethora of pubs to choose from, many of which also serve hearty British dishes. And you can find rock candy, a traditional seaside treat, in most gift shops.
Typical dishes
If you prefer to eat on the go, Scarborough has lots of takeouts. Although many specialize in fish and chips, they usually also sell other fried items such as sausages and potato fritters.
North Bay cafés
The budget-friendly cafés and diners around North Bay are ideal for getting the day started with some bacon, sausages, and eggs, while scones and cream teas can be enjoyed in one of the quaint coastal tea rooms. Blue Crush offers light bites and full meals complemented by sea views through floor-to-ceiling windows. North Bay Fisheries is conveniently located if you want to enjoy your fish and chips while strolling along the beach.
South Bay's sweets
Ice cream vans aplenty can be found around the South Bay area; but for a sit-down treat, try the house-made ice cream at retro American-style Harbour Bar. Many seaside stalls sell seafood delicacies such as cockles and oysters. Set slightly behind Scarborough Spa, Francis Tea Rooms serves indulgent cream teas in a 1930s-style dining room.
Scarborough's international cuisine
Around town you'll find various restaurants serving international cuisines, including Indian, Italian, and Chinese. A block away from Brunswick Shopping Centre, Le Jardin Café is a sleek French-style bistro with excellent gluten-free options. Eat Me Café, over the road from the Scarborough train station, adds a multicultural twist to the traditional British coffee shop.
Countryside cuisine
A 13-minute drive north of the town centre will bring you to Bryherstones Country Inn. The exposed brickwork and wooden beams create an old-world atmosphere that perfectly matches the traditional country fare. For fine dining, Wrea Head Hall's award-winning 1881 restaurant, an 11-minute drive from Scarborough, serves contemporary British cuisine in a charming interior that's all antique mirrors and polished oak furniture.