Good to Know - Travel Tips for an Enjoyable Plymouth Vacation
Good to Know - Travel Tips for an Enjoyable Plymouth Vacation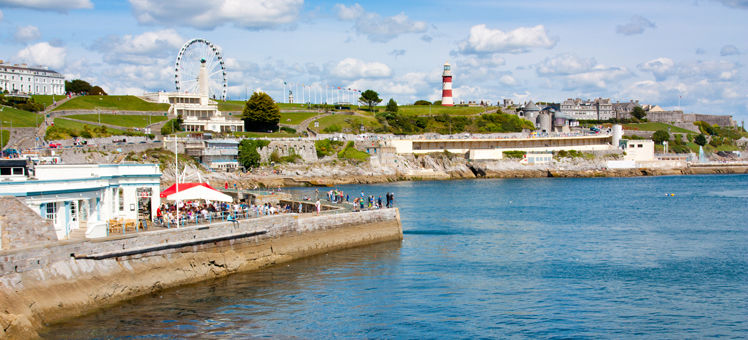 Plymouth in southwest England experiences mild to warm temperatures from spring through early fall. These are the best times to enjoy Plymouth's beautiful outdoor parks and beaches, to take harbor and river cruises, and to explore the 16th-century buildings and cobblestone streets. Residents are known for their warm hospitality. The local history is so rich, almost everyone has an interesting story to tell you about Plymouth.
Best time to travel
Plymouth enjoys a warmer climate than most parts of Britain, but it can rain here year round, so be sure to pack wet-weather clothing. In spring, high temperatures average 54 degrees F (12 C), with lows dipping to 43 degrees F (6 C). In summer, the average high is 66 degrees F (19 C), with lows dropping to 54 degrees F (12 C). Many people visit Plymouth during the winter, when there's still plenty of things to do and hotel rates are much more reasonable.
Not to miss
Plymouth is all about the harbor and the sea. This has been a main trading port for over 5,000 years, so historical sites are everywhere, and the Barbican district has dwellings and taverns that date back to the 1500s. Britain's largest aquarium is also here, as well as Plymouth Hoe, where Sir Francis Drake (allegedly) played a game of bowls before heading off to defeat the Spanish Armada. Annual events including the British Fireworks Championships are held here, along with many other food, music, and sporting events.
Getting around
Flights are available to Exeter International Airport (EXT) through a handful of international hubs. From there, the easiest options are a rental car to Plymouth (it's about an hour's drive to the city centre), or a taxi from the airport to Exeter St. Davids train station, from where services run to Plymouth. If you're travelling from within England, National Express buses are another option. Once in Plymouth, driving, bus travel, biking, and walking are all great options. There are also water ferries to get you to points across the Sound.
Cuisine
Dining in Plymouth falls into 2 main categories: local "tavern style," and more international. Many restaurants make some attempt to combine the 2, often in small plate offerings or "British tapas." Either way, because Plymouth is a major fishing port, the mainstay of all dining is seafood. Produce and meats are also locally sourced, so you can count on fresh ingredients throughout Plymouth.
Customs and etiquette
In general, British people are easygoing, soft spoken, and welcoming to visitors. Keeping noise to a minimum will be greatly appreciated, as will general courtesies such as saying "please" and "thank you." In restaurants, tipping of around 10 percent is expected, unless service is substandard. Be sure to check your bill - some restaurants will add a service charge to the bill, especially for larger parties. Tipping is not expected in pubs or fast food establishments.
Fast facts
Population: 257000

Spoken languages: English

Electrical: 220-240 volts, 50 Hz, plug type G

Phone calling code: +44 1752

Emergency number: 999
Discover
Find your perfect holiday in Plymouth
From 160 hotels.