Where to Eat - A Guide to Jacksonville's Diverse Dining Scene
Where to Eat - A Guide to Jacksonville's Diverse Dining Scene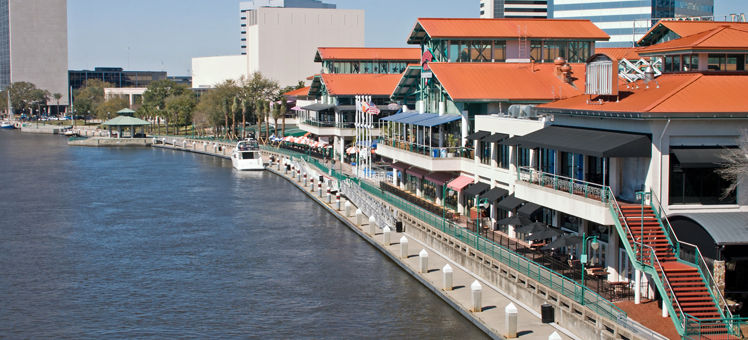 Due to its sheer size, Jacksonville has a huge variety of cuisine on offer. Several designated dining districts give visitors a wide choice of types of venue, from pubs to upscale restaurants. Chefs utilize seafood straight from the Atlantic Ocean, and some also try their hand at cooking up "swamp fare" like alligator. Other kitchens offer Southern fare not typically associated with the rest of Florida.
Typical dishes
Jacksonville's signature dish is the camel rider - a pita stuffed with cold cuts. At fish camps - rustic waterside seafood restaurants - you can sample local "swamp fare" like alligator, crawfish, and catfish.
Downtown Jacksonville
As a hub for conferences and business travellers, Jacksonville's urban core provides a wide range of global cuisine. Try Pho A Noodle Bar, serving versions prepared with oxtail, duck, or traditional rare steak and brisket. Fionn MacCool's waterfront Jacksonville Landing location makes their authentic Irish food even tastier. Chomp Chomp proves popular among lunch and late-night crowds with street food choices like panko-crusted chicken and Banh Mi.
Southside
Visitors in search of the city's best fine dining should head to San Marco Dining District. Here, award-winning restaurants like Taverna and Matthew's Restaurant serve seasonal menus made with local ingredients. A few miles farther south, The French Pantry, housed in an unassuming brick building, consistently ranks as a top casual lunch-only spot. Restaurants all over town clamor to serve their baked goods, too.
Riverside
In Jacksonville's burgeoning cultural hub, Riverside restaurants concoct inventive dishes to keep the arty crowds satisfied. Try Maple Street Biscuit Company for breakfast or lunch on weekdays, for huge biscuits paired with fried chicken, pulled pork, or vegetarian options. As a testament to its popularity, it quickly grew to 7 locations in less than 3 years. On King Street, several gastropubs like Kickbacks boast 50+ beers on tap to pair with inventive pub food. A few streets over, Restaurant Orsay uses French cooking techniques and locally sourced ingredients to prepare one of Jacksonville's most popular menus.
Jacksonville beaches
A visit to Jacksonville isn't complete without some super-fresh seafood. Opt for Safe Harbor Seafood Market and Restaurant - you can trust its quality since many local restaurants source their seafood from here. Nearby Chowder Ted's has simple peel-and-eat or fried shrimp and pots of chowder (cash only). Be sure to try one of several fish camps nestled along the area's brackish waterways. Some, such as Clark's Fish Camp, serve swamp fare like alligator and even rattlesnake.
Discover
Find your perfect holiday in Jacksonville
From 680 hotels.