From Dusk 'til Dawn - Where to Dance the Night Away in Crete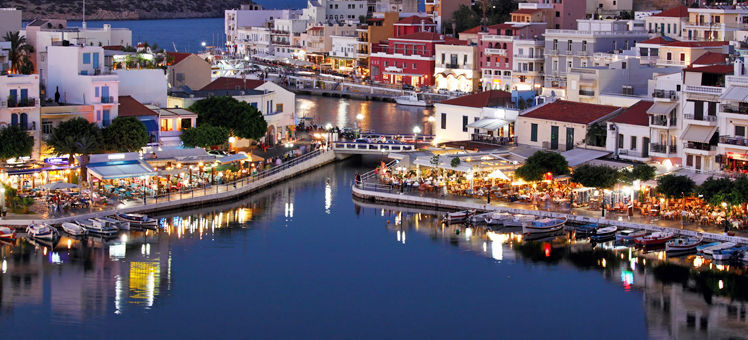 Crete has a well-earned reputation as a party island. In summer, thousands of young visitors flock to Malia and Hersonissos, resorts that are famous for an after-dark scene based on loud music and potent cocktails. Nightlife elsewhere is no less lively, and driven as much by caffeine as by alcohol. Locals mingle with vacationers at clubs in Rethymnon and Chania, where DJs play an eclectic mix.
Kicking back in Heraklion
If you're looking for a place to rave, Heraklion isn't it. After sunset, most hard-working city-dwellers here head for home, or take a break with friends and family in neighborhood cafés and tavernas. Such as it is, the nightlife scene in Crete's capital focuses on music bars and cafés in the center of the old town, around Plateia Venizelou.
Pagopoeion
A glossy café-bar and restaurant in a stylishly restored industrial building that was once the city's ice plant.
Plateia Agiou Tito, Heraklion, Crete 71202. Tel: +30 2810 346 028
Pagopoeion website
In the groove in Chania
Chania has Crete's most vibrant nightlife. Young locals start a summer evening by bar-hopping among the cafés round the Old Harbor. After midnight, the scene moves to Platanias, a 10-minute cab ride west of the city, where up to a dozen open-air clubs on the beach stay open all night. Some of these venues close at the end of the summer season and reopen in April or May. Others migrate to indoor venues downtown for the winter - so Chania is the only place in Crete that has a real year-round nightlife scene.
Mylos Club
The godfather of the Platanias club strip opens at midnight - then it's rammed with all-night party people until dawn.
Platanias, Chania, Crete 73100. Tel: +30 69452 60673
Mylos Club website
Fagotto Jazz Bar
If soft rock and cool jazz are more your thing than throwing shapes, you'll like this laid-back Chania late-night bar.
Angelou 16, Chania, Crete 73100. Tel: +30 2821 071877
Fagotto Jazz Bar website
Splendid Dancing Bar
It's big. It's loud. In summer, it's open 24/7 - a café-bar by day, an outrageous club after dark. You'll need stamina to make the most of Splendid.
Platanias, Chania, Crete 73100. Tel: +30 2821 060346
Splendid Dancing Bar website
Rethymnon's party scene
You can get your evening going in the music bars that cram the streets just inland from the harbor. Once you're in the party spirit, why not head out of town to 1 of the open-air, seaside dance clubs along Elevtherios Venizelos, east of the harbor?
Fortezza Club
Rethymnon's longest-established nightspot is a big crowd-pleaser in the old town, with laser light shows and 3 big and busy bars. Great for the serious all-nighter.
Nearchou 20, Rethymnon, Crete 74100. Tel: +30 2831 055493
Fortezza Club website
LivingRoom
Rethymnon's ultimate hipster hangout is so self-consciously cool it hurts. Perfect for a chillaxed night out. Wear black - lots of it.
Eleftherios Venizelos 5, Rethymnon. Tel: +30 2831 021386
LivingRoom website
Elounda nightlife
Nightlife and entertainment in Elounda focuses on the oh-so-stylish lounges and piano bars of the resort's rather fabulous hotels. For a change of pace, it's a short stroll to the Plaka Elounda waterfront and some relaxed places to let your hair down and kick your heels up.
Katafygio
Stay up until the early hours, then watch the sun rise over the Gulf of Mirabello at this waterfront club. DJs spin an eclectic mix of rock, disco, hip-hop and Latin.
Akti Olountos, Kato Elounda, Crete 72053. Tel: +30 28410 42003
Katafygio website