Music, Art, and Literature in Crete - Festivals, Live Performances, and Museums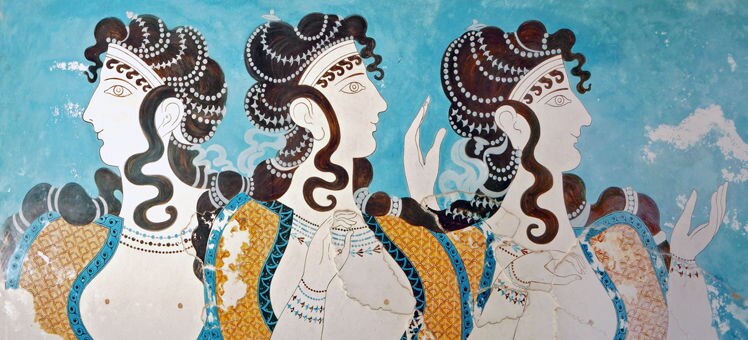 Crete is a creative hotbed as well as a vacation spot. Classical and traditional music thrive with the support of local communities. Summer music festivals attract world-class performers. Folk museums display village handicrafts such as weaving, spinning, and woodcarving, while other museums celebrate the life and work of renowned, Cretan-born painters and writers.
Live music in Rethymnon
Rethymnon has Crete's liveliest music scene. Lots of taverns in the historic center host nightly folk music performances. If you prefer classical music, seek out performances by the city's own municipal orchestra, choir, and experimental symphony ensemble. All 3 are based year-round in the old Nerandzes Mosque, now the Municipal Odeon.
Erofili Theater
On summer evenings, you can listen to classical music and Cretan folk musicians beneath the pine trees at the open-air Erofili Theater, within the walls of the Venetian Fortezza. The theater hosts visiting performers each summer during the Renaissance Festival of Rethymnon.
Kastro Fortezza, Rethymnon, Crete 74100. Tel: +30 2831 028101
Erofili Theater website
Heraklion's artists and writers
Crete is the birthplace of a duo of great Greek creative talents. One is El Greco the 16th-century portraitist and painter of Biblical scenes. The other is novelist Nikos Kazantzakis who, thanks to the film adaptation of his greatest work, "Zorba the Greek" is Greece's best-known literary figure. You'll find museums dedicated to each of them in and around Heraklion.
Historical Museum of Crete
The name Domenicos Theotokopoulos may mean nothing to you. But "El Greco" probably does. Only 2 of the Cretan artist's works remain in his native island, and both are on display here.
Leoforos Sofokli Venizelou 27, Heraklion, Crete 71202. Tel: +30 2810 283219
Historical Museum of Crete website
El Greco Museum
Fodele, 29 km west of Heraklion, claims to be El Greco's birthplace, and an old Venetian house in the center of the village displays a collection of copies of some of the painter's greatest works.
Fodele, Heraklion, Crete 70100 . Tel: +30 2810 741689
El Greco Museum website
Kazantzakis Museum
Nikos Kazantzakis, author of "Alexis Zorbas", filmed as "Zorba the Greek", was born in Mirtia, a 20-minute drive from downtown Heraklion. This museum, in the village center, is dedicated to the author's works and life.
Myrtia, Heraklion, Crete 70100. Tel: +30 2810 741689
Kazantzakis Museum website
Forgotten cultures in Chania
Chania is a great place to discover aspects of Crete's cultural heritage that many visitors miss. There are reminders here of the Christian Byzantines who held sway over Crete for almost 1,000 years. There are traces too of once-thriving Ottoman and Jewish communities.
Byzantine and Post-Byzantine Collection of Chania
Open your eyes to a little-known era in Crete's history with a visit to this small museum and its collection of richly colored icons.
Odos Theotokopoulou 78, Chania, Crete 73131. Tel: +30 2821 096046
Byzantine and Post-Byzantine Collection of Chania website
Cretan House Folklore Museum
Crete has a rich tradition of weaving, lace-making, and embroidery. This small museum keeps that tradition alive, with displays of spinning wheels, looms, and textiles.
Odos Halidon 46B, Chania, Crete 73100. Tel: +30 2821 090816
Cretan House Folklore Museum website
Etz Hayyim Synagogue
Chania's 15th-century synagogue has been reverently restored. Rededicated in 1999, it's filled with beautiful wall-hangings, curtains, and soft furnishings donated by Jewish communities around the world.
Parados Kondylaki, Chania, Crete 73011. Tel: +30 2821 086286
Etz Hayyim Synagogue website