Arts and Culture in Tokyo - From Temples to Late-night Jazz Clubs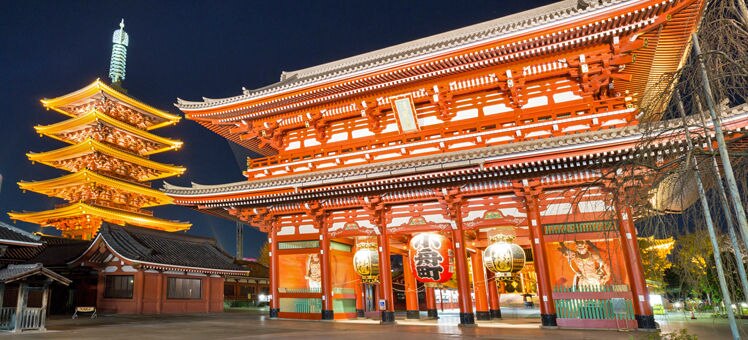 The Japanese capital is both a hub for traditional native art forms and an international center for creative culture. You can absorb centuries of Eastern and Western art at the cluster of museums around Ueno Park, and take in ultramodern exhibitions amid the high-rise surroundings of Roppongi Art Triangle.
Japanese performance art
Japan's 3 main theater traditions - kabuki, noh, and bunraku - have been entertaining Tokyoites for centuries. Kabuki is the most popular. Performances are lively, telling surprisingly fun tales of romance and revenge with richly detailed costumes and settings (you can rent headsets to hear English narration). Noh dramas are more aristocratic and austere, with slow, spellbinding movements. And you'll be amazed how much emotion a handmade puppet can convey at a bunraku show.
Kabuki-Za
Japan's national theater for kabuki performance moved to this new home in 2013, but the design still evokes the look and feel of the Edo Period with fantastic painted backdrops.
4-12-15 Ginza, Chūō-ku, Tokyo 104-0061. Tel: +81 3-3545-6800
Kabuki-Za website
National Noh Theater
The most prestigious space for Noh drama in Tokyo, hosting up to 5 performances every month. It's a good idea to book ahead.
4-18-1 Sendagaya, Shibuya, Tokyo 151-0051. Tel: +81 3-3423-1331
National Noh Theater website
National Theater of Japan
While the National Bunraku Theater is formally based in Osaka, the troupe and their lovingly crafted puppets visit this prime Tokyo venue for 4 or more seasonal performances every year.
4-1 Hayabusacho, Chiyoda, Tokyo 102-8656. Tel: +81 3-3265-7411
National Theater of Japan website
Live music
Tokyo has world-class symphony and philharmonic orchestras and a thriving jazz scene. Western rock and pop bands often come to play for their devoted Japanese fan bases, and concerts in this city are always joyous affairs. But for a musical experience you won't find anywhere else, try the famously extravagant Takarazuka Revue.
Tokyo Takarazuka Gekijo
The Tokyo home of Takarazuka, where all-female song and dance troupes perform lavishly costumed musical numbers with a full orchestra.
1-1-3 Yurakucho, Chiyoda, Tokyo 100-0006. Tel: +81 3-5251-2001
Tokyo Takarazuka Gekijo website
The Tokyo of old
Wars and natural disasters have erased much of the old wooden Tokyo. But amid the concrete and neon of the modern megacity, there are plenty of quiet corners where the past remains a part of urban life. In well-maintained parks and gardens, and well-preserved shrines and temples, it is still possible to visit the bygone Tokyo of the Meiji and Edo periods.
Imperial Palace and East Gardens
On the site of the former Edo Castle lies the Imperial Palace (visits by appointment) and its manicured East Gardens, which are free to enter. You can picnic on the lawn and stroll around old moats and guardhouses.
1-1 Chiyoda, Tokyo 100-8111. Tel: +81 3-3213-1111
Meiji Shrine
After admiring the daily pageant of rockabilly dancers and flamboyantly costumed kids at Yoyogi Park, you can walk the forested footpath to this monumental Shinto shrine.
1-1 Yoyogikamizonocho, Shibuya, Tokyo 151-8557. Tel: +81 3-3379-5511
Sensō-ji Temple
Founded in 645 AD, Tokyo's oldest Buddhist temple is an elaborate mini-city. Passing under the dramatic Thunder Gate you enter a dreamlike grid of layered pagodas and lacquered chambers.
2 Chome-3-1, Asakusa, Taito, Tokyo 111-0032. Tel: +81 3-3842-0181
Discover
Find your perfect holiday in Tokyo
From 2780 hotels.