Where to shop in Colombia – a guide to retail therapy by city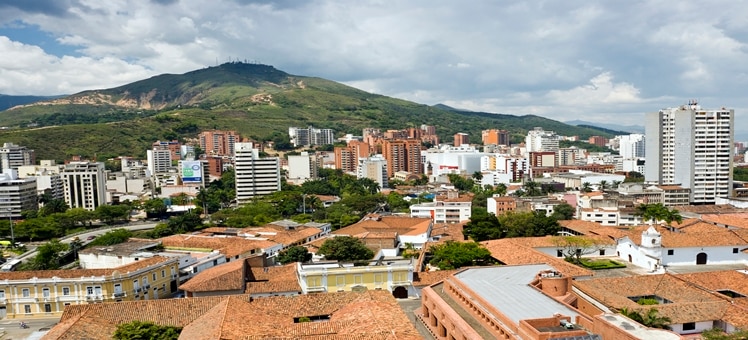 In a country of as many natural riches and artistic talents as Colombia, it's not surprising that the shopping scene in the major cities is thriving. Medellín leads the way with independent fashion houses, producing some of the most exciting new trends, while Bogotá and Cali offer high-quality artisan markets alongside modern shopping malls. Cartagena, true to its jewel-box appearance, is the center of Colombia's emerald trade, with a popular sideline in candy.
Medellín
As Colombia's shopping city, Medellín has its fair share of malls. The upmarket district of El Poblado boasts the Santa Fe and Oviedo malls, both of which house a range of big brands, as well as restaurants and movie theaters. But the most unique and eclectic shopping venue is the Via Primavera; a tree-lined street where Medellín's fashionistas browse market stalls beneath white parasols. As well as the outdoor stalls, the street is full of little shops, each an independent retailer, offering the latest in urbane, hipster fashion. It's a place where trends are born and plenty of bargains are to be had.
Bogotá
While Medellín's shopping scene looks to the future, Bogotá's is firmly entrenched in the country's heritage. Artisan markets are the main highlight here; the entire historic district can feel like a large open-air market, with all kinds of curiosities and handicrafts on display. The Galeria Artesenal and the Centro Colombiano de Artisanias are two concentrated markets, both centrally-located. They are treasure troves of handmade leather, woven, textile and art products, as well as unbelievably cheap gourmet coffee and of course, the iconic black-and-white hats. On Sundays, you can pass several happy hours browsing the flea markets of central San Alejo or northern Usaquen.
Cartagena
It is fitting that in Cartagena, where the buildings are as ornately fashioned as fine jewels and painted in sugary colors, gemstones and candies are the shopping highlights. One of the best places for jewels is the Plaza Pierno Gallo in the new city. It overflows with emeralds, offering everything from rough-cut gems to stunning jewelry, polished to perfection. In the walled city, the lemon-colored arches of the Portal de los Dulces shelter dozens of candy stalls. It is here that Gabriel García Márquez set a key scene in Love in a time of Cholera, and the air is full of magical sweetness.
Cali
If Medellín is modern and Bogotá is heritage, Cali lands somewhere in-between. Its trendy citizens demand swish shopping centers, such as popular Chipichape. It functions both as an air-conditioned retail center during the heat of the day, as well as an evening spot with outdoor bars to kick off a night full of salsa. But at the heart of Cali is the Parque Artesania, set amongst the lush, tropical trees of the Loma de la Cruz Park. It is one of Colombia's most exuberant markets, characterized by its little, arched boutiques and frequent cultural exhibitions, to keep you entertained as you purchase handicrafts and jewelry.
Shopping Tips
• At markets and emerald shops across Colombia, be prepared to haggle – the first price you're told will be hiked to 'tourist' levels and some bargaining is expected. • Some of Bogotá's flea markets are only open on Sundays, while lots of smaller shops are closed. • Depending on the city, things often quieten down in the afternoon for siesta and liven up again in the evening, so plan your day according to the local rhythms. • Keep an eye on your belongings, particularly at markets and particularly after dark – like a lot of places, pick-pocketing can be an issue.