Kuala Lumpur – where to stay and the areas explained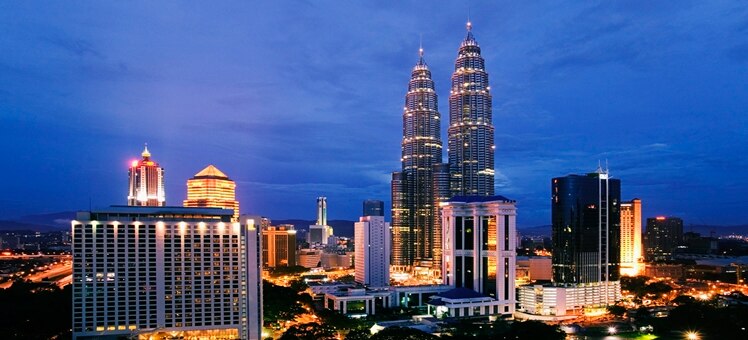 When it comes to accommodation in Kuala Lumpur, five star hotels in gleaming tall metal and glass structures come to mind. This is true, especially in the KLCC (Kuala Lumpur City Centre), but outer areas of the cosmopolitan city offer great and appealing hostels and affordable mid-range hotels. There is also the appeal of staying in old colonial buildings in the old city centre, known as Dataran Merdeka.
KLCC
If you want views of the best attractions in town, the stay in one of the top five star hotels in the Kuala Lumpur City Centre, or KLCC. Guests can expect to wake up to views of the world famous Petronas Twin Towers and be right in the centre of all the action.
Some of the best five star hotels with world class chains have located themselves in the KLCC. If you want a bit of luxury and want to be within walking distance to all the main malls, then this area is for you. But expect to pay a little more than other five star hotels in KL, as you're paying for the views.
Dataran Merdeka
If the bustle of the city centre only appeals to you for sightseeing, then stay in the old city centre, known as Merdeka Square, or Dataran Merdeka. This area is still dominated with well-kept colonial buildings, many of which are now five star hotels. So if you still want a bit of luxury, but not the hubbub of KLCC, Merdeka Square will be perfect for you.
The colonial buildings in Merdeka Square alone are enough to entice anyone into staying in this quaint and attractive part of the city. Expect touches of British colonialism, excellent customer service and food to match.
Bukit Bintang
As perhaps the busiest area of KL, Bukit Bintang will surely not disappoint, especially if you're a keen shopper. With malls such as Starhill Gallery, Fahrenheit 88 and Lot 10, you will be spoilt for choice with a mixture of touristy shops to the most up-market brands.
Set amongst the billboards and malls are many industry-orientated chain hotels. There are plenty of great restaurants nearby and the hotels which range from the expensive to the reasonable are close to the main attractions.
Brickfields
Brickfields is known as little India of Kuala Lumpur, a micro area of India situated in the heart of this cosmopolitan Asian city. Situated south of the city, Brickfields is known for its colorful shops and south Indian banana leaf food.
There are a few backpacker hostels here, conveniently located near the KL Sentral monorail perfect for getting around. This area is extremely cheap where hostels are clean, free wi-fi, bunk beds or private rooms which often include breakfast. However, this area is much more aimed at backpackers and not families.
Chinatown
In the old areas of Kuala Lumpur, before the KLCC came along Chinatown was the epicentre of the city. It is still an active area full of traditional markets selling everything from food to wood work handicrafts, although not the hubbub it once was or the same as KLCC. There are still lots of colonial buildings here, giving the area an added air of historical importance.
Budget and midrange hotels and hostels are the popular accommodation choices in this region. Some are extremely cheap, whilst more are still reasonably priced within the mid-range bracket.
Discover
Find your perfect holiday in Kuala Lumpur
From 2550 hotels.