What to see and do in Prague – a guide to the city's landmarks and attractions
What to see and do in Prague – a guide to the city's landmarks and attractions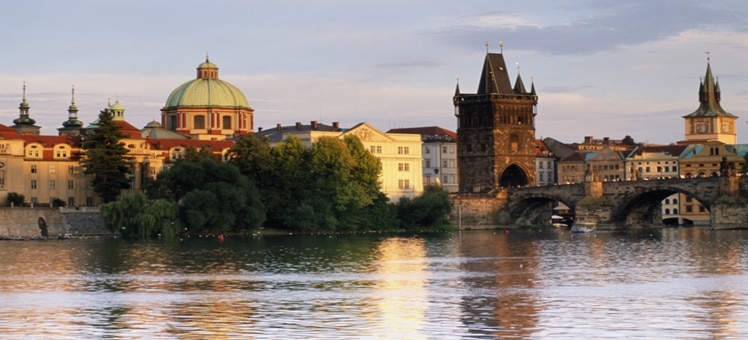 One of Central Europe's most exciting, beautiful and cultured cities (quite a feat for a country which has only been around since 1993), Prague offers something to visitors of all shapes, sizes and fancies. Go googly-eyed over the beer, immerse yourself in the history, chit chat to the ever friendly locals, swoon at the breathtaking architecture or shake what your mama gave you at any number of bars and clubs – the choice is all yours.
Sightseeing
Walking is, like, so last year. Experience the city's exceptional architecture and famous land marks on your very own bike on one of Prague's growingly popular guided bike tours. You'll ride (gently, we promise) through dinky side streets – accompanied by a charming and mildly cheesy tour guide - before enjoying a 30 minute break at a river side pub on the Vltava's water ways. What better way to take in the sights than by accompanying it with world famous Czech beer? For the slightly less adventurous, you can admire Prague's best-known landmarks on a hop-on, hop-off city bus tour. Prague's most famous attractions, such as Old Town, the Vltava River and Prague Castle, are included, and you can hop on and off at any of the eight stops along the way. Easy to get around with plenty of freedom and flexibility, this one is more suited to Granny. Equally, you can idle your way down the Vltava River on a boat cruise or take a tour of the Jewish Quarter on foot.
Museums
This museum consists of six Jewish monuments clustered together in Josefov: the Maisel Synagogue; the Pinkas Synagogue; the Spanish Synagogue; the Klaus Synagogue; the Ceremonial Hall; and the Old Jewish Cemetery. There is also the Old-New Synagogue – completed around 1270 - which is still used for religious services, making it Europe's oldest working synagogue. If art is more up your alley, then be sure to head to Veletržní Palác on Holešovice Street. A state-owned art gallery, it houses the largest collection of art in the Czech Republic. The interwar Abstract, Surrealist and Cubist masterpieces are worth the trip alone.
Beer
Czechs are rightly renowned for producing some of the best beer in the world, so for the travelling stag or bored-with-pretty-architecture boyfriend, there's plenty to wet your whistle. If you're looking for something that's still educational though interactive, then the Prague Beer Museum is for you. Technically a heaving pub that is popular with the locals, it has no less than 31 beers on tap, plus an extensive beer menu with tasting notes to guide you as you drink. The teeniest of Prague's microbreweries, U Medvídků started producing its own beer only in 2005, though its beer hall has been around for many years. What it lacks in size, it makes up for in strength – the dark lager produced here, marketed as X-Beer, is the strongest in the country, with a whopping alcohol content of 11.8% (as strong as many wines). Be sure to have a taxi booked. No beer guide would be complete without a nod toward the city's best beer garden, situated at the eastern end of the Letná Gardens, where you can slurp beer and nibble on homemade and piping hot pizza to your heart's content.
Shopping
True to form, and as only a beautifully crumbling city could, the shopping is not your usual glitz and glamour power malls. Instead, there is excellent vintage shopping to be done, like at bric a brac on Týnská Street. A charmingly cluttered cave of old household items, glassware, toys, 1940's leather jackets and typewriters, to name but a few. Bring your most patient self and prepare to dig around. Those who do are rewarded with real gems. If vintage isn't your bag, try the Tesco owned department store above the metro at Národní Třída Station. This five-storey monolith is the department store to end all department stores. Go when you need, well, anything at any hour.
Discover
Find your perfect holiday in Prague
From 1180 hotels.