Where to eat in Ottawa – a food and dining guide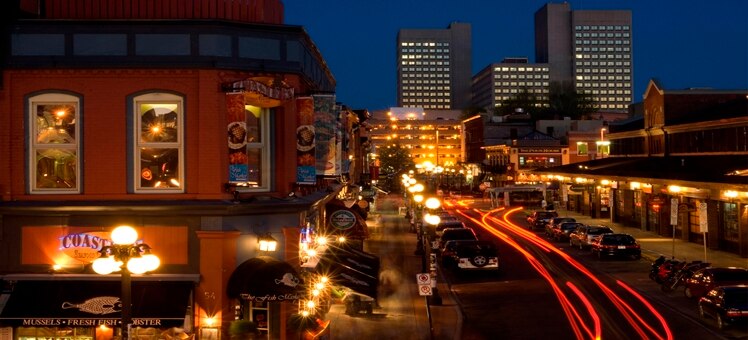 Ottawa's culinary scene has gone through an explosion of international influence and locally inspired innovation. The city is home to the prestigious Le Cordon Bleu Ottawa Culinary Arts Institute, which annually pumps new top-notch chefs into the local restaurant scene. The city's French heritage is nowhere better represented than on the plates at bistros around town. Plus, the international energy of a capital city means you can satisfy cravings for just about any international cuisine you might desire.
Regional Cuisine
Drawing on local produce is fundamental to Ottawa's cooking scene. With abundant farmland surrounding the city, you can expect to find many locavore-inspired menus. Many of the restaurants around ByWard Market specialize in dishes produced from the luscious produce from the farmers' market. Canadian classics like poutine or peameal bacon are on offer at many regional and contemporary restaurants, from casual spots to fine dining. Inventive chefs often look for new spins on regional specialty ingredients such as maple syrup, fiddlehead ferns, caribou or Saskatoon berries.
•
Absinthe Café Resto Bar
, 1208 Wellington St W, Ottawa, ON K1Y 2Z7. Tel: +1 613 761 1138•
Juniper Kitchen and Wine Bar
, 245 Richmond Rd, Ottawa, ON K1Z 6W7. Tel: +1 613 728 0220
International Offerings
Ottawa may have relatively laid-back atmosphere compared with the cosmopolitan powerhouse of Toronto, but it's still definitely a world capital, and nowhere is that more apparent than in the array of international dining options. Chinatown and Preston Street/Little Italy each offer a respectable array of restaurants, cafes and specialty markets from their respective countries. Numerous Japanese restaurants vie to produce the freshest and most innovative sushi and sashimi, while Spanish and Vietnamese cuisines are seeing a surge in popularity, with tapas bars and pho noodle shops springing up around town.
•
Giovanni's
, 362 Preston St, Ottawa, ON K1S 4M7. Tel: +1 613 234 3156•
Yangtze Dining Lounge
, 700 Somerset St W, Ottawa, ON K1R 6P6. Tel: + 1 613 236 0555
Byward Market Area
The area around Byward Market is ideal when you'd like a small snack with powerful flavor. Many stalls and eateries offer inexpensive small bites, and the array of cuisines is dizzying. Plus, when the weather suits, many restaurants in the area open up terrace seating for al fresco people watching and dining. The neighbourhood's interest as a historical site has attracted many of the hottest chefs, who have opened up some of the slickest bars, bistros and restaurants in town.
•
Play food & wine
, 1 York St, Ottawa, ON K1N 5S7. Tel: +1 613-667-9207•
The Black Tomato
, 11 George St, Ottawa, ON K1N 8W5. Tel: +1 613-789-8123
Cutting-edge Chefs
A recent addition to Ottawa's culinary scene is a new crop of locally and internationally trained young chefs. Local legends like Richard Nigro and John Taylor have been joined by younger chefs to offer an increasingly cosmopolitan mix of restaurants. Many specialize in small plates, an excellent opportunity to sample a variety of dishes. Wine-paired meals are another popular specialty, often highlighting Ontario's award-winning wines. For foodies on a budget, it's worth inquiring about tasting menus or lunchtime menus, still widely on offer in a city that's developed home-grown culinary panache, but without pretention.
•
Richard's Hintonburg Kitchen
, 1202 Wellington Street West, Ottawa, ON, K1Y 2Z8. Tel: +1 613 422 2680•
The Wellington Gastropub
, 1325 Wellington Ave, Ottawa, ON K1Y 3B6. Tel: +1 613 729 1315
French Food
While Canadian cuisine may receive woefully little international attention, the French cuisine available in Ottawa is enough to put the city on the map as a world capital of flavor. The bilingual population means that plenty of diners are as comfortable with French gastronomy as rustic, rib-sticking fare. For fine dining at reasonable prices, head to one of numerous bistros around town or tuck into a lighter (or buttery and flaky) lunch at a café/bakery. If white tablecloths are in order, you can select among many institutions serving classic French cuisine or a more nouvelle approach at fusion hotspot.
•
Beckta Dining and Wine
, 226 Nepean Street, Ottawa, ON K2P 0B8. Tel: +1 613 238 7063•
Black Cat Bistro
, 428 Preston St, Ottawa, ON K1S 4N2. Tel: +1 613-569-9998
Discover
Find your perfect holiday in Ottawa
From 150 hotels.