Where to shop in Marrakech – a guide to the city's souks, boutiques and co-operatives
Where to shop in Marrakech – a guide to the city's souks, boutiques and co-operatives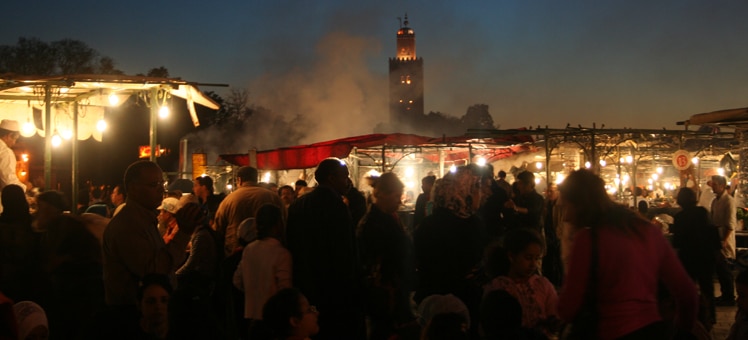 The labyrinthine souks of the medina provide Marrakech's essential shopping experience. Sunlight filters through gaps in the makeshift roofs; boys carrying mint tea appear on cue to seal good deals. Fabrics, spices and jewelry fight for space and attention. Behind the scenes, a whole section of leather tanneries, blacksmiths and craft workshops are busy in creating the products to sell – a fascinating place to explore. In Gueliz, meanwhile, wide boulevards with modern shops offer respite from the medina's sensory overload.
Souks
Beyond the main square, a mysterious world of covered markets, pungent tanneries and workshops awaits. Products range from spices to carpets, with all kinds of curios thrown in for good measure. Ostensibly, there are distinct souks with different names, but once inside the labyrinth, you'll have no sense of direction, so it's best to just plunge in and see what you discover. The whole experience is a kind of game: vendors call out jumbled English phrases, something catches your eye, and then the bargaining process begins. In many cases, mint tea, served in a silver teapot, will appear as if from nowhere once a deal has been struck.
Women's Co-operatives
All-female businesses have sprung up all over Marrakech. Some are hidden within the crowded network of the medina, others are in Gueliz. They range from non-profit organizations, in which all profits go to support resources and education for community projects; others are micro-enterprises, in which the women are all shareholders. Products include clothing, crafts and beauty and skincare ranges, made with local Argan oil, quickly gaining a global reputation as a nutrient-rich wonder-oil. If haggling is proving exhausting, all the co-operatives also only offer reasonable, fixed prices, so there's no second-guessing required. Try 67 Souk Kchachbia (Rue Dar El-Bacha) for innovative, eco-friendly craft items.
New Town – Gueliz
Whereas the souks are dark, exotic, a little rough round the edges; the boulevards of Gueliz are open and familiar, with billboards advertising famous brands. With motorbikes lined up outside pavement cafes and green 'pharmacie' signs hanging up, this district really would not look out of place in southern France. The main Avenue Mohammed V, which stretches right through Gueliz, is lined with upmarket shops, cafes and restaurants. Place Vendome is a good bet for high-quality leather goods, while L'Orentaliste offers a souk-like experience, with a range of intriguing antiques, furniture and perfume, but minus the donkeys, motorbikes and haggling. There are also convenience stores should you need to pick up any essentials.
Akkal outlet
Within the boundaries of Gueliz, in the Quartier Al Massar, Akkal is a one-of-a-kind shopping experience. Predominantly a ceramics showroom and shop, run by a Belgian artist, it also provides an outlet for other artists' work. Ceramics are common in the medina, and are famed for their bright colors. But due to lead processing, they are often not safe to be used in any practical sense. Akkal solves this by offering distinctive, bright ceramics which are safe to use as crockery and ovenware. From lilac tagines to ruby teapots, you can have anything in a whole rainbow of colors – and if you can't see it, you can commission it.
Shopping Tips
• Be wary of 'guides' offering their services in the medina; they will relieve you of plenty of dihram for their help, and you don't really need it. A firm 'Non, merci,' should send them on their way, but remain polite; this is still a developing country and people are just out to make a living. • Vendors can seem pushy, just understand that it is the way of the souks and don't feel pressured into purchases. • Don't try and haggle at the women's co-operatives or certain proper shops within the medina.• Accept mint tea if it is offered – it is a gesture of hospitality.
Discover
Find your perfect holiday in Marrakech
From 1610 hotels.