Where to eat in Berlin – a food and dining guide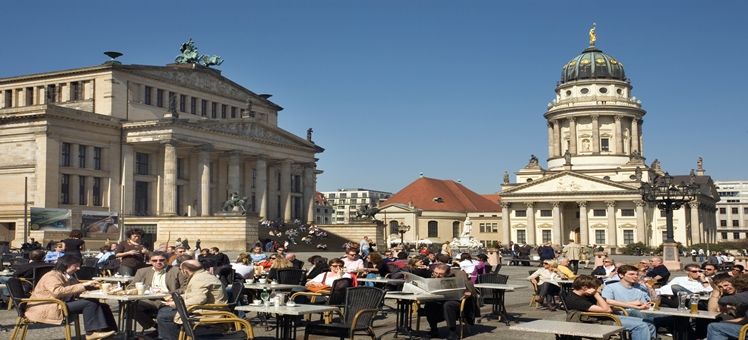 A fusion of Western and Eastern German cultures over the last century culminating with the fall of the Berlin Wall has resulted in a wide variety of delicious traditional German foods catering for all tastes. Authentic German street food mingled with tall, dark market halls coupled with hipster cafes or high quality restaurants give a tempting selection of savory and spicy dishes in the heart of Germany.
It is also interesting to note that cuisine in the city has been influenced by the Berlin Wall. Western Berlin dishes are generally made up of mostly succulent pork dishes with fish and vegetable sides. East Berlin cuisine was strongly influenced by Eastern European countries particularly Russia. So it is widely advised for visitors to experience the eclectic tastes during communist times and acquire the scintillating savouriness.
As Berlin could be considered as the economic heart of mainland Europe, foreign influences can be lavishly experienced here. Turkish fare is Germany's favourite fast food as döner kebab shops can be found all over the city, but Greek, Turkish and Chinese cuisines are all gaining in popularity.
A popular dish in Berlin is the delectable currywurst, a grilled pork sausage, sliced, covered in ketchup and dusted with curry powder and served with either a bread roll or Pommes (fries). The Wiener (pork or beef) is smoked and cooked in a water bath and served on its own.
Eberswalderstraße
Konnopke's imbiss in Prenzlauer Berg is the desirable place for Berliners to try out authentic Berlin street food. Under the tracks of the busy U-Bahn, try out the yumminess of the Currywurst at Konnopke's Imbiss, its prized title of 'Berlin's Most Famous Currywurst Shop.' At unbeatable prices, the unique atmosphere of being under the shuddering tracks of the U-Bahn will surely make this a pleasant eating experience to remember.
•
Konnopke's Imbiss
, Schonhauser Allee 44a, (unter der Hochbahn), 10435 Berlin, Germany (Prenzlauer Berg). Tel no: +49 30 4 42 77 65
Mitte
For the romantic in you, step out to the center of Berlin along the Spree River and take in the multitude of sights including the Brandenburg Tor, Museum Island and Potsdamer Platz at one of the many beautifully designed courtyard restaurants. Over the warm glow of candlelight, treat your partner to foodie heaven with extravagant flavors and share a culinary trip into a world of fish specialities and gourmet dishes. At the end of your meal, walk along the illuminations in Mitte, the true centre of Berlin.
•
Fischers Fritz
, Charlottenstrasse 49, D-10117 Berlin, Germany (Mitte). Tel no: +49 30 20 33 6363
Moabit
Set in gothic style, feeling like a church, The Arminiusmarkthalle in Moabit is a hubbub of foreign languages invading your ears as you mingle with traders animatedly selling their wares. For truly authentic and cheap food in a historical setting with floral decorations and jaw-dropping archways, the Arminiusmarkthalle is the most authentic fin de siècle market hall in Berlin that you will have the pleasure to eat in.
•
Arminiusmarkthalle
, Arminiusstraße 2-4, 10551 Berlin, Germany. Tel no: +49 177 5928001
Kollwitzplatz
If you're looking for trendy street cafes and boutique shops, Kollwitzplatz is surely the place to visit. With a busy vibrant scene of markets bursting with fresh produce, buskers crooning delightful songs, a children's playground just perfect for the family and the Kollwitz sculpture taking pride of place within the platz, you cannot help but be wowed over by the local way of life in this corner of Berlin. For the best of Kollwitzplatz, remember to go on Saturday mornings.
Discover
Find your perfect holiday in Berlin
From 830 hotels.