Port Douglas Travel Guide - Your destination overview of Port Douglas, Australia
Port Douglas Travel Guide - Your destination overview of Port Douglas, Australia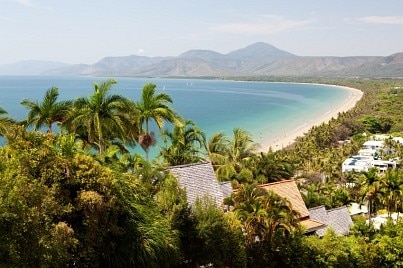 Port Douglas sits on the coast in the north of Queensland, between Cairns and Cape Tribulation, and is known for its long beach and sophisticated feel. It is a popular launch point to the Daintree rainforest and the Great Barrier Reef and also has a ton of excellent hotels, restaurants and shops.
From its days as a humble fishing village in the 1800s, Port Douglas has become a much sought-after holiday destination, yet retains a village atmosphere. Sugarcane, timber, tin and silver were the original industries before tourism took a hold in the early 1900s, and today the city is especially popular with high fliers looking to escape the limelight.

Port Douglas is only a mile across and four miles long, as depicted by its famous Four Mile Long Beach, so getting about is easy enough. It is like a finger pointing up, with the downtown area the fingernail and the beach running down one side and parklands on the other side.

There are just a few main streets in town where the best shopping and dining can be had and where the best hotels reside. It doesn't matter where you stay, however, as nothing is too far away and there is an efficient public bus service on hand, to boot.


Downtown Port Douglas
Downtown Port Douglas occupies the northern portion of the Port Douglas peninsula and is where most of the shops and restaurants are. Macrossan Street, Wharf Street and Davidson Street are the main thoroughfares. Marina Mirage is just southwest of downtown, while Four Mile Beach is southeast.


Four Mile Beach
As its namesake, the four-mile long Four Mile Beach is the main attraction of Port Douglas. It is a long, wide, clean beach with stunning golden sands backed by a long line of trees. The northern part of the beach stretches toward downtown, with the southern section ending at the Alexandra fringe reef.
Marina Mirage
The smartest part of Port Douglas has the finest shopping and dining and is within walking distance of downtown and the beach. There is a shopping arcade at Marina Mirage along with arts and crafts outlets and many top hotels like the Sheraton.


Davidson Street
Davidson Street is a cool area of town that backs the beach and runs south toward the golf course. There are many top-end hotels along this street and it is easily got about on foot, with the best of the shopping in the northern end where Davidson meets with Macrossan Street.

Find more information about Port Douglas and hotels in the area:
Port Douglas hotels | Australia hotels