Cochin Travel Guide - A destination overview of Cochin, India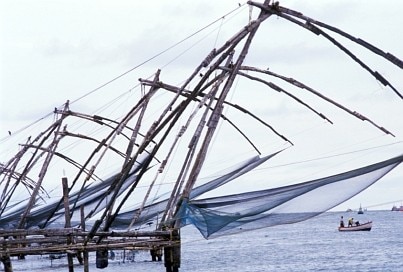 Cochin is a South Indian destination that has served as an important colonial port since the 16th century. It's considered to be the cultural hub of Kerala, with contributions from Hindu, Buddhist, Muslim, Jewish and Christian communities. Known for its sites as well as shopping and nightlife, Cochin is one of the best-loved tourist destinations in the region.
Portuguese colonizers arrived in the 16th century and were later displaced by Dutch and, finally, British powers. These European powers left behind an architectural legacy that includes Fort Cochin, 'Dutch Palace' and several churches representing different sects of Catholicism and Protestantism. South of the original colonial neighborhood is Jewtown, where centuries-old Jewish community offers the most intriguing shopping options.

Tourists are well cared for in Cochin, enjoying access to excellent hotels and seafood restaurants. The beaches are clean and well-developed, while the central districts in Ernakulam and Willingdon provide access to excellent restaurants, clubs and cultural exhibitions.


Ernakulam
Ernakulam is Cochin's most significant mainland neighborhood and it holds the best commercial prospects. While removed from the sites of Fort Cochin, Ernakulam is still an important shopping and dining destination. This district also has several of the top hotels in Cochin.


Fort Cochin
This is the epicenter of tourism in Cochin, with vestiges of ancient Indian kingdoms as well as a Portuguese and Dutch colonial architecture. The forts, palaces and art galleries in Fort Cochin are popular attractions and most tourists prefer to stay in hotels and guesthouses in this vicinity. The beach at Fort Cochin is another major tourist attraction.
Mattancherry
Mattancherry occupies the same island as Fort Cochin and it is home to a longstanding Jewish community called Jewtown. The local synagogue is an important site for visitors but shopping is the main attraction in Mattancherry. Antique shops, handicraft boutiques and art galleries abound in Jewtown, offering a novel selection and competitive prices.


Willingdon Island
Willingdon Island lies between Fort Cochin and Ernakulam, and it has grown into a lively halfway point with plenty of its own infrastructure. It was originally known solely for its port, but it now boasts a booming hotel and restaurant scene. The entire island is manmade, built from material dredged up from the seafloor.


Kumbalangi
This tourism-focused village is located within Ernakulam but deserves its own mention. It serves as gateway to a number of outlying islands. The main attractions are quiet fishing villages that reflect the fast-disappearing traditional lifestyle.

Find more information about Cochin and hotels in the area:
Cochin hotels | India hotels
Discover
Find your perfect holiday in Kochi
From 440 hotels.