Seoul Food and Dining Guide - Restaurants, where to eat out, and more
Seoul Food and Dining Guide - Restaurants, where to eat out, and more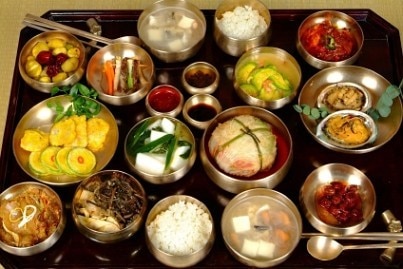 Koreans love to eat and dining out is a big event in Seoul. While there are plenty of gourmet restaurants to be found in the city, diners can also choose from a wide range of Western restaurants as well as street carts.
Dining doesn't have to be expensive in Seoul as there are food courts selling cheap meals in most of the modern shopping malls and street vendors gather all over the city to sell light bites and snacks at low prices.

Visitors can dine on a wide range of cuisines such as Japanese, Chinese, French and Italian. Food lovers will also want to try tradition Korean dishes such as kimchi, a dish of seafood in fermented salt called jeotgal, guk soup dishes and namul vegetable dishes.


Jangchungdong Jokbal Street - Seoul's Tradition Food Area
Located in Jung-gu near the Jangchung Gymnasium, this area is known for is traditional food and many of the restaurants here have been feeding hungry customers for fifty years. The specialty here is a dish of pig's trotters known as jokbal.


Itaewon – Seoul's Cultural Area
Itaewon is Korea's melting pot, where people from a number of different cultures live side by side. The restaurants here serve traditional food from around the world and some of the cuisines available include Thai, Mexican, Italian, French and Chinese.


Sinchon – Seoul'd Backpacker Area
The Sinchon area is popular with university students and young backpackers. The food here is cheap, tasty and creative and many restaurants specialize in fusion dishes as well as Western favorites.


Myeongdong – Seoul's Gourmet Food
Lovers of gourmet food will want to visit the Myeongdong area, which is located in the heart of Seoul. Most of the restaurants here serve traditional Korean cuisine, served with flare in stylish settings.
Seoul Restaurants
Eunhasoo Dinner Buffet
Sejong Hotel in Myeong-Don,
Phone: +82 3705 9141
This is a great place to sample a range of traditional Korean dishes such as barbecue ribs, rice porridge, kimchi and beef ribs. Diners will also find some Western dishes such as pizza and a good range of traditional desserts.

Cafe Libro
364-26 Seokyo-Dong Mapo-Gu
Phone: +82 320 9320
Diners at Cafe Libro can relax with drinks in the large outdoor garden, or head to the stylish restaurant on the second floor to tuck into a range of Italian dishes such as pasta, pizza and proscuitto with melon.

Ashoka Indian
Hamilton Hotel, 3F 119-25 Itaewon-dong, Yongsan-gu
Phone: +82 27920117
A must for lovers of Indian food, this authentic Indian restaurant serves an excellent selection of popular Indian dishes. Diners can start with appetizers such as vegetable pakora before moving onto spicy dishes like tandoori mutton and finishing off the meal with sweet gulab jamun.

The Restaurant
59 - 1 Sogyeok-dong, Jongno-gu
Phone: +82 2733 4879
Situated in the Kukje Art Gallery, The Restaurant offers diners a sophisticated and modern atmosphere in which to try a range of gourmet cuisine. Most of the dishes here hail from France and include favorites such as apple potage soup, pan fried foie gras and beef filets.

Find more information about Seoul and hotels in the area:
Seoul hotels | Korea hotels | Seoul 5 Star hotels | Seoul 4 Star hotels | Seoul Family hotels
Discover
Find your perfect holiday in Seoul
From 1610 hotels.