Hanoi Food and Dining Guide - Restaurants, where to eat, and more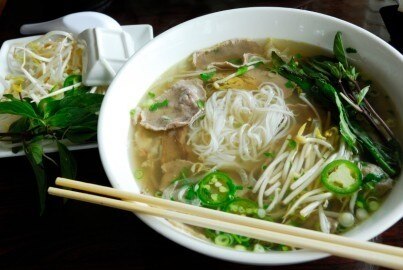 Food and eating are strongly ingrained in the culture of Vietnam, and this is particularly true in Hanoi, where there are a huge number of restaurants, cafés and other eateries to choose from.
Eating out doesn't have to cost a fortune in Hanoi as there are plenty of stalls and small shops selling cheap and tasty bowls of noodles and dishes such as 'com gar au thom' - — rice with chicken and mint — and 'banh xeo' - pancakes filled with fresh herbs and vegetables.

In addition to traditional restaurants serving Vietnamese food, there are a good number of other culinary delights in store for hungry travelers, including French, Chinese, Thai and fast food franchises where burgers and fried chicken are all the rage.


Old Quarter
This is a great place to eat in between seeing the sights as it contains a large number of atmospheric street stalls as well reasonably priced restaurants serving Western and local cuisine.


West Lake
Lovers of gourmet food should head to the West Lake district, which features an excellent selection of up market restaurants, where those in search of a memorable experience can dine on some of the best food available in Hanoi.


Hoan Kiem
Most of the city's international restaurants can be found in this district and there are some excellent French and Thai restaurants to be found here as well as cheap and cheerful Vietnamese restaurants serving some of the best budget bites in the city.
Hanoi restaurants
Pho 24
VinCom City Towers, Hoan Kiem
Phone: +84 4 222 5203
Lovers of traditional beef needle soup known as pho will want to dine at Pho 24, which also has other branches in Hanoi and throughout Vietnam. The food here is very reasonably priced and the atmosphere is friendly.

Tamarind Café
Ma May 80, Old Quarter;
Phone: +84 4 926-0580
A favorite with vegetarian diners, Tamarind Café features an extensive menu of Vietnamese and international dishes as well as plenty of fresh fruit juices to give customers a natural boost.

Daluva
33 To Ngoc Van Street, West Lake
+84 4 3718 5831 or +84 907 144 561
Located near Hoan Kiem Lake, the trendy Daluva restaurant is popular with expats as it serves tapas dishes as well as large portions of Western and Asian cuisine. This is a great place to eat in the evening, as there is a good wine list and a separate play area for children.

Cam Chan Quan
108 K1 Giang Vo Street, Ba Dinh
Phone: +84 4 259 7696
Suitable for budget diners as well as those with more expensive tastes, this lively restaurant serves Singaporean favorites such as Beggar's chicken, noodles and Vietnamese pho. There is free wifi for customers and this is a good place to meet fellow travelers.
Discover
Find your perfect holiday in Hanoi
From 1570 hotels.