How to plan your holiday time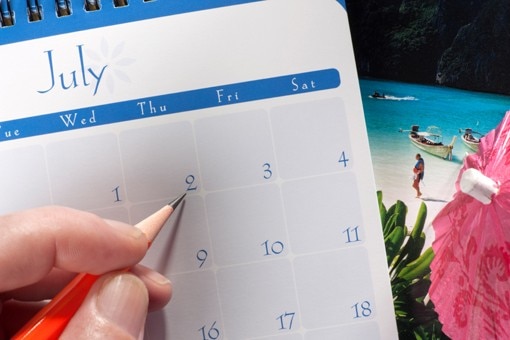 Whether you want to pre-book transport tickets or devise a city break itinerary, make the most of your holidays with our top tips on how to plan your holiday time.
When is the best time to travel?
Research your destination to find out the best time to travel. Take into account climate, public holidays, special events and opening hours. A little pre-holiday reading will make sure you don't book a bargain beach holiday to India during monsoon time or a peaceful weekend break to Munich during Oktoberfest. There are fewer crowds at major attractions during shoulder seasons.
How can I save time when flying?
Book flights well ahead to get the best ticket prices and times. Many airlines now offer online check-in and seat reservation, which avoids queuing at the airport. Weigh your luggage before you go to save hassle and excess baggage fees at the airport. Pre-booking airport parking, car hire and transfers will speed up your journey.
What should I bear in mind when booking a hotel?
Book a hotel online with http://www.hotels.com to save time hunting for accommodation on arrival. Choosing a hotel too far from the city centre or beach can be a false economy, given the time and money spent getting around. All-inclusive hotels are often a good choice for families as there's no need to search for restaurants that cater for kids.
Is it worth making an itinerary?
An itinerary is useful if your sightseeing expectations are high and time is limited and invaluable for travelling in countries like Australia where distances are vast. Jot down a list of what you'd like to see, then pick your favourites, realistically considering the number of days and time spent travelling. This will prevent you from overdoing it and spending half your holiday in a coach or on the metro.
How can I maximise my sightseeing time?
The hotel's front desk or concierge could save you time booking tickets for sights and tours. Skip the queues by investing in a tourist office sightseeing pass or pre-booking tickets for top attractions like the Louvre. Avoid the midday crowd -- the best time to appreciate sights in peace is generally early morning or late afternoon.
Any time-saving tips on getting around?
Once you've devised an itinerary, check your transport connections or route using an online map or travel planner. Printing off timetables and pre-booking your tickets prevents the frantic rush on holiday. Driving outside rush hour, taking overnight trains and buying day travel cards in cities are other time-saving methods.


Is it worth pre-booking tours?
Unless you're really pressed for time, it's wiser to book tours when you reach your destination rather than in advance as they tend to be cheaper and more varied. Ask fellow travellers or your hotel for recommendations.


What else should I pre-book?
Pre-book theatre, opera, concert and sporting event tickets at least a month ahead to secure a seat. Spa and hammam treatments may also require advance booking. Check the waiting list at popular restaurants so you can reserve a table far enough ahead.


Any other tips on how to plan holiday time?
Try not to cram too much in. You wouldn't go elephant riding, kayaking, jungle trekking and see five temples in the space of a weekend at home, so don't pressure yourself on holiday. Slow down, allow time to appreciate places and factor in some lazy days so as not to return home more tired than when you left.
Discover
Find your perfect holiday in Chicago
From 510 hotels.