Top 10 cultural things to do in Oslo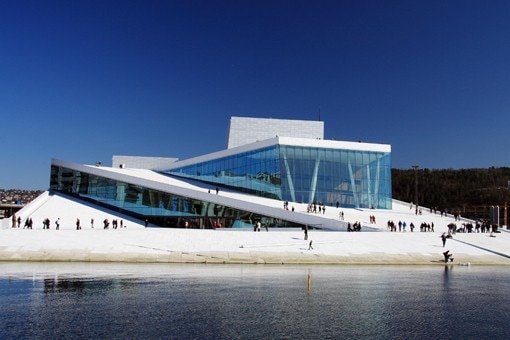 Book an Oslo hotel and enjoy Scandinavia's culturally engaging Viking capital. An Oslo city break is a great way to sample Nordic culture, with stately art museums, a lively music scene and inviting parks and cafés in the crisp, clean Scandinavian air.
Sail with the Vikings
The world's most pristine Viking ships – the awesome oak clinker- built Gokstad and Oseberg, dating from AD800 – are on view at the Viking Ship Museum, where they have been beautifully restored.

Huk Aveny 35, 0287 Oslo


The terrifying Scream at the Munch Museum
The Munch Museum is the best place in the world to admire the eerie, haunting paintings of locally born Edvard Munch, with multiple sketched and painted examples of The Scream.

Tøyengata 53, 0578 Oslo


Vigeland Park's suggestive sculptures
Oslo's most popular park, Frogner Park's Vigelandsparken, is crammed full of 212 bronze and stone obelisks and sculptures that display in explicit detail hundreds of intertwined stone bodies playing, eating, sleeping, fighting and in flagrante delicto.


Experiencing history at the Nobel Peace Center
Built in 2005, this grand hall is dedicated to the past holders of the Nobel Peace Prize, bestowed every December at Oslo city hall. The room holds scores of multimedia presentations that detail the fascinating life stories of the prize's 96 laureates.

Rådhusplassen, 0160 Oslo


Stomping your feet at a jazz club
Oslo is a cultural powerhouse when it comes to live music, with some first-rate jazz joints. In daytime or evening, visit Bare Jazz, an all- jazz music store and café with a great stage for catching live music acts.

Grensen 8, 0159 Oslo


See the fat lady singing at Operahuset
The world-class Norwegian Opera performs its arias at the Operahuset, an ultra-modern, angular white building that slopes right out of the harbour like a rising phoenix. The libretto season runs from mid- September to early April.

Kirsten Flagstads pl. 1, 0150 Oslo


Theatricality at the Ibsen Museum
The writer of Peer Gynt and Hedda Gabler spent the last 10 years of his life at this modest home, painstakingly restored with a large painting of Ibsen's nemesis August Strindberg, kept on his office wall in order to remind him never to relax and always be writing.

Henrik Ibsens gate 26, 0253 Oslo
The Kon-Tiki's oceanic adventure
This Bygdøy museum houses the two-bit balsa wood raft sailed some 4,300 miles from Peru to Polynesia in 1947 by Thor Heyerdahl, one of the world's most famous scientists, adventurers and champions of the environment.

Bygdøynesveien 36, 0286 Oslo


Scandinavian art at the National Gallery
This neo-Renaissance building holds Norway's most extensive collection of Scandinavian and international paintings and sculptures, including several versions of Munch's The Scream and Van Gogh's beguilingly simple self-portrait.

Universitetsgata 2, 0164 Oslo


Rock at late night clubs
Head for the hip districts of Grønland and Grünerløkka, where up-and-coming indie rock groups play live every night at Blå, Last Train and Oslo Spektrum – long the city's best places to hear cutting-edge music.

Brenneriveien 9c, 0182 Oslo