Short getaways in San Antonio – River strolls, mission visits and authentic Mexican food
Short getaways in San Antonio – River strolls, mission visits and authentic Mexican food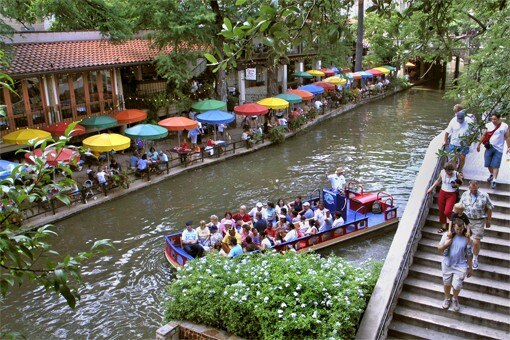 Two days isn't enough time to do it all on a short getaway in San Antonio. See the best with this guide and a few nights in a San Antonio hotel.
San Antonio short getaway day one, morning
Begin your morning with a stroll along the River Walk, edged with small gardens, the arching limbs of oaks and colorful umbrella-topped tables at riverside restaurants. Visitors learn about San Antonio and its river aboard Rio San Antonio Cruises, a 40-minute narrated trip along 2½ miles of the River Walk.

Start: River Walk.
Nearest streetcar River Walk


Afternoon
Learn about the battle for Texas at San Antonio's most famous historical site, The Alamo. The former Spanish mission is today a shrine honoring those who perished defending the fortress from the Mexican army. Learn the story behind the battle at the IMAX theatre at the adjacent Rivercenter Mall for the film "Alamo … The Price of Freedom."

Start: The Alamo.
Nearest streetcar River Walk


Evening
San Antonio's most popular attraction, the River Walk, is lined with restaurants. Diners settle into riverside tables for plates of fresh seafood and Texan steaks at Boudro's. Before returning to your San Antonio hotel, walk along the river to the Arneson River Theatre. Live Latin music and dance are frequently presented at this River Walk theatre, which has the stage on one side of the San Antonio River and the audience on the other.

Start: The River Walk.
Nearest streetcar station River Walk
San Antonio short getaway day two, morning
Visit two Spanish missions, beginning with Mission San José. The largest, the Queen of the Missions, San José, hosts a vibrant Sunday mariachi mass. The reconstructed barracks and parish church, guided tours and visitor center exhibits explain how the missions changed the American Southwest. Mission Concepción, the oldest unrestored San Antonio mission, looks much as it did 200 years ago, its golden adobe walls painted with the faint remains of colorful geometric designs.

Start: Mission San José.
Nearest trolley stop Mission San José


Afternoon
Travel up the San Antonio River to the 1894 Pearl Brewery for lunch. Rooms that once fermented vats of City Pearl beer are now condominiums, shops and restaurants, including the Farm to Table Café known for using Texan meats, cheeses and produce in its salads and made-to-order sandwiches.Walk along the river or travel via the Sightseer Special bus to the San Antonio Museum of Art, another reclaimed brewery. View Latin American stone carvings and religious paintings from pre-Columbus to Spanish colonial and contemporary eras in rooms that once brewed Lone Star beer.

Start: Pearl Brewery.
Nearest River Taxi stop Grayson St.


Evening
Finish a San Antonio short getaway with a visit to Market Square, El Mercado. Home to a farmer's market, artisans' booths and craft shops, Market Square also houses Mi Tierra, a favorite Tex-Mex restaurant. Sit beneath strings of Christmas lights year round and listen to strolling mariachi musicians over generous plates of home-made enchiladas, beans and rice. Afterward, look for live music in bars throughout Market Square.

Start: Mi Tierra.
Nearest trolley stop El Mercado
Discover
Find your perfect holiday in San Antonio
From 560 hotels.