A Turkey travel guide – Byzantine frescoes, buzzing bazaars and endless coastline
A Turkey travel guide – Byzantine frescoes, buzzing bazaars and endless coastline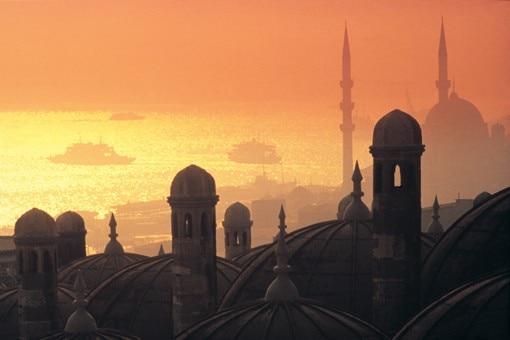 Holidays in Turkey can include centuries-old Ottoman and Byzantine history, diving the Mediterranean or losing yourself in labyrinthine bazaars. Book a hotel in Turkey to feast like a sultan on ancient and modern delights.
Get your bearings
Spanning Europe and Asia, Turkey borders seven countries and four seas. Bustling Istanbul in the far northwest bridges the two continents, split by the Bosphorus waterway. Linking Istanbul to the Georgian border is the laid-back Black Sea coast with high-pasture villages. Along the western coast, Lycian tombs dot the Aegean Sea around port city Izmir. In the centre of Turkey is modern-day capital Ankara, just north of the vast, windswept Anatolian plateau. Mountains dominate the country's rugged, undeveloped East.


Rich history
Explore a wealth of history on your holiday in Turkey. See Ottoman riches in Istanbul's Topkapi Palace and glittering Byzantine frescoes under Hagia Sofia's dome, then trawl the Grand Bazaar for painted ceramics. In the first Ottoman capital Bursa, Yesil Cami mosque dazzles with its carved marble work and green tiles. Devout Konya is famed for being the home of the whirling dervishes. Şanliurfa's carp-filled pools ooze biblical history. Capital Ankara honours modern Turkey's founder Atatürk at the Anitkabir monument.


Seaside attractions
Take a trip along the Turquoise Coast on a wooden gület boat and drift between busy resort Bodrum and quaint Kaş. Scuba-diving at Fethiye brings you close to dazzling coral. At nearby Ölüdeniz, paragliders swoop over the azure lagoon. Search for unspoilt beaches, like Patara with its nesting caretta caretta turtles. The town of Kaleiçi in Antalya is home to a picturesque harbour. For a more lively holiday, book a Turkey hotel in Marmaris or Kuşadasi on the Aegean coast.


Turkish delights
Cosmopolitan residents of Istanbul enjoy swanky sushi bars and noisy meyhanes (taverns) serving grilled palamut and hamsi fish. Regional meaty specialities include Bursa kebap, served with yoghurt sauce, and Arabic-influenced spicy Adana kebap. Kick off dinner with meze, garlic dips and starters like smoked aubergine or fried cheese pastries. Then wash it down with aniseed-flavoured raki followed by sweet black tea.
Landmark landscapes
At the peak of remote mountain Nemrut Dagi, colossal statues were built by a pre-Roman king. Today, only the two-metre heads remain. Cappadocia's rock-hewn dwellings, once centre of the Hittite Empire, date back millions of years. Gaze at Mount Ararat's twin peaks, where Noah's Ark is said to have rested, and Lake Van, Turkey's largest lake. The ancient eternal flames of Chimaera flicker out of the rocks near Olympos. Bring comfortable shoes to explore Gallipoli's First World War battlefields.


Cultural highlights
In winter, camel-wrestling festivals take place in Aegean villages, and summer sees traditional yağli güreş (oil wrestling) around the south coast. Istanbul enjoys year-round contemporary culture, and Babylon nightclub is home to Turkey's best fusion bands. Look out for live music events and international film festivals. Village agricultural festivals are usually accompanied by costume-clad folk dancers.
Discover
Find your perfect holiday in Istanbul
From 2860 hotels.