15 Best Shopping Experiences in Phuket
Where to Shop in Phuket… and What to Buy
The best shopping experiences in Phuket range from malls to markets and a good variety of speciality shops and galleries in between. For a modern shopping experience, you simply have to look at the most popular malls in Phuket as well as the well-stocked venues where you'll certainly feel at home with their fixed prices and cool climate-controlled interiors.
For some bargain hunting, try the streets – Thai people like to 'group' their shops so if you're looking for a particular item, there'll be several shops selling them along the same strip.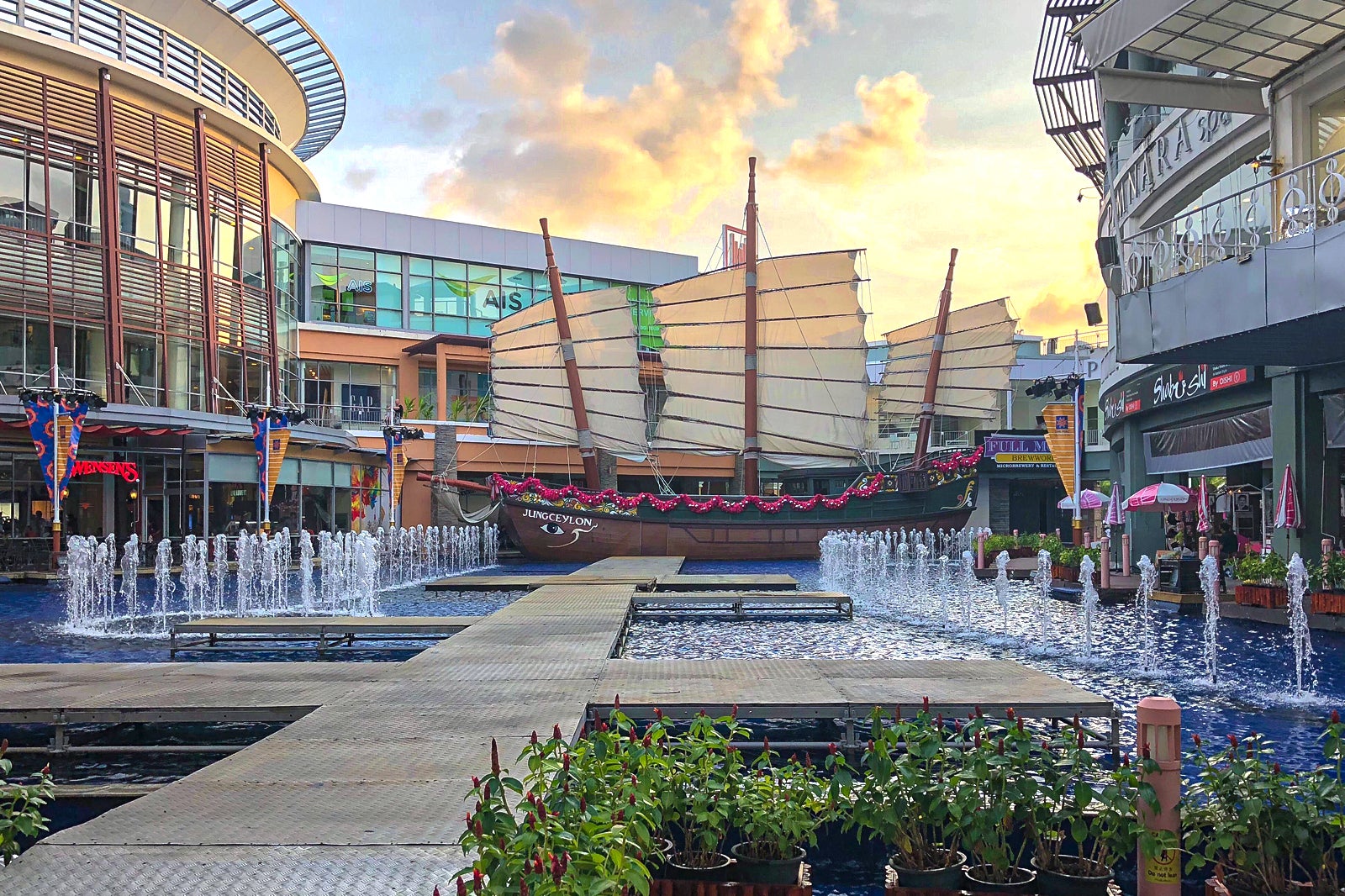 Jungceylon Shopping Mall is a modern complex diagonally opposite Bangla Road in Patong. Its 2 main tenants are Big C Extra Supermarket and Robinson, a gleaming well-lit upper-end department store. You can find over 200 outlets offering brand-name clothing items, sunglasses, cosmetics and perfumes, shoes, DVDs, and electrical goods. It's also an excellent entertainment centre, housing the SF Cinema City and the SF Strike 16-lane bowling alley. You'll find rows of restaurants, bars and coffee shops serving Thai, European, Korean, Japanese and Chinese cuisine.
Read more
Location: 181 Rat-U-Thit 200 Pee Road, Patong, Kathu, Phuket 83150, Thailand
Open: Daily from 11 am to 10 pm
Phone: +66 (0)76 600 111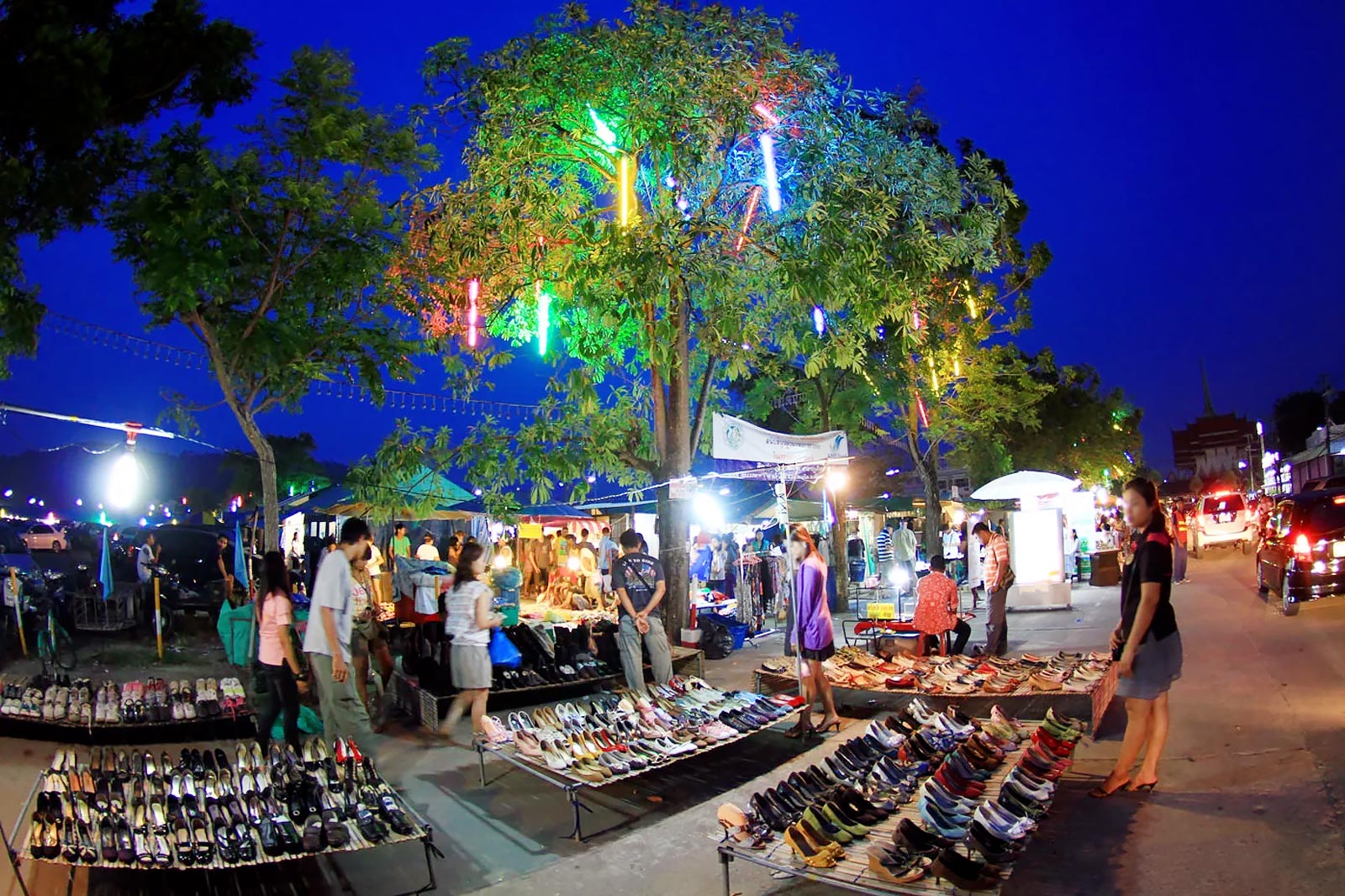 Phuket Weekend Market (known as Talad Tairod or Talad Tai Rot by locals) is a busy market that is as much a social event as a commercial one, so be prepared for lots of smiles and bartering. For sale here are jeans, T-shirts, custom jewellery, artificial flowers, DVDs, sports shoes and a lot of secondhand goods. And of course, a Thai market wouldn't be complete without lots of delicious snacks.
Read more
Location: 7 Wirat Hong Yok Rd, Phuket Town, Muang, Phuket 83000, Thailand
Open: Saturday–Sunday from 4 pm to 11 pm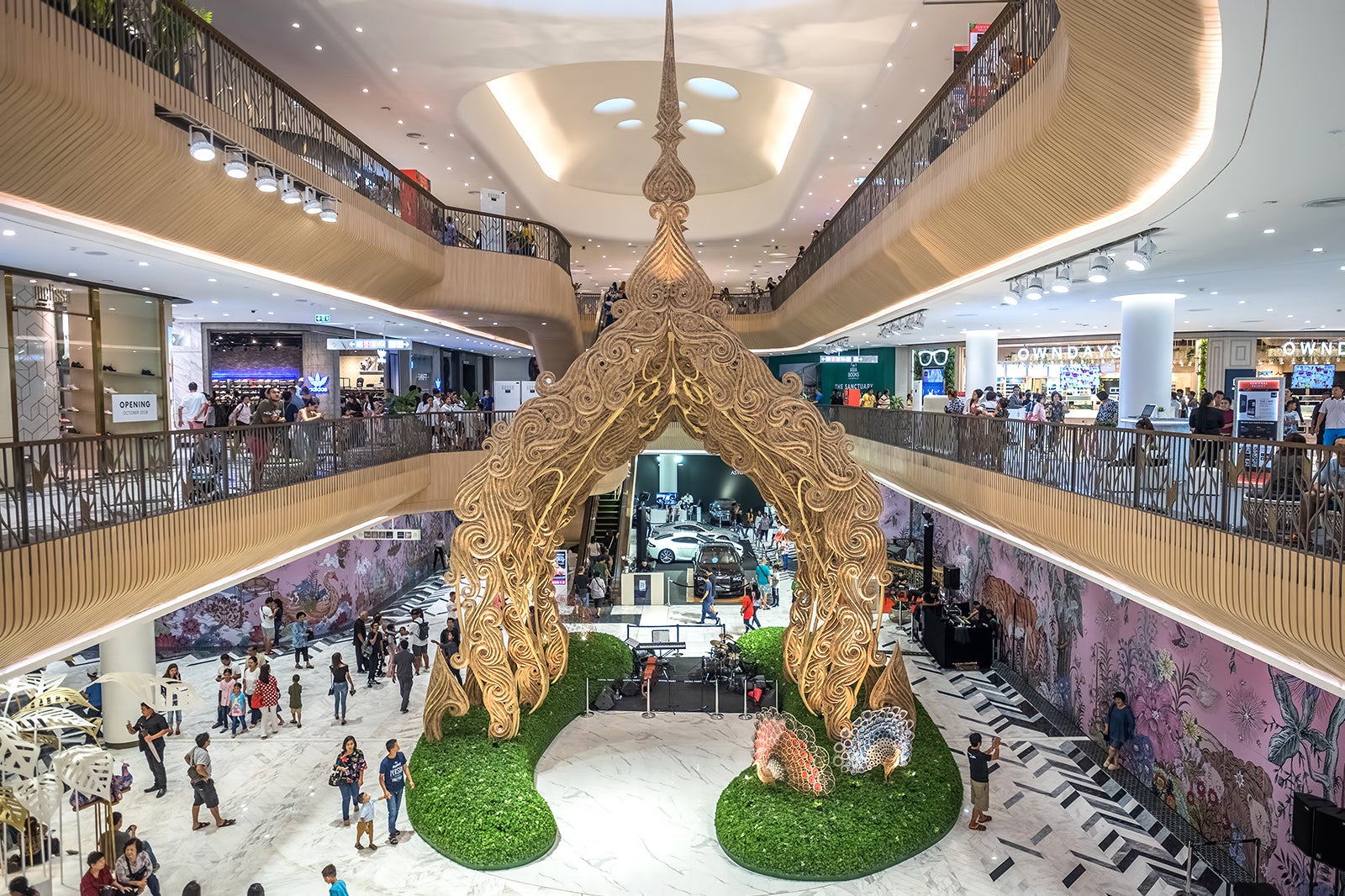 Central Festival Phuket is an air-conditioned, fully equipped shopping mall just outside Phuket Town. If you're coming from Patong, Central lies on your left, before the main crossroads as you enter Phuket.
You can find hundreds of shopping outlets at this shopping complex – products on offer come in a wide variety ranging from fashion and textiles to electronics and books. You can easily spend a whole day here, especially with its many international restaurants and entertainment options.
Read more
Location: 74, 75 Wichitsongkram Rd, Wichit, Muang, Phuket 83000, Thailand
Open: Daily from 10.30 am to 10 pm
Phone: +66 (0)76 603 333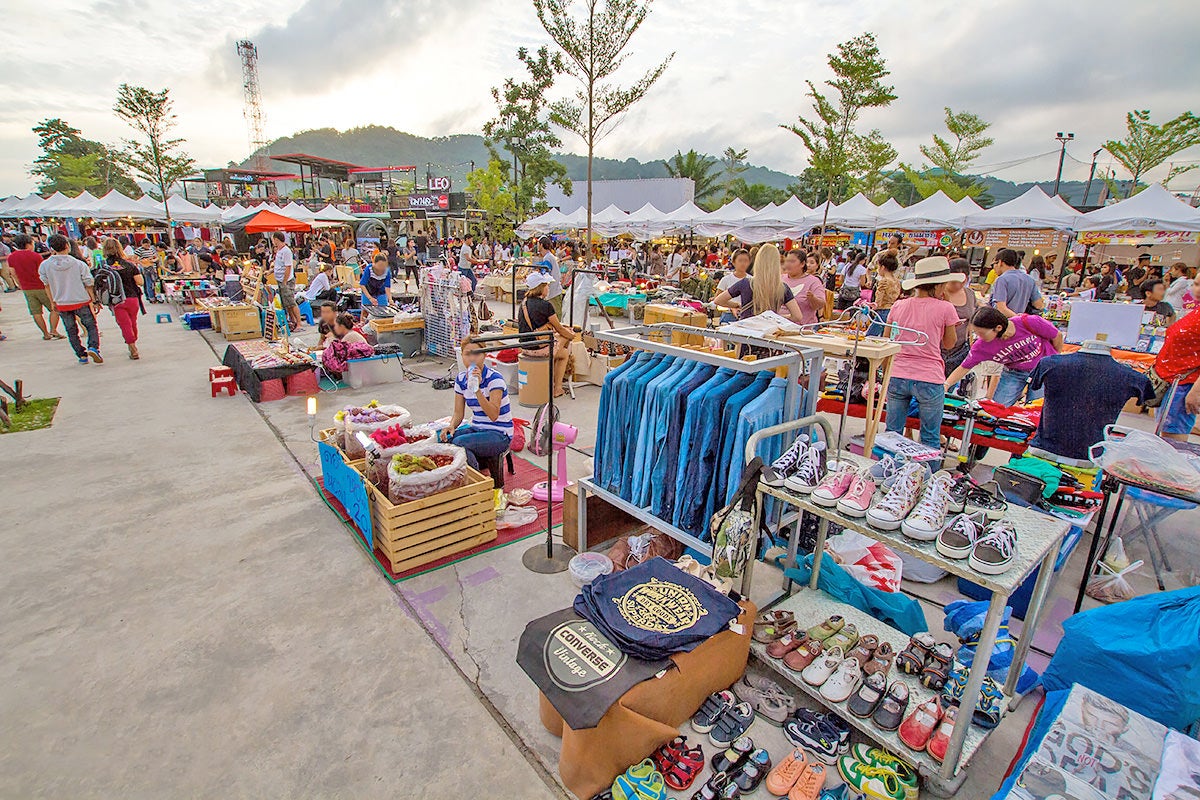 Chillva Market Phuket is a cool and trendy night market with a somewhat bohemian vibe and an impressive selection of food and fashion stalls, despite its relatively small size. Located by the side of Yaowarat Road, it has a distinctive look created by the use of colourful shipping containers as shopfronts. It also beats most night markets in Phuket thanks to its overwhelmingly local feel, with very attractive prices.
Read more
Location: Rasada, Muang, Phuket 83000, Thailand
Open: Monday–Saturday from 5 pm to 11 pm (closed on Sundays)
Phone: +66 (0)99 152 1919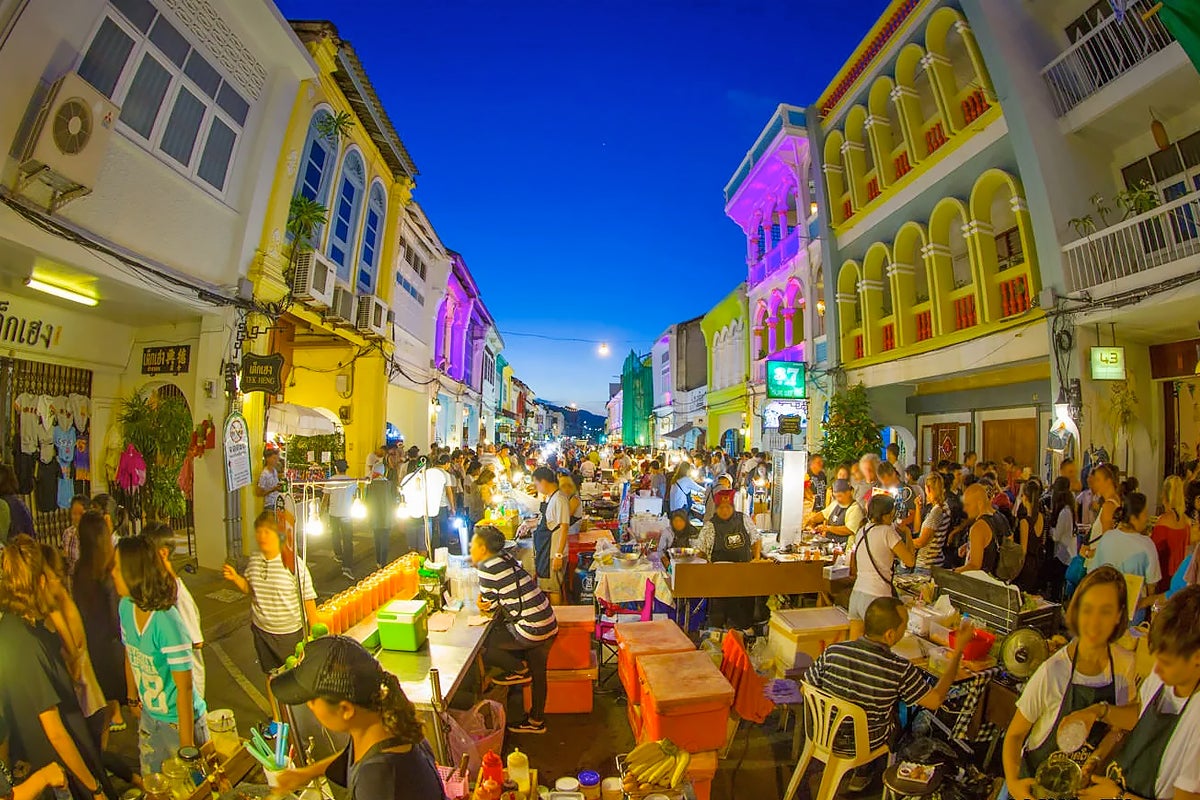 Phuket Walking Street is a night market that occupies the length of Thalang Road in Phuket Old Town on Sunday evenings. It lets you discover many southern Thai specialities as well as local handicraft and gift stalls. This weekly event is quite family-oriented, thanks to the presence of toy stalls and performances by local buskers.
Read more
Location: Thalang Road, Talat Yai, Muang, Phuket 83000, Thailand
Open: Sunday from 4 pm to 10 pm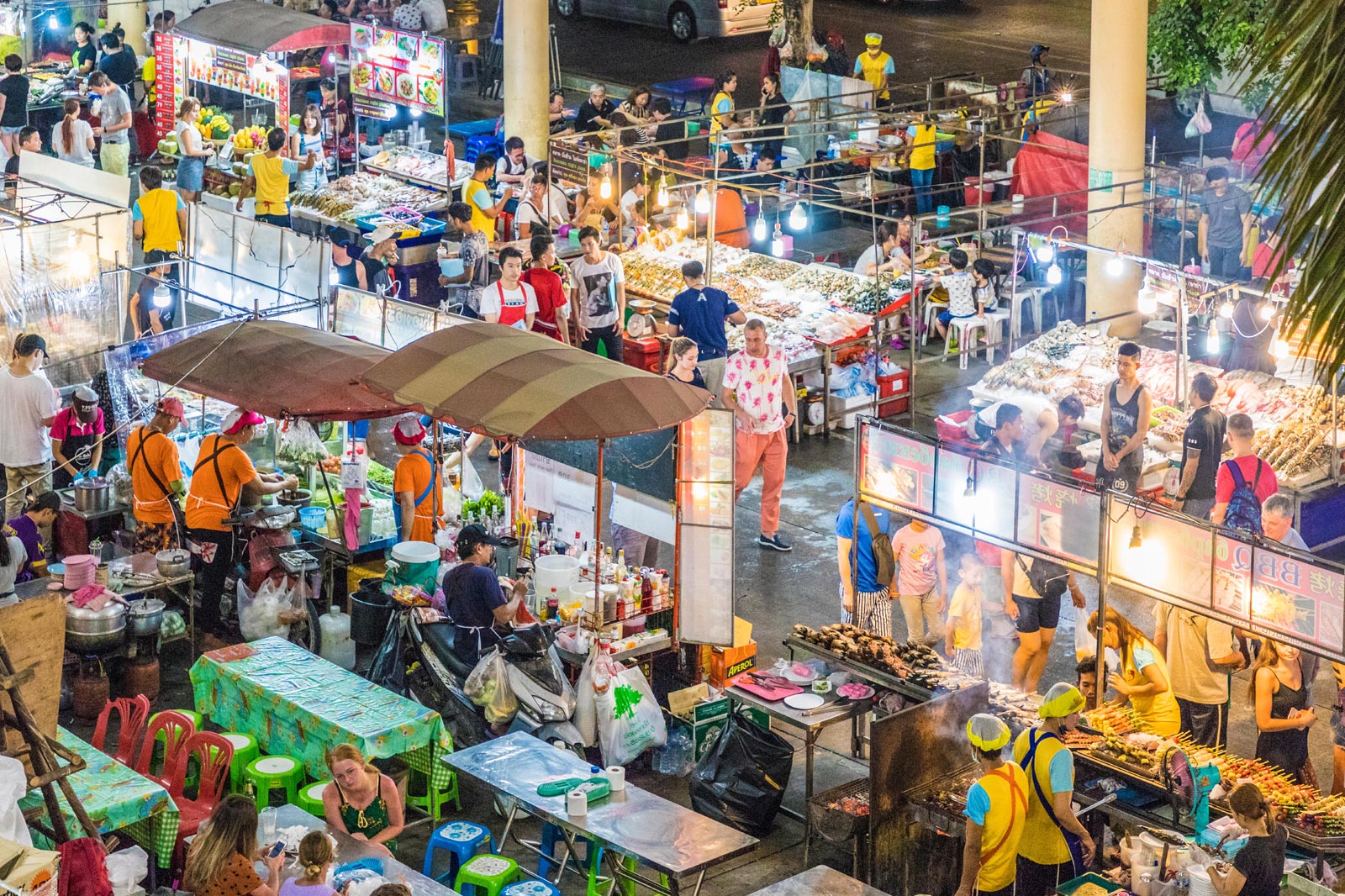 Banzaan Market in Patong is a modern-looking Thai fresh market on Nanai Road, right behind Jungceylon Shopping Mall. You can get basically anything one would expect from a local market, but in a much more pleasant environment. Goods are reasonably priced, though you'll get the lowest price by bargaining (with a smile).
Read more
Location: 181 Rat-U-Thit 200 Pee Rd, Patong Kathu, Phuket 83150, Thailand
Open: Daily from 6 am to 9 pm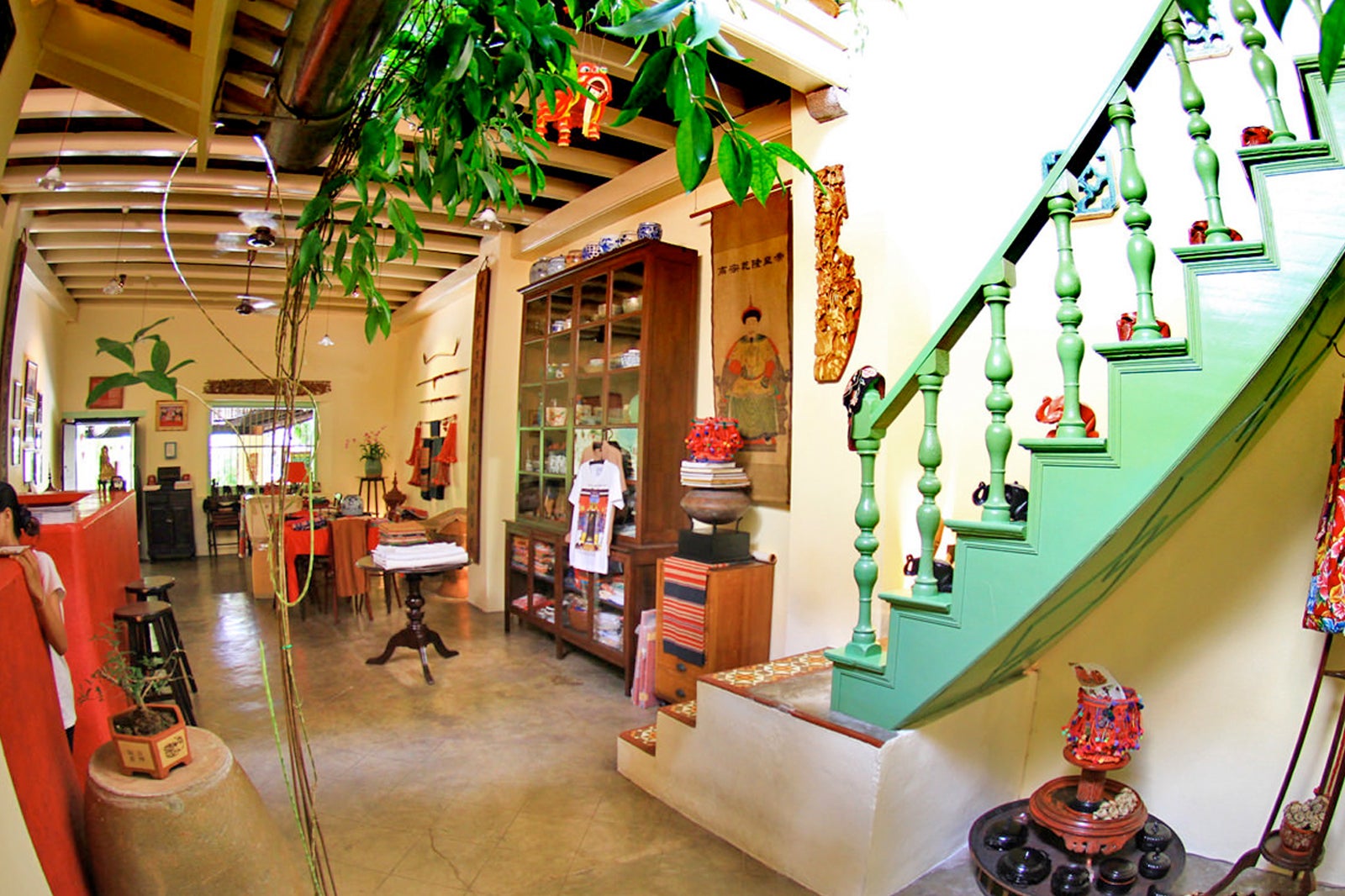 Phuket Old Town handicraft shops
Phuket's Old Town has many atmospheric handicraft stores and textile shops. Locally made handicrafts are found along the streets, especially Phang Nga and Yaowarat roads. Several artists set up studios selling a mix of classic and modern-themed works.
Location: Yaowarat Road, Rasada, Muang, Phuket 83000, Thailand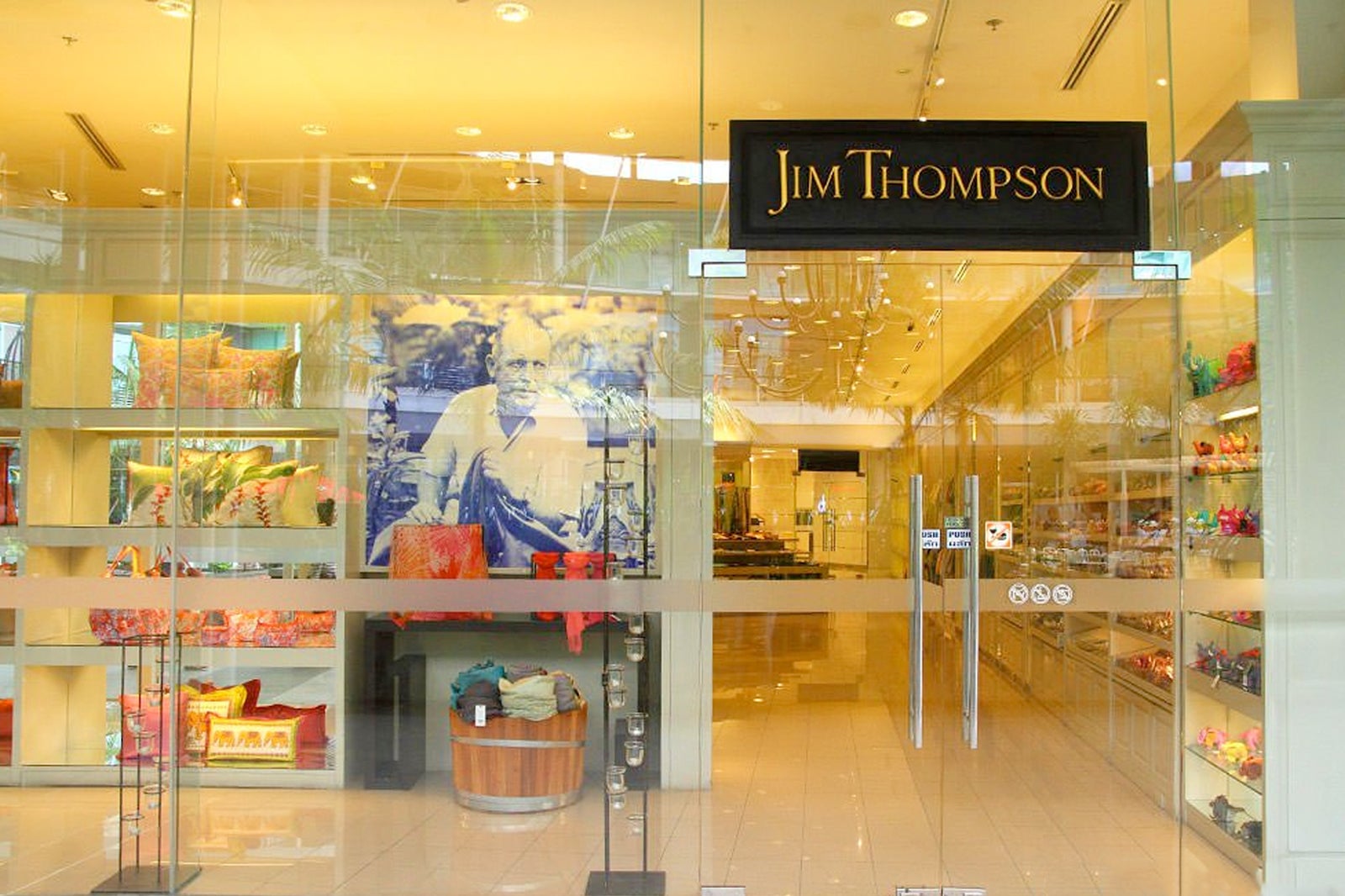 Jim Thompson is a well-known Thai textile brand, with several branches throughout the country. One of his outlets is located in Central Phuket Floresta. It occupies a large air-conditioned shop on the first floor, with attractive window displays and well-spaced cabinets. Besides silk, you can find quality linen and cotton wear, as well as knick-knacks for children and furniture.
Read more
Location: 1st Floor, Central Phuket Floresta, 199 Moo 4, Wichit, Muang, Phuket 83000, Thailand
Open: Daily from 10.30 am to 9 pm
Phone: +66 (0)76 249 616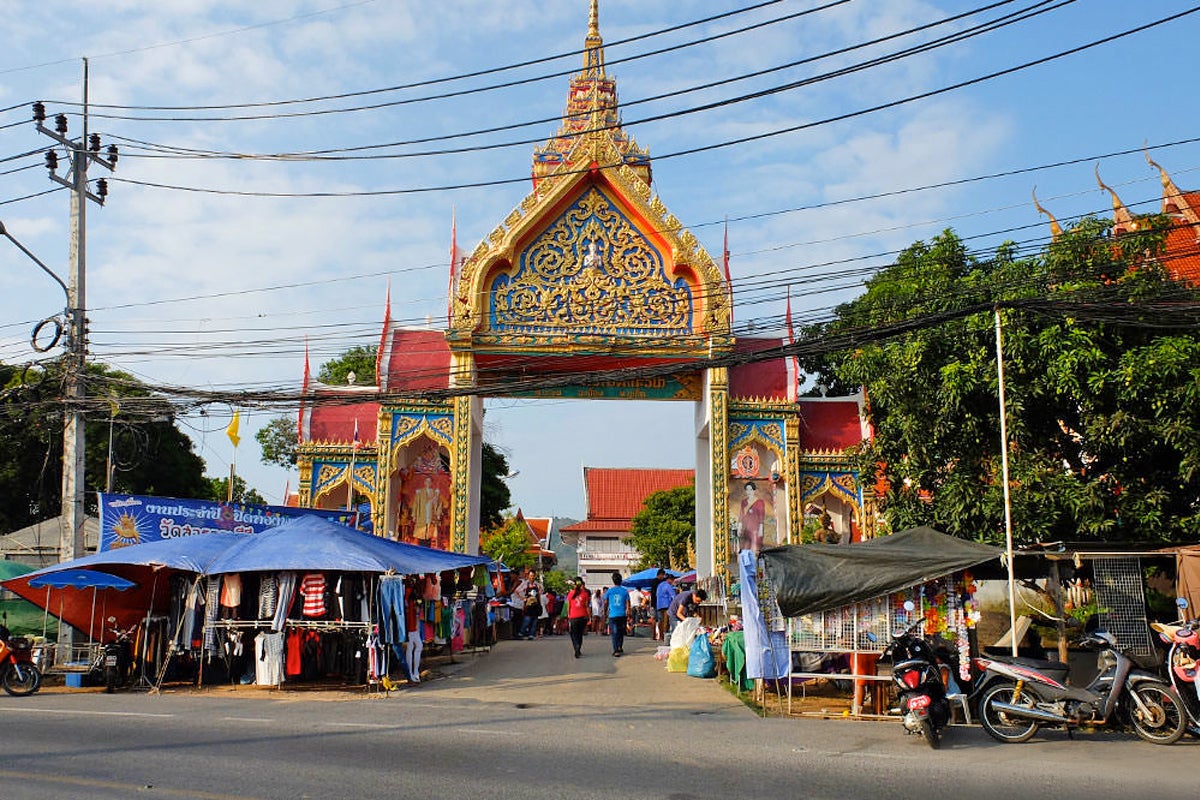 The Karon Temple Market takes place twice a week (Tuesdays and Fridays) within the temple grounds. This lively marketplace offers a great choice of products and local food, as well as give travellers a real insight into the local culture.
The range of items on display is quite tourist-oriented. Selections include fluorescent Singha Beer sleeveless T-shirts, Thai-style bags, scarves and sarongs, multi-coloured swimsuits and beachwear, flower-shaped soap carvings, Muay Thai (Thai boxing) shorts, watches, handbags and cheap jewellery.
Read more
Location: Wat Karon, Patak Road, Karon, Muang, Phuket 83100, Thailand
Open: Tuesday from 4 pm to 9 pm, Friday from 4 pm to 11 pm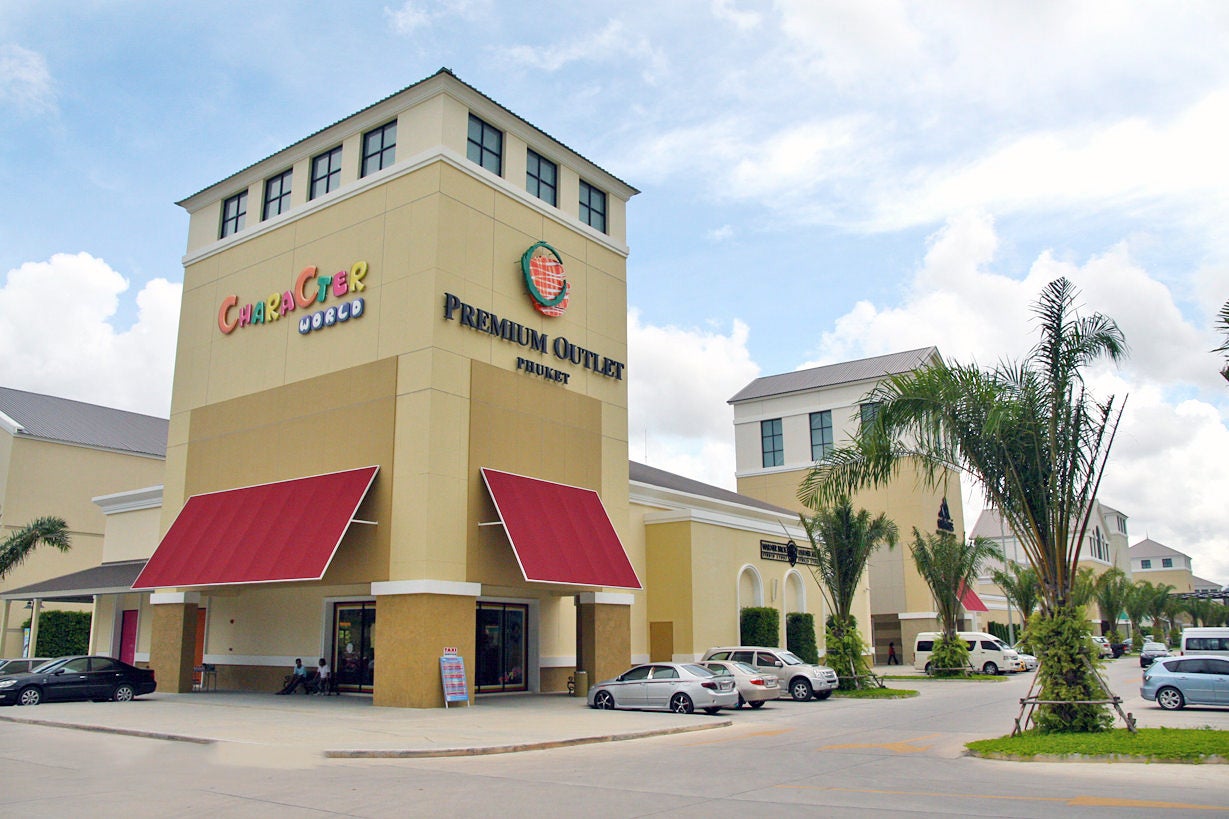 Premium Outlet Phuket deals in authentic brand-name clothing and sports accessories at bargain prices. Apart from Thai brands, articles on sale include the likes of Lacoste, Guy Laroche, Hush Puppies, Warner Bros, Pierre Cardin, Van Heusen, Levi's, Lee, Nautica, Adidas and Nike. You can enjoy discounts of up to 70% at many of the stores.
Read more
Location: 888/1 Moo 2 Koh Gaew, Muang, Phuket, 83000, Thailand
Open: Daily from 10 am to 9 pm
Phone: +66 (0)76 350 500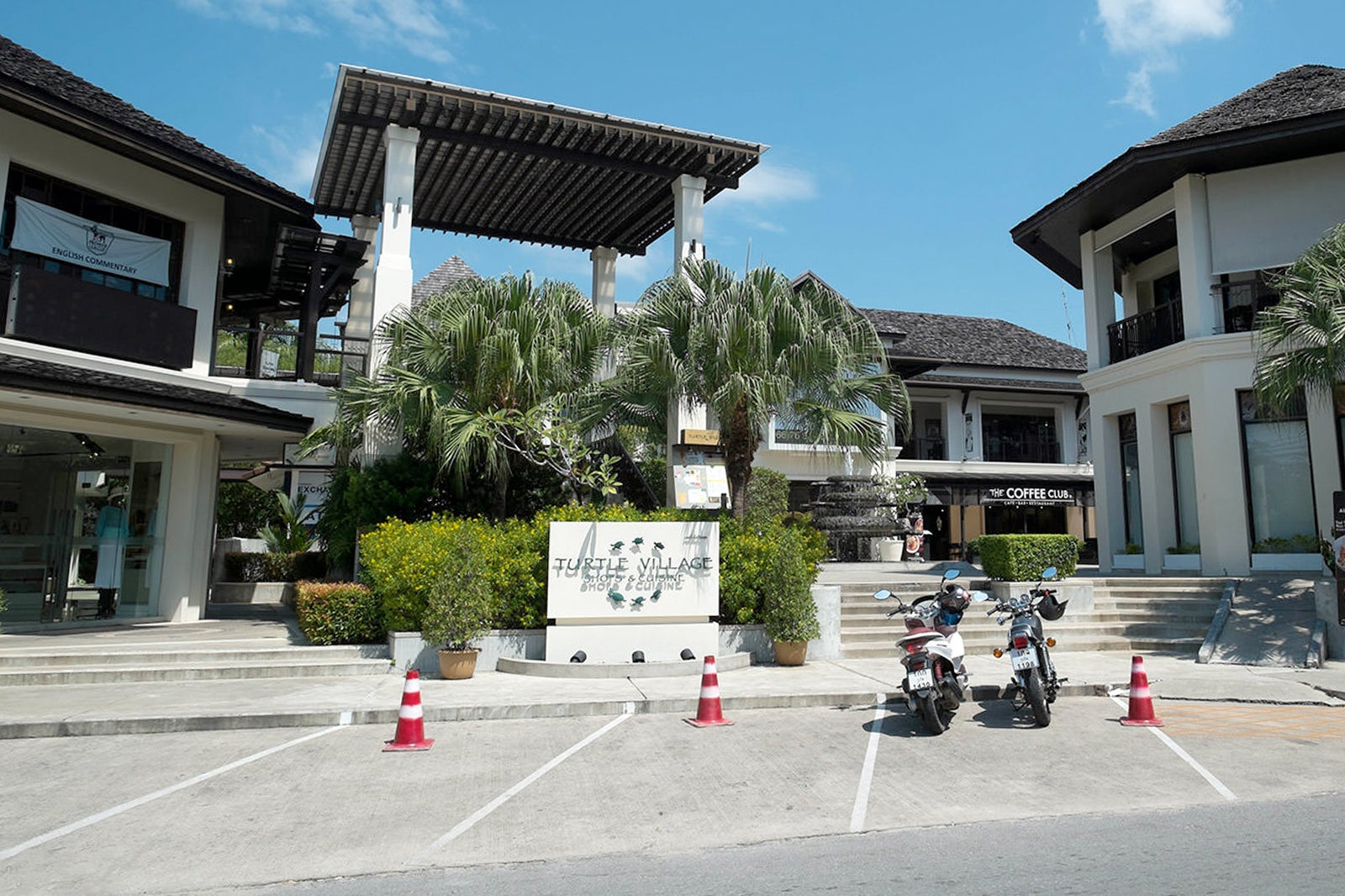 Turtle Village is a short walk from Anantara Resort and Marriott's Mai Khao Beach. This uniquely designed 'village' has 2 levels that cover 3,000 square metres of retail space. Here, you can find gifts, Thai souvenirs and clothing selections as well as plenty of dining options.
It's quite convenient to have this shopping and dining complex in such a secluded part of Phuket. Even so, the prices are typically on the higher side compared to similar goods sold elsewhere on the island.
Read more
Location: 889 Moo 3, Mai Kao, Thalang, Phuket 83110, Thailand
Open: Daily from 10 am to 11 pm
Phone: +66 (0)76 314 899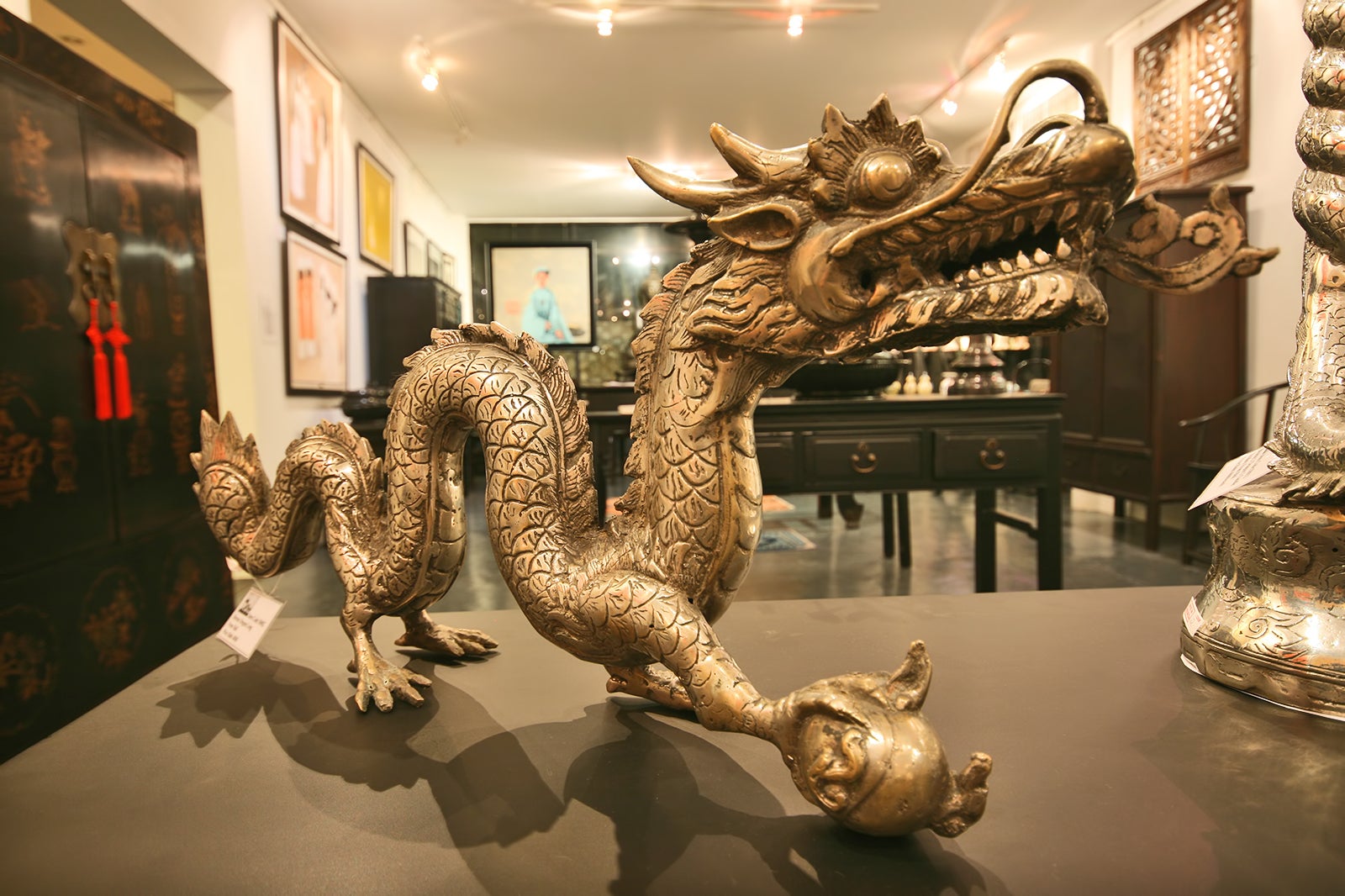 Soul of Asia showcases master paintings and antiques as well as exclusive interior decor. Located in the centre of Phuket Town, the shop was converted from 2 old Chinese shophouses into a gallery space covering over 700 square metres.
The unique gallery has many Asian art and antique items, Chinese antique furniture, antique rugs and exquisite porcelain ceramics. You can also find exclusive jewellery pieces and a collection of marine shell products.
Location: 5/50 Moo 3, Cherngtalay, Thalang, Phuket 83110, Thailand
Phone: +66 (0)76 271 629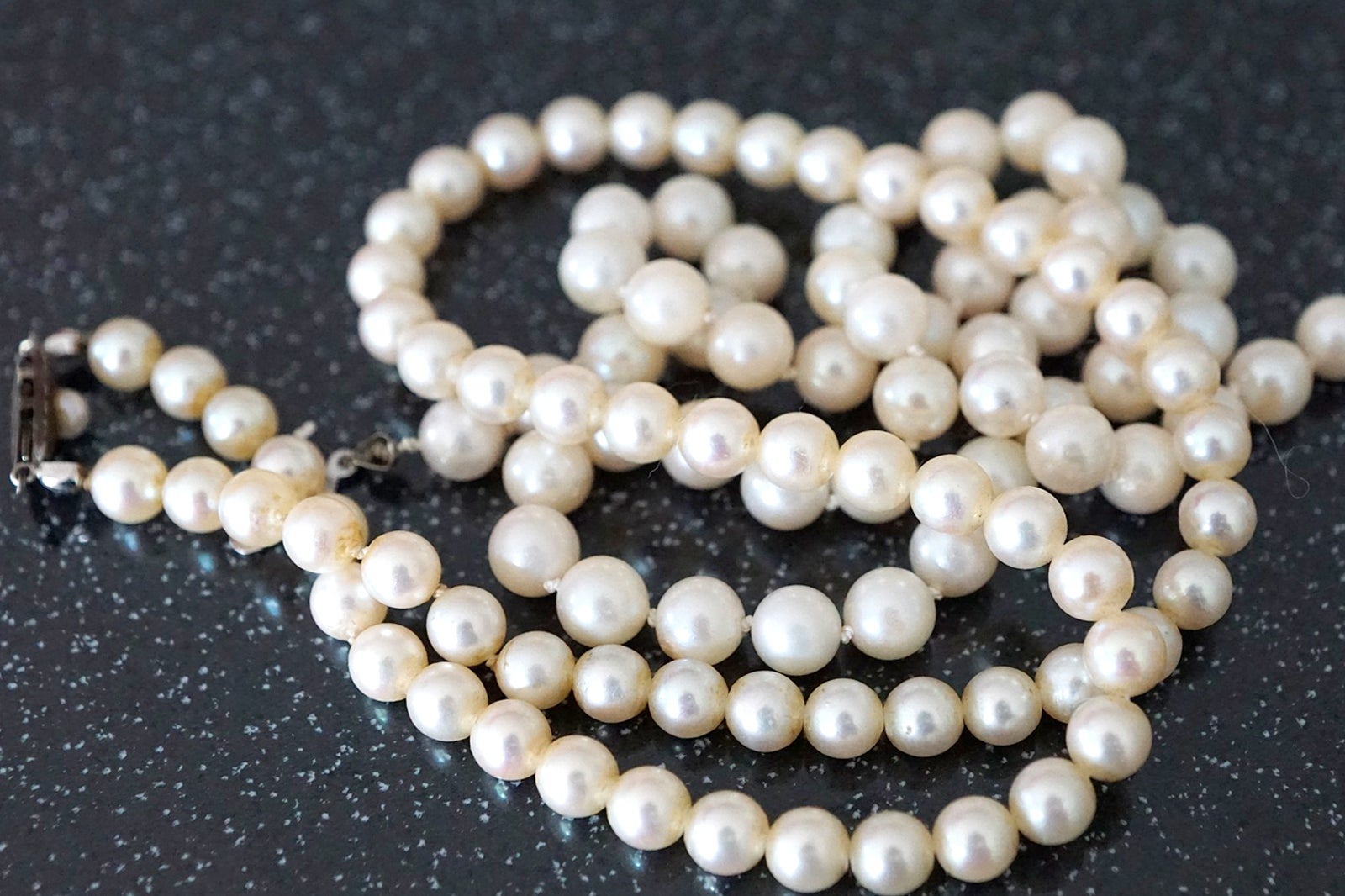 Chan's Antique House is a well-established family enterprise that's been in the business for decades. The family personally selects quality antiquities from Burma, Laos, Cambodia and Thailand and searches for only the finest in craftsmanship.
You can find wooden, bronze, marble and stoneware Buddha images, along with a large selection of lacquerware, furniture and decorative art objects. A variety of replicated pieces are also available in a separate section of this expansive showroom. For your convenience, Chan's Antique House can have your acquisitions professionally packed and shipped worldwide.
Location: Highway 402, Muang, Phuket 83000, Thailand
Open: Monday–Saturday from 9 am to 5 pm (closed on Sundays)
Phone: +66 (0)76 261 416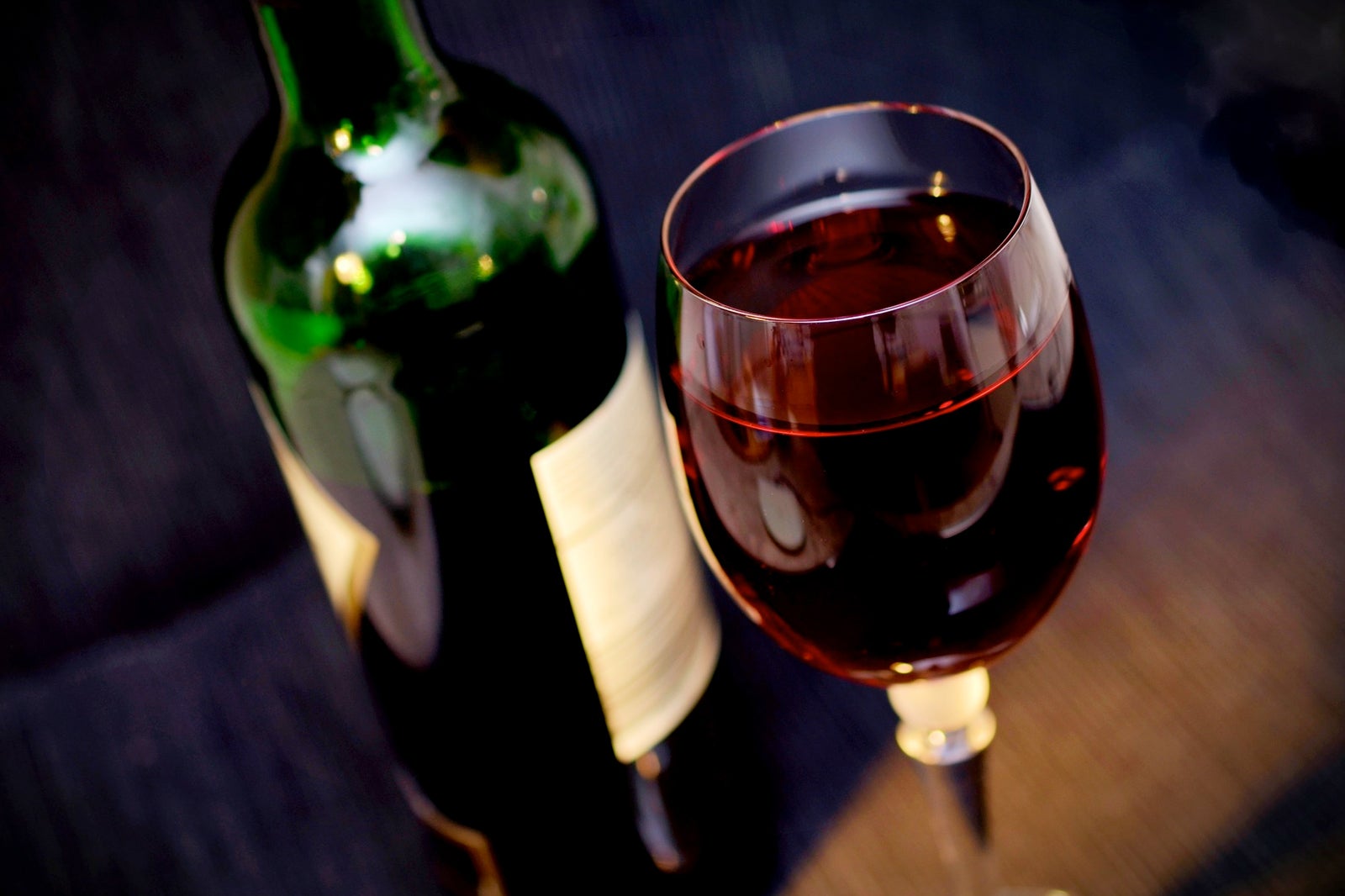 Wine Collection sources their items directly from the importer, ensuring an excellent assortment of wines at wholesale prices. You can choose from well over 200 exclusive labels from all over the world.
Shopowner Michael often visits most of the vineyards himself, choosing top quality bottles and following through with watchful eyes for proper storage and shipping to their 4 shops in Thailand.
Location: 19/60-61 Moo 8, Chaofa Road, Chalong, Muang, Phuket 83130, Thailand
Open: Daily from 8 am to 10.30 pm
Phone: +66 (0)76 282 411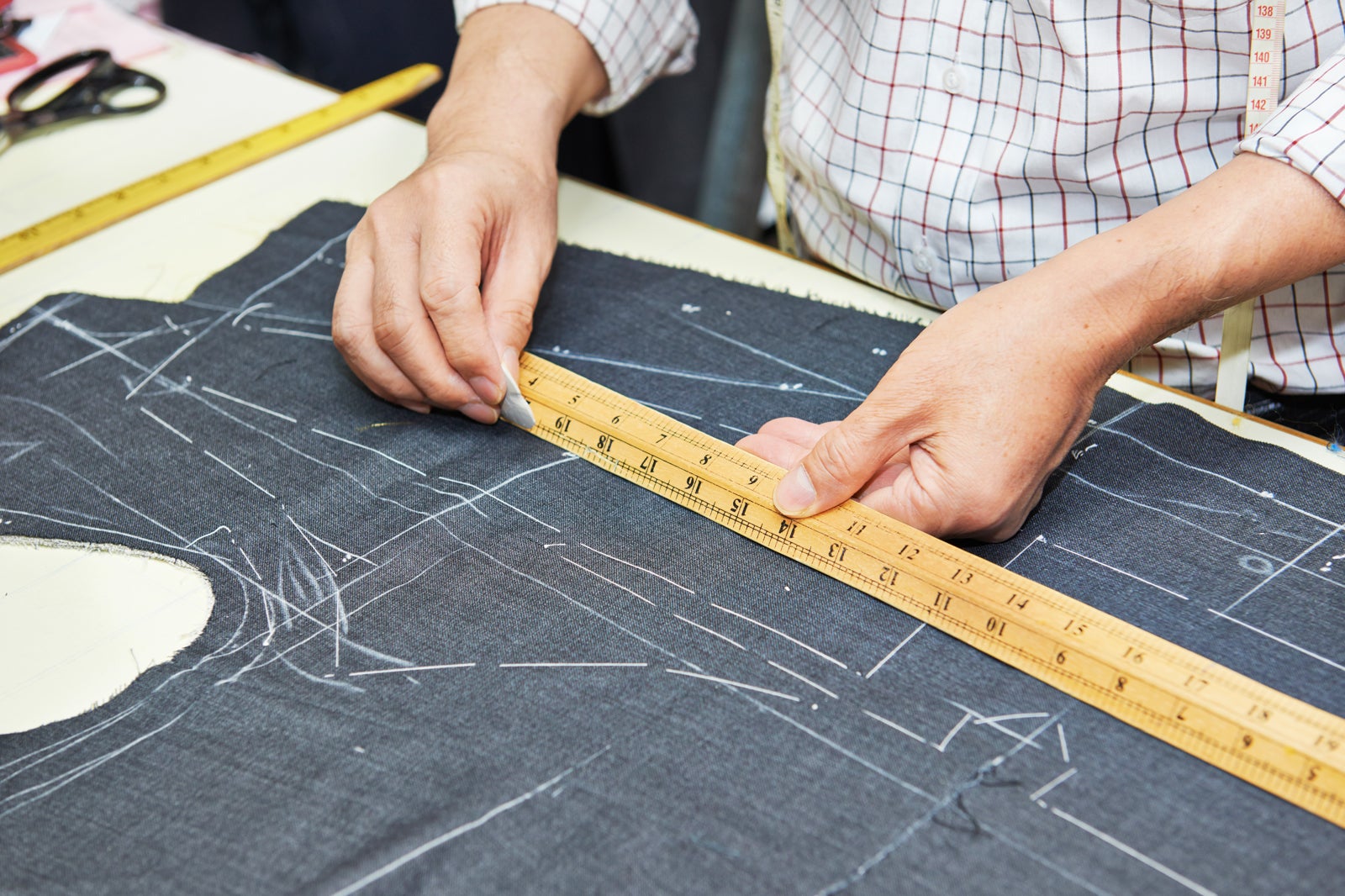 Peach Thai Tailor offers personal service and friendly advice with no pressure, making it a popular spot for those looking to be fitted with tailored clothing in Phuket. Mr Jaroon and his family have over several decades of tailoring experience, yet their designs for men's shirts, trousers and jackets follow the latest European fashion trends. You can also call to ask about their free transportation services.
Location: 6/1 Siriraj Road, Patong, Kathu, Phuket 83150, Thailand
Open: Monday–Saturday from 8.30 am to 6 pm (closed on Sundays)
Phone: +66 (0)81 892 4126