10 Things to Do in Kaohsiung on a Small Budget
Holidays in Kaohsiung Don't Have to Be Expensive
Holidays in Kaohsiung can be very affordable, as the city's many natural spaces and historical landmarks are free to explore. If you want to experience culture and history, Confucius Temple, the Fengyi Academy, and the British Consulate are over 100 years old.
Explore the countryside to enjoy a timeless part of South Taiwan. You can have a picnic by Chengcing Lake or enjoy a stroll in the Maolin National Park Purple Butterfly Valley. The Old Railroad Bridge Education Wetland Zone offers environmental tours. Check out our guide to the best things to do in Kaohsiung on a small budget.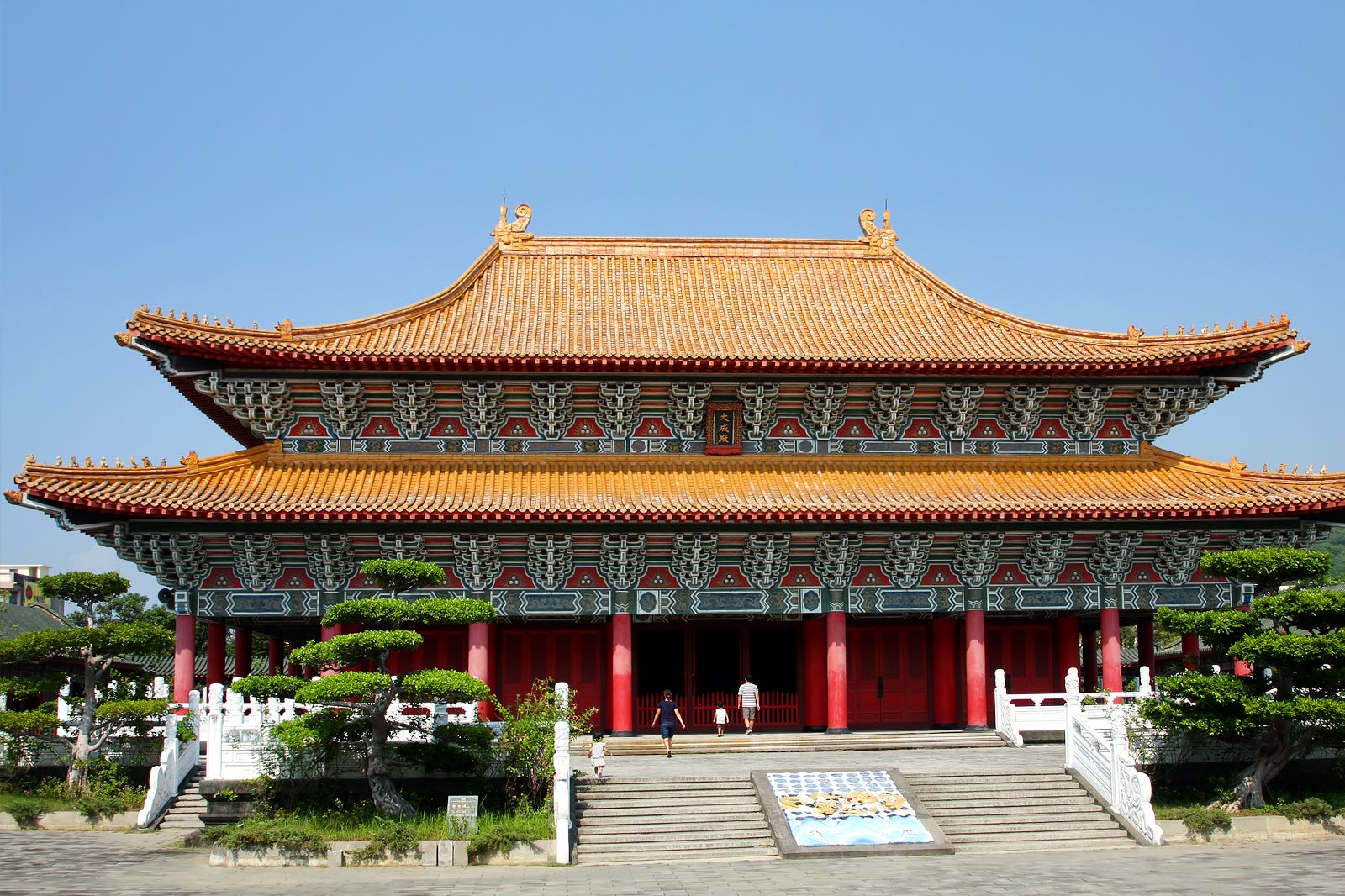 Confucius Temple is located outside the north gate of Zuoying Old City, about 700 metres north of Lianchi Pond. Taiwan's largest Confucian temple dates back to 1684 AD (the 23rd year of Kangxi in the Qing Dynasty) but has been rebuilt many times over the years.
You can also visit free permanent exhibitions related to the Confucius Temple and the Chinese philosopher, including ancient ritual instruments and musical instruments. The temple also has a Chinese-western coffee shop, where you can sample tea and take a quiet rest in the middle of the city. Many students usually come to Confucius Temple to pray before exams.
Location: No. 400, Liantan Road, Zuoying District, Kaohsiung City, Taiwan 81351
Open: Tuesday–Sunday from 9 am to 5 pm (closed on Mondays)
Phone: +886 (0)7 588 0023
photo by AngMoKio (CC BY-SA 3.0) modified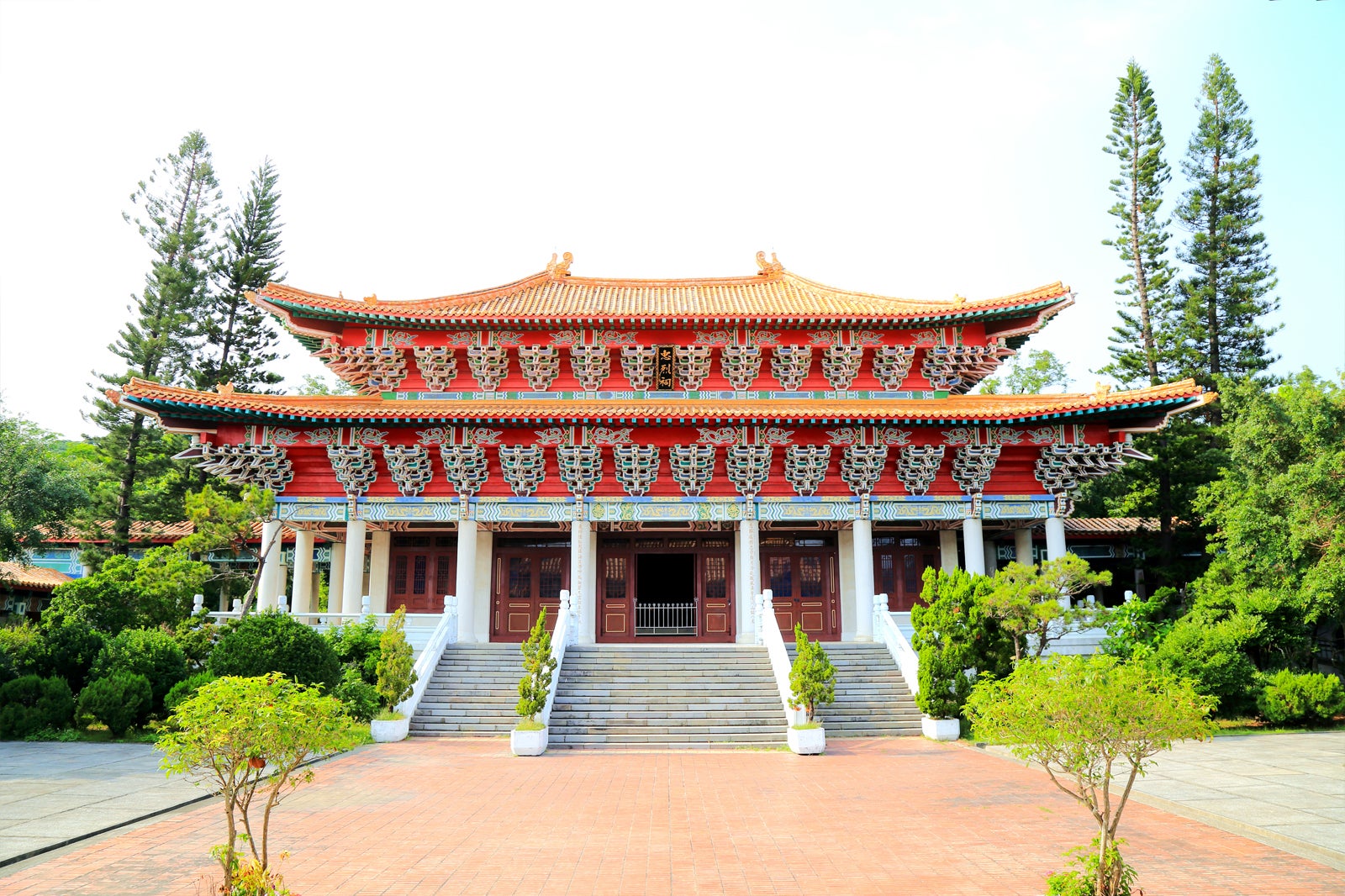 Martyrs' Shrine, located on the Shoushan mountainside, is a refurbished landmark built during the Japanese era. While its traditional palace-style mountain gate, main hall, and cloister are added during the 1970s, some remains of the stone lanterns have been retained so you can see the stylistic evolution over history.
Pines and cypresses surround the shrine, resulting in a peaceful and cool atmosphere. All of Gushan, Cijin, Kaohsiung City, and Kaohsiung Port, as well as 85 Sky Tower, can be seen from Martyrs' Shrine. It's a great place to see the mountain and sea landscape within a convenient distance from Kaohsiung.
Location: No. 30, Zhongyi Road, Gushan District, Kaohsiung City, Taiwan 80441
Open: Daily from 8 am to 5 pm
Phone: +886 (0)7 521 0368
photo by Legolas1024 (CC BY-SA 4.0) modified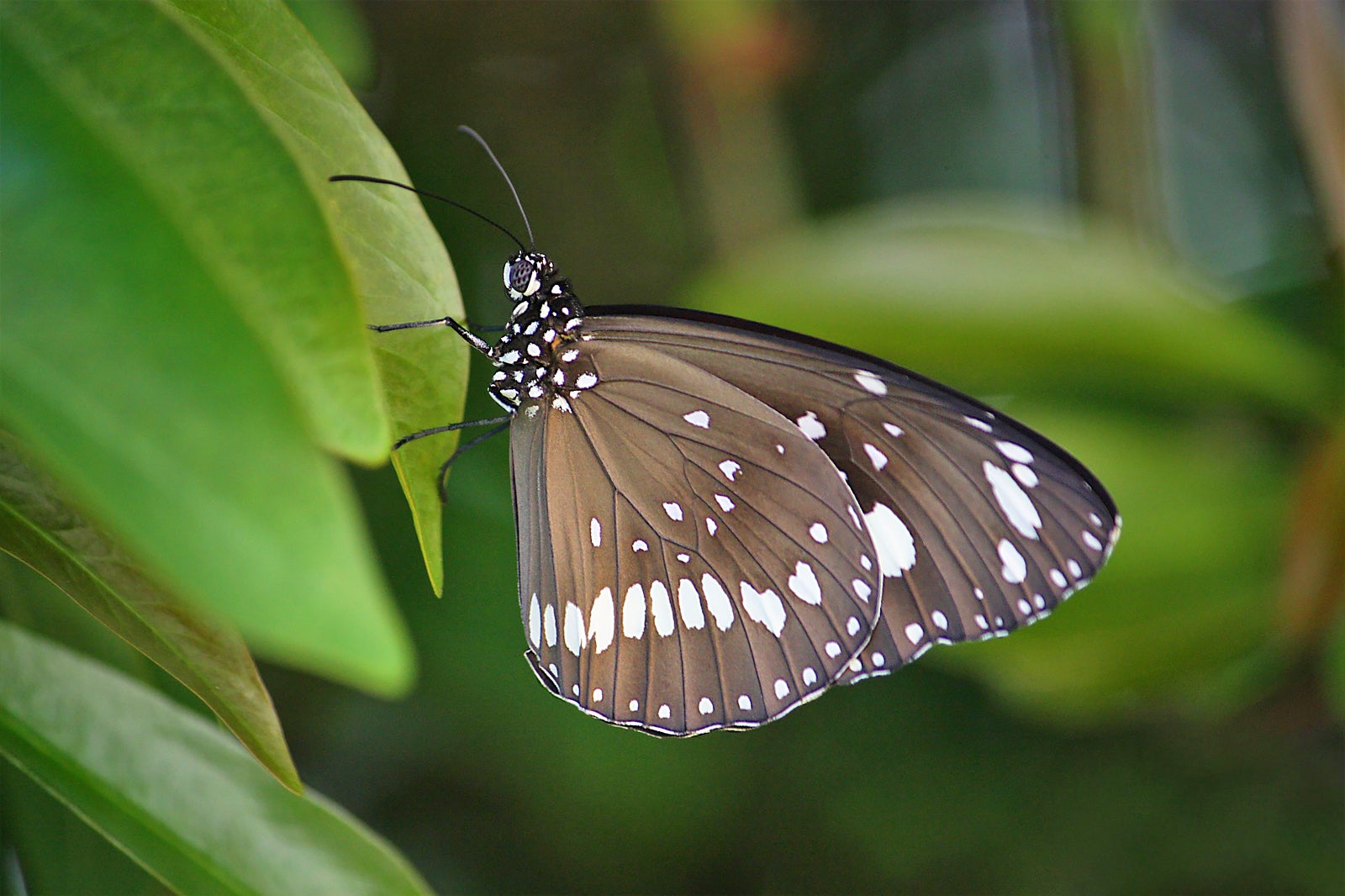 Purple Butterfly Valley is an ecological phenomenon that occurs in Maolin National Park, in which butterflies gather during winter (November–March). Around 1 million of purple butterflies collectively migrate from northern Taiwan to the warm south, coming to the sacred mountains of the indigenous Rukai and Paiwan tribes.
As these creatures fly into Maolin National Park, they forming a spectacular "butterfly wintering valley" similar to Mexico's Monarch Butterfly Valley. You can visit Purple Butterfly Valley for free – the butterflies are often floating about, looking for flowers and drinking from puddles.
Location: No. 171, Xinwei, Xinweili, Liugui District, Kaohsiung City, Taiwan 84442
Open: Daily from 8.30 am to 5.30 pm
4
Shoushan National Nature Park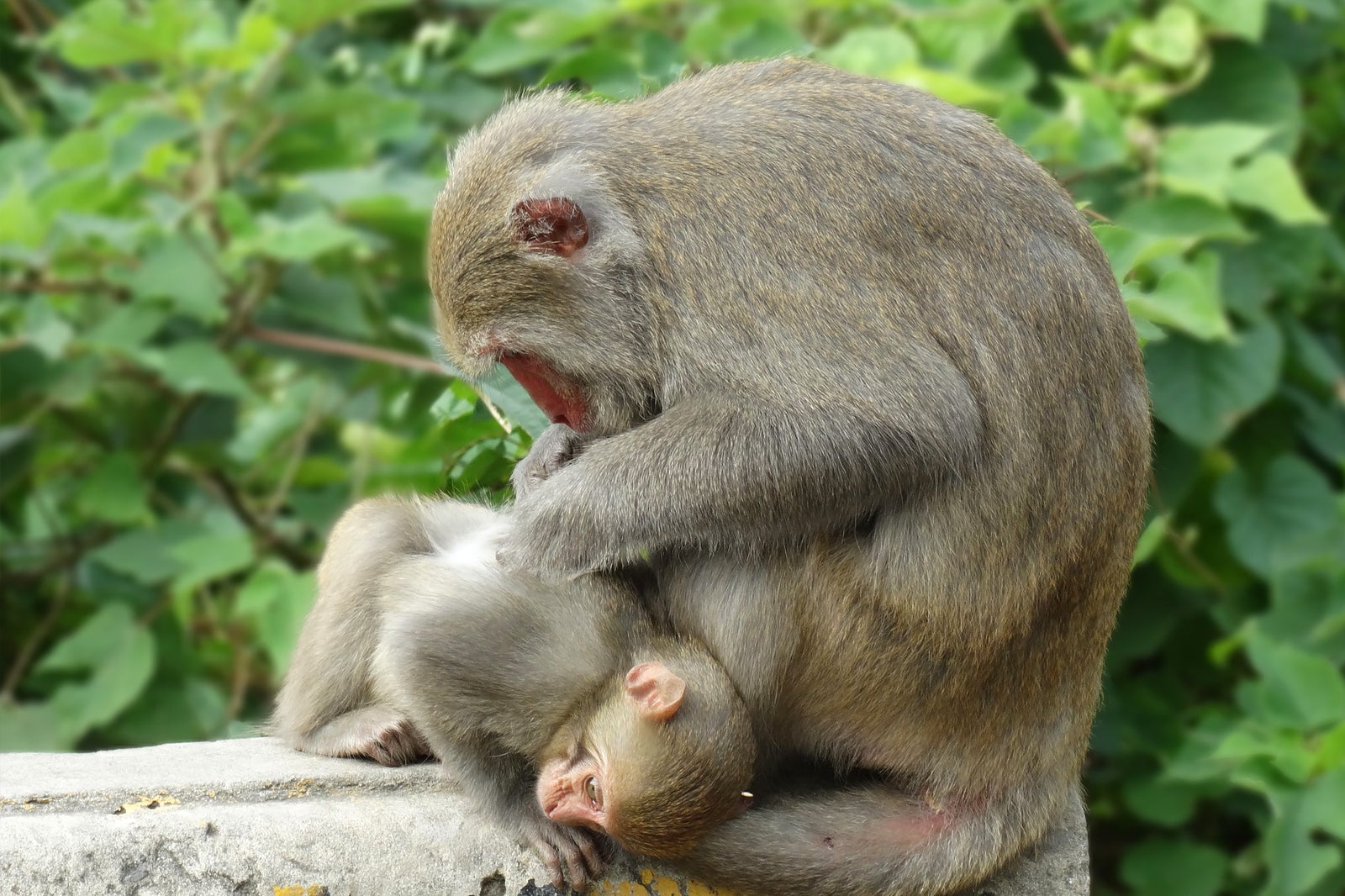 The Shoushan National Natural Park is home to many untouched spots and exotic wildlife. Tianyu Cave is one of the most famous and accessible limestone caves in the park – after squeezing through its narrow entrance, you'll be treated to unique stalactites and stalagmites. If you follow the trail from the exit of Tianyu Cave, you will soon see Dreams Links, which has massive aerial roots of purple princess plants dangling down from above like a curtain of beads.
The southern part of Shoushan National Natural Park has many hidden natural wonders, including Shaonu Mountain and Jiulong Banyan. Make sure to plan your route before exploring the mountain. It's a good idea to bring a torch when making your way through Tianyu Cave.
Location: Shoushan National Nature Park, Gushan District, Kaohsiung City, Taiwan
Phone: +886 (0)7 522 1010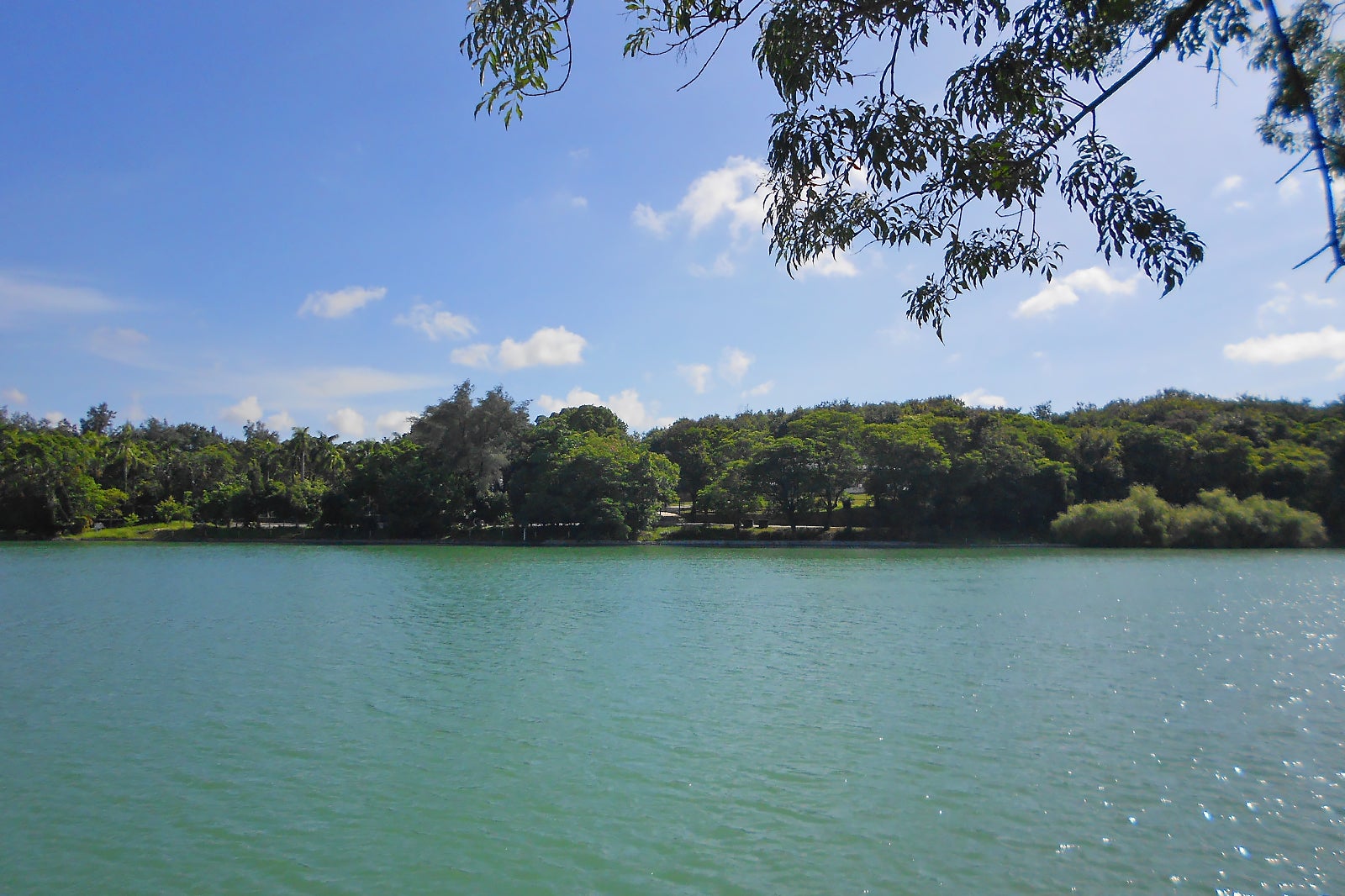 Chengcing Lake is a scenic recreation area that was used for farmland irrigation as early as the Japanese era. To this day, it's still one of Kaohsiung's most important water sources. Thanks to its excellent lake and mountain scenery, quiet environment, and emphasis on forest cultivation, the area is very popular for locals looking to unwind.
Barbecue facilities can be found throughout the park, though they require a small cleaning fee to use. The lush greenery and vast fields here are suitable for picnics when the weather is good. You can also tour Chengcing Lake by bicycle.
Location: Chengcing Lake, Niaosong District, Kaohsiung City, Taiwan 833
Open: Tuesday–Sunday from 6 am to 9 pm (closed on Mondays)
photo by Surmoer (CC BY-SA 3.0) modified
6
The British Consulate at Takow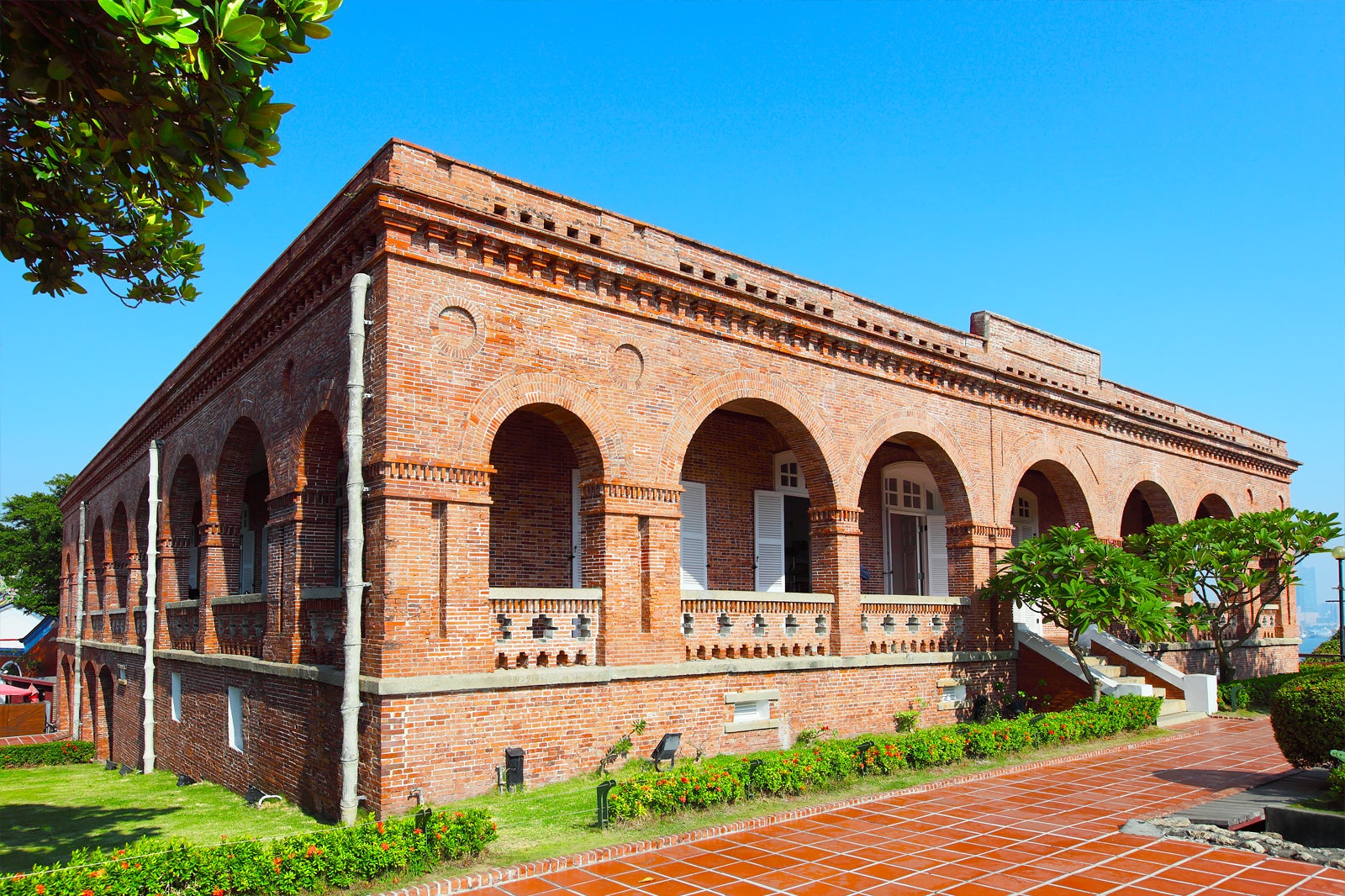 The British Consulate at Takow is at the peak of Shaochuantou in Kaohsiung. Established in 1879, the building has been restored several times before it was eventually merged into a cultural park. It is the only complete British consulate in Taiwan, featuring an official residence, road and office. Inside the consulate area, wax figures depict the daily life and port activities in Takao during the late-19th century.
There's also a museum showcasing wax models of British consuls negotiating with Qing Dynasty officials. The ancient road connecting the consulate with the official residence is paved with granite, coral stone, and red brick. You can enjoy a colonial atmosphere while strolling along the wharf promenade.
Location: No. 20 Lianhai Road, Gushan District, Kaohsiung City, Taiwan 80441
Open: Daily from 9 am to 7 pm
Phone: +886 (0)7 525 0100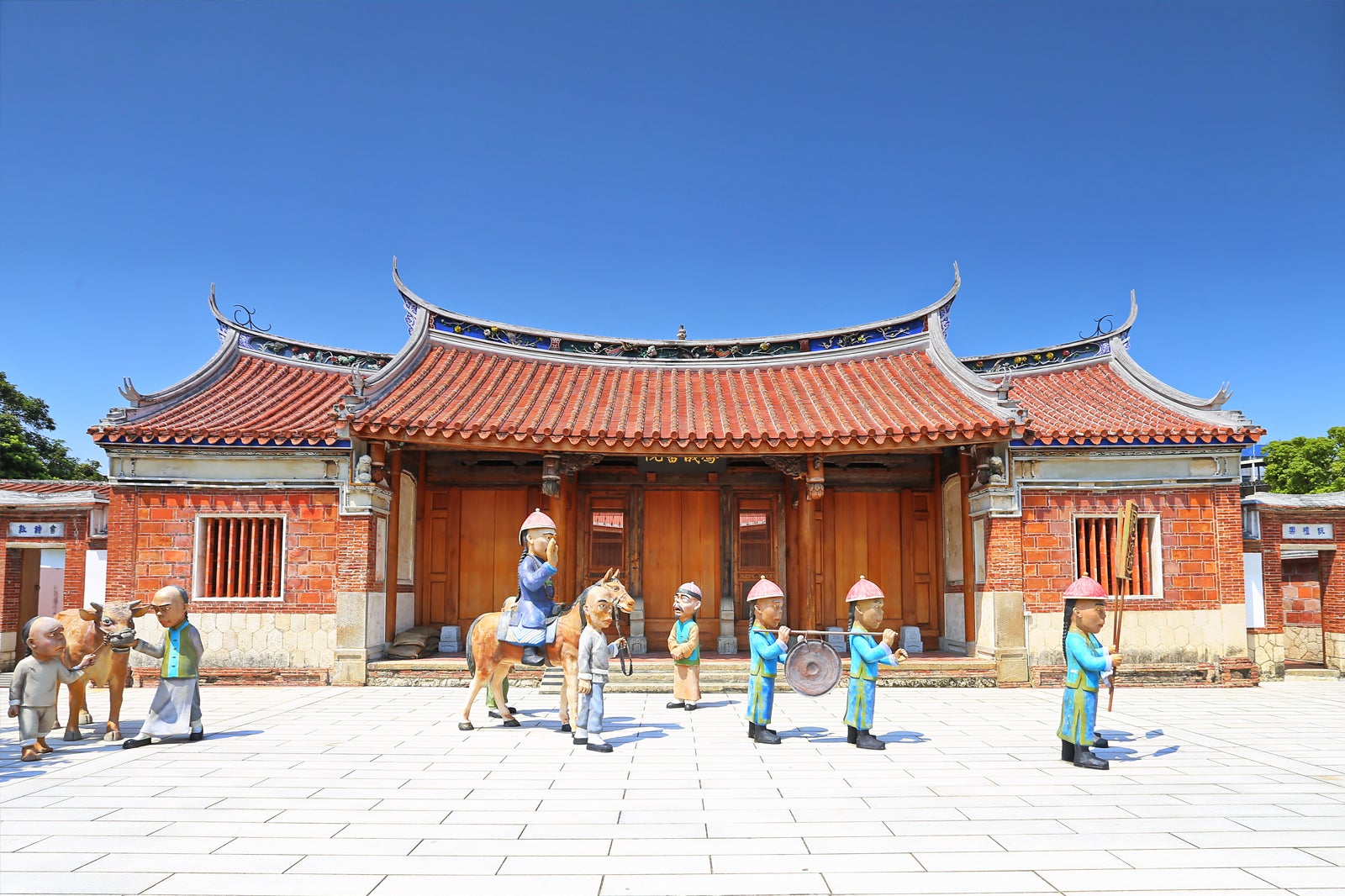 Fongyi Tutorial Academy, registered as a Grade III monument in 1985, is Taiwan's largest and fully-preserved college from the Qing Dynasty. Since its establishment in 1814 (the 19th year of Jiaqing), it has undergone several renovations. A blessing/opening ceremony took place in 2014 to restore the ceremonial function of the Wenchang Temple in the courtyard before it was officially opened to the public.
Entertaining cute portraits are set up around the park, showing the activities in the academy in those years. The Fengshan History Museum presents a 3D model of Fengshan City in the 1890s, as well as many ancient and modern maps and original building components.
Location: No. 62 Fengming Street, Fengshan District, Kaohsiung City, Taiwan 83064
Open: Tuesday–Friday from 10.30 am to 5.30 pm, Saturday–Sunday from 10.30 am to 6.30 pm (closed on Mondays)
Phone: +886 (0)7 740 5362
photo by Mk2010 (CC BY-SA 4.0) modified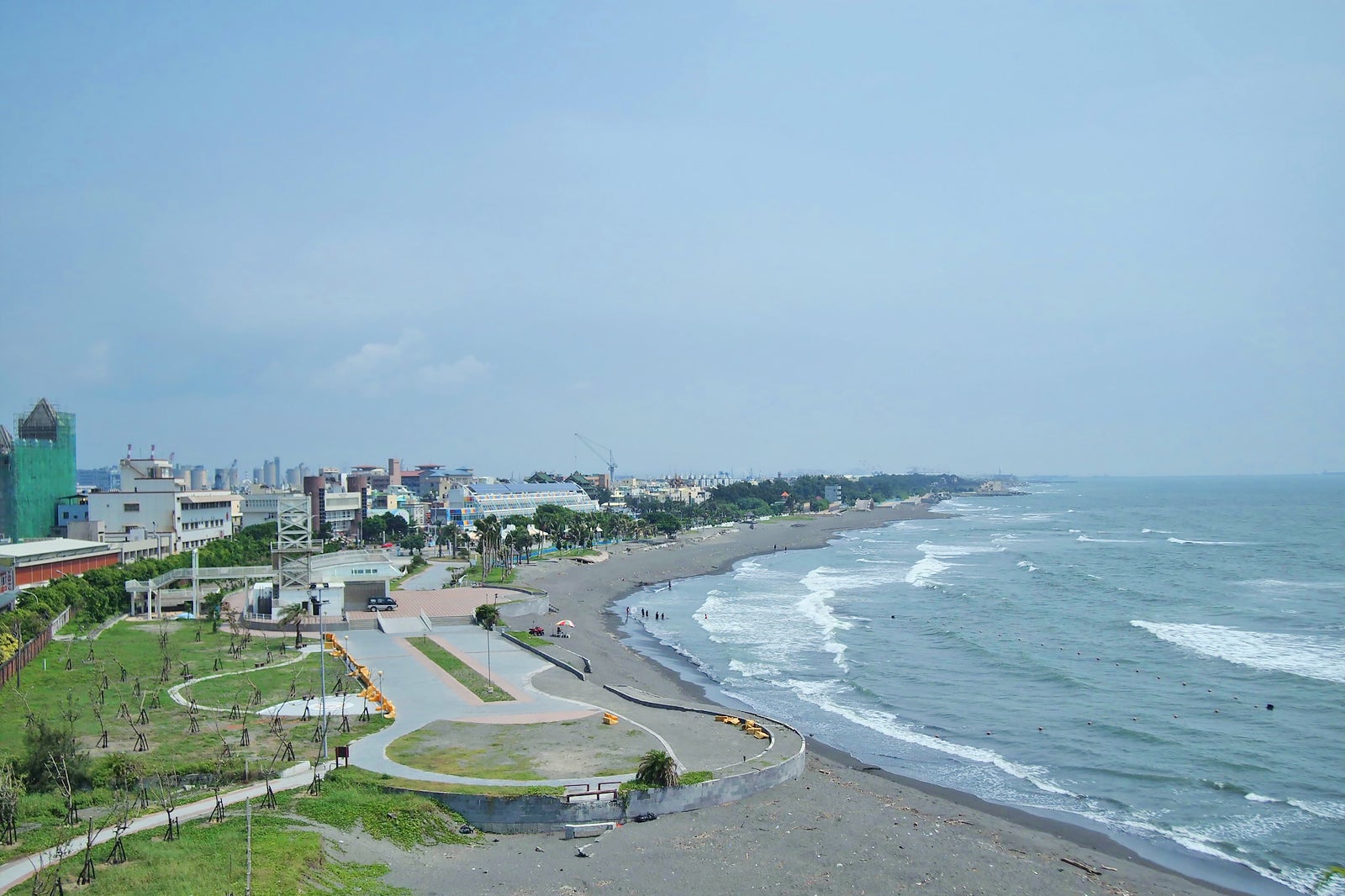 Cijin Beach attracts swimmers, surfers and paraglider from April to October, though you can come any time of the year to enjoy the sea and sand. The Cijin Black Sand Play and Arts Festival takes place in July, offering a combination of themed sand sculptures, music and sports activities.
If you visit Cijin Beach during the off-season, you will experience a seemingly endless ocean, sandy beaches, and swaying palm trees along the coast.
Location: No. 1, Miaoqian Road, Qijin District, Kaohsiung City, Taiwan 80541
Open: Monday–Friday from 9.30 am to 6 pm, Saturday–Sunday from 9 am to 6 pm
photo by yuen yan (CC BY-SA 3.0) modified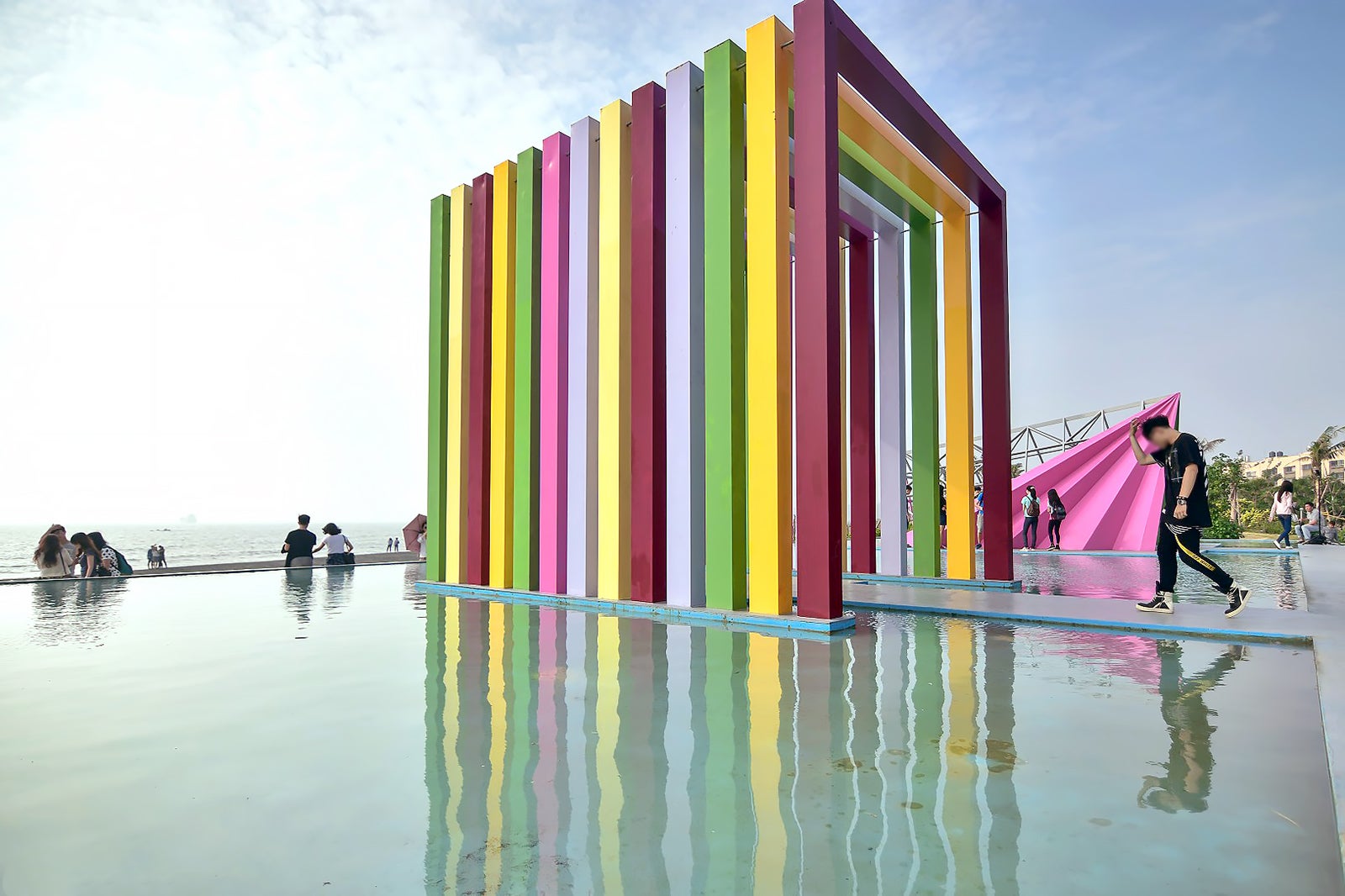 The Rainbow Church has little to do with religion as it's actually a contemporary art installation in Qijin Coastal Park. The structure, consisting of 13 square iron frames juxtaposed with rainbow colours and elegant geometric shapes, is neatly arranged on a platform. It blends well with the natural landscape and nearby ocean.
You can take photos for free except between 4 pm and 6.30 pm. Not far away, there's the Shell House, a gold and semi-circular art installation by Lin Shunlong and Ye Pengsheng. The contrast between the white and gold is striking, making for unique photos.
Location: No. 1, Cijin 3rd Road, Cijin District, Kaohsiung City, Taiwan 80543
photo by 盈棻 吳 (CC BY-SA 2.0) modified
10
Old Railway Bridge & Wetlands Ecological Park
The Old Railroad Bridge in Dashu District is the only railway bridge listed as a Grade II monument. It played an important role in north-south transportation before the construction of the Kaohsiung-Pingtung iron bridge in 1987.
Traversing this century-old iron bridge, you'll not only appreciate its beauty and architecture, but also enjoy nice views over the banks of Gaoping River. The Wetlands Ecological Park has riverside trails and bike paths, natural ecological areas, and the Sanhe Tile Kiln, which showcases the history of Taiwan's tile industry. The entire area is excellent for both quiet and active exploration that's completely free of charge.
Location: No. 109 Zhuye Road, Dashu District, Kaohsiung City, Taiwan 84043
Open: April–September: daily from 9 am to 6 pm. October–March: daily from 9 am to 5 pm
Phone: +886 7(0) 652 2292
Back to top