10 Great Outdoor Adventures in Switzerland
Best Things to Do in Switzerland in Every Season
Switzerland may be famous for many things – the beautiful snow-capped Alps being one of them. But this mountainous country in Central Europe doesn't have snow all year round, and there are many other things to do in the great Swiss outdoors besides conquering slopes on a pair of skis.
Enjoying wintertime adventures in the Swiss Alps is undoubtedly high on the bucket list of many an outdoor enthusiast, but there's wonderful sightseeing, scenic hiking, and even taking to the skies to enjoy when the stunning Swiss landscape is without snow. Here we show you the kind of fun Switzerland has to offer in every season.
1
WINTER: Skiing in the Alps
One to tick off your bucket list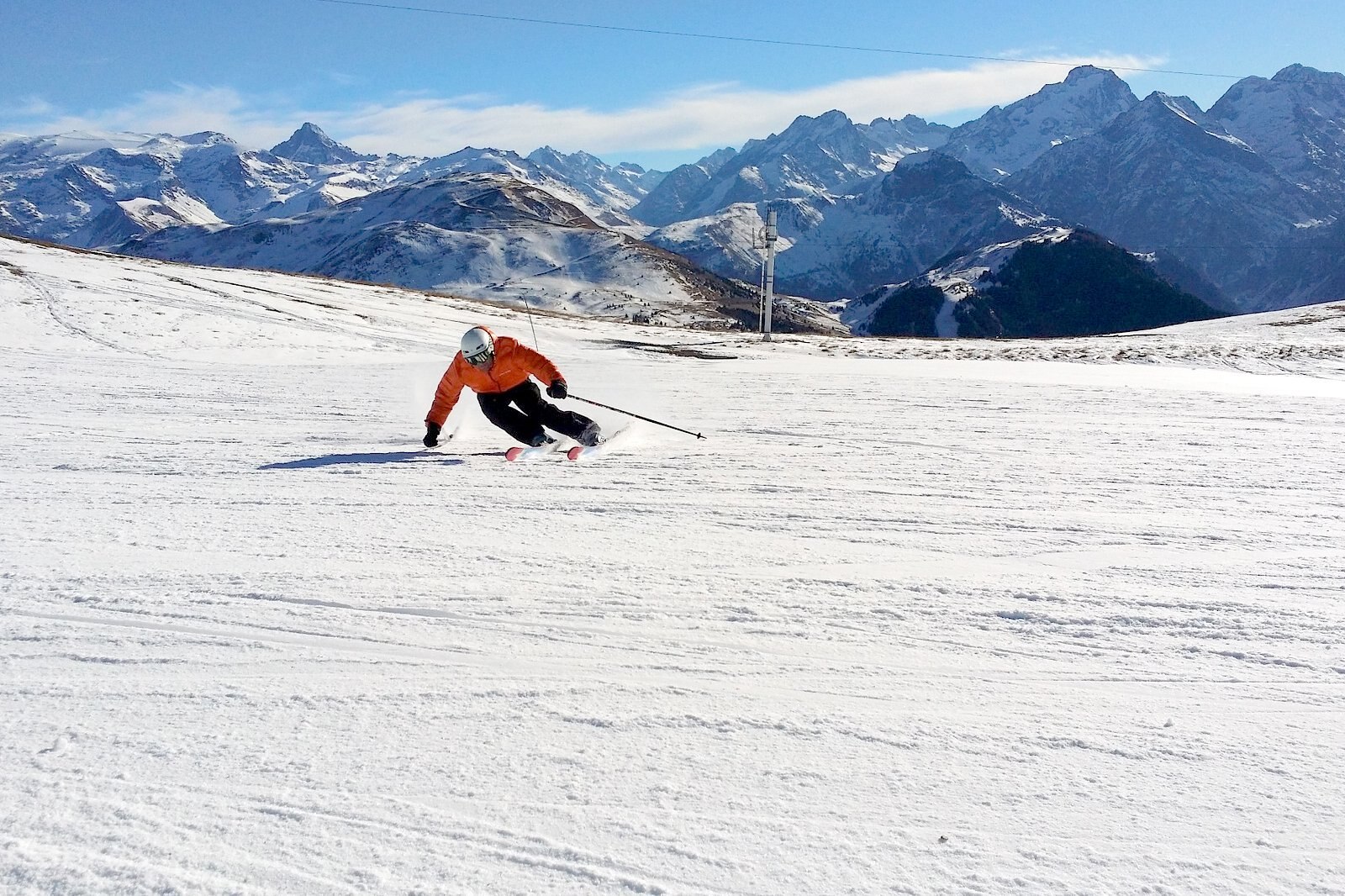 Photo
Adventure
Families
Luxury
The best skiing destinations in the Swiss Alps include Zermatt, under the magnificent pyramid-like mountain of Matterhorn, as well as St. Moritz, which is considered the world's premier winter-sports resort. Parsenn, which links the towns of Davos and Klosters, is also a winter wonderland with its multiple skiing playgrounds.
Most of these Swiss ski resorts offer a combination of facilities that cater to a broad range of adventurers. There are challenging courses for the die-hard expert, as well as gentle slopes for families and beginners.
2
WINTER: Sledging from Preda to Bergün
Sloping speed runs offer fun for everyone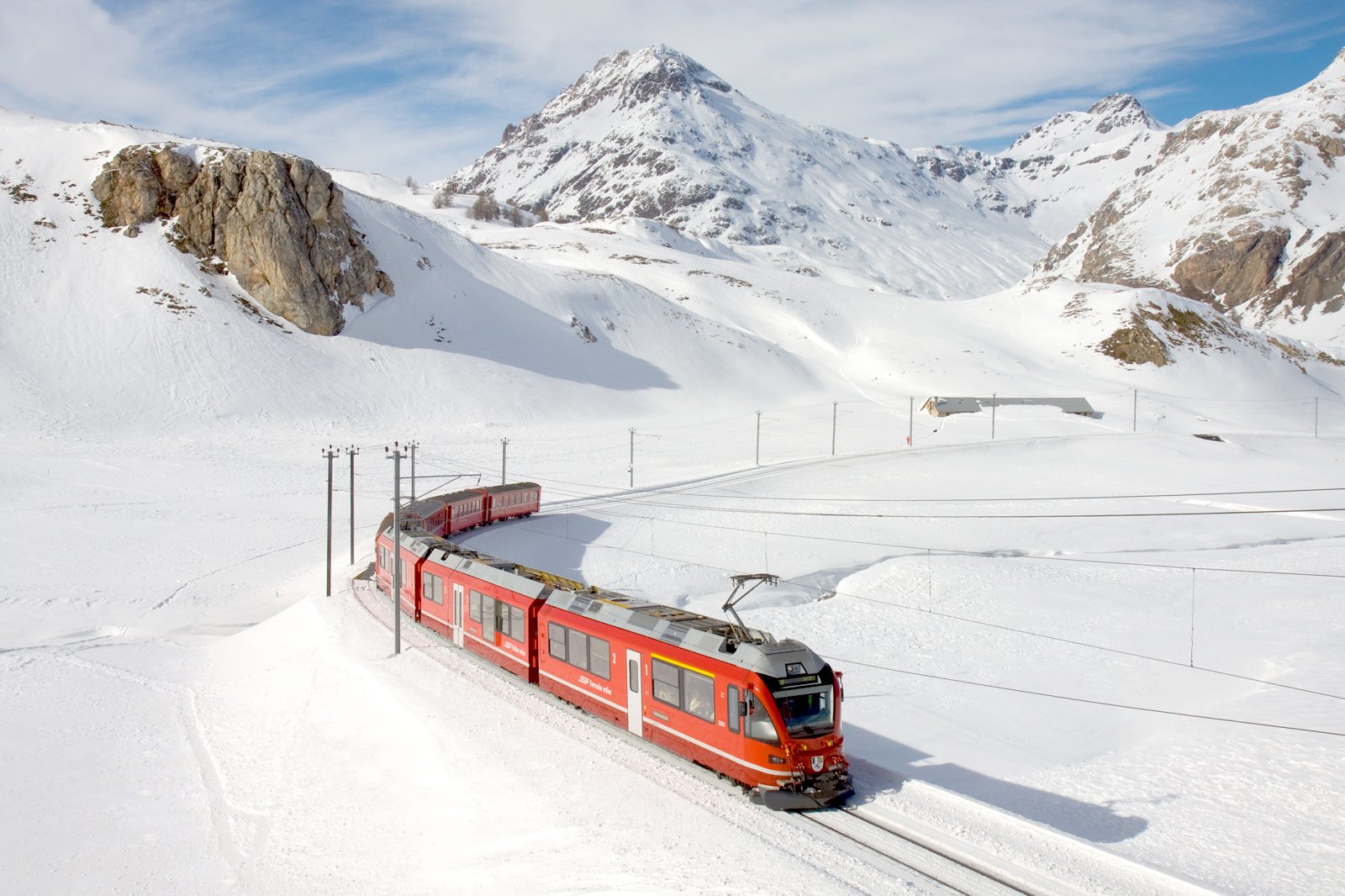 Ride the Albula line of the Rhaetian Railway to Preda for one of Switzerland's most popular sledging tracks. The train ride treats you to some spectacular Swiss scenery as it passes the Landwasser Viaduct and through a spiral tunnel. The 6-km trail here is exciting and offers alpine views through viaducts as it twists through its turns.
Riders looking for a more challenging run, steeper and with hairpin turns, can take the ski lift to Darlux and enjoy a thrilling ride down. Both runs end at the quaint mountain village of Bergün.
photo by David Gubler (CC BY-SA 3.0) modified
3
SPRING: Hiking in the Jungfrau region
Take in the scenic Swiss countryside on foot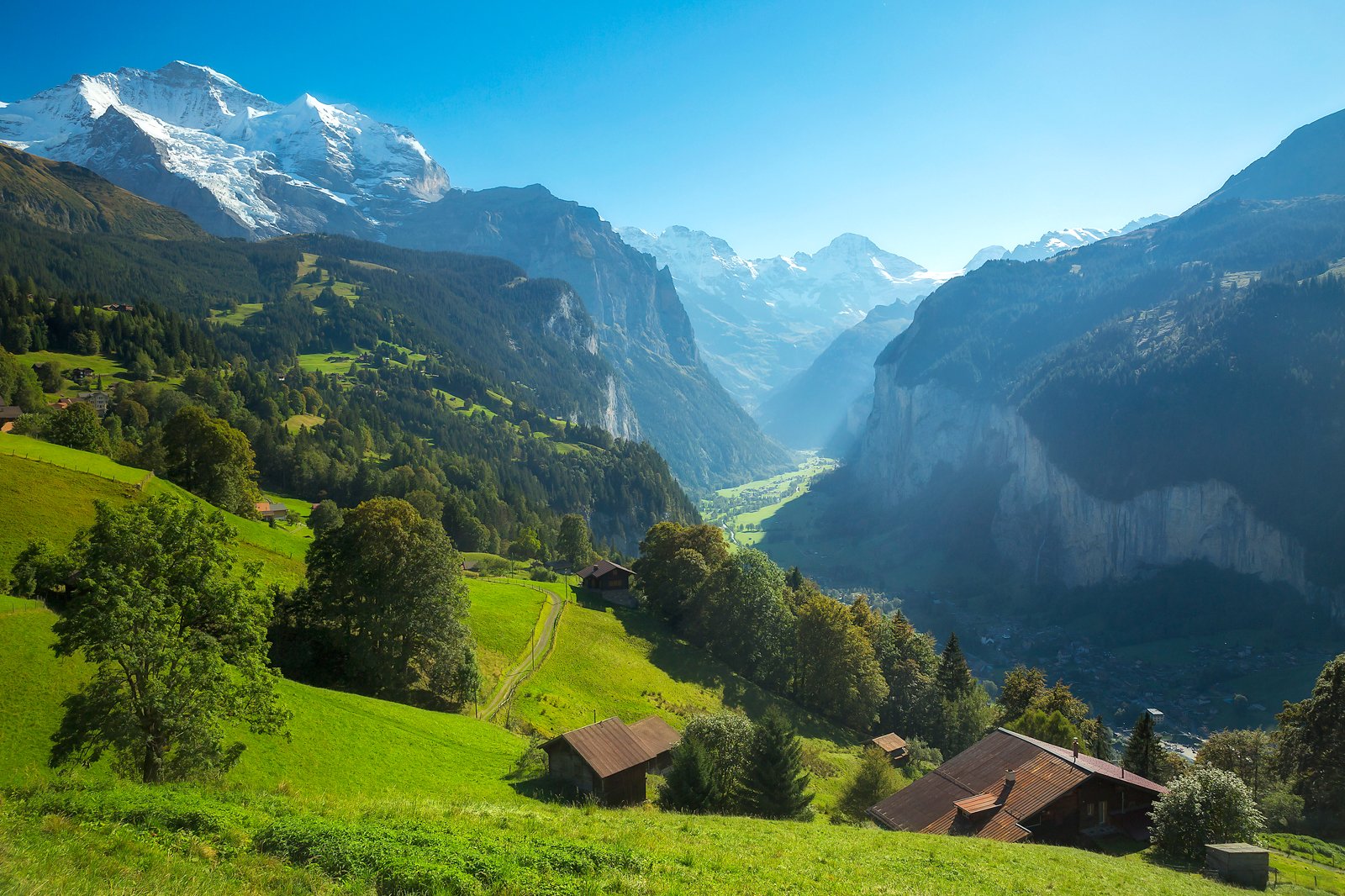 The Jungfrau region is a mountainous paradise in springtime. It's perfect for trekking adventures thanks to its collection of hiking trails. These trails showcase stunning alpine vistas with green slopes, blue lakes, and pretty flower fields all set against snow-capped peaks.
Popular routes include the Eiger trail in Grindelwald and Blumental and Via Ferrata in Murren. Many adventurers often veer off these trails for quieter routes like Obersteinberg, which starts at the village of Stechelberg. Most trails are clearly signposted and navigable.
4
SPRING: Whitewater rafting down Lütschine River
One of the most thrilling Swiss rapids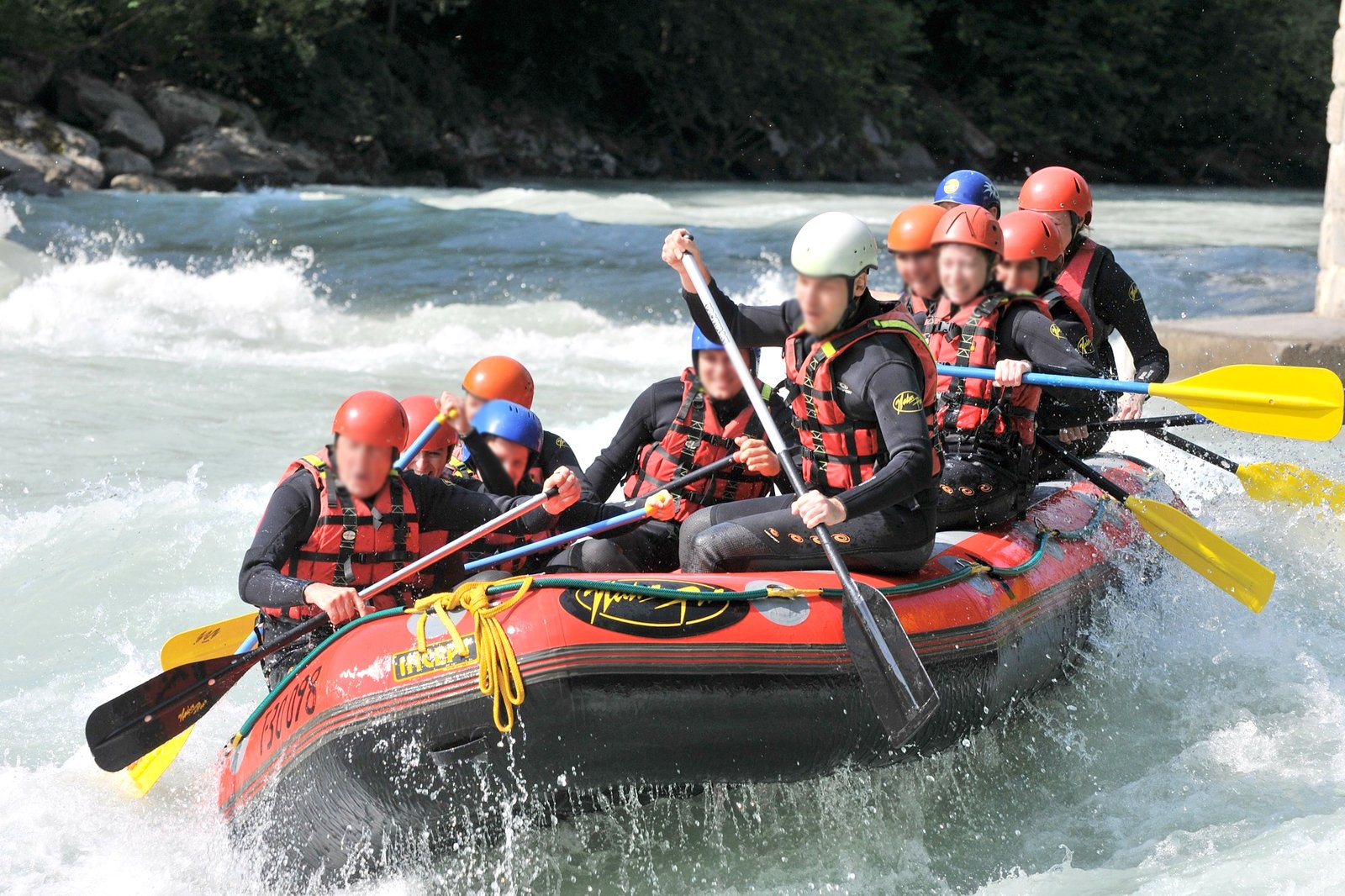 Springtime sees some of the best Swiss rivers turn into pilgrimage spots for whitewater rafting enthusiasts. The Lütschine, in the Bernese Oberland region, is particularly popular for this adventurous sport. The rapids flow from Zweilütschinen down to Lake Brienz, just north of the Alps in Berne.
The Lütschine rapids are exhilarating class III-IV rapids that take you on a thrilling ride down the scenic Interlaken valley. Most rafting operators include photo services to capture your in-action moments along the course.
5
SUMMER: Sightseeing on the Gelmer Funicular
It's not a rollercoaster… but it's no less exhilarating!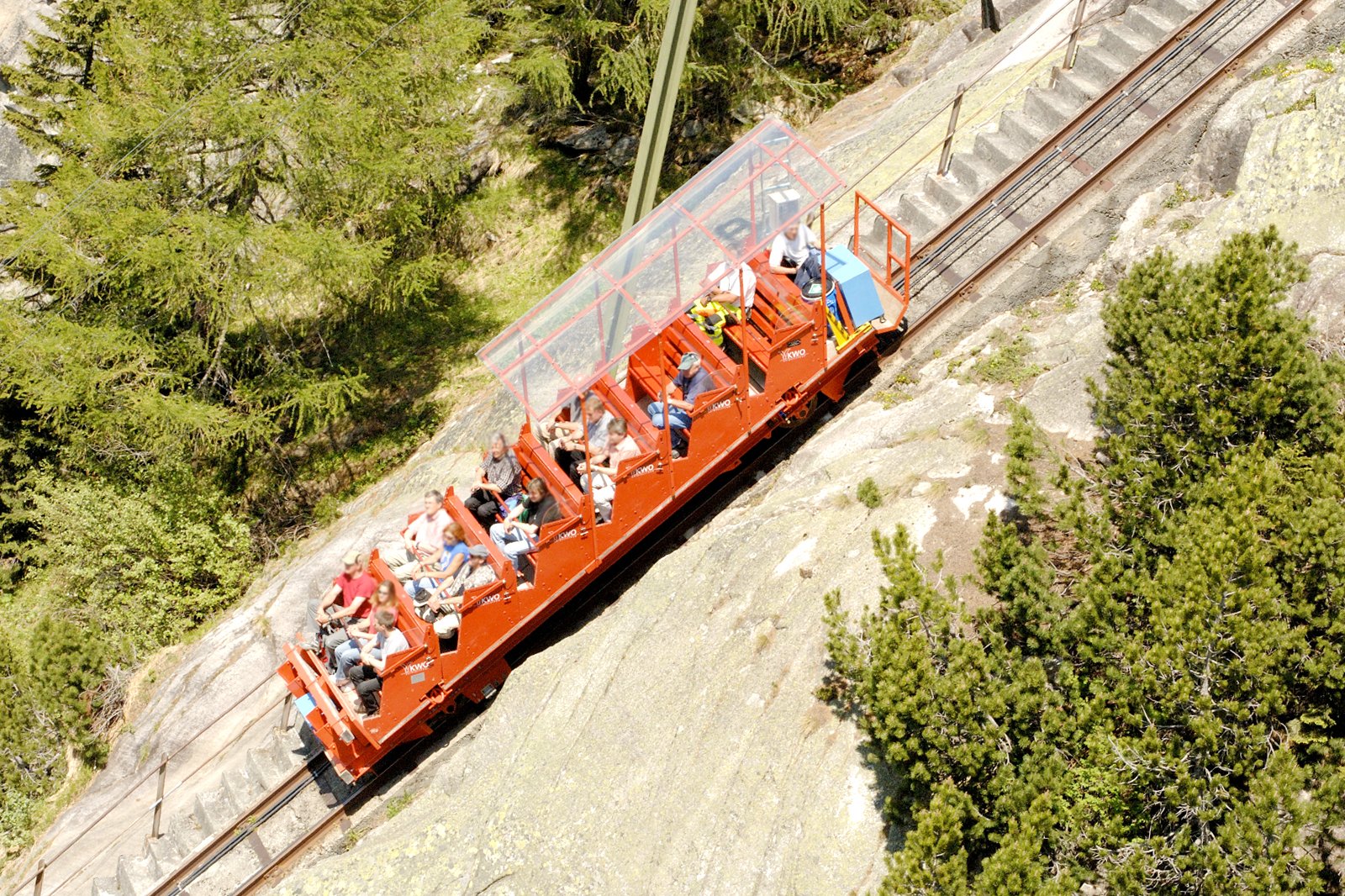 Photo
Adventure
Couples
Families
Summer brings bright days to the Swiss countryside, and one of the most leisurely ways to take in the panoramas on offer is aboard the Gelmerbahn (Gelmer Funicular). What was once used to transport materials for the construction of the Gelmersee dam back in the 20s is now one of the steepest funicular rides in Europe.
Riding down the slopes at an inclination of over 45° provides a distinct thrill. The funicular takes 24 passengers at a time. Tickets for return rides start from around 32 Fr for adults and 12 Fr for kids between 6 and 16 years of age.
Location: 3864 Guttannen, Switzerland
Open: June, September, and October: daily from 9 am to 4 pm, July–August: daily from 9 am to 5 pm
Phone: +41 33 982 26 26
photo by Kraftwerke Oberhasli AG (CC BY-SA 3.0) modified
6
SUMMER: Paragliding at Lauterbrunnen
Enjoy sweeping Swiss vistas… from the skies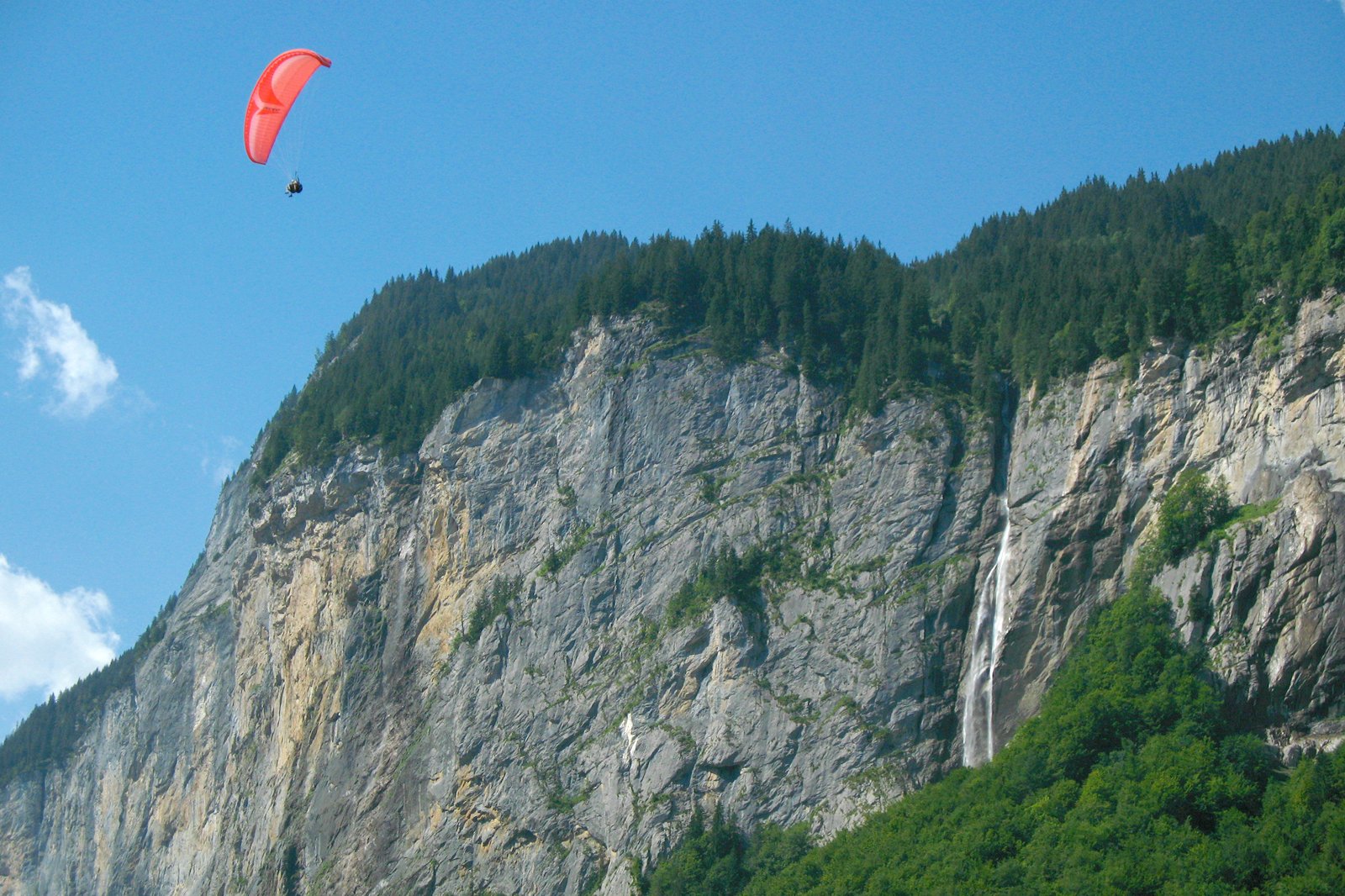 You can take to the skies and soar over breathtaking Swiss countryside on a tandem paragliding flight. Several operators offer tandem flights from Lauterbrunnen, the central town in the Jungfrau region. After some safety briefings, you'll do some practice runs before an actual launch from a gentle slope.
Together with your pilot-guide, you'll soar over the mountains and distant meadows and circle around to capture some of the most stunning Alpine landscapes. You'll also catch views of mountain villages normally hidden from view in their hilly settings.
photo by Andrew Bossi (CC BY-SA 2.5) modified
7
SUMMER: Jetboating in Interlaken
Water-thrashing fun on a picturesque lake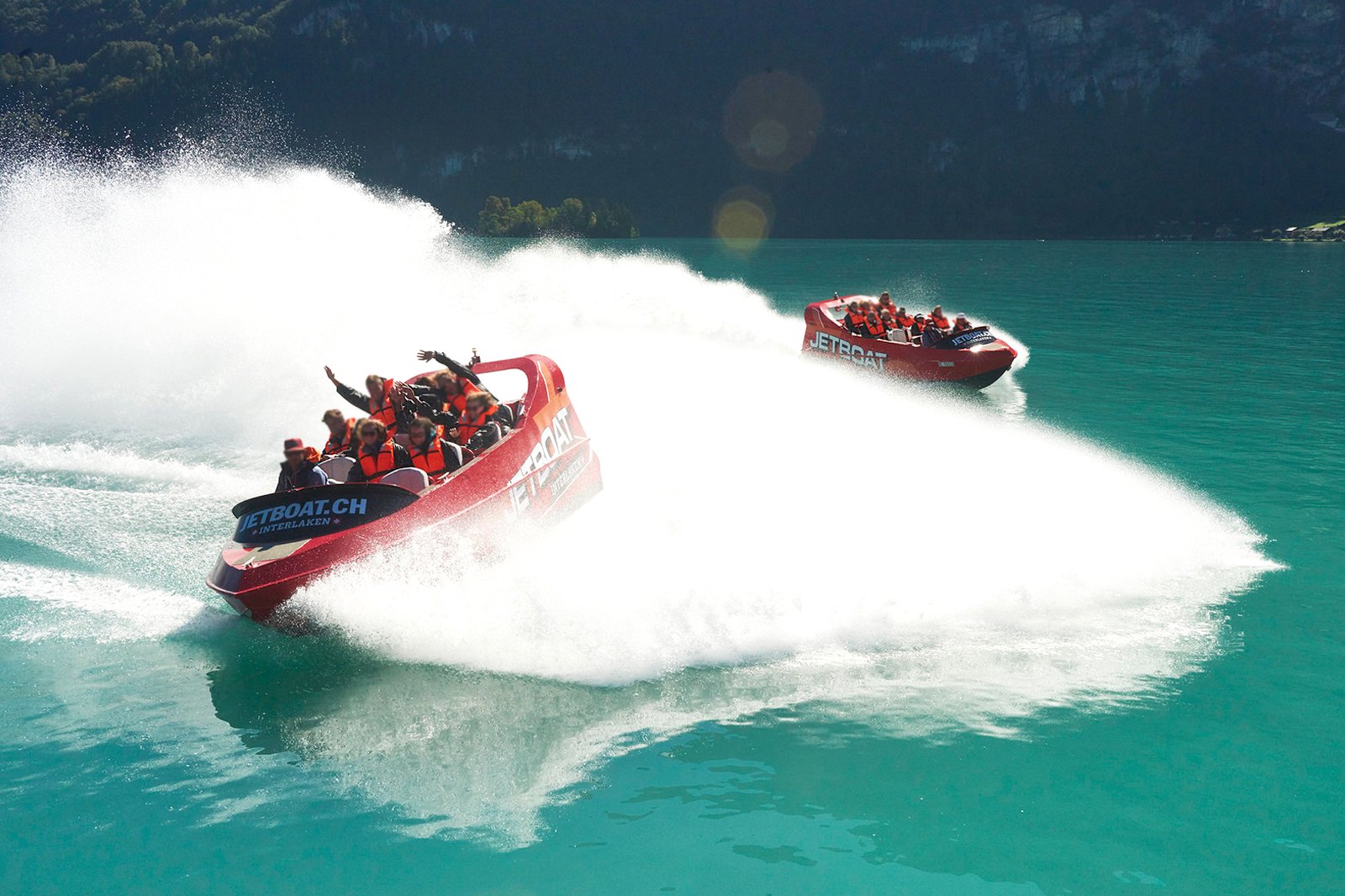 Thrill-seekers and adrenaline addicts are treated to high-speed boating fun on Lake Brienz in Interlaken. Jet boats seat up to 11 passengers who will share an exciting ride as the pilot revs the engines for speed runs, twists, and full 360° spins. There'll be plenty of wind-in-hair and spray-in-your-face moments to remember.
The ride also features a stop by the base of the tumbling Giessbach Waterfalls. There's plenty of time to take a pause amid the excitement to enjoy the spectacular views of the turquoise lake framed by nearby forests and the distant Alps.
Location: Am Quai, 3806 Bönigen, Switzerland
Open: Daily from 9 am to 5 pm
Phone: +41 78 845 56 99
photo by Holiday Photos (CC BY-SA 2.0) modified
8
SUMMER: Sliding down to Oeschinen Lake
For a fun ride down a mountain, sans snow!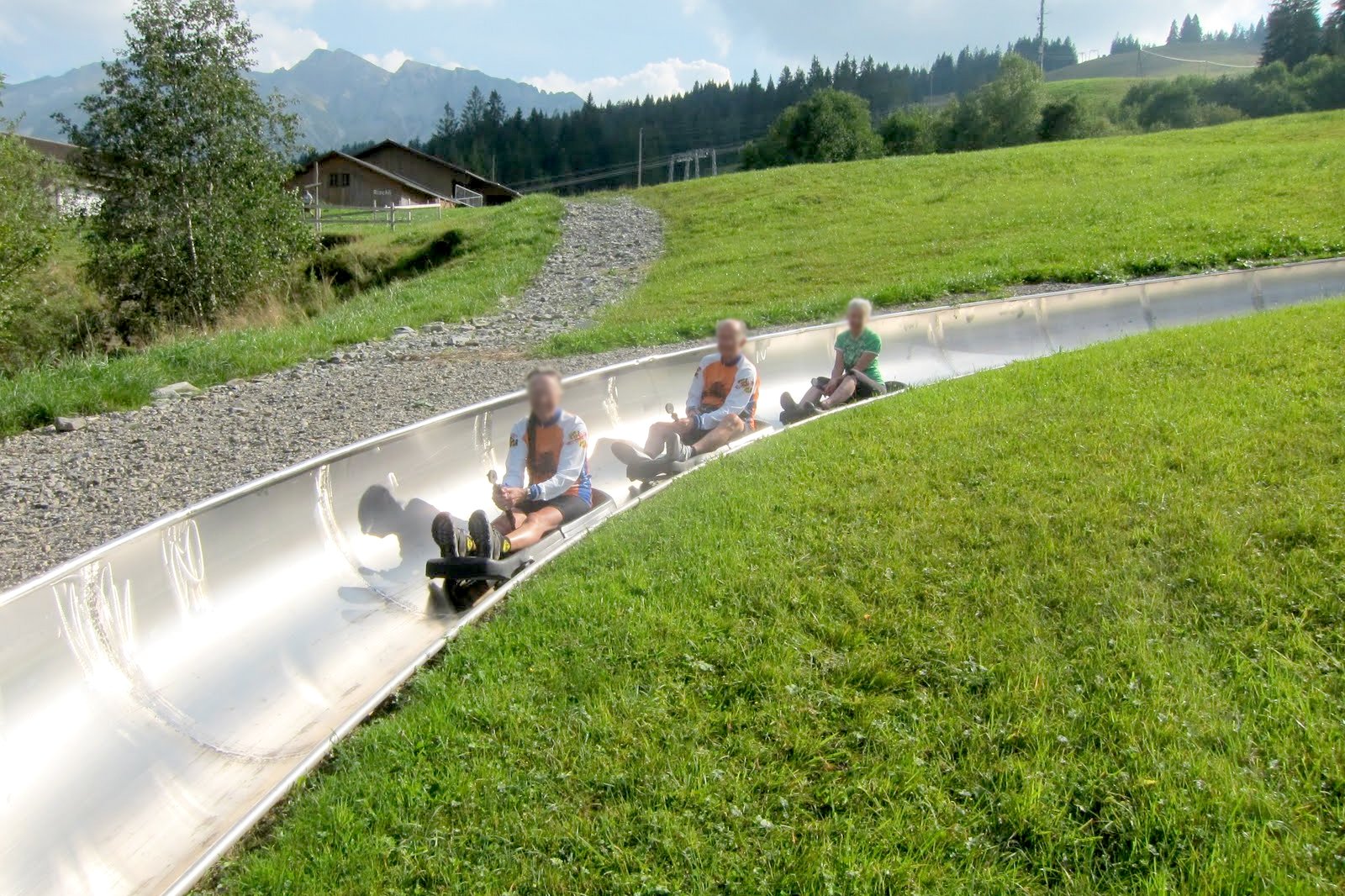 The Rodelbahn, or Alpine Slider, is a fun summer toboggan run down a purpose-built slide track that runs through scenic countryside above Oeschinen Lake. You sit snugly in a wheeled toboggan as you whiz through the straights and turns over a distance of 750 metres.
You can find the start of the Alpine Slider at Oeschinensee's cable car station. The slide opens exclusively in the summer, and then only in dry conditions. This highly addictive ride starts from 4 Fr for adults and 3 Fr for kids.
Location: 3718 Kandersteg, Switzerland
Open: May–October: daily from 9.30 am to 4.30 pm
Phone: +41 33 675 11 18
photo by Art Anderson (CC BY-SA 3.0) modified
9
AUTUMN: Camping in Arolla
Wake up to stunning highland vistas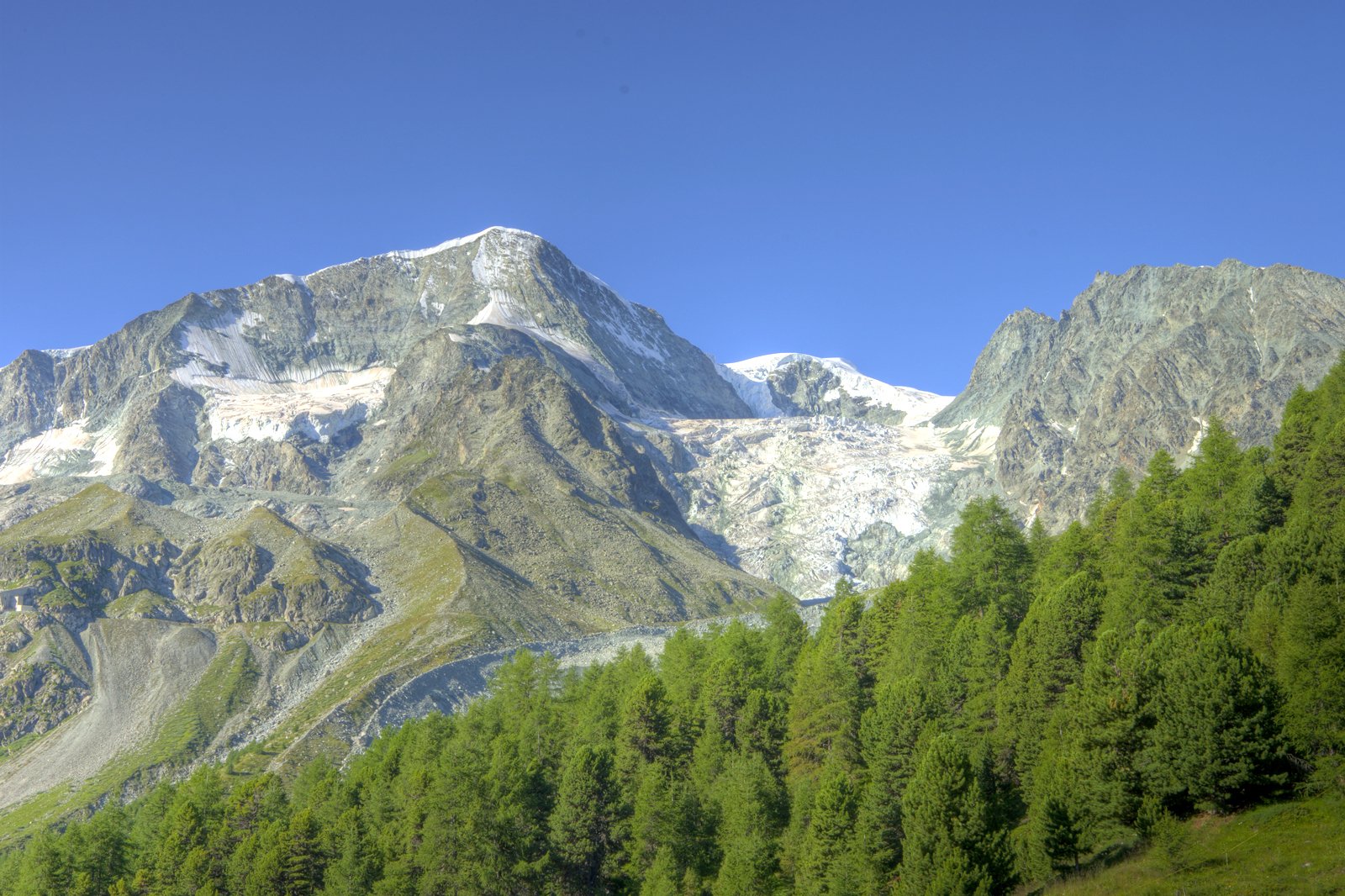 Autumn brings out nature's moodiest colours and what better way to take in the splendour than spending a night or two in the great Swiss outdoors? The village of Arolla offers one of Switzerland's best camping experiences as it's home to one of the highest campsites in Europe.
At about 1998 metres above sea level, the campsite is surrounded by lush pine forests with the glacial peaks of Mont Collon looming in the background. Even with all the pristine nature around, you will still find well-maintained, modern sanitary facilities and hot showers.
Location: Route de Tsallion, 1986 Evolène, Switzerland
Open: September–December
Phone: +41 27 283 22 95
photo by Maurice Perry (CC BY-SA 2.0) modified
10
AUTUMN: Mountain biking in Zermatt
Picturesque pedalling through an Alpine village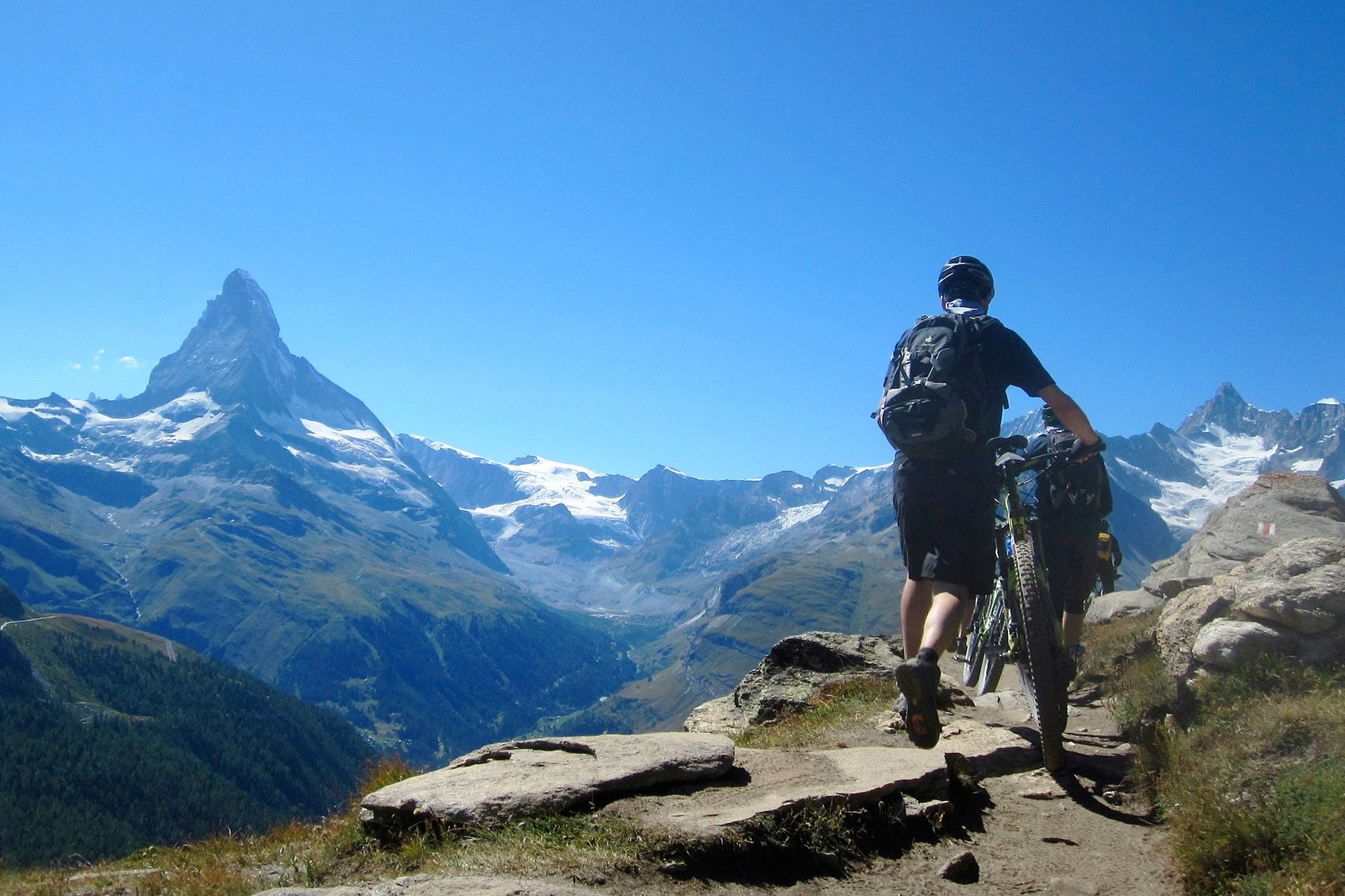 There are plenty of exciting and scenic mountain bike trails to choose from in the mountains around Zermatt. Some of the trails here are made from natural materials that flow over the steep terrain, while others make use of manmade materials. But, natural or otherwise, they all share the same breathtaking scenery.
For an initial taste of mountain biking in the Alps, you can pedal out along the moderate Moos and Sunnegga trails. While more experienced riders can challenge themselves on the Obere Kelle trail, which has more difficult climbs interspersed with rewarding vistas.